Thank You for helping us with the most amazing honeymoon!!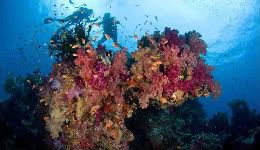 Bula Teresa!!!
I want to thank you for helping us with the most amazing honeymoon!!! It was such an amazing experience for both of us. Everything from the scuba diving to the village visit at Qamea Resort was incredible! We wished we had realized before leaving (and in all the emails you may have said I just dont recall) that we could take gifts to the kids in the village.
We ended up getting the nice people at Qamea Resort to buy some candy in town to take with us so it worked out.Vinaka vaka levu!!   Phil & Jamie
Qamea Resort and Spa is located in the Northern area of the Fiji Islands just off the island of Taveuni. The Resort is an exclusive tropical destination for discerning travelers seeking a truly unique and authentic Fijian experience without sacrificing luxury or service. From the moment you step onto the island, you will feel as if you have entered a Fijian village set in a South Pacific tropical paradise.
Qamea and her neighboring islands offer a tropical paradise of adventure and beauty. Guests can avail themselves of a wide range of complimentary activities including incredible snorkeling, hobie cat sailing, windsurfing, sea canoeing, hiking, croquet, visiting one of the local villages and lots more. Our diving is also world renowned, and with a fully equipped PADI dive facility our diving staff can introduce you to an underwater adventure you will long remember.
The weekly "meke" at Qamea will touch your soul…. the children from the local village come to visit and will steal your heart with their smiles and traditional dancing!
Their ongoing commitment to providing affordable luxury accommodation is just one of the reasons why we received numerous awards such as one of the "Top Ten Hideaway Resorts in the World" by the Robb Report, and more recently the only resort in the South Pacific to be nominated for Conde Nast's highest award for 2008, "Most Excellent Resort in the Atlantic, Caribbean and Pacific Islands."
What is MEKE & KAVA?
Usually on Wednesday evenings before dinner, a group of young Fijian warriors from Naviivi Village will conduct a very traditional formal Kava Ceremony. This ceremony will provide you with a unique and extremely authentic insight into the means by which Fijians continue to this day to show respect and to welcome guests into their villages and homes. Throughout the ceremony your evening dinner host will quietly narrate so you can fully understand and appreciate the significance behind each act in the ceremony.
The local villages regularly visit Qamea for a special treat . . . Meke, which is a performance of ancient Fijian song and dance. Because up until recently there was not a written Fijian language, Meke was the traditional way of passing history and legends from one generation to another through song and dance. Typical meke songs and dance depict the journey of the Fijian ancestors across the ocean in search of a homeland, as well as significant battles, joys and tears. Some of the meke depicts ancestral witchcraft and legends of ghosts. For many of our guests this will be the highlight of the trip.
If you enjoyed this post, make sure you subscribe to my RSS feed!