You did such a wonderful job and made our trip worry free. You are terrrrrrrific!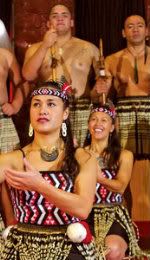 Hi Teresa
Yes yes yes! Our trip was all fabulous and even more than we expected! Auckland was great. Our tours were terrific! When we arrived we took a ferry to Devinport. It was such a lovely quaint town. In Rotorua the Springs was beautiful. We went to the Polanesia Spa and were pampered all day
Our cruise was wonderful. New Zealand is absolutely beautiful. We took so many pictures and had some enlarged and framed.
We saw our friends in Melbourne and had an Australian Barbie.
Sydney was really my dream. I had to touch the walls of the Opera House, to realize that I was truly there.  Our stop in Tasmania completed the dream of kangaroos and koalas.
We did so much and the time went so fast that we hardly believed it was time to come home.
You did such a wonderful job and made our trip worry free.  Absolutely everyone and everything was on time and perfectly planned.  You are terrrrrrrific!
Love ya
Mary Ann and Armand
Travel Gal Note: Mary Ann and Armand just returned from a month in the South Pacific.  Their vacation started in Auckland, New Zealand where they spent a few nights touring the area, including visiting Waiheke Island.
They then sailed aboard a Holland America cruise ship, spending 2 weeks exploring both the North and South Islands of New Zealand, stopping in Tasmania and ending in Sydney, Australia.
They enjoyed a week at the Four Seasons Sydney - located in the Rocks area with views of the Sydney Opera House and Sydney Bridge.  We organized day tours for them to the Blue Mountains and surrounding areas.
If you too would like to set up an amazing trip thru the South Pacific,
give us a call at 800 644-6659 or email Teresa@LuxuryHideaways.net
If you enjoyed this post, make sure you subscribe to my RSS feed!