One of the most picturesque and geographically diverse islands in the Society Group, enclosed in a single lagoon, it covers 75 square miles. Huahine (who-wah-hee-nay) is located 109 miles northwest of Papeete. The highest point on the island, Mt. Turi, reaches 2,200 feet and is located on Huahine Nui. Mt. Tavaiura in the Fitii Peninsula looks like a women's face, leading to her chest and her round belly, hence one of the interpretation for Huahine's original name (pregnant woman).
A deep, crystal-clear lagoon surrounds the two islands while magnificent bays and white-sand beaches add drama and solitude to their virtues. Relatively unchanged by the modern world, Huahine offers a slower taste of old Polynesia.
Probably one of Polynesia's best-kept secrets…Huahine is a "Garden of Eden" with lush forests, an untamed landscape and quaint villages. It is relatively unchanged by the modern world. The island's fertile soil provides bountiful harvests of a variety of melons as well as other fruits and vegetables. It is located approximately 105 miles northwest of the island of Tahiti.
Another unique thing about this island is the wooden boxes alongside the road that look like a newspaper delivery box. Very French in culture, these islanders have delicious-looking French baguettes delivered twice daily to residents and put in this box.
If you enjoyed this post, make sure you subscribe to my RSS feed!
The small, luxury cruise ship m/s Paul Gauguin offers 7 night cruises around the islands of Tahiti. Below is a sample itinerary. One of the benefits of cruising is that when you spend 1 day on an island, you will know if you'll want to come back for a week.
Day 1: Embark m/s Paul Gauguin in Papeete, Tahiti - mid afternoon - set sail in the evening
Begin your journey to a paradise in the capital of Tahiti, the largest and most populated of the French Polynesian islands. Here you'll embark Paul Gauguin. This luxurious yet casual, ultra-deluxe vessel will be your home for the next week. With an endless choice of things to do, from relaxing poolside with a book to playing the slots in the casino, you will never be bored.
Day 2: Raiatea 11:00am - 6:00pm
You will have the day to explore the island that was once the cultural, religious, royal and political heart of Polynesia, and, according to legend, and lore, as well as Tahiti's most significant archeological sites.
Day 3: Taha'a (Motu Mahana) 9:00am - 5:00pm
Motu Mahana, an islet adjacent to Taha'a, is our very own South Seas paradise featuring white sand beaches with swaying palms, crystal-clear waters and gentle breezes. As an exclusive Paul Gauguin event, guests will spend a full day exploring this idyllic, isolated island, and relaxing with a delicious barbecue lunch and Polynesian entertainment featuring strolling musicians and singers.
Day 4: Bora Bora 8:00am overnight
Immediately recognizable by the basalt tombstone of Mount Otemanu rising from the ocean, this half-atoll, half-mountain is surrounded by a spectacular lagoon and a series of smaller islands. Ancient Polynesians called it Parapora, or "firstborn," because they thought it was the first island created after Raiatea.
Day 5: Bora Bora Depart 5:00pm
Explore more of this magical isle on your own or on a choice of optional shore excursions. Choose from several, like a jitney tour on "Le Truck," or a 4-wheel-drive safari, or a glass-bottom boat ride. We will set sail before dinner, enjoying a relaxing evening on board.
Day 6: Moorea 8:00am - overnight
Covered in an abundance of fresh fruits and flowers, spectacular mountain peaks, peaceful multi-hued lagoons and palm-fringed beaches - Moorea's awesome beauty is unsurpassed. During your visit, you might wish to shop for local crafts, embark on a dolphin-watching expedition with a marine biologist and witness these fascinating animals in their amazing natural habitat, or try out some of the local pineapples - said to be the most delicious in all of French Polynesia. An overnight here affords us two full days on Bora Bora's gorgeous sister island.
Day 7: Moorea depart 7:30pm
Explore more of this peaceful oasis. Perhaps you will choose to trek on the "Trails of the Ancients" or snorkel one of the world's most beautiful lagoons. At the end of the afternoon, we cruise to our home port in Papeete, docking for the night.
Day 8: Disembark Papeete 8:00am - Maururu - thank you for visiting these beautiful islands!
Life aboard the m/s Paul Gauguin:
Watersports Marina - Watersports are a highlight of the Paul Gauguin Cruises' experience. The ships' small size allow for them to navigate in shallow lagoons and narrow channels where larger ships may not sail. On the m/s Paul Gauguin,with the specially designed retractable watersports platform, guests may descend to sea level where they can conveniently hop aboard a windsurfer, launch a kayak, or set out for a SCUBA diving expedition. A SCUBA certification program is offered on The Gauguin.
Ambassadors of the Environment Youth Program: Explorer and environmentalist Jean-Michel Cousteau is committed to the belief that the survival of the world's oceans depends on capturing the imagination at a young age. In order to ensure that conservation remains a priority among future generations, he created the Ambassadors of the Environment Youth Program under the auspices of the Ocean Futures Society.
Some of the benefits and features of this luxury cruise:
Spacious, all-oceanview suites and staterooms
Complimentary beverages incl. select wines
All onboard gratuities included
Complimentary select spirits & soft drinks
Complimentary 24-hour room service
Refrigerator replenished daily with soft drinks, beer and bottled water
Watersports Marina
Cousteau Ambassadors of the Environment Youth Program
For more information, special pricing and upgrades contact the Travel Gal
at 800 644-6659 or email Teresa@LuxuryHideaways.net
If you enjoyed this post, make sure you subscribe to my RSS feed!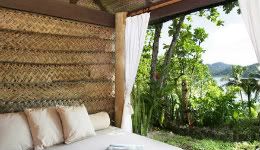 Hot Hot Hot Special - Just Released for a Limited Time Offer!
Matangi Private Island Resort is a family owned and operated resort, on a 240-acre private island, located in the lush tropical northern part of the Fiji Islands. This unique horseshoe-shaped island paradise boasts virgin tropical rainforest and white sand beaches. It's no surprise that it was voted in Islands Magazine as one of the "Top 10 Private Islands in the World" and also featured in "1,000 Places to See Before You Die", by Patricia Schultz.
Matangi Island offers 14 traditional Fijian designed bures, each with air-conditioning, ipod docking stations, outdoor stone shower, large sitting area, fully stocked mini bar and all the amenities of a luxury resort. The island caters to adults only. Rates include all meals, morning and afternoon tea, non-motorized water sports. Ideal for honeymooners, destination weddings, couples, romantic getaway, soft-adventure, snorkeling, scuba, hiking and seekers of natural beauty.
Costing begins at $3670pp in a Beachfront Bure - (beachfront bures at less than $500 per night)
The Stay 7/Pay 5 rate is valid for Travel June/July/August 2011
Booking Conditions
- Roundtrip airfare from Los Angeles on Air Pacific
- Minimum 7-night stay required
- Valid on all categories of accommodation
- Valid for Travel: 01 June 2011 - 31 August 2011
- New Bookings Only
- Cannot be combined with Summer Romance Bonus
- Honeymooners also receive a bottle of sparkling wine and one breakfast in bed
( Please advise at time of booking). [Read more]
If you enjoyed this post, make sure you subscribe to my RSS feed!
My sister, daughter and I have returned from our week at the Maui Prince Resort - All was great!
1. The upgraded room to a suite was fantastic! Thank you for getting this for us.
2. Thank you for the $25.00 credit at the resort.
3. We received champagne and choc covered strawberries for my daughter's law school graduation achievment ~ Thanks for alerting them.
4. We took the snorkel trip that leaves from the Maui Prince and it was wonderful! Saw turtles, eel and dolphins as well as the fish and coral.
5. Took the all day trip to Hana through temptation tours at it was very beautiful and interesting.
6. Went to the Luau at the Marriott.
7. Went to Longhis for dinner
8. Went to Nicks Fishmarket for dinner at the Kealani Resort.
9. I drove us to Iao Needle, Mama's Fishhouse and Paia (town before Mama's Fishhouse)
10. We lounged at the pool, I went to yoga, and we swam in the ocean every day.
Thank you so very much! Jennifer and family
If you are looking for a holiday that offers peace and tranquility, then I invite you to escape to this secluded beachfront resort in Makena and enjoy well-appointed oceanview rooms, pristine golf courses and gracious island hospitality. You'll find glorious white sand beaches, phenomenal tennis, golf courses and endless water-sports. Plus, fabulous dining and all the peace and privacy you desire.
If you enjoyed this post, make sure you subscribe to my RSS feed!