If you are looking to connect with nature and spend some time with wildlife, New Zealand is for you.You can hire a punt on an urban river; relax for days on a houseboat, motor yacht or sailing vessel; be your own captain or hire an experienced professional crew.
The pristine landscapes and waterways of the Southern South Island offer a favourite cruising experience for many, offering scenic cruises through Fiordland, Queenstown and Stewart Island.
Whether you prefer a high speed jet boat ride or a leisurely jaunt, you'll find New Zealanders are happy to share with you their love of water-borne transport.
JET BOATING
Like a jet aircraft, a jet boat has no external propeller. Instead, it squirts water out at high speed just below the surface behind the boat. This allows the boat to operate in depths of only a few centimetres.
The jet boat was developed in the 1960s by New Zealand farmer William (Bill) Hamilton, to allow navigation of the shallow Canterbury rivers. However, enterprising New Zealanders soon realised its potential as an adventure activity.
Sit back, buckle yourself in and feel the acceleration. A New Zealand jet boat ride will take you powering through narrow river gorges, almost brushing against sheer rock faces; or skimming across the surface of water channels that weave through the shingle banks of braided rivers.
Jet boating is suitable for all ages and levels of fitness, and can be enjoyed the whole year round. Some of the most exhilarating trips are available near Queenstown and Canterbury. Other areas include the Buller and Makarora regions in the South Island and the Rangitaiki, Whanganui and Waikato Rivers in the North Island.
KAYAKING - SALT WATER
Exploring New Zealand's magnificent coastline by paddle power is an exercise and pure enjoyment. You can discover the coastal regions of national parks. You can paddle around islands and along fiords. You can even paddle a traditional Maori waka.
In the South Island, sea kayaking experiences can last half a day or several. Meander through the Marlborough Sounds, where waters are sheltered and people are few; follow the edge of the Abel Tasman National Park and hope for encounters with seals, dolphins and orca; get a sea level view of a fiord; or find your way around Okarito Lagoon, where you'll see all kinds of wading birds.
In the North Island you can embark on a sea kayaking safari around the Bay of Islands, Waiheke Island or Wellington harbour. Sheltered water experiences can be found on the Hokianga and Tauranga Harbours. Paddling around a marine reserve, such as Goat Island, is always fun - beach your kayak and go for a snorkel.
RAFTING
From a quiet drift through the forested wilderness to a white-knuckled, wide-eyed journey down turbulent rapids, rafting covers the full adventure spectrum.
The mountains of New Zealand's interior feed a myriad of fast flowing rivers that run through the forests to the sea. Grade 1 rivers offer relatively tranquil waters, while grade 5 rivers is regarded as an extreme sport. Trips ranging from a couple of hours to five days are led by qualified rafting guides who comply with established safety codes. All gear and special clothing is provided.
Rafting rivers in the North Island are mostly found in the central east coast areas of the Bay of Plenty and Hawke's Bay. In the South Island, you'll get the chance to try rafting around the resort town of Queenstown, Christchurch and on the West Coast. Some operators offer a combined helicopter and rafting experience. You can also try black water rafting through underground caves.
SAILING
There are several areas of New Zealand's coastline that are ideal for sailing adventures. Sheltered harbours open out to inshore cruising grounds dotted with picturesque islands, and there are popular coastal journeys with harbour-like bays conveniently spaced less than a day's sail apart.
You can charter a vessel and sail her yourself or opt for a skipper and crew. Skippered voyages range from an afternoon tea and sightseeing sail on the harbour to several days on an ocean-going maxi racing yacht.
The style of boat varies from restored historic square riggers to New Zealand's high-tech America's Cup winners. You can get as hands on or as laid back as you wish.
The maritime reserves of the Bay of Islands, Hauraki Gulf and Marlborough Sounds are among the best areas for a holiday afloat. Auckland, known as the City of Sails, has the world's largest number of boats per head of population.
WHALE WATCHING
Kaikoura, on the east coast of the South Island, is the main centre for whale watching in New Zealand. It's one of the only places in the world where you can easily see sperm whales.
Sperm whales, the largest of the toothed whales, grow to over 15 metres in length. They dive deep into the ocean to feed. The resident population of sperm whales at Kaikoura can be seen all year round. Orca (killer whales) may be seen from December to March, and humpback whales in June and July. Several dolphin species are seen almost daily in the area.
Whales thrive close to Kaikoura because of its unusual submarine landscape. The continental shelf drops quickly into a number of extremely deep underwater canyons. In addition, a warm current from the north meets a colder one from the south. This causes nutrients from deep within the ocean to be carried upward, a phenomenon that helps to support all types of marine life from plankton and krill to dolphins and whales.
DOLPHINS
An encounter with dolphins always feels such a privilege. Their gentle nature is something most people admire, and something we would prefer to see more of in humans. These playful creatures appear keen to communicate. They're quite a large animal, yet they present us with no danger. They are intelligent, but seem to be completely free of cruelty or greed. This may explain why swimming with dolphins has been rated by visitors as one of the top tourism experiences in the country.
Many dolphin species can be seen in New Zealand. There's the common dolphin and the large bottle-nosed dolphin, which can often exceed three metres in length. The smaller dusky dolphin is less than two metres long and is very playful. The Hector's dolphin is one of the world's rarest and smallest dolphins, and is found only in our waters.
New Zealand offers a wide selection of dolphin watching and swimming tours. Operators take great care not to harm the dolphins, and some of the tour price often goes towards dolphin conservation.
PENGUINS
These cute little creatures are bound to make you smile. In the sea they dive and swoop like other birds do in the air, and on land they march upright and waddle like officials in a parade.
You'll find three species of penguin around New Zealand. The korora, or little blue penguin, is the world's smallest. Standing only 25 centimetres tall, and weighing just over a kilogram, it is found in coastal waters and often comes ashore at night. The Marlborough Sounds, Akaroa Harbour, Oamaru and Stewart Island are excellent places to see little blues.
The rare hoiho, or yellow-eyed penguin, has a beautiful yellow eye band sweeping back from each yellow eye. You can find hoiho on the Otago Peninsula, just out of Dunedin, and along the South Otago Coast.
The Fiordland crested penguin is one of the world's rarest. It is found in Fiordland and Stewart Island, in the deep south of the South Island.
Antarctic king and gentoo penguins can be viewed at an aquarium and Antarctic attraction in Auckland.
To learn more about travel to New Zealand, call the Travel Gal at 800 644-6659 or email Teresa@LuxuryHideaways.net
If you enjoyed this post, make sure you subscribe to my RSS feed!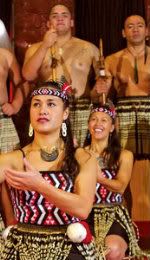 Hi Teresa
Yes yes yes! Our trip was all fabulous and even more than we expected! Auckland was great. Our tours were terrific! When we arrived we took a ferry to Devinport. It was such a lovely quaint town. In Rotorua the Springs was beautiful. We went to the Polanesia Spa and were pampered all day
Our cruise was wonderful. New Zealand is absolutely beautiful. We took so many pictures and had some enlarged and framed.
We saw our friends in Melbourne and had an Australian Barbie.
Sydney was really my dream. I had to touch the walls of the Opera House, to realize that I was truly there.  Our stop in Tasmania completed the dream of kangaroos and koalas.
We did so much and the time went so fast that we hardly believed it was time to come home.
You did such a wonderful job and made our trip worry free.  Absolutely everyone and everything was on time and perfectly planned.  You are terrrrrrrific!
Love ya
Mary Ann and Armand
If you enjoyed this post, make sure you subscribe to my RSS feed!
Waiheke Island is home to boutique wineries that produce unique, high quality wines based on cabernet sauvignon, merlot, malbec, cabernet franc and the recent move into chardonnay grape varieties.  The hot, dry summers and stony soils of Waiheke are perfect conditions for growing grapes.
There are Waiheke Island vineyards and wineries spread throughout the island and visitors can either visit at their leisure, or take a tour. Below you will find a partial list of some of the best boutique wineries on the island:
Cable Bay Vineyards - The Cable Bay winery, restaurant and cellar door are set amidst vineyards and olive groves.
Goldwater - Goldwater combines old world traditional wine making techniques with modern day technology to achieve outstanding and memorable hand-crafted wines.
Jurassic Ridge - Syrah, Montepulciano, Pinot Gris and Cabernet Franc vines are planted over 155 million year old Jurassic rock.
Kennedy Point Vineyard and Olive Grove - At the International Wine Challenge, London 2009 the Kennedypoint 2007 Syrah was awarded International Syrah Trophy, Best NZ Red, Best NZ Syrah.
Man O' War Vineyard - Located at the eastern end of Waiheke Island, Man O' War first introduced grapes in 1993, firm in the belief that world class wines could be produced here.
Mudbrick Vineyard - Named after the Barn/House was built from mud bricks, Mudbrick Vineyard and Restaurant offers a unique Waiheke wine and cuisine exprience, available all year round.
Obsidian Vineyard - Obsidian Vineyard nestles in the coastal hills of the Onetangi Valley.
Passage Rock - Passage Rock Wines was established in 1994 by David and Veronika Evans-Gander.
Peacock Sky Vineyard - Located in the centre of Waiheke Island surrounded by lush native bush.
Peninsula Estate - With spectacular views of Oneroa Bay and the Hauraki Gulf, Peninsula Estate is focused on producing single estate, world-class premium red food wines, that can be confidently cellared for many years.
Poderi Crisci - Poderi Crisci is a small family owned vineyard with a passion for growing Italian varietals and olives.
Stonyridge Vineyard - Stonyridge Vineyard is a specialist cabernet-blend winegrower producing cabernet sauvignon, merlot, cabernet franc, malbec, and petit verdot, combining traditional winemaking with meticulous organic viticulture.
Te Motu Vineyard - Te Motu Vineyard was established by the Dunleavy family in 1989 and is noted for its fine reds, notably the Te Motu cabernet/merlot.The first vines were planted in 1989, and the first vintage was produced in 1993.
Te Whau Vineyard - With breathtaking 360° views, stunning architecture, exquisite food, and a fantastic wine list, including its own five-star wines, Te Whau Vineyard and Cafe is a truly unique wine lover's experience.
If you enjoyed this post, make sure you subscribe to my RSS feed!
Prior to departing for my 14 night "Wine & Gourmet Cuisine Cruise" on the Regent Seven Seas Mariner between Sydney Australia and Auckland, New Zealand I had a very good friend mention we must visit Waiheke Island, New Zealand. It was one of the many highlights of our 3 week adventure. Great little shops, antique stores, friendly people and gorgeous countryside as well as great wine added up to the best way to end our holiday adventure.
Waiheke Island is a picturesque blend of farmland, forest, beaches, vineyards and olive groves. Located in the Hauraki Gulf of New Zealand, it is only 35 minutes by ferryboat from downtown Auckland. There is a great range of activities on Waiheke including sightseeing, mountain biking, sea kayaking, vineyard & winery tours and much more. When planning a trip to New Zealand, schedule a few extra days to relax on the island.
Waiheke is the third most populated island in New Zealand, after the North and South Islands. Waiheke Island has a permanent population of around 8,000 residents. Much of the population lives close to the western end of Waiheke Island, at or close to an east-west isthmus between Huruhi Bay and Oneroa Bay which, at its narrowest, is only 600 metres wide.
History of Waiheke Island
Discovered and settled by Maori approximately 1000 years ago, Waiheke translates to 'cascading waters'. Some Maori legends relate that one of the pioneering waka (canoes) to New Zealand came upon the island. The first traces of Europeans arrived with the missionary Samuel Marsden in the early 1800s, several years after Captain Cook passed by and acknowledged the island in his travels through the Hauraki Gulf.
Contact the Travel Gal when planning your South Pacific holiday.
Your Friend in the Islands!
Teresa@LuxuryHideaways.net or call me at 800 644-6659
If you enjoyed this post, make sure you subscribe to my RSS feed!