The 21st Hawaiki Nui Va'a (or canoe paddle race) is currently underway - it is an intense, three-day outrigger canoe race from Huahine to Raiatea, Raiatea to Taha'a, and finally Taha'a to Bora Bora. To find out more about the history of the Hawaiki Nui Va'a click here,http://bit.ly/PHUNd4
Last year I was in Tahiti at this time - explored the islands and sought out a pathway for a great adventure - following the path of the race.  This is an international event, paddlers arrive from around the world.  If you're interested you definitely need to plan a year in advance, I'm experiencing the adventure next year! Bring it on!
If you enjoyed this post, make sure you subscribe to my RSS feed!
The small, luxury cruise ship m/s Paul Gauguin offers 7 night cruises around the islands of Tahiti. Below is a sample itinerary. One of the benefits of cruising is that when you spend 1 day on an island, you will know if you'll want to come back for a week.
Day 1: Embark m/s Paul Gauguin in Papeete, Tahiti - mid afternoon - set sail in the evening
Begin your journey to a paradise in the capital of Tahiti, the largest and most populated of the French Polynesian islands. Here you'll embark Paul Gauguin. This luxurious yet casual, ultra-deluxe vessel will be your home for the next week. With an endless choice of things to do, from relaxing poolside with a book to playing the slots in the casino, you will never be bored.
Day 2: Raiatea 11:00am - 6:00pm
You will have the day to explore the island that was once the cultural, religious, royal and political heart of Polynesia, and, according to legend, and lore, as well as Tahiti's most significant archeological sites.
Day 3: Taha'a (Motu Mahana) 9:00am - 5:00pm
Motu Mahana, an islet adjacent to Taha'a, is our very own South Seas paradise featuring white sand beaches with swaying palms, crystal-clear waters and gentle breezes. As an exclusive Paul Gauguin event, guests will spend a full day exploring this idyllic, isolated island, and relaxing with a delicious barbecue lunch and Polynesian entertainment featuring strolling musicians and singers.
Day 4: Bora Bora 8:00am overnight
Immediately recognizable by the basalt tombstone of Mount Otemanu rising from the ocean, this half-atoll, half-mountain is surrounded by a spectacular lagoon and a series of smaller islands. Ancient Polynesians called it Parapora, or "firstborn," because they thought it was the first island created after Raiatea.
Day 5: Bora Bora Depart 5:00pm
Explore more of this magical isle on your own or on a choice of optional shore excursions. Choose from several, like a jitney tour on "Le Truck," or a 4-wheel-drive safari, or a glass-bottom boat ride. We will set sail before dinner, enjoying a relaxing evening on board.
Day 6: Moorea 8:00am - overnight
Covered in an abundance of fresh fruits and flowers, spectacular mountain peaks, peaceful multi-hued lagoons and palm-fringed beaches - Moorea's awesome beauty is unsurpassed. During your visit, you might wish to shop for local crafts, embark on a dolphin-watching expedition with a marine biologist and witness these fascinating animals in their amazing natural habitat, or try out some of the local pineapples - said to be the most delicious in all of French Polynesia. An overnight here affords us two full days on Bora Bora's gorgeous sister island.
Day 7: Moorea depart 7:30pm
Explore more of this peaceful oasis. Perhaps you will choose to trek on the "Trails of the Ancients" or snorkel one of the world's most beautiful lagoons. At the end of the afternoon, we cruise to our home port in Papeete, docking for the night.
Day 8: Disembark Papeete 8:00am - Maururu - thank you for visiting these beautiful islands!
Life aboard the m/s Paul Gauguin:
Watersports Marina - Watersports are a highlight of the Paul Gauguin Cruises' experience. The ships' small size allow for them to navigate in shallow lagoons and narrow channels where larger ships may not sail. On the m/s Paul Gauguin,with the specially designed retractable watersports platform, guests may descend to sea level where they can conveniently hop aboard a windsurfer, launch a kayak, or set out for a SCUBA diving expedition. A SCUBA certification program is offered on The Gauguin.
Ambassadors of the Environment Youth Program: Explorer and environmentalist Jean-Michel Cousteau is committed to the belief that the survival of the world's oceans depends on capturing the imagination at a young age. In order to ensure that conservation remains a priority among future generations, he created the Ambassadors of the Environment Youth Program under the auspices of the Ocean Futures Society.
Some of the benefits and features of this luxury cruise:
Spacious, all-oceanview suites and staterooms
Complimentary beverages incl. select wines
All onboard gratuities included
Complimentary select spirits & soft drinks
Complimentary 24-hour room service
Refrigerator replenished daily with soft drinks, beer and bottled water
Watersports Marina
Cousteau Ambassadors of the Environment Youth Program
For more information, special pricing and upgrades contact the Travel Gal
at 800 644-6659 or email Teresa@LuxuryHideaways.net
If you enjoyed this post, make sure you subscribe to my RSS feed!
The m/s Paul Gauguin - our favorite boutique, luxury cruiseship that is actually more like a large yacht is now even better then ever!  The Gauguin just completed a $7 million renovation.
Guests can now enjoy the following brand-new amenities:
- New décor, including new flooring and replaced carpeting, elegant furniture, new window treatments, and decorative wall panels in all suites, staterooms and public areas
- New furnishings and lighting in the ship's elegant dining areas
- A new built-in banquet and expanded gaming in Le Casino
- Improved dance floors, where guests dance the night away under the South Pacific sky
- A new integrated display case for books and art
- New signage, providing a lighter, brighter feel
The Gauguin offers all-inclusive pricing - especially when you consider that you'll also save 50% off standard cruise fares plus FREE airfare from Los Angeles–an additional value of up to $3,200 per couple on select sailings.
Contact the Travel Gal for specials and exclusive Virtuoso amenities!
800 644-6659 or Teresa@luxuryhideaways.net
If you enjoyed this post, make sure you subscribe to my RSS feed!
This year the annual 3 day canoe race is set for Nov. 7-9, 2012 in the Leeward Islands of Tahiti.  Va'a (canoe racing) is one of the traditional sport of Tahiti.  Over 100 canoes will race between the islands of Huahine, Raiatea, Taha'a and Bora Bora.  The finishing line will be at the Matira Point in Bora Bora.  Travel Gal is making plans to be there - who wants to join me?
For more information contact me at Teresa@LuxuryHideaways.net
If you enjoyed this post, make sure you subscribe to my RSS feed!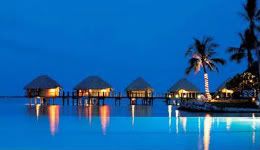 Manihi is an atoll in Tahiti's Tuamotu Archipelago. It is the idyllic retreat of a South Sea Society Island life. Manihi offers balmy breezes, idyllic pristine beaches and clear waters.
Where to stay: Manihi Pearl Beach Resort is a little luxury hideaway offering beachside and overwater bungalows with hardwood floors and palm-frond ceilings have ceiling fans, minibars, and coffeemakers.
The complimentary amenities include miniature golf, snorkel in the lagoon, and paddle kayaks and outrigger canoes at no extra charge.
There are only 41 guestroom at the resort, offering a very personal feel. The staff caters to the needs of each and every guest by helping plan trips, personalizing your bungalow and offering helpful tips about the area. Visitors will experience a relaxing and calm vacation surrounded by the pristine waters and natural, undiscovered beauty of the Tuamotu Archipelago.
The true gem of the resort is the surrounding water, filled with dazzling arrays of fish and coral reef life. Diving and snorkeling are the best way to see the beauty of the lagoon up close and personal. The resort is famous for its "Motu Picnic" which includes fishing, snorkeling, delicious seaside dining and an endless view of the turquoise blue horizon.
Manihi atoll is a great destination if you are looking for a Tahitian Cultured Pearl, which is Tahiti's largest export and a local specialty.
Visitors can explore Tahitian cultured black pearl farms in the Tuamotu atolls Manihi, Rangiroa and on the islands of Raiatea, Taha'a, and Huahine, and can watch the grafting of the blacked-lipped oysters that create these exotic and highly prized pearls. Before buying pearls, stop by theblacked-lipped oysters Tahiti Black Pearl Oyster Museum in Papeete to learn how to judge the value based on size, color, luster, and shape.
If you are looking for the ultimate island paradise, a tiny little haven for just a few chosen people,
Contact the Travel Gal at 800 644-6659 or Teresa@LuxuryHideaways
to plan your romantic beach vacation!
If you enjoyed this post, make sure you subscribe to my RSS feed!
Do you hear a little whisper in your ear? Perhaps the swaying palm tree or ocean breeze? Are the islands of Tahiti calling you?  Bora Bora, Moorea, Raiatea, Taha'a, Huahine…come and explore lush green valleys, numerous waterfalls, pineapple and vanilla plantations. Private island beach picnic on a deserted motu? Champagne & lobster are a great combination!
Do you dream of strolling along a white sand beach with swaying palms, hiking spectacular mountain peaks, or snorkeling in the multi-hued lagoons of a tropical island?
In an overcrowded, overdeveloped and overcomplicated world, Tahiti and her islands offer a welcomed trip back. Go back to a time of simple, natural beauty-where no structure is taller than a palm tree. Time to begin planning your winter vacation…
If you enjoyed this post, make sure you subscribe to my RSS feed!
Every year, in the islands of Huahine, Raiatea, Taha'a and Bora Bora, takes place the incredible Hawaiki Nui Canoe Race!
This competition has gained international fame to become THE not-to-be-missed event for fans of the sport.  Approximately 80 teams from the islands and worldwide enter the race on an itinerary starting from Huahine to Bora Bora. Each day equals a segment:
Day 1, Huahine to Raiatea;
Day 2, Raiatea to Taha'a;
Day 3, the longest segment of this beautiful adventure, Taha'a to Bora Bora.
The race unveils the physical and mental strength of each canoe paddler. It does indeed require quite a mental of steel to paddle hours long with no rest!
Each departure, each arrival in the islands is spectacular! However, we have to admit that the Grand "Finale" in Bora Bora's lagoon is just the most amazing!
You can be part of this unique adventure too!
Contact us now to book YOUR Hawaiki Nui experience at 800 644-6659!
or Teresa@Luxuryhideaways.net
If you enjoyed this post, make sure you subscribe to my RSS feed!
There are quite a few adventures from which to choose while cruising the South Pacific islands aboard the Paul Gauguin. Here are some of my top favorite adventures:
Aito Off Road Safari - Travel in a four-wheel drive vehicle for a journey inside the volcanic crater that created Moorea.
Catamaran Sail with Snorkel - Explore Moorea's beauty aboard a catamaran. Ride to Moorea's northern coast, then on to Cook's and Opunohu Bays. Upon reaching Opunohu Bay, the captain will drop anchor in the clear blue waters of a coral garden.
Dolphin Watching Expedition - Join Marine Biologist Dr. Michael Poole or his assistant for this eco-tour. With luck, you'll see schools of spinner dolphins while listening to informative commentary about their remarkable society. Dolphins are found on 95% of the tours, but the engaging narrative and magnificence of Moorea's coastline ensure a rewarding time. Guests visiting between July and early November may also view humpback whales in their annual mating and calfing rituals.
Coral Gardens Drift Snorkeling - After a short ride by motorboat, walk across an uninhabited motu off the coast, where your guide will lead you as the current carries you through the shallow lagoon on the way back to the boat. You will be delighted to find that this area abounds with a spectacular variety of tropical fish and amazing coral. This shore excursion is available from both Raiatea and Taha'a.
Exploration of Taha'a - You'll drive via a safari off-road vehicle across one of Taha'a highest mountains. Visit a scenic viewpoint, learn the traditional use of local plants and trees, and learn the tamure, a Tahitian dance. Then tour a local vanilla plantation and a black pearl farm to learn how these treasures are cultured and harvested.
Golf in Paradise at the Moorea Green Pearl -Enjoy magnificent mountain and ocean views while playing this 18-hole championship course. The Nicklaus Design team created the course around the natural beauty of the island. Amateurs and professionals alike will find the Moorea Green Pearl Golf Course to be both challenging and inspirational.
In Paul Gauguin's Footsteps - Take a walk in the footsteps of Paul Gauguin and explore the museum that bears his name during this scenic tour of Tahiti.
Raiatea Highlights Island Tour - Explore the interior of this picturesque island, climbing the hillside through untouched forests of bamboo, balsa and rosewood. Then pass pearl farms, local agriculture and conclude at the Botanical Garden with a guided nature walk.
Snorkel and Black Pearl Farm - Discover the Motu Pearl Farm, where you'll learn all about the magnificent black pearl. Continue to a small motu for some snorkeling in the crystal clear lagoon of Taha'a and get acquainted with the myriad of tropical fish there. You'll also find a small lagoonarium where you can swim with turtles, rays, and fish enclosed in different pools.
Tahiti - Off the Beaten Path - Explore a side of Tahiti not commonly seen by visitors during a scenic off-road journey through this idyllic island. Depart the pier with your guide in an off-road vehicle for the scenic drive through Tahiti's pristine interior.
If you enjoyed this post, make sure you subscribe to my RSS feed!