Do you want to organize an Australia vacation or honeymoon but not quite sure where to begin? Do you have 2 weeks to spare and want to relax on the beach as well as enjoy the city?  I suggest a bit of Melbourne, the Whitsunday Islands and finish up in Sydney! Here is a great sample itinerary - this is a great one for a family holiday as well as honeymoon - of course we will be able to customize it for you:
Day 1 Fly USA to Melbourne
Please note international air from the USA has not been included in the package price.
Day 2 You cross the International Dateline
The International Date Line is an imaginary line on the earth's surface that approximately coincides with the 180th meridian (LONGITUDE), and separates the calendar date. Traveling east across the line takes the traveler back one day; traveling west, takes the traveler forward one day.
Day 3 Welcome to Melbourne, Australia
On arrival into Melbourne, you will need to clear customs and make your way through the main arrivals hall where you will be transferred to your accommodation.
At first glance, Melbourne may resemble any other modern city with its skyline full of concrete & glass. However, if you look a little closer, you'll find the real Melbourne, a city of unique charm.  There are the clanging trams (street cars), swanky boutiques, friendly taxi drivers, Australian Rules Football, fickle weather and 'BYO's', by the hundred (restaurants to which you bring your own liquor or wine). Add to this, Melbourne's traditional virtues of tree lined boulevards, glorious parks, elegant buildings & imposing Victorian Banks & Churches, and of course the giant Melbourne Cricket Ground and you'll have some idea of the city.
Day 4 Melbourne tour
Melbourne is famous for its magnificent parks and gardens which surround the city. See the famous Floral Clock, Botanic Gardens, Flagstaff Gardens and inspect Captain Cook's Cottage in the beautiful Fitzroy Gardens.  See the colorful Victoria Market, Old Melbourne Gaol, Shrine of Remembrance and travel over the Westgate Bridge for panoramic views over Port Phillip Bay.
Day 5 At leisure, Melbourne
Melbourne, the capital of Victoria and a cultural hub, is known for the good things in life - fashion, food, entertainment and sport. This is a city of style, architecture, trams, theatres and art.
Day 6 Fly Melbourne to Whitsunday Islands
You will be transferred to the airport for your flight to the Whitsundays. Upon arrival you will board a luxury cruiser for your launch service to Hayman. (Deluxe option only.)
Bordered by the Great Barrier Reef and 74 tropical islands in the calm waters of the Coral Sea, the Whitsundays lie midway along Australia's Queensland coast.
Days 7-9 At leisure, Whitsunday Islands
Discover the wonder that is Heart Reef. Sink your feet into the white, silica sands of world-famous Whitehaven Beach. Or simply sail at sunset across our crystal-clear waters and take in the Islands of the Great Barrier Reef.
Day 10 Fly Whitsunday Islands to Sydney
Launch from Hayman to Hamilton Island. (Deluxe option only.)

Sunny, sexy, sophisticated - Sydney basks as the shining star of the southern hemisphere. The stunning Sydney Opera House and Sydney Harbour Bridge are the pride and joy, but there's much more to offer.
Sydney's sparkling harbor is the jewel in the city's crown. It's flanked by golden beaches and bush land, and is bisected by one of the most famous bridges in the world. Islands sprinkle its waters, and it's crisscrossed by all manner of craft, from water taxis and yachts to tour boats and ferries.
Day 11 Sydney city tour
Enjoy a morning touring Sydney's glorious city, harbor and famous beaches. Pass through the historic Rocks area and circular en route to Bondi Beach where we stop for morning tea (own expense). The tour will travel through Chinatown, Darling Harbour, Kings Cross and Double Bay, and you will view the Opera House, Harbour Bridge and visit Mrs. Macquarie's Chair.
Days 12-13 At leisure, Sydney
At your leisure to explore Sydney. Most of the major attractions of the city are within easy walking distance from your accommodation - Sydney Opera House, Darling Harbour, Centrepoint Tower, Circular Quay, The Rocks, etc.
Day 14 Fly Sydney to USA
You will be met and transferred by private vehicle to the airport for your departure flight.
11 nights From $2,275.00 per person based on double occupancy - land and internal air; prices subject to change; black outs apply; ask for sw-city/island trip.
* Please note international air from the USA has not been included in the package price.
For more information on travel to Australia - contact the Travel Gal at 800 644-6659 or email Teresa@LuxuryHideaways.net
If you enjoyed this post, make sure you subscribe to my RSS feed!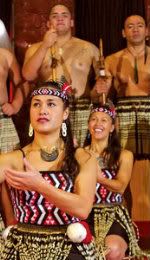 Hi Teresa
Yes yes yes! Our trip was all fabulous and even more than we expected! Auckland was great. Our tours were terrific! When we arrived we took a ferry to Devinport. It was such a lovely quaint town. In Rotorua the Springs was beautiful. We went to the Polanesia Spa and were pampered all day
Our cruise was wonderful. New Zealand is absolutely beautiful. We took so many pictures and had some enlarged and framed.
We saw our friends in Melbourne and had an Australian Barbie.
Sydney was really my dream. I had to touch the walls of the Opera House, to realize that I was truly there.  Our stop in Tasmania completed the dream of kangaroos and koalas.
We did so much and the time went so fast that we hardly believed it was time to come home.
You did such a wonderful job and made our trip worry free.  Absolutely everyone and everything was on time and perfectly planned.  You are terrrrrrrific!
Love ya
Mary Ann and Armand
If you enjoyed this post, make sure you subscribe to my RSS feed!
When I have Clients cruising in or out of Sydney, Australia, I always suggest spending 4-6 nights in one of my favorite Sydney luxury hideaways as well as organizing a few day tours for them.  We can set up a private car & driver or a small group tour.  For instance, the Blue Mountain National Park is close by and not to be missed. Below is an example of a Full Day - Small Group Tour:
Departing your city hotel this morning, the tour starts in the historical precinct of the Rocks, the birth place of Sydney and Australia. Heading North, we cross the Harbour Bridge and west towards the historical towns of Windsor and Richmond. Some of Sydney's earliest history can be found in these quaint villages. We enjoy some beautiful, home made morning tea at the foot of the mountains.
Continuing, we cross the Nepean River at the charming village of Yarramundi where we stop to view a myriad of Native Australian Birds in their natural wetland environment. Not far from here we enter the Blue Mountains National Park and view outstanding Aboriginal Rock Art. Hidden in thick bush land, you will be amazed at the detail of artworks that are thousands of years old. Our steep ascent of the mountains continues as we arrive at Hawkesbury Heights for outstanding views over the Sydney basin.
Next it is on to the town of Blackheath, deep in the heart of the Blue Mountains for a traditional Australian Barbecue under the canopy of the Bush. Enjoy world class food and wine in unique surroundings and experience the plethora of wildlife that surrounds us. After lunch we visit the stunning Wentworth Falls for a short walk to explore the area and the view the stunning scenery. Later we drop into a hidden valley where we roam the area, seeking out the many kangaroos that graze in the wild, before returning to Sydney.
For more informations and ideas (on cruise and land arrangements),
contact the Travel Gal at 800 644-6659 or email Teresa@LuxuryHideaways.net
If you enjoyed this post, make sure you subscribe to my RSS feed!
We had wonderful time on our trip!!  Thank you so much for putting it together for us.  Neal & I thought you must have put in lots of time and energy to get us such a special trip.
We missed a couple of stops on our cruise.  There was a major storm so the Captain had to turn around and head back up the New Zealand coast to where the two island are and cut through there to get over to Australia.  It was quite exciting - the Captain told us the winds were 100 miles an hour.  He also said that for a while he cut the engine and the wind was pushing us backwards.  We stopped at Port Chalmers & then had 3 days at sea  - I'm not sure which places we missed - I think one had  a fiord in its name. I think we missed 2 stops during that time but we didn't care.  The crew made lots of activites for everyone to do and we all had a good time.  We enjoyed all the different Trivia games, Neal & Merrit & Sue played Bingo a couple times everyday  - Sue even won once.
The condo in Sydney was spectacular!   We particularly enjoyed the views of the harbor.  Each morning we looked forward to seeing what new crusie ships had arrived overnight.
Everything was so handy  -  short walk to the harbor, the rocks and shopping.  What more can a tourist hope for!!
Even though it started off hectic - with the storm in Seattle - it didn't take us long to love every minute of our trip.   We especially liked the Blue Mountain Tour we took.  Actually we liked all the tours and places we went while in New Zealand & Australia.
Thanks again for all the time and effort you put in to make our trip so special!
Dolores & Neal
If you enjoyed this post, make sure you subscribe to my RSS feed!
The Great Southern Rail - What better way to explore the natural beauty of Australia than aboard one of Australia's great train journeys between Perth - Adelaide - Sydney.
INDIAN PACIFIC TRAIN
The Indian Pacific gives you two oceans on one of the world's longest and greatest train journeys.  Named after the two great oceans it joins and symbolised by the magnificent wedge-tailed eagle that so often soars above it, the mighty Indian Pacific traverses 4,352km (2,698 miles) between Perth and Sydney.
More than three million guests have already enjoyed this epic journey, which spans a continent, travelling the whole distance in three days and three nights. Setting off from Perth, your train climbs through the scenic Avon Valley and into Western Australia's expansive wheat belt, before arriving late evening at your first stop in the city of Kalgoorlie.
Next day, you'll discover the landscape takes on a richer hue as the journey moves through the mallee scrub into the ancient Nullarbor Plain, with the landscape unmarked by the passing millennia.
Stepping off during a brief pause at Cook in the middle of the Nullarbor Plain, you will experience Australia's vast open spaces from a unique perspective.
Arriving in Adelaide the following morning you can choose to break your journey for a few days touring this picturesque city, or continue directly on to Broken Hill, with its countless tales of riches won and lost.
From here you'll travel through some of Australia's most productive farming country and into the arid outback as the sun sets. Next morning is the finale of your journey through the spectacular Blue Mountains.
Naturally, you can also do this journey from Sydney to Perth - it's just as unforgettable.
Whether your final destination on the Indian Pacific is west to Perth or east to Sydney, you'll have many opportunities to leave the train and take in some of the region's highlights. With so many wonderful sights to enjoy, this isn't just one of the longest train journeys in the world, but also one of the most memorable.
Route: Sydney - Adelaide - Perth
Duration: 3 nights in either direction
Distance: 4352 kilometres
Frequency: Twice weekly in both directions
Call us if you are interested in experiencing Australia by train, boat or private tour
800 644-6659 or email Teresa@LuxuryHideaways.net
If you enjoyed this post, make sure you subscribe to my RSS feed!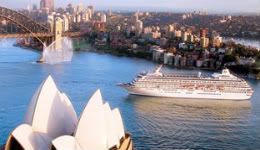 Depart from Auckland aboard Crystal Symphony December 20, 2012
Crystal Cruises has been awarded the "Best Large-Ship Cruise Line" for 15 years by Conde Nast Traveler.  Enjoy an Italian elegance, scrumptious cuisine and an extensive wine list at the Prego restaurant with signature creations by celebrity chef Piero Selvaggio.  Past guests rave about the unparalleled service, luxurious comfortable surroundings and sumptuous cuisine and extensive wine cellar.
Cruise Itinerary:
Day       Ports of Call       Arrival        Departure
1 Auckland, New Zealand —                  —
2 Auckland, New Zealand —          11:59 p.m.
3 Tauranga, New Zealand 9:00 a.m.    10:00 p.m.
4 At Sea
5 Napier, New Zealand 8:00 a.m.       6:00 p.m.
6 At Sea
7 Lyttleton (Christchurch) N.Z. 8:00 a.m.        6:00 p.m.
8 Port Chalmers (Dunedin) N.Z. 8:00 a.m.       6:00 p.m.
8 Cruise Dusky Sound
9 Cruise Milford Sound
10 At Sea
11 At Sea
12 Sydney, Australia 8:00 a.m.
13 Sydney, Australia
14 Sydney, Australia —             6:00 p.m.
15 At Sea
16 Melbourne, Australia 8:00 a.m.
17 Melbourne, Australia  depart ship
Your Package Includes:
Your package includes shipboard accommodations, ocean transportation, fabulous entertainment and daily activities, on-board meals and some beverages, port charges and more.
It does not include shore excursions, personal expenses, gratuities, or alcoholic beverages. Government fees and taxes are not included.
Call the Travel Gal for special pricing & details at 800 644-6659 or Teresa@Luxuryhideaways.net - Your Friend in the Islands!
If you enjoyed this post, make sure you subscribe to my RSS feed!
Date          Port                                                                        Arrive          Depart
Nov 16    Sydney, Australia                                                                        6:00 pm
Nov 17    At Sea, International Waters
Nov 18    Melbourne, Australia                                                8:00 am
Nov 19    Melbourne, Australia                                                                   6:00 pm
Nov 20    At Sea, International Waters
Nov 21    Hobart, Australia                                                      8:00 am       6:00 pm
Nov 22    At Sea, International Waters
Nov 23    At Sea, International Waters
Nov 24    Cruising Milford Sound, International Waters
Nov 25    Dunedin, New Zealand                                        9:00 am           6:00 pm
Nov 26    Christchurch (Lyttleton), New Zealand                  8:00 am           6:00 pm
Nov 27    Wellington, New Zealand                                     8:00 am           4:00 pm
Nov 28    Napier, New Zealand                                           8:00 am           6:00 pm
Nov 29    At Sea, International Waters
Nov 30   Tauranga, New Zealand                                        8:00 am            5:00 pm
Dec 01   Auckland, New Zealand                                        8:00 am
Aboard the Seven Seas Navigator departing 16/November 2010 for 15 nights in the six-star tradition of Regent Seven Seas Cruises. Emerging from a refurbishment in December 2009 and occupying the uppermost niche in cruising, she offers her 490 guests an unusual level of luxury and some of the highest space and service ratios at sea. From her all-suite, all-oceanview accommodations with their luxurious marble baths to her signature cuisine to her superbly attentive staff, she has few equals.
FREE UNLIMITED SHORE EXCURSIONS
Regent Seven Seas Cruises offers FREE Unlimited Shore Excursions on each and every voyage. Receive access to complimentary, award-winning shore excursions during your voyage, in addition to the all-inclusive cruise experience you have come to expect from the World's Best Cruise Line, Regent Seven Seas Cruises.
If you enjoyed this post, make sure you subscribe to my RSS feed!
Kims Beach Hideaway is a 5 star resort located on Toowoon Bay beach, an appealing seaside hideaway on the Central Coast, located less than 90 minutes north of Sydney.
Take an opportunity to learn one of Australia's most popular year round water sports, whilst staying in a exquisite Beachfront Bungalow. Coastal forest, golden sand, the ocean at your door….
Start the day waking up in your luxurious king size bed overlooking the ocean, start the day with a full, healthy Australian breakfast and then enjoy a two-hour personal surf lesson with eight-times Australian surfing champion, Sandra English. After a sumptuous buffet lunch, spend the afternoon learning the skills of kite boarding with your professional instructor before returning to the hotel for cocktails and a wonderful dinner.
Kiteboarding is the fastest growing watersport in the world, where you use the power of a kite to ride boards, buggies, and waves. Beginner, intermediate, advanced, whatever your level, your certified instructor will cater your lesson to suit. [Read more]
If you enjoyed this post, make sure you subscribe to my RSS feed!
I cannot say that I enjoyed one part of it more than the other. Heron Island was wonderful, relaxing, and warm. We went on a picnic every day. Swam with Sea Rays and Phil was the adventurous one and swam with a Reef Shark. Lamington's was just as fabulous. We went on a trek with Mick O'Reilly, he was so full of information everywhere you looked there was something to see.
We had a wonderful time in Sydney as well. The condo was the right choice and it was in a great area, we walked practically everywhere. The bridge climb was so exhilarating; I cannot believe we did it. I was a little nervous at first but then you start up the bridge and are so in awe of the view you completely forget how high up you are. Hope you are doing well and cannot wait for the next adventure!
Kris & Phil
If you enjoyed this post, make sure you subscribe to my RSS feed!