Gifts for the Children: If you'd like to bring a present to the Fiji Village children, I would suggest coloring pencils, color books or maybe a bunch of gum.
Tipping: Fijians dont typically expect to be tipped but of course we are use to tipping.  I probably would tip the driver that drives you even tho they dont expect it.  Remember that 5.00 USD or CDN is actually almost 10.00 in Fiji.  At the end of your stay, if you like the service, then contribute to the Christmas fund.  There will be a note in your room about tipping, they are very discreet.
Underwater camera: Go to Costco and buy a bunch of the disposable ones unless you want to spend some bucks.  I met a tourist here that spent 130.00 at Costco for a real camera and they loved it.  Anything like disposable cameras, batteries, lotions, anything is twice the price so try to remember as much as possible, like suntan lotion, bring a hat too as it is hot and sunny there.
What to pack: So, lots of tee shirts, shorts, sundresses, swim suits, snorkel and mask, sunscreen, sunglasses, hat and books for relaxing.  I would wear jeans and shoes on the plane so you can go hiking in the woods and have long pants and shoes to wear while in the bamboo rainforest or a hike to the waterfalls.  The coldest you are going to get is on the plane…
Call the Travel Gal for your trip to FIji - 800 644-6659 or Teresa@LuxuryHideaways.net
If you enjoyed this post, make sure you subscribe to my RSS feed!
Congratulations!  You're packing your bags and finally the holiday to the islands of Tahiti is becoming a reality!
The Tahitian culture is fascinating - to take a peek inside, here are some words and phrases to guide you on your way - although english is spoken and understood in most hotels, restaurants, and shops, learning a few Tahitian words and phrases is encouraged and appreciated.
It can also be helpful, but not mandatory, to brush up on a few basic French phrases as French and Tahitian are the official languages and both are commonly used.
The Tahitian alphabet contains only thirteen letters.
Tahitian Vowels: a as incar, e as in may, i as in machine, o as in cold, and u as in salute.
Tahitian Consonants: f,h,m,n,p,r,t,v pronounced as in English with the exceptions of theh pronounced sh when preceded by i or followed by o and the r sometimes having a trill sound.
hello, good day, friendly greeting - ia ora na!
goodbye - nana
welcome - maeva
thank you - mauruuru
no problem!, no worries! - aita pe'ape'a
how are you? - eaha te huru?
good! - maita'i
to your health, toast - manuia
Here are a few more for you:
bank - fare moni
church - fare pure
post office - fare rata
hospital - fare ma'i
store - fare toa
For more information on the islands of Tahiti - call me, Teresa your Travel Gal at 800 644-6659 or email Teresa@LuxuryHideaways.net
If you enjoyed this post, make sure you subscribe to my RSS feed!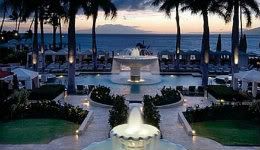 Who would've ever thought people would be flocking to Maui to cool off?! If our signature tradewinds and a dip in the beautiful blue Pacific never sounded so good, check out the low airfare that's being offered on nearly every travel site! It's currently 78 degrees and breezy here. What's the weather like in your neck of the woods?
By Four Seasons Resort Maui at Wailea
The Four Seasons Resort Maui at Wailea offers their Guests paradise with an understated island elegance.  Upon check-in, guests or the Four Seasons Resort Maui at Wailea are greeted with a fragrant fresh flower lei and a cool towel.
The two-story, open-air lobby faces the ocean and includes three restaurants, a casual bar, a spa, and health club wrapped around a courtyard with fountains, swimming pools, and spa tubs. By day, couples and families stake out prime poolside and white-sand beach spots. At night, live piano, ukulele, violin, and guitar music at the dining spots fills the air.
The resort is excited to announce their newly added infinity pool with 160 square-foot luxury cabanas, set in the exclusive 4100 square-foot Serenity Pool Terrace located on the southern-most ocean front of the resort area. Guests will find complimentary cool towels, bottled water, and Evian spritzes. The Four Seasons Resort Maui at Wailea beach concierge offers snorkeling gear at no additional charge. Individual and couples' massage treatments are offered in three private thatched-roof huts by the beach.
Three award winning restaurants serve a variety of cuisine from Italian to Pacific Rim to Steak & Seafood. , and a 21,000-square-foot spa provides a full range of exercise options and relaxation treatments.  The Travel Gal highly recommends their Spa services as some of the best on the island.
For more insider island information, contact the Travel Gal at 800 644-6659
or email Teresa@Luxuryhideaways.net
If you enjoyed this post, make sure you subscribe to my RSS feed!