Teresa:
We had a WONDERFUL trip.  THANK YOU!!! THANK YOU!!!
The Four Seasons Hualalai on the Big Island was AMAZING!!  They upgraded us to the O'hana Suite and really treated us like royalty.  Justin at the front desk was a great help.  I wrote a note to the GM referencing his excellent service.
Thank you again,
Brent & Leah M.
If you enjoyed this post, make sure you subscribe to my RSS feed!
These days more couples are opting for a destination wedding instead of the traditional hometown wedding. There are many reasons, including this is a 2nd wedding for one or both partners, famiy drama, the couples desiring a private wedding, combining the wedding with the honeymoon to save costs. I've heard planning a wedding is like putting on a broadway show and feeding the audience.
Engaged couples want to explore the most exotic vacations possible for their wedding/honeymoon - something out of the box. Choose a location that is meaningful to you as a couple - somewhere you'd like to visit or perhaps the old country where your family is from.
So, where to begin - there are a few questions for you to consider:
1.     Your favorite hobbies i.e. skiing, scuba diving, hiking, archeology, art?
2.     How about a secluded tropical island with an umbrella drink in your hand and someone to wait on you?
3.     Are you looking for your own private island?
4.     Are you more social, even though you'd like it to be the 2 of you, it would be fun to have other couples around?
5.     Are you cruisers? Perhaps you'd like a small ship or yacht cruising around the South Pacific or the Mediterranean, tucking in to tiny ports to mingle with the locals
6.     Have you considered combining your wedding with an African Safari?
7.     Exploring Cinque Terre - the UNESCO site of five villages located in Northern Italy
8.     Combining your wedding with hiking Machu Picchu in Peru & experiencing the Hyram Bingham luxury train
9.     Australia anyone?  Climb the Sydney bridge, visit the Opera house and dive the Great Barrier Reef
10. New Zealand - can you say road-trip?  Explore this fascinating and remote countryside - visit luxury country lodges at your own pace
I advise my couples to choose their destination wedding based on their personal choices, as it is your special day!  If you are considering friends and family - or at least want to invite them - send out a "save the date" card almost a year in advance, advising them where and when you are getting married.  This gives the guests time to plan their trip and perhaps turn it into their big holiday too. Also, where do you live i.e. based on how long you will be gone, this will help determine how long you'll be sitting on a plane.
Next to consider - how long can the two of you take off work? Do you have small children at home?  What is your budget?  What time of year do you want to travel?  Do consider the average weather so you know if it is a good season to hold your wedding there.  Off season may be less expensive, however who wants to hold a wedding in a monsoon?
Feel free to give me a call - I've been assisting couples for more then 20 years.  For more information and ideas, contact the Travel Gal at  800 644-6659 or Teresa@Luxuryhideaways.net
If you enjoyed this post, make sure you subscribe to my RSS feed!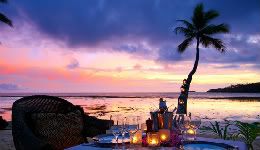 Namale Resort & Spa is an 5 star all inclusive, adults only luxury hideaway tucked away in the jungle on the East side of Fiji - it is extremely romantic and in fact has been voted #1 most romantic resort in Fiji by 2011 Tripadvisor readers.
In celebration of the award, Namale Resort is offering a Valentines Day special - stay 7 nights/pay for 5 nts at this amazing resort.
Namale caters up to 44 people at any one time. With 120 staff on call to help turn dreams into a reality, their guests are pampered beyond belief.  Since we are talking about pampering - the Spa is world class - Namale Spa & Sanctuary is like no other… Built on 10,000 square feet of volcanic uplifts, treatments consist of a blend of Asian, Western and traditional Pacific techniques; leaving a feeling of relaxation and wellness for the mind, body, and soul.
To further celebrate love in Fiji, Namale created a Holiday Package for the perfect Valentines Day which includes seven nights at any bure or villa at the Namale Resort plus the following amenities:
All Meals - Full service breakfasts, 3-course lunches and 5-course dinners and snacks
All beverages including beer, liquor, red and white wines and champagne
Round trip transfers to and from Savusavu Airport
Fully stocked and daily replenished mini-bar
Daily laundry service
Complimentary access to the Namale Fitness Centre, Kava Bowl (Indoor Entertainment Centre) & Hydrotherapy Room at the Namale Spa & Sanctuary
Complimentary activities include freshwater pools, snorkeling, kayaking, horseback riding, golfing, volleyball, bowling, virtual golf, waterfall hikes, movie theatre and more!
For more information contact the Travel Gal at 800 644-6659 or email Teresa@LuxuryHideaways.net
If you enjoyed this post, make sure you subscribe to my RSS feed!
The Tuamotu Atolls located in French Polynesia and are the remnants of ancient collapsed volcanoes and these coral atolls boast some of the most renowned snorkeling and scuba diving on earth. Expert divers refer to the magnificent coral filled lagoon as "God's Aquarium". This sheltered lagoon is home to dolphins, rays, and myriad colorful tropical fish. Nearby Fakarava is classified by UNESCO as a biosphere reserve as it is home to black sand beaches, a black pearl farm, and a variety of rare birds and plants.
Rangiroa
Rangiroa (rain-gee-roh-ah) is the largest atoll of the Tuamotu Archipelago, which comprises 78 coral atolls scattered over several hundred miles of the eastern Pacific Ocean.
Life on these remote atolls is simple, quiet and peaceful. In the small villages, the visitor can discover the true flavor of the Tuamotus, often participating in the daily activities of the Taumotu people. The interior lagoons are a haven for black pearl farms, fish breeding farms, snorkeling and scuba diving.
Rangiroa, referred to as "The Island of the Long Sky" is the largest atoll in the Southern Hemisphere, the second largest atoll in the world, and heralded as one of the world's greatest dive destinations. It is an impressive sight viewed from the air with its string of 240 coral islets (motu) encircling a 400 square mile turquoise and jade-green lagoon.
Fakarava
Fakarava (fah-kah-rah-va) is an atoll in the west of the Tuamotu group in French Polynesia. It is the second largest of the Tuamotu atolls. Fakarava's main village is called Rotoava.
Fakarava, "The Island of Dreams," is the second largest atoll after Rangiroa. It is an untouched world with an ecosystem that is home to rare birds, plants, crustaceans and exceptional dive sites.
It was once the ancient capital of the region and the site of the first Catholic mission in the atolls built of coral in the 1870's. The environment is so pure that the atoll is being considered for classification as a UNESCO nature reserve for the preservation of rare species.
Scuba diving and snorkle explorations are magical since many dive sites are virtually undiscovered.
If you would like more information or to plan a magical holiday to an amazing tropical island paradise, call us at 800 644-6659 or email Teresa@LuxuryHideaways.net today!
If you enjoyed this post, make sure you subscribe to my RSS feed!
Are you dreaming of the islands of Tahiti? Are you having visions of seeing crystal clear blue water and pretty little fish thru your snorkle mask? Lazily kicking your fins around a secluded lagoon with the only sound you hear is the waves lapping the shoreline. You are completely relaxed knowing all of your vacation expenses are covered because you have a stateroom aboard the m/s Paul Gauiguin - the all inclusive small ship cruise that is more like a large yacht with its swim step off the back of the boat, filled with all the water toys you need for a week?
Welcome aboard!
Reserve your stateroom by October 8, 2011 onboard the Paul Gauguin sailing around the South Pacific.  The Gauguin is offering unbelievable savings on select sailings of two of their most popular voyages.  While you reap the benefit of these exceptional savings, you'll also enjoy the highest standards of luxury, quality and service in the most exquisite destination on Earth.
TAHITI & THE SOCIETY ISLANDS | 7 NIGHTS Fares from $3,647 per guest for the dates of March 31, 2012/ April 21, 2012/ April 28, 2012 and May 5, 2012 Plus FREE airfare from Los Angeles
or
MARQUESAS, TUAMOTUS & SOCIETY ISLANDS | 14 NIGHTS Fares from $4,997 per guest for April 7, 2012 sailing Plus FREE airfare from Los Angeles
Space is extremely limited and filling up fast - call the Travel Gal at 800 644-6659 or
email Teresa@LuxuryHideaways.net for more details & restrictions
If you enjoyed this post, make sure you subscribe to my RSS feed!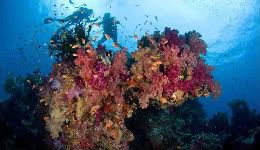 Bula Teresa!!!
I want to thank you for helping us with the most amazing honeymoon!!! It was such an amazing experience for both of us. Everything from the scuba diving to the village visit at Qamea Resort was incredible! We wished we had realized before leaving (and in all the emails you may have said I just dont recall) that we could take gifts to the kids in the village.
We ended up getting the nice people at Qamea Resort to buy some candy in town to take with us so it worked out.Vinaka vaka levu!!   Phil & Jamie
If you enjoyed this post, make sure you subscribe to my RSS feed!
Explore French Polynesia's enchanting Marquesas Islands aboard the new freighter Aranui III. The 85 cabin Aranui III is custom designed with space and comfort in mind, but retains the friendly atmosphere and experienced crew that makes it half way between a modern-day cruise ship and an old island trader.
The ship's large, family-style dining room offers French and Polynesian cuisine in a casual atmosphere. On board, you can enjoy the swimming pool and gym, cocktails in the two bars, and a library. Special facilities are offered for fishing, swimming, snorkeling and scuba diving. You'll learn about Marquesan history, culture and art from the guest lecturers.
Lifeline for these remote islands, the Aranui III makes monthly 16-day voyages, carrying everything from baguettes to bulldozers, loading copra for the return trip to Papeete. With exhilarating surf landings and fascinating excursions, a cruise aboard the Aranui III offers the rare opportunity to visit islands which remain virtually untouched since the days of the early explorers.
If you enjoyed this post, make sure you subscribe to my RSS feed!
The small luxury cruise ship m/s Paul Gauguin has scheduled a fantastic 14 day cruise where your first port is the breathtaking isle of Bora Bora. Then it's on to the Tuamotus, specifically Fakarava, an atoll known for its pristine beaches, rare wildlife, and exceptional scuba diving.
Next, explore the mist-covered Marquesas, where you'll discover the islands of Fatu Hiva, Hiva Oa, Ua Huka, and Nuku Hiva. On these wild islands you'll find waterfalls, wild stallions, tiki sculptures, and an arboretum, among other delights. More enjoyment awaits on Taha'a (Motu Mahana), Paul Gauguins own private motu, and a day at spectacular Moorea. Check out the day by day itinerary below and then give us a call ASAP!
Day 1 Embark Paul Gauguin in Papeete, Tahiti - Begin your journey through paradise in the capital of Tahiti, the largest and most populated of the French Polynesian islands.
Day 2 At Sea - Spend the day enjoying the m/s Paul Gauguin's Polynesian ambience: casual, leisurely, and graceful. Perhaps you'll take in a lecture on local wildlife or history, then dine in the evening over classic French cuisine at L'Etoile.
Day 3 Fakarava - Explore the clear waters of Fakarava in the remote and pristine Tuamotus. The island is a sanctuary for rare birds, plants and crustaceans - stroll the pink-sand beaches and you will view many of them. You may also want to visit the island's black pearl farm, or the ruins of the first church in French Polynesia built entirely of coral.
Day 4 At Sea - Take another day to enjoy shipboard life: relax poolside, watch the South Pacific slip by, play some table tennis, or take advantage of our Reading Library.
Day 5 Hanavave, Fatu Hiva - Fatu Hiva is wild and spectacularly beautiful. The jungle greenery begins at the water's edge, with narrow ravines, deep gorges and luxuriant valleys briefly open to view as the boat glides past, close to the sheer cliffs that plunge straight down into the splashing surf.
Day 6 Atuona, Hiva Oa - Hiva Oa is an island marked by wild beauty and a somber bearing. The main town is Atuona, where Paul Gauguin is buried. You might visit the village of Puamau to see the largest stone sculptures of Marquesas. The are considered links to the tikis of Easter Island and Necker Island, north of Hawaii.
Day 7 Vaipaee, Ua Huka - Home to the only arboretum in French Polynesian, the people of Ua Huka have a commitment to the conservation and the preservation of their culture that is palpable. The oldest ruins in the Marquesas are located in the Hane Valley and date back to AD 254-300.
Day 8 Tiaohae, Nuku Hiva - As the governmental and economic center, Nuku Hiva is the most important island in the Marquesas. It's also stunningly beautiful, with three major bays on the south coast and similarly gorgeous inlets on the north coast as well.
Days 9 - 10 At Sea -Take more time to enjoy shipboard life on the m/s Paul Gauguin , your own personal South Seas isle.
Day 11 Huahine - Known as the "wild" Society for its untamed, verdant forests, Huahine remains relatively untouched by modern development. Explore some of the abundant archaeological treasures - ancient homes, buildings, and marae (stone platforms that served as places of worship) - excavated and preserved throughout the island. Or dive in Huahine's crystalline lagoon, which teems with over 450 species of fish.
Day 12 Bora Bora - Bora Bora's lagoon is a must-see: this is your chance for a swim, snorkel or outrigger cruise. The lagoon is constantly replenished with ocean water from the swells that crash between sandy motus (small islets) and over the fringing reef.
Day 13 Taha'a (Motu Mahana) - Arrive at our South Seas paradise island - featuring white sand beaches with swaying palms, crystal-clear waters and gentle breezes. As an exclusive Paul Gauguin event, guests will spend a full day exploring this idyllic, isolated island, and relaxing with a delicious barbecue lunch and Polynesian entertainment which features strolling musicians and singers.
Day 14 Moorea/Papeete, Tahiti - The island of Moorea's scenery is like a dream. Try out some exciting optional watersports like scuba diving among a host of interesting sea creatures - including sea turtles, a staggering number of fish species such as barracuda, tuna, jackfish, red snapper, moray eels, trigger fish, various sizes and shapes of rays and more. At the end of the afternoon, we cruise to our home port in Papeete, docking there for the night.
Day 15 Disembark in Papeete - In the morning you'll disembark the m/s Paul Gauguin , capping off your epic journey through the South Pacific.
This cruise is offered just 4 times in 2010 and there are fantastic early booking discounts - call The Travel Gal at 800 644-6659 or email teresa@luxuryhideaways.net for details, dates and pricing.
If you enjoyed this post, make sure you subscribe to my RSS feed!
Aloha Teresa;
We are back home and had a wonderful time in Maui... the beach wedding was perfect and all the activities you arranged for us were great. The surfing lessons with the Royal Hawaiian Surf Academy and the Old Lahaina Luau you arranged were both wonderful! The Hyatt Regency Maui worked out great and we all enjoyed all it had to offer… the beach, pool, spa, restaurants, etc.
Thanks for all your help setting this up for us. We appreciate it and will be happy to share your name and contact information with others headed to Maui.
Thanks again.
Debbie
If you enjoyed this post, make sure you subscribe to my RSS feed!
Bula Teresa,
We had a wonderful time on Turtle Island for our honeymoon! I fell in love with the Fijian people & gained 5 lbs in 1 week with all the great food! We also really enjoyed scuba diving. I hope to go back one day… Thank you for all of your help arranging our vacation. It was by far the best place we have ever visited in our lives!
Thanks Again
Henry & Summer
If you enjoyed this post, make sure you subscribe to my RSS feed!