Everyone dreams of visiting the islands of Tahiti so lets learn a little bit about this piece of paradise - making your dream of visiting one step closer to a reality!
There are non-stop flights out of LAX to Tahiti.  The main airport is Papeete (ppt).  The flight time is between 7 and 8 hours and is non-stop.  I suggest departing on the red-eye flight, that way you arrive in Papeete early in the morning and can transfer immediately to an outer island.  Otherwise you will need to have a "forced" overnight in Papeete.  The airline of Tahiti is Air Tahiti Nui.
The islands officially known as French Polynesia but widely known as "Tahiti" are actually 118 individual islands located in five island groups: the Society Islands, the Tuamotus, the Marquesas, the Austral and the Gambier archipelago.
The Society Islands are the most popular island group including the main island of Tahiti and its capital city of Papeete, as well as popular vacation islands of Moorea,Bora Bora, Huahine, Raiatea, and Tahaa.
The Tuamotu Islands are known for their outstanding diving and snorkeling including the islands of Manihi, Tikehau, Rangiroa and Fakarava.
The Marquesas Islands are historically significant with their ancient stone tikis, as well as the final resting place of poet Jacque Brel and painter Paul Gauguin.
The Humpback whales enjoy the waters around the Austral Islands between July and November.
You are now 2 steps closer to enjoying your umbrella drink under a palm tree - call me, the Travel Gal for more information and lets begin planning your vacation of a lifetime!
If you enjoyed this post, make sure you subscribe to my RSS feed!
The Aranui is a mixed passenger/cargo vessel that operates between Tahiti and the Marquesas.  Experience a 14-day adventure cruise in the French Polynesia, Marquesas islands, begin the journey from Tahiti to Fakarava, Ua Pou, Nuku Hiva, Hiva Oa, Fatu Hiva, Tahuata, Ua Huka, Rangiroa and back to Papeete.
She offers comfortable, air-conditioned accommodations for about two hundred passengers. Passengers will be able to sunbathe on deck, swim in the pool, or enjoy exotic tropical drinks while the Aranui winds her way among the islands of the Marquesas.
The vessel operates under the French flag, and her crew are all Polynesian, primarily Marquesans. To give you an idea of the schedule, please see below (itinerary subject to change):
Itinerary:
Departure from Papeete, Tahiti dock at 10:30am
Day 2 - Fakarava, Tuamotu Islands
Day 3 - At Sea
Day 4 - Ua Pou (Hakahau-Hakahetau) Marquesas
Day 5 - Nuku Hiva (Taiohae-Hatiheu-Taipival)
Day 6 - Hiva Oa (Atuona)
Day 7 - Fatu Hiva (Omoa-Hanavave)
Day 8 - Hiva oa (Puamau-Hanaiapa)
Day 9 - Tahuata (Vaitahu-Hapatoni)
Day 10 - Ua Huka (Vaipaee-Hane-Hokatu), Ua Pou (Hakahau)
Day 11 - Nuku Hiva (Taiohae), Ua Pou (Hakahau)
Day 12 - At Sea
Day 13 - Rangiroa, Tuamotu Islands
Day 14 - Arrival back in Papeete at around 9:30am
Facts about the ship:
Facilities aboard the Aranui, include electrical current, telephones and a ship's boutique.
Meals
All meals are included in the price of carriage. Meals are served in the Aranui's dining room in an informal setting. Depending on the number of passengers, there will be on or two seatings. There is buffet breakfast. Lunch and dinner menus will vary depending on what fresh ingredients are available. Complimentary wine is provided at both lunch and dinner.
For shore excursions, we will provide either a picnic lunch or a delicious meal at a local restaurant.
Please let us know at the time of booking, or no later than three weeks in advance of the sailing date if you need a special, medically prescribed diet.
Clothing
Recommended clothing, luggage and sundries.
Shore Visits and Excursions
Information about excursions and activities available on your voyage.
Weather
The weather in the area is generally divided between the dry season, from March to October, and the wet season, from September to February. You can expect some rain even in the dry season, so we recommend you bring a poncho or other raingear for shore excursions. Temperatures during both seasons will average in the 80's during the day, and 60's-70's in the evening. Temperatures are given in Fahrenheit.
To experience the South Pacific in a more authentic & intimate way,
Contact the Travelgal at Teresa@Luxuryhideaways.net or 800 644-6659
If you enjoyed this post, make sure you subscribe to my RSS feed!
The Tuamotu Atolls located in French Polynesia and are the remnants of ancient collapsed volcanoes and these coral atolls boast some of the most renowned snorkeling and scuba diving on earth. Expert divers refer to the magnificent coral filled lagoon as "God's Aquarium". This sheltered lagoon is home to dolphins, rays, and myriad colorful tropical fish. Nearby Fakarava is classified by UNESCO as a biosphere reserve as it is home to black sand beaches, a black pearl farm, and a variety of rare birds and plants.
Rangiroa
Rangiroa (rain-gee-roh-ah) is the largest atoll of the Tuamotu Archipelago, which comprises 78 coral atolls scattered over several hundred miles of the eastern Pacific Ocean.
Life on these remote atolls is simple, quiet and peaceful. In the small villages, the visitor can discover the true flavor of the Tuamotus, often participating in the daily activities of the Taumotu people. The interior lagoons are a haven for black pearl farms, fish breeding farms, snorkeling and scuba diving.
Rangiroa, referred to as "The Island of the Long Sky" is the largest atoll in the Southern Hemisphere, the second largest atoll in the world, and heralded as one of the world's greatest dive destinations. It is an impressive sight viewed from the air with its string of 240 coral islets (motu) encircling a 400 square mile turquoise and jade-green lagoon.
Fakarava
Fakarava (fah-kah-rah-va) is an atoll in the west of the Tuamotu group in French Polynesia. It is the second largest of the Tuamotu atolls. Fakarava's main village is called Rotoava.
Fakarava, "The Island of Dreams," is the second largest atoll after Rangiroa. It is an untouched world with an ecosystem that is home to rare birds, plants, crustaceans and exceptional dive sites.
It was once the ancient capital of the region and the site of the first Catholic mission in the atolls built of coral in the 1870's. The environment is so pure that the atoll is being considered for classification as a UNESCO nature reserve for the preservation of rare species.
Scuba diving and snorkle explorations are magical since many dive sites are virtually undiscovered.
If you would like more information or to plan a magical holiday to an amazing tropical island paradise, call us at 800 644-6659 or email Teresa@LuxuryHideaways.net today!
If you enjoyed this post, make sure you subscribe to my RSS feed!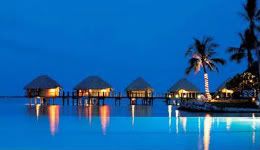 Manihi is an atoll in Tahiti's Tuamotu Archipelago. It is the idyllic retreat of a South Sea Society Island life. Manihi offers balmy breezes, idyllic pristine beaches and clear waters.
Where to stay: Manihi Pearl Beach Resort is a little luxury hideaway offering beachside and overwater bungalows with hardwood floors and palm-frond ceilings have ceiling fans, minibars, and coffeemakers.
The complimentary amenities include miniature golf, snorkel in the lagoon, and paddle kayaks and outrigger canoes at no extra charge.
There are only 41 guestroom at the resort, offering a very personal feel. The staff caters to the needs of each and every guest by helping plan trips, personalizing your bungalow and offering helpful tips about the area. Visitors will experience a relaxing and calm vacation surrounded by the pristine waters and natural, undiscovered beauty of the Tuamotu Archipelago.
The true gem of the resort is the surrounding water, filled with dazzling arrays of fish and coral reef life. Diving and snorkeling are the best way to see the beauty of the lagoon up close and personal. The resort is famous for its "Motu Picnic" which includes fishing, snorkeling, delicious seaside dining and an endless view of the turquoise blue horizon.
Manihi atoll is a great destination if you are looking for a Tahitian Cultured Pearl, which is Tahiti's largest export and a local specialty.
Visitors can explore Tahitian cultured black pearl farms in the Tuamotu atolls Manihi, Rangiroa and on the islands of Raiatea, Taha'a, and Huahine, and can watch the grafting of the blacked-lipped oysters that create these exotic and highly prized pearls. Before buying pearls, stop by theblacked-lipped oysters Tahiti Black Pearl Oyster Museum in Papeete to learn how to judge the value based on size, color, luster, and shape.
If you are looking for the ultimate island paradise, a tiny little haven for just a few chosen people,
Contact the Travel Gal at 800 644-6659 or Teresa@LuxuryHideaways
to plan your romantic beach vacation!
If you enjoyed this post, make sure you subscribe to my RSS feed!
Are you planning a winter vacation that must have fantastic scuba diving? Look no further then the islands of Tahiti.  I have listed below just a few of the amazing and pristine dive sites in the islands:
* Moorea: Explore the remains of ancient shipwrecks, glimpse a black tipped reef shark, impressively large moray eels, sea turtles and barracudas;
* Bora Bora: View Lemon sharks and manta rays close up;
* Raiatea: Discover shipwrecks and the marine life that thrives among mushroom shaped corals including octopus, tuna and leopard rays;
* Rangiroa and Fakarava: In this premier diving location, look for hammerhead sharks (Dec - Feb) or manta rays (Sept-Oct). In addition, dolphins, turtles, eagle rays and other fascinating fish species are often spotted here among coral reefs and canyon passes;
* Nuku Hiva: The steep cliffs and caves off this island reveal a variety of unusual marine life, including hammerhead sharks, melon-headed whales, moray eels and scorpion fish.
Are you convinced yet?  The two of you will find yourselves surrounded by the most beautiful and romantic islands, set amid endless Pacific waters. You have discovered paradise!
Contact your tropical island specialist at 800 644-6659 - lets begin planning your trip today!
If you enjoyed this post, make sure you subscribe to my RSS feed!