I just returned from an amazing 3 week trip around the Fiji Islands and New Zealand.  We stayed in a few luxury hideaways as well as a few roadside motels.  I learned a few things and want to share with you.
When you visit Fiji, don't let their laid back and friendly nature fool you.  Fijians are inquisitive and intelligent people.  Of course they speak their native language, but are taught English in school as well as mathematics, accounting, geography, science and history.
We visited Namale Resort & Spa for a few nights - I recall one night while enjoying an amazing dinner of prawns soaked in all sorts of South Pacific spices, our waiter nervously asked us about the difference between America and North America.  He was timid and apologetic but his inquisitive nature  and burning questions about the U.S. and the locations of our states trumped his shyness.
A very nice prior guest had sent the resort a McNally large Geography book (that we all have in our living rooms).  The resort had one of them and he was eager to open it and ask questions about like how far different countries were from each other.  He was hungry for information and to learn about the world in which we live.  Fijians are very poor and can barely afford the basic needs.  When you next visit Fiji, please pack some notebooks, fold up maps and pencils to share when visiting a village.
For more insights and travel tips, contact me at Teresa@Luxuryhideways.net or call 800-644-6659.
If you enjoyed this post, make sure you subscribe to my RSS feed!
Spend the Christmas holidays this year aboard one of the luxury yachts of Seabourn sailing between Austalia and New Zealand.  Experience life on the award winning ship Seabourn Odyssey complete with stellar service, amenities and the finest shore excursions.
Be sure to arrive in Sydney at least 4 nights prior to your cruise so you have time to explore the Sydney Opera House (perhaps take in a play or symphony), dare to climb the Sydney Bridge & explore one of the 30 bays surrounding Sydney.  Board your yacht on Dec. 23rd and cruise under the Sydney Harbor Bridge while indulging in French chamapgne - Bon Voyage!
If you too would would like to get on onboard - Call the Travel Gal today for fabulous
Virtuoso pricing as well as added amenities at 800-644-6659 or email Teresa@Luxuryhideaways.net
Day
Date
Port
Arrive
Depart
0
23 Dec 2013
Sydney, Australia
1
24 Dec 2013
Sydney, Australia
02:00 PM
2
25 Dec 2013
At Sea
3
26 Dec 2013
Melbourne, Australia
08:00 AM
08:00 PM
4
27 Dec 2013
At Sea
5
28 Dec 2013
Hobart, Australia
08:00 AM
06:00 PM
6
29 Dec 2013
At Sea
7
30 Dec 2013
At Sea
8
31 Dec 2013
Milford Sound, New Zealand
08:00 AM
09:00 AM
8
31 Dec 2013
Cruising Fiordland Natl Park
9
01 Jan 2014
Oban (Halfmoon Bay), New Zealand
08:00 AM
05:00 PM
10
02 Jan 2014
Port Chalmers (Dunedin), NZ
08:00 AM
06:00 PM
11
03 Jan 2014
Timaru, New Zealand
08:00 AM
06:00 PM
12
04 Jan 2014
Akaroa (Christchurch, NZ)
07:00 AM
07:00 PM
13
05 Jan 2014
Wellington, New Zealand
10:00 AM
11:00 PM
14
06 Jan 2014
Picton, New Zealand
08:00 AM
06:00 PM
14
06 Jan 2014
Cruising Queen Charlotte Sound
15
07 Jan 2014
Kaikoura, New Zealand
08:00 AM
05:00 PM
16
08 Jan 2014
At Sea
17
09 Jan 2014
Tauranga (Rotorua) New Zealand
08:00 AM
06:00 PM
18
10 Jan 2014
Auckland, New Zealand
07:00 AM
If you enjoyed this post, make sure you subscribe to my RSS feed!
Hawaiian Airlines will begin service from Honolulu to Auckland on March 13, with excellent connections from their eleven US gateways. New Zealand is renowned among travellers worldwide for its fascinating Maori culture and spectacular natural wonders, including pristine beaches, lush rainforests, fijords and glaciers and now you can easily combine the destination with the beautiful Hawaiian Islands. Call the travel gal at 800 644-6659 for more information.
If you enjoyed this post, make sure you subscribe to my RSS feed!
While planning your holiday to New Zealand, save time for the Nevis Swing, (AKA Nevis Arc), at 120m is Queenstown's newest thrill seeking innovation brought to you buy the gravity pioneers.
Walk across a 70m suspension bridge to the Launch Pad which is suspended high above the valley floor. Then it's up to you to choose forwards, backwards, alone or with a friend, and finally whether to release yourself or be released by their crew. Arcers will find themselves getting suspended high above the valley floor in a fully secure harnessed swing dropping down the valley floor at an incredible speed and then swooping towards the oncoming cliff face!
The Nevis Swing is the world's biggest and fastest swing, are you up for it?
The trip includes:
** Return transport from the Queenstown Bungy Centre to the Nevis site
** Duration: Expect a 4 hour return trip, some trip lengths may vary
** Children 16 years and under must have written consent from a parent or guardian
** Spectators can go out to the Nevis site for a fee of $50. This allows access to the jump site and if you wish decide to go ahead and jump when you are out there the $50 goes towards the cost of your jump.
Contact the Travel Gal and team to plan your ultimate adventure vacation today by land or by sea!
800 644-6659 or Teresa@LuxuryHideaways.net
If you enjoyed this post, make sure you subscribe to my RSS feed!
If you are looking to connect with nature and spend some time with wildlife, New Zealand is for you.You can hire a punt on an urban river; relax for days on a houseboat, motor yacht or sailing vessel; be your own captain or hire an experienced professional crew.
The pristine landscapes and waterways of the Southern South Island offer a favourite cruising experience for many, offering scenic cruises through Fiordland, Queenstown and Stewart Island.
Whether you prefer a high speed jet boat ride or a leisurely jaunt, you'll find New Zealanders are happy to share with you their love of water-borne transport.
JET BOATING
Like a jet aircraft, a jet boat has no external propeller. Instead, it squirts water out at high speed just below the surface behind the boat. This allows the boat to operate in depths of only a few centimetres.
The jet boat was developed in the 1960s by New Zealand farmer William (Bill) Hamilton, to allow navigation of the shallow Canterbury rivers. However, enterprising New Zealanders soon realised its potential as an adventure activity.
Sit back, buckle yourself in and feel the acceleration. A New Zealand jet boat ride will take you powering through narrow river gorges, almost brushing against sheer rock faces; or skimming across the surface of water channels that weave through the shingle banks of braided rivers.
Jet boating is suitable for all ages and levels of fitness, and can be enjoyed the whole year round. Some of the most exhilarating trips are available near Queenstown and Canterbury. Other areas include the Buller and Makarora regions in the South Island and the Rangitaiki, Whanganui and Waikato Rivers in the North Island.
KAYAKING - SALT WATER
Exploring New Zealand's magnificent coastline by paddle power is an exercise and pure enjoyment. You can discover the coastal regions of national parks. You can paddle around islands and along fiords. You can even paddle a traditional Maori waka.
In the South Island, sea kayaking experiences can last half a day or several. Meander through the Marlborough Sounds, where waters are sheltered and people are few; follow the edge of the Abel Tasman National Park and hope for encounters with seals, dolphins and orca; get a sea level view of a fiord; or find your way around Okarito Lagoon, where you'll see all kinds of wading birds.
In the North Island you can embark on a sea kayaking safari around the Bay of Islands, Waiheke Island or Wellington harbour. Sheltered water experiences can be found on the Hokianga and Tauranga Harbours. Paddling around a marine reserve, such as Goat Island, is always fun - beach your kayak and go for a snorkel.
RAFTING
From a quiet drift through the forested wilderness to a white-knuckled, wide-eyed journey down turbulent rapids, rafting covers the full adventure spectrum.
The mountains of New Zealand's interior feed a myriad of fast flowing rivers that run through the forests to the sea. Grade 1 rivers offer relatively tranquil waters, while grade 5 rivers is regarded as an extreme sport. Trips ranging from a couple of hours to five days are led by qualified rafting guides who comply with established safety codes. All gear and special clothing is provided.
Rafting rivers in the North Island are mostly found in the central east coast areas of the Bay of Plenty and Hawke's Bay. In the South Island, you'll get the chance to try rafting around the resort town of Queenstown, Christchurch and on the West Coast. Some operators offer a combined helicopter and rafting experience. You can also try black water rafting through underground caves.
SAILING
There are several areas of New Zealand's coastline that are ideal for sailing adventures. Sheltered harbours open out to inshore cruising grounds dotted with picturesque islands, and there are popular coastal journeys with harbour-like bays conveniently spaced less than a day's sail apart.
You can charter a vessel and sail her yourself or opt for a skipper and crew. Skippered voyages range from an afternoon tea and sightseeing sail on the harbour to several days on an ocean-going maxi racing yacht.
The style of boat varies from restored historic square riggers to New Zealand's high-tech America's Cup winners. You can get as hands on or as laid back as you wish.
The maritime reserves of the Bay of Islands, Hauraki Gulf and Marlborough Sounds are among the best areas for a holiday afloat. Auckland, known as the City of Sails, has the world's largest number of boats per head of population.
WHALE WATCHING
Kaikoura, on the east coast of the South Island, is the main centre for whale watching in New Zealand. It's one of the only places in the world where you can easily see sperm whales.
Sperm whales, the largest of the toothed whales, grow to over 15 metres in length. They dive deep into the ocean to feed. The resident population of sperm whales at Kaikoura can be seen all year round. Orca (killer whales) may be seen from December to March, and humpback whales in June and July. Several dolphin species are seen almost daily in the area.
Whales thrive close to Kaikoura because of its unusual submarine landscape. The continental shelf drops quickly into a number of extremely deep underwater canyons. In addition, a warm current from the north meets a colder one from the south. This causes nutrients from deep within the ocean to be carried upward, a phenomenon that helps to support all types of marine life from plankton and krill to dolphins and whales.
DOLPHINS
An encounter with dolphins always feels such a privilege. Their gentle nature is something most people admire, and something we would prefer to see more of in humans. These playful creatures appear keen to communicate. They're quite a large animal, yet they present us with no danger. They are intelligent, but seem to be completely free of cruelty or greed. This may explain why swimming with dolphins has been rated by visitors as one of the top tourism experiences in the country.
Many dolphin species can be seen in New Zealand. There's the common dolphin and the large bottle-nosed dolphin, which can often exceed three metres in length. The smaller dusky dolphin is less than two metres long and is very playful. The Hector's dolphin is one of the world's rarest and smallest dolphins, and is found only in our waters.
New Zealand offers a wide selection of dolphin watching and swimming tours. Operators take great care not to harm the dolphins, and some of the tour price often goes towards dolphin conservation.
PENGUINS
These cute little creatures are bound to make you smile. In the sea they dive and swoop like other birds do in the air, and on land they march upright and waddle like officials in a parade.
You'll find three species of penguin around New Zealand. The korora, or little blue penguin, is the world's smallest. Standing only 25 centimetres tall, and weighing just over a kilogram, it is found in coastal waters and often comes ashore at night. The Marlborough Sounds, Akaroa Harbour, Oamaru and Stewart Island are excellent places to see little blues.
The rare hoiho, or yellow-eyed penguin, has a beautiful yellow eye band sweeping back from each yellow eye. You can find hoiho on the Otago Peninsula, just out of Dunedin, and along the South Otago Coast.
The Fiordland crested penguin is one of the world's rarest. It is found in Fiordland and Stewart Island, in the deep south of the South Island.
Antarctic king and gentoo penguins can be viewed at an aquarium and Antarctic attraction in Auckland.
To learn more about travel to New Zealand, call the Travel Gal at 800 644-6659 or email Teresa@LuxuryHideaways.net
If you enjoyed this post, make sure you subscribe to my RSS feed!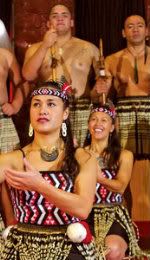 Hi Teresa
Yes yes yes! Our trip was all fabulous and even more than we expected! Auckland was great. Our tours were terrific! When we arrived we took a ferry to Devinport. It was such a lovely quaint town. In Rotorua the Springs was beautiful. We went to the Polanesia Spa and were pampered all day
Our cruise was wonderful. New Zealand is absolutely beautiful. We took so many pictures and had some enlarged and framed.
We saw our friends in Melbourne and had an Australian Barbie.
Sydney was really my dream. I had to touch the walls of the Opera House, to realize that I was truly there.  Our stop in Tasmania completed the dream of kangaroos and koalas.
We did so much and the time went so fast that we hardly believed it was time to come home.
You did such a wonderful job and made our trip worry free.  Absolutely everyone and everything was on time and perfectly planned.  You are terrrrrrrific!
Love ya
Mary Ann and Armand
If you enjoyed this post, make sure you subscribe to my RSS feed!
These days more couples are opting for a destination wedding instead of the traditional hometown wedding. There are many reasons, including this is a 2nd wedding for one or both partners, famiy drama, the couples desiring a private wedding, combining the wedding with the honeymoon to save costs. I've heard planning a wedding is like putting on a broadway show and feeding the audience.
Engaged couples want to explore the most exotic vacations possible for their wedding/honeymoon - something out of the box. Choose a location that is meaningful to you as a couple - somewhere you'd like to visit or perhaps the old country where your family is from.
So, where to begin - there are a few questions for you to consider:
1.     Your favorite hobbies i.e. skiing, scuba diving, hiking, archeology, art?
2.     How about a secluded tropical island with an umbrella drink in your hand and someone to wait on you?
3.     Are you looking for your own private island?
4.     Are you more social, even though you'd like it to be the 2 of you, it would be fun to have other couples around?
5.     Are you cruisers? Perhaps you'd like a small ship or yacht cruising around the South Pacific or the Mediterranean, tucking in to tiny ports to mingle with the locals
6.     Have you considered combining your wedding with an African Safari?
7.     Exploring Cinque Terre - the UNESCO site of five villages located in Northern Italy
8.     Combining your wedding with hiking Machu Picchu in Peru & experiencing the Hyram Bingham luxury train
9.     Australia anyone?  Climb the Sydney bridge, visit the Opera house and dive the Great Barrier Reef
10. New Zealand - can you say road-trip?  Explore this fascinating and remote countryside - visit luxury country lodges at your own pace
I advise my couples to choose their destination wedding based on their personal choices, as it is your special day!  If you are considering friends and family - or at least want to invite them - send out a "save the date" card almost a year in advance, advising them where and when you are getting married.  This gives the guests time to plan their trip and perhaps turn it into their big holiday too. Also, where do you live i.e. based on how long you will be gone, this will help determine how long you'll be sitting on a plane.
Next to consider - how long can the two of you take off work? Do you have small children at home?  What is your budget?  What time of year do you want to travel?  Do consider the average weather so you know if it is a good season to hold your wedding there.  Off season may be less expensive, however who wants to hold a wedding in a monsoon?
Feel free to give me a call - I've been assisting couples for more then 20 years.  For more information and ideas, contact the Travel Gal at  800 644-6659 or Teresa@Luxuryhideaways.net
If you enjoyed this post, make sure you subscribe to my RSS feed!
We had wonderful time on our trip!!  Thank you so much for putting it together for us.  Neal & I thought you must have put in lots of time and energy to get us such a special trip.
We missed a couple of stops on our cruise.  There was a major storm so the Captain had to turn around and head back up the New Zealand coast to where the two island are and cut through there to get over to Australia.  It was quite exciting - the Captain told us the winds were 100 miles an hour.  He also said that for a while he cut the engine and the wind was pushing us backwards.  We stopped at Port Chalmers & then had 3 days at sea  - I'm not sure which places we missed - I think one had  a fiord in its name. I think we missed 2 stops during that time but we didn't care.  The crew made lots of activites for everyone to do and we all had a good time.  We enjoyed all the different Trivia games, Neal & Merrit & Sue played Bingo a couple times everyday  - Sue even won once.
The condo in Sydney was spectacular!   We particularly enjoyed the views of the harbor.  Each morning we looked forward to seeing what new crusie ships had arrived overnight.
Everything was so handy  -  short walk to the harbor, the rocks and shopping.  What more can a tourist hope for!!
Even though it started off hectic - with the storm in Seattle - it didn't take us long to love every minute of our trip.   We especially liked the Blue Mountain Tour we took.  Actually we liked all the tours and places we went while in New Zealand & Australia.
Thanks again for all the time and effort you put in to make our trip so special!
Dolores & Neal
If you enjoyed this post, make sure you subscribe to my RSS feed!
The Feast at Lele is located in Lahaina, at the South end of Front Street - 505 Front Street, on the water. Lele is the ancient name for Lahaina, and on this beach is where the royals would entertain and feast. It is no wonder then that this is now the home to the "Cadillac" of luaus, the Feast at Lele – an intimate and sophisticated evening with Polynesian cuisine and entertainment.
Each presentation is designed with authenticity in mind. The tour begins in Hawaii; then they journey to New Zealand, Tahiti and end with Samoa — the show is very entertaining and beautiful. The luau is very elegant and I love that it is a sit down dinner with wonderful entertainment, food and drinks.
What makes Feast at Lele special among luaus is that it is a sit down dinner (no standing in a buffet line!), with prIvate tables reserved for the number of people in each party. The setting is spectacular, and every table offers a panoramic view.
The Menu is designed by Executive Chef James McDonald and he presents a celebration of Polynesian cuisine with each course progressing through the islands of Polynesia to match the entertainment: first course from Hawaii, second course from New Zealand, third course from Tahiti, fourth course from Samoa and fifth course is dessert. Traditional Polynesian staples like banana, taro and sweet potato chips served with a tropical ginger and ogo seaweed salsa. You will not leave hungry and will love the authenticity of this fabulous luau.
If you want to celebrate a special occasion like an anniversary, honeymoon or birthday - the Feast at Lelel is "doin' it island style".
For more Island style ideas call the Travel Gal at 800 644-6659 or email teresa@luxuryhideaways.net
If you enjoyed this post, make sure you subscribe to my RSS feed!
Dear Teresa,
MaryAnn and I want let you know that we had a wonderful time on our honeymoon. This was due to all of your planning. We cannot thank you enough for all that you had done for us. Thank you for the delicious chocolate covered strawberries. We will be in contact with you to help plan our next trip to Australia/New Zealand or Hawaii.
Thank You
Armand Cilento
If you enjoyed this post, make sure you subscribe to my RSS feed!