Dear Teresa,
I've written this recommendation of your work to share with other LinkedIn users.
Details of the Recommendation: "I judiciously selected and trusted 100% Teresa to take control of my honey moon destination, Fiji. She works vigorously for us to ensure that we kept all the costs within my budget and not only that, also ensured that we stayed in one of the best resort in Fiji. Great work Teresa!
I would strongly recommend her for all travel needs, whether you're going to an exotic destination or cursing around the world. She does your dream come true."
Service Category: Travel Agent
Year first hired: 2012
Top Qualities: Great Results, Expert, High Integrity
If you enjoyed this post, make sure you subscribe to my RSS feed!
Namale Resort & Spa one of the Fiji Islands premier luxury, all inclusive resorts.  Now they are sweetening your holiday even more with an incredible romance offer.
From proposals to weddings, honeymoons to anniversaries, or just a romantic getaway, Namale Resort & Spa is an unforgettable setting for life's special occasions. With breathtaking ocean views surrounded by tropical rainforest our magical location is perfect for your escape.
Romance Package Includes:
-Champagne in Room upon Arrival
-Breakfast in Bed
-Couples 45 minute Sugar Glow Treatment (valued at $350 FJD)
-Private Candlelight Dinner
-Namale Plush Robes (valued at $80FJD)
-One Night Free with a minimum of a 5 night stay
BOOKING CODE: ROMANCE
Booking Window: Now - March 31st 2015
Stay Dates: Now - May 31st 2015
Conditions & Pricing:
Romance Package nightly rates is based on the Stay 5 Pay 4 pricing.
All above items are value add components.
Minimum length of stay of five nights based on contracted rates.
Offers subject to availability and blackout dates.Certain Conditions apply.
Must be 18 years or older to consume alcoholic beverages.
Not valid on existing reservations. Can not be combined with other stay pay offers.
For More information contact me, your Travel Gal at 800-644-6659 or email Teresa@luxuryhideaways.net
If you enjoyed this post, make sure you subscribe to my RSS feed!
I love it when I hear back from my Clients on their holidays - such wonderful reviews, its why I do what I do:
Teresa, The vacation to Namale Resort & Spa was absolutely astounding! I have but two remaining questions: One, where can I write your glowing review? And two, what other travel locations do you service?
We're not ready for our next vacation just yet but I'd be more than happy to peruse options and start saving for another vacation.
Seriously, I could not have asked for anything more. Two staff members cried when we left. They were the nicest people ever.
Austin F.  2014
How about you? Are you ready for me to assist you in planning the "best vacation ever?!"  Contact me:
The Travel Gal at 800-644-6659 or email Teresa@LuxuryHideaways.net today!
If you enjoyed this post, make sure you subscribe to my RSS feed!
Teresa-
Thank you for helping me plan my honeymoon to Namale Resort & Spa in Fiji!  It was the best time ever at this little luxury hideaway. Your service was great to us and everything was so smooth that I have referred one of my childhood friends to you to help with there honeymoon.  They are looking at Bora Bora. I wanted to know what's the best way for them to get a hold of you? Let me know and I will get the info to them and I will give them yours.
Thank you again
Ryan B. 2014
If you enjoyed this post, make sure you subscribe to my RSS feed!
I just returned from an amazing 3 week trip around the Fiji Islands and New Zealand.  We stayed in a few luxury hideaways as well as a few roadside motels.  I learned a few things and want to share with you.
When you visit Fiji, don't let their laid back and friendly nature fool you.  Fijians are inquisitive and intelligent people.  Of course they speak their native language, but are taught English in school as well as mathematics, accounting, geography, science and history.
We visited Namale Resort & Spa for a few nights - I recall one night while enjoying an amazing dinner of prawns soaked in all sorts of South Pacific spices, our waiter nervously asked us about the difference between America and North America.  He was timid and apologetic but his inquisitive nature  and burning questions about the U.S. and the locations of our states trumped his shyness.
A very nice prior guest had sent the resort a McNally large Geography book (that we all have in our living rooms).  The resort had one of them and he was eager to open it and ask questions about like how far different countries were from each other.  He was hungry for information and to learn about the world in which we live.  Fijians are very poor and can barely afford the basic needs.  When you next visit Fiji, please pack some notebooks, fold up maps and pencils to share when visiting a village.
For more insights and travel tips, contact me at Teresa@Luxuryhideways.net or call 800-644-6659.
If you enjoyed this post, make sure you subscribe to my RSS feed!
Bula bula and aloha,
I just wanted to share a comment I have from my honeymoon couple in Fiji staying at Namale Resort & Spa right now:
Aloha Teresa,
This place is over the moon!!!  You did great!   We've both been to many all-inclusives, but the service here is non-stop!  Thank you!  Off to play now!
If you too would like to experience this luxury hideaway in Fiji - call me at 800 644-6659 today!
If you enjoyed this post, make sure you subscribe to my RSS feed!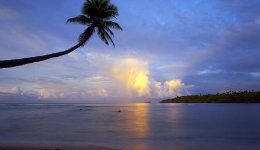 Recently voted as an Oprah favorite thing, Namale Resort & Spa is an all-inclusive boutique resort that is definitely a "luxury hideaway".  In celebration of this award, Namale is offering 2 free nights when you pay for 7 nights in a bure or villa for 2 people, including:
Chilled champagne and welcome basket in your villa upon arrival
Private candlelight dinner over the Koro Sea under a bed of stars
Romantic themed turn down service on the eve of guest departure
All inclusive-features of the resort:

All meals, champagne breakfast, 3 course lunches and 5 course dinners
All beverages (alcoholic & non-alcoholic) with no limitations on beers,spirits, house wines & house champagne
Daily replenishable mini bar
Daily laundry services
Nightly turndown services
Internet room access and Wi-Fi connections
Complimentary access to fitness center and indoor entertainment center
Activities such as snorkeling, horseback riding, Rainforest hikes and so much more
Catering to honeymooners and sophisticated vacationers seeking tranquility, privacy, fabulous outdoor activities, Namale is surrounded by 535 acres of lush tropical landscape.  The resort sits on a narrow headland overlooking the Koro Sea. Luxurious yet relaxed, the resort features traditional Fijian architecture and décor throughout.
Guests are welcome to  swim in one of three outdoor pools, take a dip in the spa tub, or take advantage of numerous water sports. The spectacular on-site spa, situated on a volcanic cliff overlooking the ocean, features a central hydrotherapy/aromatherapy room with a spa tub, soaking tubs, and a steam room. The resort also features a fitness center and an activities center with a movie theater, bowling alley, putting green, and virtual golf.  Kayaking, snorkeling and scuba diving are excellent - plan on spending plenty of time in the water, experiencing an abundant sea life teaming with multi colored fish and beautiful coral trees.
NOTE: I remember suntanning on a remote beach when an employee from the Resort popped out of the bushes to ask me if I wanted a cocktail!
If you're looking for the ultimate romantic resort and want to experience the most outrageous spa in all of Fiji - Namale is for you!
Namale Resort is very intimate and only offers 19 bures & villas to choose from, stay dates are 1/15/2013 thorugh 4/15/2013.
Call me, the Travel Gal before 23rd of December 2012 for an extra special treat
at 800 644-6659 or email Teresa@LuxuryHideaways.net.
If you enjoyed this post, make sure you subscribe to my RSS feed!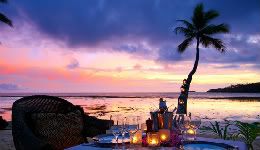 Namale Resort & Spa is an 5 star all inclusive, adults only luxury hideaway tucked away in the jungle on the East side of Fiji - it is extremely romantic and in fact has been voted #1 most romantic resort in Fiji by 2011 Tripadvisor readers.
In celebration of the award, Namale Resort is offering a Valentines Day special - stay 7 nights/pay for 5 nts at this amazing resort.
Namale caters up to 44 people at any one time. With 120 staff on call to help turn dreams into a reality, their guests are pampered beyond belief.  Since we are talking about pampering - the Spa is world class - Namale Spa & Sanctuary is like no other… Built on 10,000 square feet of volcanic uplifts, treatments consist of a blend of Asian, Western and traditional Pacific techniques; leaving a feeling of relaxation and wellness for the mind, body, and soul.
To further celebrate love in Fiji, Namale created a Holiday Package for the perfect Valentines Day which includes seven nights at any bure or villa at the Namale Resort plus the following amenities:
All Meals - Full service breakfasts, 3-course lunches and 5-course dinners and snacks
All beverages including beer, liquor, red and white wines and champagne
Round trip transfers to and from Savusavu Airport
Fully stocked and daily replenished mini-bar
Daily laundry service
Complimentary access to the Namale Fitness Centre, Kava Bowl (Indoor Entertainment Centre) & Hydrotherapy Room at the Namale Spa & Sanctuary
Complimentary activities include freshwater pools, snorkeling, kayaking, horseback riding, golfing, volleyball, bowling, virtual golf, waterfall hikes, movie theatre and more!
For more information contact the Travel Gal at 800 644-6659 or email Teresa@LuxuryHideaways.net
If you enjoyed this post, make sure you subscribe to my RSS feed!