Spend the Christmas holidays this year aboard one of the luxury yachts of Seabourn sailing between Austalia and New Zealand.  Experience life on the award winning ship Seabourn Odyssey complete with stellar service, amenities and the finest shore excursions.
Be sure to arrive in Sydney at least 4 nights prior to your cruise so you have time to explore the Sydney Opera House (perhaps take in a play or symphony), dare to climb the Sydney Bridge & explore one of the 30 bays surrounding Sydney.  Board your yacht on Dec. 23rd and cruise under the Sydney Harbor Bridge while indulging in French chamapgne - Bon Voyage!
If you too would would like to get on onboard - Call the Travel Gal today for fabulous
Virtuoso pricing as well as added amenities at 800-644-6659 or email Teresa@Luxuryhideaways.net
Day
Date
Port
Arrive
Depart
0
23 Dec 2013
Sydney, Australia
1
24 Dec 2013
Sydney, Australia
02:00 PM
2
25 Dec 2013
At Sea
3
26 Dec 2013
Melbourne, Australia
08:00 AM
08:00 PM
4
27 Dec 2013
At Sea
5
28 Dec 2013
Hobart, Australia
08:00 AM
06:00 PM
6
29 Dec 2013
At Sea
7
30 Dec 2013
At Sea
8
31 Dec 2013
Milford Sound, New Zealand
08:00 AM
09:00 AM
8
31 Dec 2013
Cruising Fiordland Natl Park
9
01 Jan 2014
Oban (Halfmoon Bay), New Zealand
08:00 AM
05:00 PM
10
02 Jan 2014
Port Chalmers (Dunedin), NZ
08:00 AM
06:00 PM
11
03 Jan 2014
Timaru, New Zealand
08:00 AM
06:00 PM
12
04 Jan 2014
Akaroa (Christchurch, NZ)
07:00 AM
07:00 PM
13
05 Jan 2014
Wellington, New Zealand
10:00 AM
11:00 PM
14
06 Jan 2014
Picton, New Zealand
08:00 AM
06:00 PM
14
06 Jan 2014
Cruising Queen Charlotte Sound
15
07 Jan 2014
Kaikoura, New Zealand
08:00 AM
05:00 PM
16
08 Jan 2014
At Sea
17
09 Jan 2014
Tauranga (Rotorua) New Zealand
08:00 AM
06:00 PM
18
10 Jan 2014
Auckland, New Zealand
07:00 AM
If you enjoyed this post, make sure you subscribe to my RSS feed!
Do you want to organize an Australia vacation or honeymoon but not quite sure where to begin? Do you have 2 weeks to spare and want to relax on the beach as well as enjoy the city?  I suggest a bit of Melbourne, the Whitsunday Islands and finish up in Sydney! Here is a great sample itinerary - this is a great one for a family holiday as well as honeymoon - of course we will be able to customize it for you:
Day 1 Fly USA to Melbourne
Please note international air from the USA has not been included in the package price.
Day 2 You cross the International Dateline
The International Date Line is an imaginary line on the earth's surface that approximately coincides with the 180th meridian (LONGITUDE), and separates the calendar date. Traveling east across the line takes the traveler back one day; traveling west, takes the traveler forward one day.
Day 3 Welcome to Melbourne, Australia
On arrival into Melbourne, you will need to clear customs and make your way through the main arrivals hall where you will be transferred to your accommodation.
At first glance, Melbourne may resemble any other modern city with its skyline full of concrete & glass. However, if you look a little closer, you'll find the real Melbourne, a city of unique charm.  There are the clanging trams (street cars), swanky boutiques, friendly taxi drivers, Australian Rules Football, fickle weather and 'BYO's', by the hundred (restaurants to which you bring your own liquor or wine). Add to this, Melbourne's traditional virtues of tree lined boulevards, glorious parks, elegant buildings & imposing Victorian Banks & Churches, and of course the giant Melbourne Cricket Ground and you'll have some idea of the city.
Day 4 Melbourne tour
Melbourne is famous for its magnificent parks and gardens which surround the city. See the famous Floral Clock, Botanic Gardens, Flagstaff Gardens and inspect Captain Cook's Cottage in the beautiful Fitzroy Gardens.  See the colorful Victoria Market, Old Melbourne Gaol, Shrine of Remembrance and travel over the Westgate Bridge for panoramic views over Port Phillip Bay.
Day 5 At leisure, Melbourne
Melbourne, the capital of Victoria and a cultural hub, is known for the good things in life - fashion, food, entertainment and sport. This is a city of style, architecture, trams, theatres and art.
Day 6 Fly Melbourne to Whitsunday Islands
You will be transferred to the airport for your flight to the Whitsundays. Upon arrival you will board a luxury cruiser for your launch service to Hayman. (Deluxe option only.)
Bordered by the Great Barrier Reef and 74 tropical islands in the calm waters of the Coral Sea, the Whitsundays lie midway along Australia's Queensland coast.
Days 7-9 At leisure, Whitsunday Islands
Discover the wonder that is Heart Reef. Sink your feet into the white, silica sands of world-famous Whitehaven Beach. Or simply sail at sunset across our crystal-clear waters and take in the Islands of the Great Barrier Reef.
Day 10 Fly Whitsunday Islands to Sydney
Launch from Hayman to Hamilton Island. (Deluxe option only.)

Sunny, sexy, sophisticated - Sydney basks as the shining star of the southern hemisphere. The stunning Sydney Opera House and Sydney Harbour Bridge are the pride and joy, but there's much more to offer.
Sydney's sparkling harbor is the jewel in the city's crown. It's flanked by golden beaches and bush land, and is bisected by one of the most famous bridges in the world. Islands sprinkle its waters, and it's crisscrossed by all manner of craft, from water taxis and yachts to tour boats and ferries.
Day 11 Sydney city tour
Enjoy a morning touring Sydney's glorious city, harbor and famous beaches. Pass through the historic Rocks area and circular en route to Bondi Beach where we stop for morning tea (own expense). The tour will travel through Chinatown, Darling Harbour, Kings Cross and Double Bay, and you will view the Opera House, Harbour Bridge and visit Mrs. Macquarie's Chair.
Days 12-13 At leisure, Sydney
At your leisure to explore Sydney. Most of the major attractions of the city are within easy walking distance from your accommodation - Sydney Opera House, Darling Harbour, Centrepoint Tower, Circular Quay, The Rocks, etc.
Day 14 Fly Sydney to USA
You will be met and transferred by private vehicle to the airport for your departure flight.
11 nights From $2,275.00 per person based on double occupancy - land and internal air; prices subject to change; black outs apply; ask for sw-city/island trip.
* Please note international air from the USA has not been included in the package price.
For more information on travel to Australia - contact the Travel Gal at 800 644-6659 or email Teresa@LuxuryHideaways.net
If you enjoyed this post, make sure you subscribe to my RSS feed!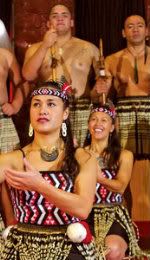 Hi Teresa
Yes yes yes! Our trip was all fabulous and even more than we expected! Auckland was great. Our tours were terrific! When we arrived we took a ferry to Devinport. It was such a lovely quaint town. In Rotorua the Springs was beautiful. We went to the Polanesia Spa and were pampered all day
Our cruise was wonderful. New Zealand is absolutely beautiful. We took so many pictures and had some enlarged and framed.
We saw our friends in Melbourne and had an Australian Barbie.
Sydney was really my dream. I had to touch the walls of the Opera House, to realize that I was truly there.  Our stop in Tasmania completed the dream of kangaroos and koalas.
We did so much and the time went so fast that we hardly believed it was time to come home.
You did such a wonderful job and made our trip worry free.  Absolutely everyone and everything was on time and perfectly planned.  You are terrrrrrrific!
Love ya
Mary Ann and Armand
If you enjoyed this post, make sure you subscribe to my RSS feed!
It is the year to discover Australia - From the dramatic silhouette of the Sydney Opera House, the arch of the Sydney Harbour Bridge, waterfront dining and vibrant nightlife, the city will leave you captivated.
There are plenty of things to do and see in Australia - here is a sample itinerary for 5 nights but I highly recommend planning your trip for at least 10 nights if possible.
Experience Sydney in 2012 Package Includes:
Roundtrip flights from Los Angeles to Sydney
5 nights Sydney, 3-star hotel
Sydney City sightseeing tour
Sydney Harbour lunch cruise
Blue Mountains World Heritage full day sightseeing tour
Entrance to Wild Life Sydney at Darling Harbour
Roundtrip transfers Airport/Hotel
Qantas Vacations 24 hour emergency travel assistance
Air taxes
Optional hotel upgrades available: Choose from The Menzies Hotel Sydney,
Holiday Inn Old Sydney, Sydney Harbour Marriott or Shangri-La Sydney.
Add from $100pp*
Travel Dates
Valid for travel departing between 15 Apr - 8 Jun 2012 or 15 Jul - 21 Sep 2012.
Other travel dates may apply
Give the Travel gal a call at 800 644-6659 and lest get packing!
Travel Gal Tips: Australia's summer falls during North America's winter. The warmest months are November through March. You'll find the best travel deals between April and August, the start of fall. This time of year is ideal for an Outback adventure-the cooler weather is just right for a walkabout.
Flight Times
Sydney: 21 hours from New York (via L.A.); 14 hours from L.A.
Sydney to Melbourne: 1.5 hours
Melbourne to Cairns: 2.5 hours
Sydney to Perth: 2 hours
Sydney to Darwin: 3 hours
If you enjoyed this post, make sure you subscribe to my RSS feed!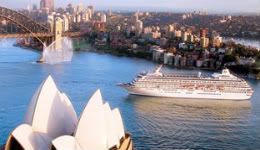 Depart from Auckland aboard Crystal Symphony December 20, 2012
Crystal Cruises has been awarded the "Best Large-Ship Cruise Line" for 15 years by Conde Nast Traveler.  Enjoy an Italian elegance, scrumptious cuisine and an extensive wine list at the Prego restaurant with signature creations by celebrity chef Piero Selvaggio.  Past guests rave about the unparalleled service, luxurious comfortable surroundings and sumptuous cuisine and extensive wine cellar.
Cruise Itinerary:
Day       Ports of Call       Arrival        Departure
1 Auckland, New Zealand —                  —
2 Auckland, New Zealand —          11:59 p.m.
3 Tauranga, New Zealand 9:00 a.m.    10:00 p.m.
4 At Sea
5 Napier, New Zealand 8:00 a.m.       6:00 p.m.
6 At Sea
7 Lyttleton (Christchurch) N.Z. 8:00 a.m.        6:00 p.m.
8 Port Chalmers (Dunedin) N.Z. 8:00 a.m.       6:00 p.m.
8 Cruise Dusky Sound
9 Cruise Milford Sound
10 At Sea
11 At Sea
12 Sydney, Australia 8:00 a.m.
13 Sydney, Australia
14 Sydney, Australia —             6:00 p.m.
15 At Sea
16 Melbourne, Australia 8:00 a.m.
17 Melbourne, Australia  depart ship
Your Package Includes:
Your package includes shipboard accommodations, ocean transportation, fabulous entertainment and daily activities, on-board meals and some beverages, port charges and more.
It does not include shore excursions, personal expenses, gratuities, or alcoholic beverages. Government fees and taxes are not included.
Call the Travel Gal for special pricing & details at 800 644-6659 or Teresa@Luxuryhideaways.net - Your Friend in the Islands!
If you enjoyed this post, make sure you subscribe to my RSS feed!
Date          Port                                                                        Arrive          Depart
Nov 16    Sydney, Australia                                                                        6:00 pm
Nov 17    At Sea, International Waters
Nov 18    Melbourne, Australia                                                8:00 am
Nov 19    Melbourne, Australia                                                                   6:00 pm
Nov 20    At Sea, International Waters
Nov 21    Hobart, Australia                                                      8:00 am       6:00 pm
Nov 22    At Sea, International Waters
Nov 23    At Sea, International Waters
Nov 24    Cruising Milford Sound, International Waters
Nov 25    Dunedin, New Zealand                                        9:00 am           6:00 pm
Nov 26    Christchurch (Lyttleton), New Zealand                  8:00 am           6:00 pm
Nov 27    Wellington, New Zealand                                     8:00 am           4:00 pm
Nov 28    Napier, New Zealand                                           8:00 am           6:00 pm
Nov 29    At Sea, International Waters
Nov 30   Tauranga, New Zealand                                        8:00 am            5:00 pm
Dec 01   Auckland, New Zealand                                        8:00 am
Aboard the Seven Seas Navigator departing 16/November 2010 for 15 nights in the six-star tradition of Regent Seven Seas Cruises. Emerging from a refurbishment in December 2009 and occupying the uppermost niche in cruising, she offers her 490 guests an unusual level of luxury and some of the highest space and service ratios at sea. From her all-suite, all-oceanview accommodations with their luxurious marble baths to her signature cuisine to her superbly attentive staff, she has few equals.
FREE UNLIMITED SHORE EXCURSIONS
Regent Seven Seas Cruises offers FREE Unlimited Shore Excursions on each and every voyage. Receive access to complimentary, award-winning shore excursions during your voyage, in addition to the all-inclusive cruise experience you have come to expect from the World's Best Cruise Line, Regent Seven Seas Cruises.
If you enjoyed this post, make sure you subscribe to my RSS feed!