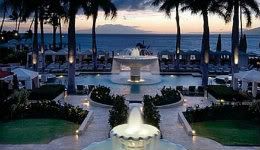 Who would've ever thought people would be flocking to Maui to cool off?! If our signature tradewinds and a dip in the beautiful blue Pacific never sounded so good, check out the low airfare that's being offered on nearly every travel site! It's currently 78 degrees and breezy here. What's the weather like in your neck of the woods?
By Four Seasons Resort Maui at Wailea
The Four Seasons Resort Maui at Wailea offers their Guests paradise with an understated island elegance.  Upon check-in, guests or the Four Seasons Resort Maui at Wailea are greeted with a fragrant fresh flower lei and a cool towel.
The two-story, open-air lobby faces the ocean and includes three restaurants, a casual bar, a spa, and health club wrapped around a courtyard with fountains, swimming pools, and spa tubs. By day, couples and families stake out prime poolside and white-sand beach spots. At night, live piano, ukulele, violin, and guitar music at the dining spots fills the air.
The resort is excited to announce their newly added infinity pool with 160 square-foot luxury cabanas, set in the exclusive 4100 square-foot Serenity Pool Terrace located on the southern-most ocean front of the resort area. Guests will find complimentary cool towels, bottled water, and Evian spritzes. The Four Seasons Resort Maui at Wailea beach concierge offers snorkeling gear at no additional charge. Individual and couples' massage treatments are offered in three private thatched-roof huts by the beach.
Three award winning restaurants serve a variety of cuisine from Italian to Pacific Rim to Steak & Seafood. , and a 21,000-square-foot spa provides a full range of exercise options and relaxation treatments.  The Travel Gal highly recommends their Spa services as some of the best on the island.
For more insider island information, contact the Travel Gal at 800 644-6659
or email Teresa@Luxuryhideaways.net
If you enjoyed this post, make sure you subscribe to my RSS feed!
Oahu: is home to Honolulu and the world-famous Waikiki Beach. 95% of the people that live in Hawaii, live on Oahu. Famous Waikiki has a lively nightlife and great shopping. Days can be spent either relaxing on the beach or surfing the huge waves on Oahu's North Shore.
Visitors may like to take the opportunity to visit the Iolani Palace - A Hawaiian national treasure and the only official state residence of royalty in the United States, `Iolani Palace was the official residence of the Hawaiian Kingdom's last two monarchs–King Kalakaua, who built the Palace in 1882, and his sister and successor, Queen Lili`uokalani. During the monarchy period, the Palace was the center of social and political activity in the Kingdom of Hawai`i.
Visit Pearl Harbor and the USS Arizona Memorial - the final resting place for many of the battleship's 1,177 crew members who lost their lives on December 7, 1941. The Memorial commemorates the site where World War II began for the United States. Experience history through the national memorial's program tour, museum, and wayside exhibits.
Maui: is the Valley Isle of white-sand beaches and breathtaking vistas. Maui is the island to visit for the vacation of your dreams. On Maui you can experience the "real" Hawaii, go on a heart pounding adventure, or simply relax on the beach.
Our favorite time of year to visit is between November and March when the Humpback whales make their way to Maui to birth their calves and are frequently sighted offshore enjoying the warm Maui waters.
Hawaii: is referred to as the Big Island to distinguish it from the state of Hawaii. As its name suggests, it is the largest of Hawaii's islands - in fact, it's twice the size of all the other islands put together. The Big Island has it all - fiery volcanoes and sparkling waterfalls, black-lava deserts and snow-capped mountain peaks, tropical rainforests and miles of golden, black and even green sand beaches. This tranquil island is renowned for its beautiful exotic flowers, especially orchids. Its been described as looking like the inside of a barbeque pit on one side and a tropical rainforest on the other side.
Kauai: is known as the Garden Island and offers a landscape of luscious shades of green. Formed by one central volcano, the sheer height of the mountain means that the peak experiences excellent rainfall and the island has a number of picturesque rivers.
On any list of the world's most spectacular islands, Kauai ranks right up there with Bora Bora, Huahine, and Rarotonga, you don't just go to Kauai, you absorb it with every sense. Kauai may get more than its fair share of tropical downpours, but that's what makes it so lush and green, and creates an abundance of rainbows.
Molokai: More secluded and less developed than Hawaii's other islands, Molokai calls itself "the friendly isle." It's best known for its former lepers' colony, now Kalaupapa National Historical Park. The remote park can be reached by hiking, on muleback, or in a small plane.
Those who drive Molokai's coastal highway encounter St. Joseph's church and tropical gardens, ancient temples and fishponds, a rainforest, and scenic waterfalls.
Lanai: Get away from it all on Lanai. There's no public transport on this tiny island, but you can rent a four-wheeler and drive 100 miles of paved and unpaved roads, past uncrowded beaches and pastoral terrain. Despite its size, Lanai offers a large variety of activities, including hiking through ancient ruins, horseback riding, shooting clays, golf, sampling traditional Hawaiian fare, and snorkeling in waters where spinner dolphins frolic. The island is a multifaceted place that's so much more than a luxury resort. The traveler who comes to discover the island's natural wonders, local lifestyle, and other inherent joys is bound to have the most genuine island experience.
Kahoolawe: Is an island that was used as bombing practice until recently. At this time there are local volunteer groups traveling to the island to plant vegetation and restore plant life to the island.
If you enjoyed this post, make sure you subscribe to my RSS feed!