Teresa-
Thank you for helping me plan my honeymoon to Namale Resort & Spa in Fiji!  It was the best time ever at this little luxury hideaway. Your service was great to us and everything was so smooth that I have referred one of my childhood friends to you to help with there honeymoon.  They are looking at Bora Bora. I wanted to know what's the best way for them to get a hold of you? Let me know and I will get the info to them and I will give them yours.
Thank you again
Ryan B. 2014
If you enjoyed this post, make sure you subscribe to my RSS feed!
Teresa,
We had a Great Time, it was most beautiful, and relaxing!! Love the people!! We took a walk to the village, and took the boat back. Snorkeled, and just relaxed alot. I looked up in the sky the first night I was there, and I could not believe what I was seeing. I've never seen so many stars in the sky, ever!!
Everything was Great!!, including you, and everything you set up for us…Since I am a musician, I am thinking about doing a fund raiser here in New Orleans for my new Fijian Musician Friends.  The guitar player did not have any extra strings, so when he broke one, he had to tie the two ends back together.  I'm gonna be sending him some guitar strings, an a guitar tuner, and some other things. But, if we are able to raise some money may get them some guitars, and who knows may need to go and deliver them to Viwa….
Thanks for everything, and yes if I hear of any friends looking for help planning a trip, I will most certainly give them your information.      Thanks So Much Teresa!!
Reed A.
If you enjoyed this post, make sure you subscribe to my RSS feed!
Whether you are visiting a luxury hideaway like Le Taha'a Resort & Spa or cruising aboard the luxury cruise ship m/s Paul Gauguin, you do need to bring some $$$ - here is a money guide to assist you.
Money & Currency
Travelers checks, US dollars and credit cards are accepted in tourist areas. The hotels will also exchange money for their guests;

The currency used in French Polynesia is the French Pacific Franc  (CFP or XPF);

There is approximately 100 CFP or XPF to one U.S. dollar, depending on the rate of exchange fluctuations;

Major credit cards are widely accepted;

ATM's are available in Papeete, Faa'a airport as well as several locations throughout the islands;
Phone Service in Tahiti
Phone cards can be purchased at the local post office. NOTE: Phone calls from Tahiti to the US are very expensive, so we advise calling your party and then having them call you back. Fax services are also available at the hotels;
Cell phone service
Cell phone service may be available in Tahiti.  However, check with your provider before departure to check for availability and international rates - NOTE: When you call your carrier, do be sure they are not listing your plan under "France" instead of French Polynesia - it can get expensive - last year AT & T did not have a plan for the islands of Tahiti.
For more information and to assist with your trip to the South Pacific call me, the Travel Gal at
800 644-6659 or email Teresa@LuxuryHideaways.net
If you enjoyed this post, make sure you subscribe to my RSS feed!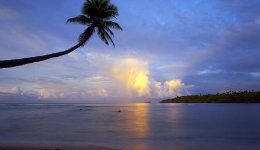 Recently voted as an Oprah favorite thing, Namale Resort & Spa is an all-inclusive boutique resort that is definitely a "luxury hideaway".  In celebration of this award, Namale is offering 2 free nights when you pay for 7 nights in a bure or villa for 2 people, including:
Chilled champagne and welcome basket in your villa upon arrival
Private candlelight dinner over the Koro Sea under a bed of stars
Romantic themed turn down service on the eve of guest departure
All inclusive-features of the resort:

All meals, champagne breakfast, 3 course lunches and 5 course dinners
All beverages (alcoholic & non-alcoholic) with no limitations on beers,spirits, house wines & house champagne
Daily replenishable mini bar
Daily laundry services
Nightly turndown services
Internet room access and Wi-Fi connections
Complimentary access to fitness center and indoor entertainment center
Activities such as snorkeling, horseback riding, Rainforest hikes and so much more
Catering to honeymooners and sophisticated vacationers seeking tranquility, privacy, fabulous outdoor activities, Namale is surrounded by 535 acres of lush tropical landscape.  The resort sits on a narrow headland overlooking the Koro Sea. Luxurious yet relaxed, the resort features traditional Fijian architecture and décor throughout.
Guests are welcome to  swim in one of three outdoor pools, take a dip in the spa tub, or take advantage of numerous water sports. The spectacular on-site spa, situated on a volcanic cliff overlooking the ocean, features a central hydrotherapy/aromatherapy room with a spa tub, soaking tubs, and a steam room. The resort also features a fitness center and an activities center with a movie theater, bowling alley, putting green, and virtual golf.  Kayaking, snorkeling and scuba diving are excellent - plan on spending plenty of time in the water, experiencing an abundant sea life teaming with multi colored fish and beautiful coral trees.
NOTE: I remember suntanning on a remote beach when an employee from the Resort popped out of the bushes to ask me if I wanted a cocktail!
If you're looking for the ultimate romantic resort and want to experience the most outrageous spa in all of Fiji - Namale is for you!
Namale Resort is very intimate and only offers 19 bures & villas to choose from, stay dates are 1/15/2013 thorugh 4/15/2013.
Call me, the Travel Gal before 23rd of December 2012 for an extra special treat
at 800 644-6659 or email Teresa@LuxuryHideaways.net.
If you enjoyed this post, make sure you subscribe to my RSS feed!
The Ritz Carlton Kapalua, Maui is celebrating its 20th anniversary this October!  The Ritz Carlton overlooks the famed surfers paradise of Honolua Bay and is surrounded by premier Kapalua Golf Courses. This gorgeous luxury hideaway is a paradise resort immersed in legendary Hawaiian culture and magnificent beauty.
In celebration of this amazing resort, the Ritz Carlton is offering a "Legacy of Aloha" accommodation package from September 1st - December 18th, 2012. Deluxe accommodations will be offered at a 20% discount off the nightly rate making this is a platinum anniversary that can't be missed.
This package will also include a commemorative insider's guide that offers amazing savings and showcases the top 20 must do experiences at this destination resort in Kapalua.
For more information on all the Ritz Carlton Kapalua has to offer
contact the Travel Gal at

800 644-6659 or email Teresa@LuxuryHideaways.net
If you enjoyed this post, make sure you subscribe to my RSS feed!
Sleeping Beauties Castle here we come - and its not at Disneyworld! Thorngrove Manor Hotel is a picturesque castle (truly a luxury hideaway) located in the southern part of Australia, in the outskirts of Adelaide city.
Upon arrival at Thorngrove Manor Hotel, you will be transported back in time due to the iconic baroque towers, flamboyant interiors and fantasy turrets.  You will also discover antiques, exquisitely crafted rooms and furniture, winding staircases, friezes, stencilled designs at every turn.  You will also experience the utmost in privacy and service while staying here.
Thorngrove manor is 20 minutes from the Adelaide city centre, in South Australia's oldest wine region. It is a romantic retreat perfect for fabulous day trips to Kangaroo Island, Adelaide, Barossa Valley and the Clare Valley. A scenic marked walking trail winds its way to the nearby village of Stirling.
Thorngrove is part of the unique Small Luxury Hotels of the World, and has been considered as one of the world's most outstanding, romantic and artistic lodges in the planet.
Lets organize your Australia cruise to include a few nights at this romantic retreat either before or after your cruise! Contact me, the Travel Gal at 800 644-6659 or email Teresa@Luxuryhideaways.net
If you enjoyed this post, make sure you subscribe to my RSS feed!
The Royal Lahaina Resort is Maui's original beachfront resort - located direct oceanfront in North Kaanapali.  This luxury hideaway reflects the spirit of aloha with its laidback atmosphere and island ambiance. But don't let that fool you, there is a lot going on, including the newest (and only) Jazz Club on the island.  Join David Choy and friends to enjoy world class music and entertainment at Jazz Club Maui, where Hawaii's most talented musicians will be performing smooth jazz, rhythm & blues. Saturday Nights from 8:30pm to midnight, starting May 26, 2012.
The resort was refurbished in 2008 but still maintain the island flare - the oceanfront cottage accommodations are reminiscent of Hawaii's Plantation Era, while the 12 story Lahaina Kai Tower's luxurious guestrooms and suites feature state of the art amenities and island inspired décor.
The resort is surrounded by 2 championship golf courses.  Take advantage of the "Royal-Tee Golf Package" listed below:
ROYAL-TEE GOLF PACKAGE*
From $279 per night valid March 1, 2012 - November 30, 2012
Five night minimum stays receive a reduced rate in an Ocean View room, full American buffet breakfast for two daily, four rounds of golf per stay at either of the two championship Kaanapali Golf Courses, plus complimentary golf club rentals.
*Royal-Tee Golf package tee times are available after 11am at either the Royal Kaanapali Golf Course or Kaanapali Kai Golf Course. Tee times can be made within 90 days of arrival directly with the hotel. Not applicable for groups
If you're not a golfer, then take advantage of the 5th night free package.  There are plenty of activities, the Resort is known for its popular nightly luau, drawing visitors from all over the island.  Resort guests will also find 2 oceanfront swimming pools, shopping, an 11 court tennis ranch, ocean-view dining and classic tiki bars.
5TH NIGHT FREE PACKAGE
Valid Apr. 1, 2012-Mar. 31, 2013. Blackout Dates Apply: Dec. 22, 2012-Jan. 2, 2013.
For every 5 nights booked your package price will be reduced by an amount equal to one night's room revenue in the Oceanfront Cottage Room and Lahaina Kai Tower: Ocean View, Deluxe Ocean View, and Ocean Front View Rooms. Valid on consecutive night stays only.
Visit the Royal Lahaina Resort and step back in time when life moved at a slower pace and the beaches are virtually empty except for a few snorkelers and shell seekers.
For more information and island inside scoop, contact the Travel Gal at 800 644-6659 or Teresa@Luxuryhideaways.net
If you enjoyed this post, make sure you subscribe to my RSS feed!
I am returning to the Hawaiian Island of Molokai after 5 years, this time my Mother and sisters are joining me.  I am planning an "Experience Molokai" on a 4 day excursion.   We will stay at Hotel Molokai (a genuine luxury hideaway) from all things mainstream - which is styled after a Polynesian village and located on Kamiloloa beach.  It is a tiny oceanfront resort complete with a bar and restaurant - by the way, it's the only place to get draft beer on the island!  The hotel is "community minded" as they offer a Polynesian show every Friday night as well as host a community party once a year - this year its on January 24th - we will be there.
When visiting Molokai you will experience authentic Hawaii with unspoiled coastlines, serene seascapes, untamed wilderness and no building taller then a cocoanut tree.  In the central town of Kaunakakai, absent of traffic lights and virtually unchanged since the early 1900's.
This charming paniolo (Hawaiian cowboy) town is also the island's main harbor, where some locals still fish for their dinner. Stroll down to Kaunakakai Harbor to the end of the state's longest pier, extending well past the reef - just you, the local fisherman and the sound of local boats slowly jetting out of the harbor.
If you enjoyed this post, make sure you subscribe to my RSS feed!
From November to February, Oahu's North Shore waves average heights of 16 feet. For about 20 days during this peak season, waves swell to 36 to 50 feet in size. On occasion, winter waves have topped 100 feet. It's awe-inspiring to watch, but surfing these massive waves is best left to the pros. The Vans Triple Crown of Surfing will take place November 12 - 20, 2011.
Turtle Bay Resort & Ocean-villas information
One of the closest and best hotels to stay in to see all the action close by is the Turtle Bay Resort & Oceanvillas - a little luxury hideaway tucked into the North shore. Here is some info on the resort:
Oceanfront resort
Set on 880 oceanfront acres just four miles from the renowned Banzai Pipeline and Sunset Beach.
Beach cottages
Each of the 400 guestrooms and beach cottages offer oceanfront views and gracious Hawaiian service.
Spa, surfing & golf! - need we say more?
Enjoy dining choices from poolside casual to upscale gourmet, and recreation options including Spa Luana, 10 tennis courts, horseback riding, surfing, and 36 holes of championship golf.
What to Expect: Set along five miles of secluded shoreline, coves, and bays, this 880-acre Oahu resort encapsulates the North Shore's natural beauty. Adjacent to the resort's east side is Kuilima Cove, protected by a reef from ocean swells for prime snorkeling and swimming. On the resort's west side is Turtle Bay, site of surfing tournaments.
Amenity Highlights: Spa Luana offers a range of locally inspired massages and body treatments such as the Hawaii Coffee & Macadamia Nut Scrub. Turtle Bay Resort's pool complex has a 70-foot main pool area, two secluded spa tubs, a large children's pool, and an upper-level pool with a rock waterfall and 80-foot waterslide. Other leisure options include two championship golf courses, tennis courts, and surfing lessons.
Insider Tip: Though it can't be seen, only imagined, there is an underwater canyon in front of the resort that humpback whales follow when returning to their summer home in Alaska after wintering in Hawaii. A Honolulu newspaper rated the resort as one of the 10 best whale-watching places on Oahu.
For more information and special rates call the Travel Gal
at 800 644-6659 or teresa@luxuryhideaways.net
If you enjoyed this post, make sure you subscribe to my RSS feed!
Looking for a fabulous family vacation resort for Christmas?  Perhaps a "luxury hideaway with the little ones"? A little slice of heaven in Hawaii? Four Seasons Resort at Manele Bay is where you will want stay!
This Five Star resort offers impeccable service and is the perfect island getaway… so relaxing. While you are lounging by their lovely pool you will be treated to Evian spritzers, ice water, chilled towels and fruit kabobs. Steps from the resort, just down the beach path, you will find Hulopoe Bay and a great stretch of white sand beach. You can sit back and enjoy the sun or snorkel and explore the underwater world at best spot on the island for snorkeling and swimming. It will be the perfect time of year to see the Humpback whales and Spinner dolphins.
The Island of Lanai is a wonderful playground where you will find * Horseback riding * Golf * Snorkeling & SCUBA diving * Mountain biking * Skeet shooting * Lanai Art Center
The Spa is incredible and has 11 treatment rooms including red cedar dry heat saunas, eucalyptus steam rooms and rainforest showers. Dining is fabulous at both Manele Bay and their sister resort, The Four Season Lodge at Koele! You can also take a complimentary shuttle to the Lodge for the day or just to have a nice dinner.
The Four Seasons Manele Bay is a fantastic resort for children: they will be greeted with a welcome amenity, child size bathrobes, complimentary infant and children's toiletries, welcome milk and cookies on the evening of arrival and even a teen center is available.
Two Island Tip: If you are looking for something a little extra, would like to visit 2 islands but don't want to deal with the airports, a Maui-Lanai combo vacation is a great idea! Expeditions Ferry cruises five times a day with service between Lahaina Harbor, Maui & Manele Harbor, Lanai. The pleasant 45 minute crossing makes a Lanai add-on to any Maui stay easy and affordable!  Plus you'll be getting a whalewatching opportunity so be sure to bring your binoculars!
For more Christmas vacation ideas call us at 800 644-6659 or email Teresa@Luxuryhideaways.net today!
If you enjoyed this post, make sure you subscribe to my RSS feed!