Hi Teresa!
We had such an amazing time!! The Fijian's were the some of the sweetest people we have ever met. So happy and hospitable!
The snorkel safari was our favorite activity! It was such an amazing experience! The coral was so beautiful! The colors and fish were so pretty! We kayaked, took the sunset cruise, visited the village, went hiking, and were pampered at the spa! We watched a coconut demonstration, took a cooking lesson, & learned basket weaving. The private beach picnic was very relaxing! Luckily we had good weather that day.
It rained a lot more than expected. We had only two days of sunshine, which was a bit of a bummer. However, we still had a great time! The rain was very relaxing. Perfect time for spa treatments! I don't think I've ever seen rain like that!
We played scrabble, read books, and made new friends! We had such a great time!! Thank you for all your help planning our trip. You were such a pleasure to work with!!
Thank you for the amazing honeymoon,
Ashely R.
If you enjoyed this post, make sure you subscribe to my RSS feed!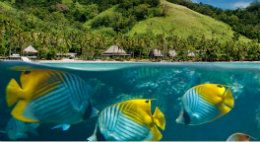 Lalati Resort & Spa is a boutique luxury hideaway located on Bequ Lagoon, Fiji Islands.  Bequ Lagoon is known for some of the best snorkeling in all of Fiji and Lalati Resort is an affordable island escape for you and your honey.  The resort caters to just 10 lucky couples at a time - adults only! The rates begin at $2390.00 per couple for 7 nights including all meals, transfers and taxes for the Seaview cottage.  April 1st the rates increase to $2,650.00 per couple as the lead in rate.  Check out the "bit" of information below and call us today.
Bula Bonus - anyone reserving 7 nights thru Bula Vacations receives a romantic private candlelight dinner, and a rejuvenating 30-minute spa treatment. Romantic interludes include sunset cruises, private island picnics, private kayak excursions, a snorkeling safari for two, moonlight massages and a sparkling bay just awaiting discovery.
If you would like to be married in Fiji, the simple wedding is $825.00 and includes:
Transfers for registration at government office
Floral Salsalus for bride and groom
Local minister or civil servant
Wedding cake
Kava ceremony
Champagne wedding toast & candlelight dinner
Wedding coordinator
Just bring the Groom and a dress!  Here is the link http://bit.ly/12NYO45
For more information call me at 800 644-6659 or email Teresa@Luxuryhideaways.net
If you enjoyed this post, make sure you subscribe to my RSS feed!