There is no need to go to the shopping mall!  Traveling to the warm and balmy South Seas is more inviting then a new sweater or snow shovel!  Just mentioning the exotic islands of Bora Bora, Moorea, Huahine or Taha'a will warm a persons soul - so grab your flip flops and lets plan your romantic Christmas present for just you and your honey on this all inclusive 300 passenger ship today!
m/s Paul Gauguin is offering 50% off standard cruise fares plus included roundtrip airfare from Los Angeles! An incredible savings on all of their Tahiti and French Polynesia cruises.
There are several itineraries from which to choose.  There is a 7 night cruise around the islands of Tahiti, but there are also 10 night cruises visiting the Society Islands & Tuamotus or 11 night cruises visiting the  Cook Islands & Society Islands as well as 11 night cruises around the Marquesas, Tuamotus & Society Islands so you can see the options are endless!
The m/s Paul Gauguin was designed specifically to sail the shallow seas of Tahiti and French Polynesia, visiting small ports that larger ships can't reach and effortlessly blending into the stunning natural beauty of the South Seas.
Life onboard the Gauguin is grand!  You will be traveling aboard a 5 star floating resort where the dining is exquisite and the drinks are flowing.
Enjoy the swim step off the back of the ship, where you can launch your kayak for 2 or try snorkeling.  There is so much to do - there are only 300 lucky passengers that get to explore the South Pacific each week so they do sell out, plan ahead, lets wrap up a brochure in a pareo for you to place under the tree for a memorable holiday!
Call me today - the Travel Gal at 800 644-6659 or email Teresa@LuxuryHideaways.net for more details.
If you enjoyed this post, make sure you subscribe to my RSS feed!
One of the most picturesque and geographically diverse islands in the Society Group, enclosed in a single lagoon, it covers 75 square miles. Huahine (who-wah-hee-nay) is located 109 miles northwest of Papeete. The highest point on the island, Mt. Turi, reaches 2,200 feet and is located on Huahine Nui. Mt. Tavaiura in the Fitii Peninsula looks like a women's face, leading to her chest and her round belly, hence one of the interpretation for Huahine's original name (pregnant woman).
A deep, crystal-clear lagoon surrounds the two islands while magnificent bays and white-sand beaches add drama and solitude to their virtues. Relatively unchanged by the modern world, Huahine offers a slower taste of old Polynesia.
Probably one of Polynesia's best-kept secrets…Huahine is a "Garden of Eden" with lush forests, an untamed landscape and quaint villages. It is relatively unchanged by the modern world. The island's fertile soil provides bountiful harvests of a variety of melons as well as other fruits and vegetables. It is located approximately 105 miles northwest of the island of Tahiti.
Another unique thing about this island is the wooden boxes alongside the road that look like a newspaper delivery box. Very French in culture, these islanders have delicious-looking French baguettes delivered twice daily to residents and put in this box.
If you enjoyed this post, make sure you subscribe to my RSS feed!
The m/s Paul Gauguin - our favorite boutique, luxury cruiseship that is actually more like a large yacht is now even better then ever!  The Gauguin just completed a $7 million renovation.
Guests can now enjoy the following brand-new amenities:
- New décor, including new flooring and replaced carpeting, elegant furniture, new window treatments, and decorative wall panels in all suites, staterooms and public areas
- New furnishings and lighting in the ship's elegant dining areas
- A new built-in banquet and expanded gaming in Le Casino
- Improved dance floors, where guests dance the night away under the South Pacific sky
- A new integrated display case for books and art
- New signage, providing a lighter, brighter feel
The Gauguin offers all-inclusive pricing - especially when you consider that you'll also save 50% off standard cruise fares plus FREE airfare from Los Angeles–an additional value of up to $3,200 per couple on select sailings.
Contact the Travel Gal for specials and exclusive Virtuoso amenities!
800 644-6659 or Teresa@luxuryhideaways.net
If you enjoyed this post, make sure you subscribe to my RSS feed!
This year the annual 3 day canoe race is set for Nov. 7-9, 2012 in the Leeward Islands of Tahiti.  Va'a (canoe racing) is one of the traditional sport of Tahiti.  Over 100 canoes will race between the islands of Huahine, Raiatea, Taha'a and Bora Bora.  The finishing line will be at the Matira Point in Bora Bora.  Travel Gal is making plans to be there - who wants to join me?
For more information contact me at Teresa@LuxuryHideaways.net
If you enjoyed this post, make sure you subscribe to my RSS feed!
The premier luxury small ship in the South Pacific, m/s Paul Gauguin is celebrating Valentines day by offering an exclusive gift package for guests celebrating romance.
From January 30 through February 18, 2012, guests booking any seven-night sailing will receive a special gift package, including Leonidas chocolates, flower turndown service, and a $100 per person credit at the Deep Nature Spa by Algotherm, compliments of Paul Gauguin Cruises (a $230 value)*.
As with all 2012 sailings aboard The Gauguin, guests also receive 50% off standard cruise fares and FREE airfare from Los Angeles.
There is no place as tranquil and romantic as the picturesque islands of French Polynesia. Designed and decorated to sail the seas of the South Pacific, the cozy 332-passenger ship offers the perfect setting to celebrate love or commemorate a wedding, renewal of vows, anniversary-or simply each other.
Couples can take in the beauty of the South Pacific from the privacy of their suite or stateroom, sway to the sounds of a chanteuse at La Palette Lounge, explore paradise on island excursions, dine al fresco under a starry sky, and enjoy a Polynesian blessing ceremony.
With one of the highest crew-to-guest ratios at sea, The Gauguin is renowned for the extra touches and attention to detail that make every occasion special.
Paul Gauguin Cruises also offers a Gift Registry, where guests celebrating their honeymoon, anniversary, or other milestone event can choose a "wish list" of gifts, ranging from shore excursions to dining and spa options.
**One Valentine's Day gift package per booking. New bookings on 7-night sailings only.
Please refer to promotion code: Valentine's Package - call the Travel Gal at 800 644-6659 or email Teresa@LuxuryHideaways.net for more details.  Offer expires February 18, 2012. Call for details.
If you enjoyed this post, make sure you subscribe to my RSS feed!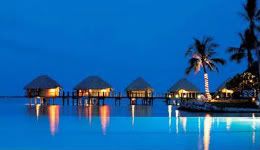 Manihi is an atoll in Tahiti's Tuamotu Archipelago. It is the idyllic retreat of a South Sea Society Island life. Manihi offers balmy breezes, idyllic pristine beaches and clear waters.
Where to stay: Manihi Pearl Beach Resort is a little luxury hideaway offering beachside and overwater bungalows with hardwood floors and palm-frond ceilings have ceiling fans, minibars, and coffeemakers.
The complimentary amenities include miniature golf, snorkel in the lagoon, and paddle kayaks and outrigger canoes at no extra charge.
There are only 41 guestroom at the resort, offering a very personal feel. The staff caters to the needs of each and every guest by helping plan trips, personalizing your bungalow and offering helpful tips about the area. Visitors will experience a relaxing and calm vacation surrounded by the pristine waters and natural, undiscovered beauty of the Tuamotu Archipelago.
The true gem of the resort is the surrounding water, filled with dazzling arrays of fish and coral reef life. Diving and snorkeling are the best way to see the beauty of the lagoon up close and personal. The resort is famous for its "Motu Picnic" which includes fishing, snorkeling, delicious seaside dining and an endless view of the turquoise blue horizon.
Manihi atoll is a great destination if you are looking for a Tahitian Cultured Pearl, which is Tahiti's largest export and a local specialty.
Visitors can explore Tahitian cultured black pearl farms in the Tuamotu atolls Manihi, Rangiroa and on the islands of Raiatea, Taha'a, and Huahine, and can watch the grafting of the blacked-lipped oysters that create these exotic and highly prized pearls. Before buying pearls, stop by theblacked-lipped oysters Tahiti Black Pearl Oyster Museum in Papeete to learn how to judge the value based on size, color, luster, and shape.
If you are looking for the ultimate island paradise, a tiny little haven for just a few chosen people,
Contact the Travel Gal at 800 644-6659 or Teresa@LuxuryHideaways
to plan your romantic beach vacation!
If you enjoyed this post, make sure you subscribe to my RSS feed!
Do you hear a little whisper in your ear? Perhaps the swaying palm tree or ocean breeze? Are the islands of Tahiti calling you?  Bora Bora, Moorea, Raiatea, Taha'a, Huahine…come and explore lush green valleys, numerous waterfalls, pineapple and vanilla plantations. Private island beach picnic on a deserted motu? Champagne & lobster are a great combination!
Do you dream of strolling along a white sand beach with swaying palms, hiking spectacular mountain peaks, or snorkeling in the multi-hued lagoons of a tropical island?
In an overcrowded, overdeveloped and overcomplicated world, Tahiti and her islands offer a welcomed trip back. Go back to a time of simple, natural beauty-where no structure is taller than a palm tree. Time to begin planning your winter vacation…
If you enjoyed this post, make sure you subscribe to my RSS feed!
Every year, in the islands of Huahine, Raiatea, Taha'a and Bora Bora, takes place the incredible Hawaiki Nui Canoe Race!
This competition has gained international fame to become THE not-to-be-missed event for fans of the sport.  Approximately 80 teams from the islands and worldwide enter the race on an itinerary starting from Huahine to Bora Bora. Each day equals a segment:
Day 1, Huahine to Raiatea;
Day 2, Raiatea to Taha'a;
Day 3, the longest segment of this beautiful adventure, Taha'a to Bora Bora.
The race unveils the physical and mental strength of each canoe paddler. It does indeed require quite a mental of steel to paddle hours long with no rest!
Each departure, each arrival in the islands is spectacular! However, we have to admit that the Grand "Finale" in Bora Bora's lagoon is just the most amazing!
You can be part of this unique adventure too!
Contact us now to book YOUR Hawaiki Nui experience at 800 644-6659!
or Teresa@Luxuryhideaways.net
If you enjoyed this post, make sure you subscribe to my RSS feed!