My Mother, girlfriend and I ventured over to the island of Molokai to visit Kaulapapa Settlement where St. Damien preformed his lifesaving work with the Lepers and to experience the island of laidback island of Molokai.
We rented a room at Hotel Molokai, its not a 5 star resort but it has all of the amenities, including a beachfront pool, wifi, cell phone service, bar & restaurant and is styled after a Polynesian Village.
Hotel Molokai is full of character, reminiscent of a slower time, is quaint, as well as reeks of the aloha spirit.  Our room included a small kitchen, bedroom, a loft and a large lanai with table and chairs.  It is a genuine luxuryhideaway located oceanfront on Kamiloloa beach. By the way, it's the only place to get draft beer on the island!  The hotel is "community minded" as they offer a Polynesian show every Friday night as well as host a community party once a year.
From the moment we arrived at Hotel Molokai we were treated like family (ohana). Mind you, we arrived at about 9pm exhausted and very hungry. The cafe had stopped serving food but in the aloha spirit, they saw how hungry we were and just happened to have a pot of soup and home made bread still warm for us.
The activity at the hotel was fantastic - if you're going to Molokai you cannot miss the Friday night Kanikapila show where the locals get together to serenade, play ukulele and take turns dancing the hula.  I believe they would gather every Friday night whether there were guests at the hotel or not.  It is an ideal situation where the haoles (mainlanders) can get a glimpse of the authentic island culture.
I will recommend this resort to all of my Clients coming to Hawaii - you must make time to visit Molokai!
Room Tip: Pay the extra to reserve an oceanfront room to fully enjoy the view
For more information on any of the South Sea Islands, contact the Travel Gal at
800 644-6659 or email Teresa@LuxuryHideaways.net
If you enjoyed this post, make sure you subscribe to my RSS feed!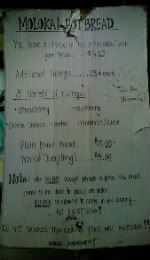 Visit the main town of Kaunakakai stop by Kanemitsu Bakery's "Hot Bread Run," a local favorite from 10 p.m. to 12 a.m., Wednesday through Sunday only. Go to the back door of the bakery down the alley, knock on the door and order your favorite treats, including fresh Molokai Bread smothered with choices of butter, cinnamon, cream cheese, raspberry and blueberry jam or have the works (everything) guava, cream cheese, cinnamon, apples and more.
NOTE: A few years ago I participated in a midnight breadrun on Molokai - its fantastic but also the best kept secret in the islands. This is the first time I've seen the Molokai Breadrun mentioned in print. Also I have met very few kaamaiana that have participated in it. Truly not to be missed!
Enjoy the music at Hotel Molokai's Ocean side Restaurant every Friday afternoon from 4:30 p.m. to 6:00 p.m. That's when Molokai's kupuna (elders, pronounced koo-POO-nah) gather to sing and play Hawaiian music Molokai style. Cocktails and pupu (hors doeuvres, pronounced poo-poo) served ocean side.
Stock up on food at Misaki's Store in Kaunakakai, especially if you're arriving on Sunday morning before 11 a.m. In the afternoon, Molokai's grocery stores all close for the rest of the day. Molokai Wine and Spirits is open daily until 10 p.m., selling some of the finest wines and beers. They also offer snacks, ice cream, ice and non-alcoholic beverages.
Attend a church service. Known as an island of prayer, Molokai has more than 23 churches representing numerous denominations. Many of them offer services twice a day as well as evening services. The Molokai Dispatch newspaper publishes a guide to church services, hours and locations.
Go on a guided hike to discover the heart of Molokai.
Watch Moana's Hula Halau (school, pronounced HAH-low) practice their art at the Mitchell Pauole Community Center on Wednesdays at 5:30 p.m. Although Molokai is known as the birthplace of hula, you won't find any commercial hula shows on the island, and this is the best way to experience this traditional dance.
If you enjoyed this post, make sure you subscribe to my RSS feed!
Please see 1st article below about Father Damien & Kalaupapa [Read more]
If you enjoyed this post, make sure you subscribe to my RSS feed!
It is amazing how we can live in Hawai'i for so many years and find there is still plenty to learn about our neighboring islands. Last June I had the pleasure of staying as a Guest and attending the Grand Re-Opening of The Hotel Moloka'i. It is essential Hawaiiana, a beautiful location and quite frankly, the epitome of what many if not most people are looking for when they are seeking an escape from the hustle and bustle of the mainland.
Hotel Molokai features open-air, oceanfront bungalows that are positioned east to west, allowing prevailing trade winds and the soothing sound of the surf to gently lull you to sleep each night.
Especially informative was the trek to Kalaupapa! I had absolutely no idea exactly how strenuous a trek it is. I am an avid hand over fist hiker with a good deal of stamina, and just going to the 15th switchback challenged me. The leader of the pack is Clare, the owner of Molokai Outdoors. She is absolutely amazing! The combination of her passion for the island and it's history, as well as her infectious personality made our experience all the more enjoyable. I'll hike with her anytime!
Oh my, what can I say about that bread run!! Now That was quite an experience! You will have to give me a call to hear the fabulous details!
About Molokai
Known as the "most Hawaiian" of the main islands, Molokai is a rural, relaxed paradise boasting the highest sea cliffs in the world and tallest waterfall in Hawaii. Molokai, the "Friendly Isle," is for travelers looking to explore natural wonders and the desire to experience the ultimate in authentic Hawaiian adventures.
Molokai's population of less than 7,000 is a tight-knit community that enjoys the peaceful life of their laid-back island. Small businesses like the Big Wind Kite Factory thrive on the island of Molokai. Here, you will find coffee plantations, macadamia nut farms, mango groves and a variety of gardens on the island. Downtown Kaunakakai has a general store, restaurants, a post office, a library, and a courthouse in a former church. Few people pass through town without stopping at Kanemitsu Bakery, a Molokai institution. Get there early before the best goodies are snapped up. Deep-sea fishing boats leave from nearby Kaunakakai Wharf, which is often piled with watermelons, honey and other goods ready for export.
According to legend, Laka, goddess of the Hula, gave birth to the Hula dance on Molokai, at a sacred place in Ka'ana. The birth of Hula is celebrated each May at the Ka Hula Piko, one of the more popular island celebrations.
Today, the trail from topside Molokai to Kalaupapa is traveled by mules, leisure hikers, and on foot by some of the workers at the settlement. Hugging the nearly perpendicular cliffs, the trail is more than three miles (5km) long and descends 1,600 feet (488m) to the peninsula. Along its course are 26 switchbacks that corkscrew in and out of breathtaking canyons and ravines.
Life on Molokai moves at a slower pace, but island adventures abound. Hike Kamakou Nature Conservatory to explore a protected rainforest alive with colorful native birds and wildlife. Wander Papohaku Beach's three miles of sugary sand and hypnotic surf. Join a mule train down to the rugged shore of Kalaupapa Peninsula, at the base of 3,000-foot high Pali Cliffs. Experience the incredible majesty of the humpback whales you will encounter on a whale watching excursion. Molokai has it all!
If you enjoyed this post, make sure you subscribe to my RSS feed!