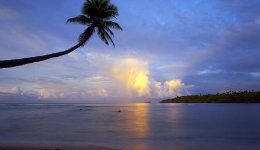 Recently voted as an Oprah favorite thing, Namale Resort & Spa is an all-inclusive boutique resort that is definitely a "luxury hideaway".  In celebration of this award, Namale is offering 2 free nights when you pay for 7 nights in a bure or villa for 2 people, including:
Chilled champagne and welcome basket in your villa upon arrival
Private candlelight dinner over the Koro Sea under a bed of stars
Romantic themed turn down service on the eve of guest departure
All inclusive-features of the resort:

All meals, champagne breakfast, 3 course lunches and 5 course dinners
All beverages (alcoholic & non-alcoholic) with no limitations on beers,spirits, house wines & house champagne
Daily replenishable mini bar
Daily laundry services
Nightly turndown services
Internet room access and Wi-Fi connections
Complimentary access to fitness center and indoor entertainment center
Activities such as snorkeling, horseback riding, Rainforest hikes and so much more
Catering to honeymooners and sophisticated vacationers seeking tranquility, privacy, fabulous outdoor activities, Namale is surrounded by 535 acres of lush tropical landscape.  The resort sits on a narrow headland overlooking the Koro Sea. Luxurious yet relaxed, the resort features traditional Fijian architecture and décor throughout.
Guests are welcome to  swim in one of three outdoor pools, take a dip in the spa tub, or take advantage of numerous water sports. The spectacular on-site spa, situated on a volcanic cliff overlooking the ocean, features a central hydrotherapy/aromatherapy room with a spa tub, soaking tubs, and a steam room. The resort also features a fitness center and an activities center with a movie theater, bowling alley, putting green, and virtual golf.  Kayaking, snorkeling and scuba diving are excellent - plan on spending plenty of time in the water, experiencing an abundant sea life teaming with multi colored fish and beautiful coral trees.
NOTE: I remember suntanning on a remote beach when an employee from the Resort popped out of the bushes to ask me if I wanted a cocktail!
If you're looking for the ultimate romantic resort and want to experience the most outrageous spa in all of Fiji - Namale is for you!
Namale Resort is very intimate and only offers 19 bures & villas to choose from, stay dates are 1/15/2013 thorugh 4/15/2013.
Call me, the Travel Gal before 23rd of December 2012 for an extra special treat
at 800 644-6659 or email Teresa@LuxuryHideaways.net.
If you enjoyed this post, make sure you subscribe to my RSS feed!
Hayman Island, located on the Great Barrier Reef, Australia is truly a luxury hideaway!  It is a private island resort in a scenic and serene setting, ideal for couples and honeymooners. Hayman also offers a large range of activities for family vacations as well as the active traveler. It's the perfect place to relax by the pool or beach or have a day full of adventure and activities. Hayman has 5 restaurants, which appeals to travelers who like a lot of variety.
Discounted Ultimate Adventure rates apply to the following:
Stay 2 nights in a Luxurious Pool Room on Hayman Island with daily buffet breakfast in Azure, Roundtrip launch transfers from Hamilton Island and a Premium Full Day trip to the Great Barrier Reef.
Note: Non combinable, Conditions and Validity dates apply.
Why book Hayman Island?
1. The Beach Villas is the newest most luxurious accommodation in Australia. The villas are over 1,300 square feet, with private plunge pools and situated right on the beach
2. Coral-fringed beaches and majestic pools accentuate the secluded style of this private-island resort
3. Hayman offers elegant resort living with 210 guest rooms, suites, penthouses and beach villas - all of them include either a private terraces or balconies. Room types for each style of traveler in the Pool Wing, Lagoon Wing or Beach Wing
4. Winner of over 50 Australian and International Best Resort and Excellence awards
5. Guests can enjoy a vast amount of activities - from relaxation, indulgence to adventure - Ocean Massage, Night Dives, Sea Plane/Helicopter to Whitehaven Beach, Great Barrier Reef and Cruise Whitsundays outer reef pontoon
Families are welcome and kids will enjoy the vast array of activities and adventures at the Hayman Kids Club. Couples can and honeymooners are pampered by the Romance Escape or Spa Escape packages. Whichever the selection the award winning staff ensure that all guests enjoy the beauty and warmth of Hayman.
If you too would like to relax on a private island in Australia or combine a few days
with a South Pacific Cruise - Call Me at 1-800-644-6659
Your 'See the South Pacific Specialist' at Luxury Hideaways
If you enjoyed this post, make sure you subscribe to my RSS feed!