Aloha Teresa,
I just want to send a note to thank you for all the wonderful planning you did for us to make our Maui anniversary trip so special.
The airline tickets were perfect in that we did not have long lay-overs.
The Four Seasons Wailea hotel accommodations were wonderful.  We could sit in bed and see the Pacific Ocean, you can't beat that - you  live in a paradise.
We were just as  pleased this vacation as we were last summer on our European Vacation you arranged for us with a private car & driver in Nice, France. It was truly a pleasure  getting to meet you.  Your personality is perfect for your travel work as well as real estate. We are now rested from our trip and caught up at work.
thank you for all you did for us.
love,Judy and Ted
Note: I organized a fabulous anniversary for Ted & Judy on the island of Maui.  Through my Virtuoso Travel connections, our company is a "preferred partner" with the Four Seasons Resorts worldwide.  We are able to secure upgrades, VIP service as well as complimentary breakfast for our guests.  I also pre-arranged dinner reservations at the finest restaurants like Merrimans, Feast at Lele, Mamas Fishhouse, Nicks Fishmarket and Haile Maile General Store prior to their arrival so they wouldn't miss anything.
If you too would love to experience my island paradise like a local
contact me, the Travel Gal at 800 644-6659
If you enjoyed this post, make sure you subscribe to my RSS feed!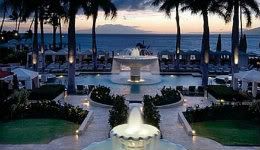 Who would've ever thought people would be flocking to Maui to cool off?! If our signature tradewinds and a dip in the beautiful blue Pacific never sounded so good, check out the low airfare that's being offered on nearly every travel site! It's currently 78 degrees and breezy here. What's the weather like in your neck of the woods?
By Four Seasons Resort Maui at Wailea
The Four Seasons Resort Maui at Wailea offers their Guests paradise with an understated island elegance.  Upon check-in, guests or the Four Seasons Resort Maui at Wailea are greeted with a fragrant fresh flower lei and a cool towel.
The two-story, open-air lobby faces the ocean and includes three restaurants, a casual bar, a spa, and health club wrapped around a courtyard with fountains, swimming pools, and spa tubs. By day, couples and families stake out prime poolside and white-sand beach spots. At night, live piano, ukulele, violin, and guitar music at the dining spots fills the air.
The resort is excited to announce their newly added infinity pool with 160 square-foot luxury cabanas, set in the exclusive 4100 square-foot Serenity Pool Terrace located on the southern-most ocean front of the resort area. Guests will find complimentary cool towels, bottled water, and Evian spritzes. The Four Seasons Resort Maui at Wailea beach concierge offers snorkeling gear at no additional charge. Individual and couples' massage treatments are offered in three private thatched-roof huts by the beach.
Three award winning restaurants serve a variety of cuisine from Italian to Pacific Rim to Steak & Seafood. , and a 21,000-square-foot spa provides a full range of exercise options and relaxation treatments.  The Travel Gal highly recommends their Spa services as some of the best on the island.
For more insider island information, contact the Travel Gal at 800 644-6659
or email Teresa@Luxuryhideaways.net
If you enjoyed this post, make sure you subscribe to my RSS feed!