Fiji Airways just announced Los Angeles to Nadi, Fiji round trip airfare beginning at $999.00 plus tax.  That is a savings of up to 20%!  South Pacific destinations including Fiji, Australia, New Zealand and other exotic Pacific Islands.
Packages are also available including FREE nights in Fiji en-route to Australia or New Zealand.
Return from Los Angeles
From*
Fiji Islands direct
$999
Auckland via Nadi
$1261
Christchurch via Nadi
$1239
Brisbane via Nadi
$1331
Sydney via Nadi
$1327
Melbourne via Nadi
$1553
Samoa via Nadi
$1336
Tonga via Nadi
$1182
Vanuatu via Nadi
$1180
Solomon Islands via Nadi
$1246
Travel dates: 9 Sep - 14 Dec 13, 16 Jan - 31 Aug 14
Sale ends 30 November 2013, unless sold out. For details, call the Travel Gal at 800 644-6659!
If you enjoyed this post, make sure you subscribe to my RSS feed!
Spend the Christmas holidays this year aboard one of the luxury yachts of Seabourn sailing between Austalia and New Zealand.  Experience life on the award winning ship Seabourn Odyssey complete with stellar service, amenities and the finest shore excursions.
Be sure to arrive in Sydney at least 4 nights prior to your cruise so you have time to explore the Sydney Opera House (perhaps take in a play or symphony), dare to climb the Sydney Bridge & explore one of the 30 bays surrounding Sydney.  Board your yacht on Dec. 23rd and cruise under the Sydney Harbor Bridge while indulging in French chamapgne - Bon Voyage!
If you too would would like to get on onboard - Call the Travel Gal today for fabulous
Virtuoso pricing as well as added amenities at 800-644-6659 or email Teresa@Luxuryhideaways.net
Day
Date
Port
Arrive
Depart
0
23 Dec 2013
Sydney, Australia
1
24 Dec 2013
Sydney, Australia
02:00 PM
2
25 Dec 2013
At Sea
3
26 Dec 2013
Melbourne, Australia
08:00 AM
08:00 PM
4
27 Dec 2013
At Sea
5
28 Dec 2013
Hobart, Australia
08:00 AM
06:00 PM
6
29 Dec 2013
At Sea
7
30 Dec 2013
At Sea
8
31 Dec 2013
Milford Sound, New Zealand
08:00 AM
09:00 AM
8
31 Dec 2013
Cruising Fiordland Natl Park
9
01 Jan 2014
Oban (Halfmoon Bay), New Zealand
08:00 AM
05:00 PM
10
02 Jan 2014
Port Chalmers (Dunedin), NZ
08:00 AM
06:00 PM
11
03 Jan 2014
Timaru, New Zealand
08:00 AM
06:00 PM
12
04 Jan 2014
Akaroa (Christchurch, NZ)
07:00 AM
07:00 PM
13
05 Jan 2014
Wellington, New Zealand
10:00 AM
11:00 PM
14
06 Jan 2014
Picton, New Zealand
08:00 AM
06:00 PM
14
06 Jan 2014
Cruising Queen Charlotte Sound
15
07 Jan 2014
Kaikoura, New Zealand
08:00 AM
05:00 PM
16
08 Jan 2014
At Sea
17
09 Jan 2014
Tauranga (Rotorua) New Zealand
08:00 AM
06:00 PM
18
10 Jan 2014
Auckland, New Zealand
07:00 AM
If you enjoyed this post, make sure you subscribe to my RSS feed!
1.    What are your travel dreams? Where would you like to go? Perhaps a tropical island in the South Pacific, a historic tour of Italy or a gourmet food and wine cruise thru Australia & New Zealand?  Antarctica anyone? Golf tour in Scotland or Ireland? How about a the freighter Aranui III as it delivers goods round the remote islands of the South Pacific? Did you know its the 100th birthday of the discovery of Machu Picchu in Peru? We can make it happen with a little planning - I am here to assist you - at no additional cost.  Even tho this website is dedicated to the South Pacific, I have been assisting my Clients for over 20 years, with travel plans all over the world.
2.     Do you know how much your trip would cost? Talk to me about securing a quote for your trip - we are able to customize it to fit your budget and timeframe. We also need to discuss length of the trip, how many days in each destination?  If it doesn't make sense - I will tell you.
3.     Credit card reward points - I am all about free airline tickets - talk to your credit card company about earning miles for your purchases.  If you have questions, give me a call and I am happy to point you in the right direction.
4.     Make Travel a priority in your life - the first step is dreaming it; then lets begin planning for it.  Everyone gets busy and can make excuses, but if you don't plan for it, it won't happen.
5.     Paying for the trip - many people do not realize you can secure a reservation with a partial payment, then set up monthly payments or you can pay the balance 60 days prior to travel.
6.     Vacations are good for productivity - everyone needs to recharge their batteries - there are always deadlines and a laundry list of things to accomplish.  Don't wait until the list is finished to plan your trip.
7.     You've heard of "the bucket list" - begin now with listing where you'd like to go within the next few years and give me a call, I am happy to assist you in planning your "travel goals!"
8.     Are you able to work remotely? If so, this will give you more time on your vacation.  In this computer age, its easier then ever to work from your vacation destination.  Travel whenever you want but set time aside to get some work done.
Call me for more details, I've been a Travel Adivsor for the past 20 years and am happy to brainstorm with you.  My number is 800 644-6659 (when I am out of the office it is attached to my cell phone). Or email Teresa@Luxuryhideaways.net and lets get started!
If you enjoyed this post, make sure you subscribe to my RSS feed!
Do you want to organize an Australia vacation or honeymoon but not quite sure where to begin? Do you have 2 weeks to spare and want to relax on the beach as well as enjoy the city?  I suggest a bit of Melbourne, the Whitsunday Islands and finish up in Sydney! Here is a great sample itinerary - this is a great one for a family holiday as well as honeymoon - of course we will be able to customize it for you:
Day 1 Fly USA to Melbourne
Please note international air from the USA has not been included in the package price.
Day 2 You cross the International Dateline
The International Date Line is an imaginary line on the earth's surface that approximately coincides with the 180th meridian (LONGITUDE), and separates the calendar date. Traveling east across the line takes the traveler back one day; traveling west, takes the traveler forward one day.
Day 3 Welcome to Melbourne, Australia
On arrival into Melbourne, you will need to clear customs and make your way through the main arrivals hall where you will be transferred to your accommodation.
At first glance, Melbourne may resemble any other modern city with its skyline full of concrete & glass. However, if you look a little closer, you'll find the real Melbourne, a city of unique charm.  There are the clanging trams (street cars), swanky boutiques, friendly taxi drivers, Australian Rules Football, fickle weather and 'BYO's', by the hundred (restaurants to which you bring your own liquor or wine). Add to this, Melbourne's traditional virtues of tree lined boulevards, glorious parks, elegant buildings & imposing Victorian Banks & Churches, and of course the giant Melbourne Cricket Ground and you'll have some idea of the city.
Day 4 Melbourne tour
Melbourne is famous for its magnificent parks and gardens which surround the city. See the famous Floral Clock, Botanic Gardens, Flagstaff Gardens and inspect Captain Cook's Cottage in the beautiful Fitzroy Gardens.  See the colorful Victoria Market, Old Melbourne Gaol, Shrine of Remembrance and travel over the Westgate Bridge for panoramic views over Port Phillip Bay.
Day 5 At leisure, Melbourne
Melbourne, the capital of Victoria and a cultural hub, is known for the good things in life - fashion, food, entertainment and sport. This is a city of style, architecture, trams, theatres and art.
Day 6 Fly Melbourne to Whitsunday Islands
You will be transferred to the airport for your flight to the Whitsundays. Upon arrival you will board a luxury cruiser for your launch service to Hayman. (Deluxe option only.)
Bordered by the Great Barrier Reef and 74 tropical islands in the calm waters of the Coral Sea, the Whitsundays lie midway along Australia's Queensland coast.
Days 7-9 At leisure, Whitsunday Islands
Discover the wonder that is Heart Reef. Sink your feet into the white, silica sands of world-famous Whitehaven Beach. Or simply sail at sunset across our crystal-clear waters and take in the Islands of the Great Barrier Reef.
Day 10 Fly Whitsunday Islands to Sydney
Launch from Hayman to Hamilton Island. (Deluxe option only.)

Sunny, sexy, sophisticated - Sydney basks as the shining star of the southern hemisphere. The stunning Sydney Opera House and Sydney Harbour Bridge are the pride and joy, but there's much more to offer.
Sydney's sparkling harbor is the jewel in the city's crown. It's flanked by golden beaches and bush land, and is bisected by one of the most famous bridges in the world. Islands sprinkle its waters, and it's crisscrossed by all manner of craft, from water taxis and yachts to tour boats and ferries.
Day 11 Sydney city tour
Enjoy a morning touring Sydney's glorious city, harbor and famous beaches. Pass through the historic Rocks area and circular en route to Bondi Beach where we stop for morning tea (own expense). The tour will travel through Chinatown, Darling Harbour, Kings Cross and Double Bay, and you will view the Opera House, Harbour Bridge and visit Mrs. Macquarie's Chair.
Days 12-13 At leisure, Sydney
At your leisure to explore Sydney. Most of the major attractions of the city are within easy walking distance from your accommodation - Sydney Opera House, Darling Harbour, Centrepoint Tower, Circular Quay, The Rocks, etc.
Day 14 Fly Sydney to USA
You will be met and transferred by private vehicle to the airport for your departure flight.
11 nights From $2,275.00 per person based on double occupancy - land and internal air; prices subject to change; black outs apply; ask for sw-city/island trip.
* Please note international air from the USA has not been included in the package price.
For more information on travel to Australia - contact the Travel Gal at 800 644-6659 or email Teresa@LuxuryHideaways.net
If you enjoyed this post, make sure you subscribe to my RSS feed!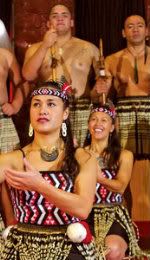 Hi Teresa
Yes yes yes! Our trip was all fabulous and even more than we expected! Auckland was great. Our tours were terrific! When we arrived we took a ferry to Devinport. It was such a lovely quaint town. In Rotorua the Springs was beautiful. We went to the Polanesia Spa and were pampered all day
Our cruise was wonderful. New Zealand is absolutely beautiful. We took so many pictures and had some enlarged and framed.
We saw our friends in Melbourne and had an Australian Barbie.
Sydney was really my dream. I had to touch the walls of the Opera House, to realize that I was truly there.  Our stop in Tasmania completed the dream of kangaroos and koalas.
We did so much and the time went so fast that we hardly believed it was time to come home.
You did such a wonderful job and made our trip worry free.  Absolutely everyone and everything was on time and perfectly planned.  You are terrrrrrrific!
Love ya
Mary Ann and Armand
If you enjoyed this post, make sure you subscribe to my RSS feed!
These days more couples are opting for a destination wedding instead of the traditional hometown wedding. There are many reasons, including this is a 2nd wedding for one or both partners, famiy drama, the couples desiring a private wedding, combining the wedding with the honeymoon to save costs. I've heard planning a wedding is like putting on a broadway show and feeding the audience.
Engaged couples want to explore the most exotic vacations possible for their wedding/honeymoon - something out of the box. Choose a location that is meaningful to you as a couple - somewhere you'd like to visit or perhaps the old country where your family is from.
So, where to begin - there are a few questions for you to consider:
1.     Your favorite hobbies i.e. skiing, scuba diving, hiking, archeology, art?
2.     How about a secluded tropical island with an umbrella drink in your hand and someone to wait on you?
3.     Are you looking for your own private island?
4.     Are you more social, even though you'd like it to be the 2 of you, it would be fun to have other couples around?
5.     Are you cruisers? Perhaps you'd like a small ship or yacht cruising around the South Pacific or the Mediterranean, tucking in to tiny ports to mingle with the locals
6.     Have you considered combining your wedding with an African Safari?
7.     Exploring Cinque Terre - the UNESCO site of five villages located in Northern Italy
8.     Combining your wedding with hiking Machu Picchu in Peru & experiencing the Hyram Bingham luxury train
9.     Australia anyone?  Climb the Sydney bridge, visit the Opera house and dive the Great Barrier Reef
10. New Zealand - can you say road-trip?  Explore this fascinating and remote countryside - visit luxury country lodges at your own pace
I advise my couples to choose their destination wedding based on their personal choices, as it is your special day!  If you are considering friends and family - or at least want to invite them - send out a "save the date" card almost a year in advance, advising them where and when you are getting married.  This gives the guests time to plan their trip and perhaps turn it into their big holiday too. Also, where do you live i.e. based on how long you will be gone, this will help determine how long you'll be sitting on a plane.
Next to consider - how long can the two of you take off work? Do you have small children at home?  What is your budget?  What time of year do you want to travel?  Do consider the average weather so you know if it is a good season to hold your wedding there.  Off season may be less expensive, however who wants to hold a wedding in a monsoon?
Feel free to give me a call - I've been assisting couples for more then 20 years.  For more information and ideas, contact the Travel Gal at  800 644-6659 or Teresa@Luxuryhideaways.net
If you enjoyed this post, make sure you subscribe to my RSS feed!
When I have Clients cruising in or out of Sydney, Australia, I always suggest spending 4-6 nights in one of my favorite Sydney luxury hideaways as well as organizing a few day tours for them.  We can set up a private car & driver or a small group tour.  For instance, the Blue Mountain National Park is close by and not to be missed. Below is an example of a Full Day - Small Group Tour:
Departing your city hotel this morning, the tour starts in the historical precinct of the Rocks, the birth place of Sydney and Australia. Heading North, we cross the Harbour Bridge and west towards the historical towns of Windsor and Richmond. Some of Sydney's earliest history can be found in these quaint villages. We enjoy some beautiful, home made morning tea at the foot of the mountains.
Continuing, we cross the Nepean River at the charming village of Yarramundi where we stop to view a myriad of Native Australian Birds in their natural wetland environment. Not far from here we enter the Blue Mountains National Park and view outstanding Aboriginal Rock Art. Hidden in thick bush land, you will be amazed at the detail of artworks that are thousands of years old. Our steep ascent of the mountains continues as we arrive at Hawkesbury Heights for outstanding views over the Sydney basin.
Next it is on to the town of Blackheath, deep in the heart of the Blue Mountains for a traditional Australian Barbecue under the canopy of the Bush. Enjoy world class food and wine in unique surroundings and experience the plethora of wildlife that surrounds us. After lunch we visit the stunning Wentworth Falls for a short walk to explore the area and the view the stunning scenery. Later we drop into a hidden valley where we roam the area, seeking out the many kangaroos that graze in the wild, before returning to Sydney.
For more informations and ideas (on cruise and land arrangements),
contact the Travel Gal at 800 644-6659 or email Teresa@LuxuryHideaways.net
If you enjoyed this post, make sure you subscribe to my RSS feed!
We had wonderful time on our trip!!  Thank you so much for putting it together for us.  Neal & I thought you must have put in lots of time and energy to get us such a special trip.
We missed a couple of stops on our cruise.  There was a major storm so the Captain had to turn around and head back up the New Zealand coast to where the two island are and cut through there to get over to Australia.  It was quite exciting - the Captain told us the winds were 100 miles an hour.  He also said that for a while he cut the engine and the wind was pushing us backwards.  We stopped at Port Chalmers & then had 3 days at sea  - I'm not sure which places we missed - I think one had  a fiord in its name. I think we missed 2 stops during that time but we didn't care.  The crew made lots of activites for everyone to do and we all had a good time.  We enjoyed all the different Trivia games, Neal & Merrit & Sue played Bingo a couple times everyday  - Sue even won once.
The condo in Sydney was spectacular!   We particularly enjoyed the views of the harbor.  Each morning we looked forward to seeing what new crusie ships had arrived overnight.
Everything was so handy  -  short walk to the harbor, the rocks and shopping.  What more can a tourist hope for!!
Even though it started off hectic - with the storm in Seattle - it didn't take us long to love every minute of our trip.   We especially liked the Blue Mountain Tour we took.  Actually we liked all the tours and places we went while in New Zealand & Australia.
Thanks again for all the time and effort you put in to make our trip so special!
Dolores & Neal
If you enjoyed this post, make sure you subscribe to my RSS feed!
Hayman Island, located on the Great Barrier Reef, Australia is truly a luxury hideaway!  It is a private island resort in a scenic and serene setting, ideal for couples and honeymooners. Hayman also offers a large range of activities for family vacations as well as the active traveler. It's the perfect place to relax by the pool or beach or have a day full of adventure and activities. Hayman has 5 restaurants, which appeals to travelers who like a lot of variety.
Discounted Ultimate Adventure rates apply to the following:
Stay 2 nights in a Luxurious Pool Room on Hayman Island with daily buffet breakfast in Azure, Roundtrip launch transfers from Hamilton Island and a Premium Full Day trip to the Great Barrier Reef.
Note: Non combinable, Conditions and Validity dates apply.
Why book Hayman Island?
1. The Beach Villas is the newest most luxurious accommodation in Australia. The villas are over 1,300 square feet, with private plunge pools and situated right on the beach
2. Coral-fringed beaches and majestic pools accentuate the secluded style of this private-island resort
3. Hayman offers elegant resort living with 210 guest rooms, suites, penthouses and beach villas - all of them include either a private terraces or balconies. Room types for each style of traveler in the Pool Wing, Lagoon Wing or Beach Wing
4. Winner of over 50 Australian and International Best Resort and Excellence awards
5. Guests can enjoy a vast amount of activities - from relaxation, indulgence to adventure - Ocean Massage, Night Dives, Sea Plane/Helicopter to Whitehaven Beach, Great Barrier Reef and Cruise Whitsundays outer reef pontoon
Families are welcome and kids will enjoy the vast array of activities and adventures at the Hayman Kids Club. Couples can and honeymooners are pampered by the Romance Escape or Spa Escape packages. Whichever the selection the award winning staff ensure that all guests enjoy the beauty and warmth of Hayman.
If you too would like to relax on a private island in Australia or combine a few days
with a South Pacific Cruise - Call Me at 1-800-644-6659
Your 'See the South Pacific Specialist' at Luxury Hideaways
If you enjoyed this post, make sure you subscribe to my RSS feed!
Dear Teresa,
MaryAnn and I want let you know that we had a wonderful time on our honeymoon. This was due to all of your planning. We cannot thank you enough for all that you had done for us. Thank you for the delicious chocolate covered strawberries. We will be in contact with you to help plan our next trip to Australia/New Zealand or Hawaii.
Thank You
Armand Cilento
If you enjoyed this post, make sure you subscribe to my RSS feed!