Spend the Christmas holidays this year aboard one of the luxury yachts of Seabourn sailing between Austalia and New Zealand.  Experience life on the award winning ship Seabourn Odyssey complete with stellar service, amenities and the finest shore excursions.
Be sure to arrive in Sydney at least 4 nights prior to your cruise so you have time to explore the Sydney Opera House (perhaps take in a play or symphony), dare to climb the Sydney Bridge & explore one of the 30 bays surrounding Sydney.  Board your yacht on Dec. 23rd and cruise under the Sydney Harbor Bridge while indulging in French chamapgne - Bon Voyage!
If you too would would like to get on onboard - Call the Travel Gal today for fabulous
Virtuoso pricing as well as added amenities at 800-644-6659 or email Teresa@Luxuryhideaways.net
Day
Date
Port
Arrive
Depart
0
23 Dec 2013
Sydney, Australia
1
24 Dec 2013
Sydney, Australia
02:00 PM
2
25 Dec 2013
At Sea
3
26 Dec 2013
Melbourne, Australia
08:00 AM
08:00 PM
4
27 Dec 2013
At Sea
5
28 Dec 2013
Hobart, Australia
08:00 AM
06:00 PM
6
29 Dec 2013
At Sea
7
30 Dec 2013
At Sea
8
31 Dec 2013
Milford Sound, New Zealand
08:00 AM
09:00 AM
8
31 Dec 2013
Cruising Fiordland Natl Park
9
01 Jan 2014
Oban (Halfmoon Bay), New Zealand
08:00 AM
05:00 PM
10
02 Jan 2014
Port Chalmers (Dunedin), NZ
08:00 AM
06:00 PM
11
03 Jan 2014
Timaru, New Zealand
08:00 AM
06:00 PM
12
04 Jan 2014
Akaroa (Christchurch, NZ)
07:00 AM
07:00 PM
13
05 Jan 2014
Wellington, New Zealand
10:00 AM
11:00 PM
14
06 Jan 2014
Picton, New Zealand
08:00 AM
06:00 PM
14
06 Jan 2014
Cruising Queen Charlotte Sound
15
07 Jan 2014
Kaikoura, New Zealand
08:00 AM
05:00 PM
16
08 Jan 2014
At Sea
17
09 Jan 2014
Tauranga (Rotorua) New Zealand
08:00 AM
06:00 PM
18
10 Jan 2014
Auckland, New Zealand
07:00 AM
If you enjoyed this post, make sure you subscribe to my RSS feed!
Hawaiian Airlines will begin service from Honolulu to Auckland on March 13, with excellent connections from their eleven US gateways. New Zealand is renowned among travellers worldwide for its fascinating Maori culture and spectacular natural wonders, including pristine beaches, lush rainforests, fijords and glaciers and now you can easily combine the destination with the beautiful Hawaiian Islands. Call the travel gal at 800 644-6659 for more information.
If you enjoyed this post, make sure you subscribe to my RSS feed!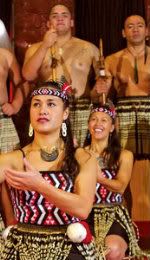 Hi Teresa
Yes yes yes! Our trip was all fabulous and even more than we expected! Auckland was great. Our tours were terrific! When we arrived we took a ferry to Devinport. It was such a lovely quaint town. In Rotorua the Springs was beautiful. We went to the Polanesia Spa and were pampered all day
Our cruise was wonderful. New Zealand is absolutely beautiful. We took so many pictures and had some enlarged and framed.
We saw our friends in Melbourne and had an Australian Barbie.
Sydney was really my dream. I had to touch the walls of the Opera House, to realize that I was truly there.  Our stop in Tasmania completed the dream of kangaroos and koalas.
We did so much and the time went so fast that we hardly believed it was time to come home.
You did such a wonderful job and made our trip worry free.  Absolutely everyone and everything was on time and perfectly planned.  You are terrrrrrrific!
Love ya
Mary Ann and Armand
If you enjoyed this post, make sure you subscribe to my RSS feed!
If I have a Clients wanting to plan a romantic, adventurous and active holiday tucked away in a boutique resort off the beaten path in the South Pacific - the first person I turn to is Lynette Wilson, Owner of Destination World.
Lynette, (who returns at least 2 weeks a year to her native Australia), will figure out how to squeeze into a tight time frame everything on your wish list, including but not limited to all the highlights of Australia -Sydney (scaling the Sydney Bridge), Perth (All Aboard the Indian-Pacific Train, the Great Barrier Reef - scuba diving with turtles, sharks, dolphins - oh my!
Her real love are the islands of Fiji, where she's spent more than 400 days in the past 10 years (she even has an office in Nadi - so you will have a friend in the islands).  Her connections can get you access to private luxury island resorts as well as archaeological sites that are normally off-limits or a private tour of a non-commercial black pearl farm.
NOTE: She also runs a charity where she flies in Doctors & Nurses once a year to help the Fijian children - so when we work with her, party of the funds are helping the Fiji Islands.
At this moment we are working on a Client interested in a few weeks in New Zealand during the upcoming sailing regatta next March, 2012.  His itinerary includes:
AMERICAS CUP SAILING EXPERIENCE - Minimum 8 people / Max 30 people.
A unique opportunity to participate as crew on an actual America's Cup yacht. Take the helm, exert energy on the grinders or simply sit back and enjoy the ride as you sail the beautiful Waitemata Harbour.
The America's Cup is the world's oldest and most prestigious sporting trophy and ultimate yachting regatta.
Two hour America's Cup sailing experience:
· Participate as crew or sit back and relax   · No experience necessary
A sail on one of the America's Cup yachts has become a 'must do' attraction in Auckland. Whether you are an experienced sailor or have never been on the water, this is a once in a lifetime experience not to be missed.
The America's Cup was raced in Auckland in 2000 and 2003. With Sail NZ being an official Emirates Team Zealand supplier, no visit to New Zealand is complete without experiencing the real Auckland, the 'City of Sails'.
Bonus Inclusion:
Entry to the Maritime Museum, including Blue Water Black Magic exhibition, a tribute to Sir Peter Blake and New Zealand's extraordinary yachting success.
This is just one of the days we have planned for my lucky couple!  If you are interested in more information or need assistance in planning a unique and memorable holiday, call the TravelGal at 800 644-6659 and together with Lynette, we will make your travel dreams come true!
If you enjoyed this post, make sure you subscribe to my RSS feed!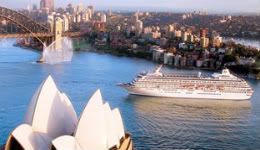 Depart from Auckland aboard Crystal Symphony December 20, 2012
Crystal Cruises has been awarded the "Best Large-Ship Cruise Line" for 15 years by Conde Nast Traveler.  Enjoy an Italian elegance, scrumptious cuisine and an extensive wine list at the Prego restaurant with signature creations by celebrity chef Piero Selvaggio.  Past guests rave about the unparalleled service, luxurious comfortable surroundings and sumptuous cuisine and extensive wine cellar.
Cruise Itinerary:
Day       Ports of Call       Arrival        Departure
1 Auckland, New Zealand —                  —
2 Auckland, New Zealand —          11:59 p.m.
3 Tauranga, New Zealand 9:00 a.m.    10:00 p.m.
4 At Sea
5 Napier, New Zealand 8:00 a.m.       6:00 p.m.
6 At Sea
7 Lyttleton (Christchurch) N.Z. 8:00 a.m.        6:00 p.m.
8 Port Chalmers (Dunedin) N.Z. 8:00 a.m.       6:00 p.m.
8 Cruise Dusky Sound
9 Cruise Milford Sound
10 At Sea
11 At Sea
12 Sydney, Australia 8:00 a.m.
13 Sydney, Australia
14 Sydney, Australia —             6:00 p.m.
15 At Sea
16 Melbourne, Australia 8:00 a.m.
17 Melbourne, Australia  depart ship
Your Package Includes:
Your package includes shipboard accommodations, ocean transportation, fabulous entertainment and daily activities, on-board meals and some beverages, port charges and more.
It does not include shore excursions, personal expenses, gratuities, or alcoholic beverages. Government fees and taxes are not included.
Call the Travel Gal for special pricing & details at 800 644-6659 or Teresa@Luxuryhideaways.net - Your Friend in the Islands!
If you enjoyed this post, make sure you subscribe to my RSS feed!
New Zealand - Whats there to do? Are you looking for the ultimate New Zealand Adventure? Then lets review some options for you whether you arrive in New Zealand by land or sea, we are able to customize your holiday.
HOT AIR BALLOONING
You have to rise early to catch a hot air balloon flight, but the experience beats a sleep-in every time. As you float over a world that is only just waking up, your smile will be as wide as the horizon.
With the exception of Queenstown, hot air ballooning operators in New Zealand are usually found on the flatter parts of the country - North Auckland, Waikato, Hawke's Bay and Wairarapa.
North Island flights will take you above lush rural areas, where you can observe an ornate natural tapestry of pasture, crops, vineyards, forests, roads, rivers, lakes and towns. In the South Island, the imposing Southern Alps provide an impressive snow-capped backdrop for hot air balloon flights that float over the sprawling patchwork of the Canterbury Plains.
From inflating the envelope at the beginning of your adventure to the champagne breakfast that marks the end of your flight, hot air ballooning is a long-lasting thrill.
SKY DIVING
Is it time to make the big leap? Sky diving is one of those things that many people say they're going to do "some day". Maybe that day is going to happen during your New Zealand vacation.
On a tandem skydive, where you'll be strapped onto the front of a qualified jumpmaster, there's plenty of time to admire the scenery on the way down. You can expect up to 60 seconds of free fall, followed by several minutes of peaceful floating before touchdown.
In the far north you can admire the beautiful Bay of Islands as you float towards the drop zone. The central north island has volcanic wonders to enjoy - crater lakes, geothermal areas and mountains. Canterbury, Wanaka and Queenstown deliver vast amounts of alpine scenery on your down-to-earth journey.
One of New Zealand's leading skydive operators, and a winner at the 2008 New Zealand Tourism Awards, is Skydive Lake Wanaka. With Skydive Lake Wanaka, you can enjoy a personalised scenic flight up, 45 - 60 seconds of freefall at 200 kilometres per hour harnessed to your instructor, and five minutes of gentle parachute gliding towards the landscapes below.
The most southern jump on offer is in Te Anau - it's a very imaginative way to see Fiordland!
SCENIC FLIGHTS
If you aren't quite the daredevil, then lets look at a more comfortable way to view New Zealand. Sightseeing from a small plane or helicopter will give you the ultimate view of New Zealand's spectacular geography.
You'll be able to count the volcanic cones that are scattered across the face of Auckland; appreciate the immensity of Lake Taupo, a supervolcano that's just biding its time; and glimpse the beautiful glaciers that tumble down from the peaks of the Southern Alps.
Flightseeing opportunities are concentrated in areas where the scenery is most extraordinary - Northland and Auckland, the central North Island, Canterbury, Queenstown, Fiordland and the West Coast.
Some operators combine airborne sightseeing with ground explorations. White Island, an active marine volcano in the Bay of Plenty, is a destination that uses this formula. At Mount Cook and Franz Josef a ski-plane operator makes glacier landings, so that you can get out and feel the quiet solitude of the mountains. Another rare treat is a flight to watch the whales at Kaikoura.
Contact the Travelgal to assist you in building your
ultimate adventure holiday to New Zealand
Teresa@Luxuryhideaways or 800 644-6659
If you enjoyed this post, make sure you subscribe to my RSS feed!
The North Island is home to the international gateway, Auckland – a city located between two harbors and devoted to sailing culture. Auckland is a cosmopolitan city, with a population of over one million. It boasts a thriving cultural scene, with museums and galleries. The Auckland Museum houses the world's largest collection of Maori artifacts.
In the far north, the Bay of Islands is home to uncrowded beaches, ancient kauri forests, and fruit-growing areas. It's a great place for golf, fishing, snorkeling, scuba diving, surfing, and dolphin watching. The region is also home to much of New Zealand's colonial history, including the Waitangi Treaty House, location of the treaty between the British and the Maori — the country's first settlers, Polynesians who arrived about a thousand years ago.
Rotorua, toward the center of the North Island, is an area steeped in Maori culture. Visit the Maori Arts and Crafts Centre, or take part in an evening "Hangi" (feast) with a traditional song and dance show. You can even visit a replica Maori village, to learn what life was like in New Zealand before the arrival of European settlers. The region's active geothermal features include boiling mud pools, spouting geysers, and natural spa pools. Between Rotorua and Auckland are the Waitomo Glowworm Caves, featuring yawning caverns filled with stalagtites and stalagmites, and an underground river lit only by the eerie glow of tiny creatures high above.
At the southern end of the North Island lies Wellington, capital of New Zealand. Here, you can visit the Parliament buildings, botanic gardens, or the acclaimed Te Papa Museum of New Zealand. With over 350 restaurants, bars, and cafés, Wellington has more dining choices per capita than New York City!
If you enjoyed this post, make sure you subscribe to my RSS feed!
Date          Port                                                                        Arrive          Depart
Nov 16    Sydney, Australia                                                                        6:00 pm
Nov 17    At Sea, International Waters
Nov 18    Melbourne, Australia                                                8:00 am
Nov 19    Melbourne, Australia                                                                   6:00 pm
Nov 20    At Sea, International Waters
Nov 21    Hobart, Australia                                                      8:00 am       6:00 pm
Nov 22    At Sea, International Waters
Nov 23    At Sea, International Waters
Nov 24    Cruising Milford Sound, International Waters
Nov 25    Dunedin, New Zealand                                        9:00 am           6:00 pm
Nov 26    Christchurch (Lyttleton), New Zealand                  8:00 am           6:00 pm
Nov 27    Wellington, New Zealand                                     8:00 am           4:00 pm
Nov 28    Napier, New Zealand                                           8:00 am           6:00 pm
Nov 29    At Sea, International Waters
Nov 30   Tauranga, New Zealand                                        8:00 am            5:00 pm
Dec 01   Auckland, New Zealand                                        8:00 am
Aboard the Seven Seas Navigator departing 16/November 2010 for 15 nights in the six-star tradition of Regent Seven Seas Cruises. Emerging from a refurbishment in December 2009 and occupying the uppermost niche in cruising, she offers her 490 guests an unusual level of luxury and some of the highest space and service ratios at sea. From her all-suite, all-oceanview accommodations with their luxurious marble baths to her signature cuisine to her superbly attentive staff, she has few equals.
FREE UNLIMITED SHORE EXCURSIONS
Regent Seven Seas Cruises offers FREE Unlimited Shore Excursions on each and every voyage. Receive access to complimentary, award-winning shore excursions during your voyage, in addition to the all-inclusive cruise experience you have come to expect from the World's Best Cruise Line, Regent Seven Seas Cruises.
If you enjoyed this post, make sure you subscribe to my RSS feed!