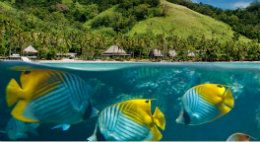 Lalati Resort & Spa is a boutique luxury hideaway located on Bequ Lagoon, Fiji Islands.  Bequ Lagoon is known for some of the best snorkeling in all of Fiji and Lalati Resort is an affordable island escape for you and your honey.  The resort caters to just 10 lucky couples at a time - adults only! The rates begin at $2390.00 per couple for 7 nights including all meals, transfers and taxes for the Seaview cottage.  April 1st the rates increase to $2,650.00 per couple as the lead in rate.  Check out the "bit" of information below and call us today.
Bula Bonus - anyone reserving 7 nights thru Bula Vacations receives a romantic private candlelight dinner, and a rejuvenating 30-minute spa treatment. Romantic interludes include sunset cruises, private island picnics, private kayak excursions, a snorkeling safari for two, moonlight massages and a sparkling bay just awaiting discovery.
If you would like to be married in Fiji, the simple wedding is $825.00 and includes:
Transfers for registration at government office
Floral Salsalus for bride and groom
Local minister or civil servant
Wedding cake
Kava ceremony
Champagne wedding toast & candlelight dinner
Wedding coordinator
Just bring the Groom and a dress!  Here is the link http://bit.ly/12NYO45
For more information call me at 800 644-6659 or email Teresa@Luxuryhideaways.net
If you enjoyed this post, make sure you subscribe to my RSS feed!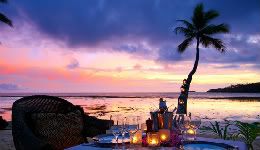 Namale Resort & Spa is an 5 star all inclusive, adults only luxury hideaway tucked away in the jungle on the East side of Fiji - it is extremely romantic and in fact has been voted #1 most romantic resort in Fiji by 2011 Tripadvisor readers.
In celebration of the award, Namale Resort is offering a Valentines Day special - stay 7 nights/pay for 5 nts at this amazing resort.
Namale caters up to 44 people at any one time. With 120 staff on call to help turn dreams into a reality, their guests are pampered beyond belief.  Since we are talking about pampering - the Spa is world class - Namale Spa & Sanctuary is like no other… Built on 10,000 square feet of volcanic uplifts, treatments consist of a blend of Asian, Western and traditional Pacific techniques; leaving a feeling of relaxation and wellness for the mind, body, and soul.
To further celebrate love in Fiji, Namale created a Holiday Package for the perfect Valentines Day which includes seven nights at any bure or villa at the Namale Resort plus the following amenities:
All Meals - Full service breakfasts, 3-course lunches and 5-course dinners and snacks
All beverages including beer, liquor, red and white wines and champagne
Round trip transfers to and from Savusavu Airport
Fully stocked and daily replenished mini-bar
Daily laundry service
Complimentary access to the Namale Fitness Centre, Kava Bowl (Indoor Entertainment Centre) & Hydrotherapy Room at the Namale Spa & Sanctuary
Complimentary activities include freshwater pools, snorkeling, kayaking, horseback riding, golfing, volleyball, bowling, virtual golf, waterfall hikes, movie theatre and more!
For more information contact the Travel Gal at 800 644-6659 or email Teresa@LuxuryHideaways.net
If you enjoyed this post, make sure you subscribe to my RSS feed!