The Queen Flower of French Polynesia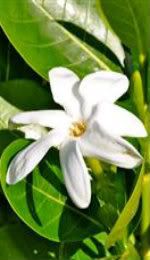 The "Tiare Tahiti" is the queen of all flowers in the Tahitian islands. It is symbol of all things pure and exotic. This white flower from the Gardenia family graces the air with an intoxicating scent.
As you board Air Tahiti Nui, flight attendants will give you one of these delicate flowers  as a "welcome" to your Polynesian escape. Locals wear the flower behind their ear… A cute story tells that worn behind the left ear, your heart is taken. But worn behind the right ear, it means that your heart is available for love…your exotic South Pacific island adventure begins!
If you enjoyed this post, make sure you subscribe to my RSS feed!