Things You Gotta Try while on the Island of Molokai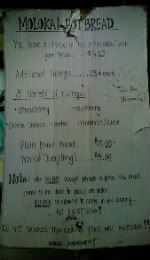 Visit the main town of Kaunakakai stop by Kanemitsu Bakery's "Hot Bread Run," a local favorite from 10 p.m. to 12 a.m., Wednesday through Sunday only. Go to the back door of the bakery down the alley, knock on the door and order your favorite treats, including fresh Molokai Bread smothered with choices of butter, cinnamon, cream cheese, raspberry and blueberry jam or have the works (everything) guava, cream cheese, cinnamon, apples and more.
NOTE: A few years ago I participated in a midnight breadrun on Molokai - its fantastic but also the best kept secret in the islands. This is the first time I've seen the Molokai Breadrun mentioned in print. Also I have met very few kaamaiana that have participated in it. Truly not to be missed!
Enjoy the music at Hotel Molokai's Ocean side Restaurant every Friday afternoon from 4:30 p.m. to 6:00 p.m. That's when Molokai's kupuna (elders, pronounced koo-POO-nah) gather to sing and play Hawaiian music Molokai style. Cocktails and pupu (hors doeuvres, pronounced poo-poo) served ocean side.
Stock up on food at Misaki's Store in Kaunakakai, especially if you're arriving on Sunday morning before 11 a.m. In the afternoon, Molokai's grocery stores all close for the rest of the day. Molokai Wine and Spirits is open daily until 10 p.m., selling some of the finest wines and beers. They also offer snacks, ice cream, ice and non-alcoholic beverages.
Attend a church service. Known as an island of prayer, Molokai has more than 23 churches representing numerous denominations. Many of them offer services twice a day as well as evening services. The Molokai Dispatch newspaper publishes a guide to church services, hours and locations.
Go on a guided hike to discover the heart of Molokai.
Watch Moana's Hula Halau (school, pronounced HAH-low) practice their art at the Mitchell Pauole Community Center on Wednesdays at 5:30 p.m. Although Molokai is known as the birthplace of hula, you won't find any commercial hula shows on the island, and this is the best way to experience this traditional dance.
If you enjoyed this post, make sure you subscribe to my RSS feed!