Mahalo for Our Wonderful Maui Destination Wedding!
Hi Teresa,
I just wanted to write and thank you for all your work the last few months helping to make our trip to Hawaii for the wedding so wonderful.  Also in working so hard to get Shannon and Alan situated for their continued stay. They are very pleased with Napili Shores and are planning to have breakfast at the Gazebo tomorrow morning. The babies are doing better and they're able to enjoy their extra days which, thanks to your making sure they had travel insurance, will be mostly paid for.
It really was a great time.  Hard to believe it's all over.  We were all pleased with the Kaanapali Beach Villas, the Pioneer Inn and the breakfast at the Hyatt-great suggestions all of them.  The cruises and tours people did were good too.  It was VERY busy with trips to and from the airport and people coming and going all the time but we knew that would be the way it was.  We were blessed to have so many people there for the Maui wedding and happy to assist in their travels.  I would have liked about two more days, one for a trip north and one for a trip up towards the volcano area, and I never tire of spending time in the ocean and on the beach.  But hopefully we'll be back and can do all those things.
I'll send some wedding photos when we get them.  Take care and let us know when the grandbaby comes-there's nothing better!
Betty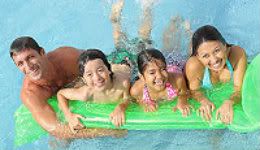 Travel Gal Note: Betty called to ask me to assist her in planning a destination wedding on Maui for her Daughter. We coordinated the wedding accomodations, car rentals, activities and airfare for nearly 50 guests from all over the U.S. and over seas.
I suggested they stay at the Aston Kaanapali Beach Villas as it is a hidden gem, located just North of Black Rock on Kaanapali Beach as a place for the family to stay. The Kaanapali Beach Villas consist of moderate priced hotel rooms, studios, one and two bedroom condominiums in a quiet beachfront location.  There is a fantastic swimming pool, barbeque facilities thru out the resort as well as "Castaway Cafe" a great little restaurant and bar.
The beachside wedding was at the Sheraton Maui Resort & Spa located just a short shuttle bus ride away, altho many guests rented their own cars.
We arranged the pre-wedding dinner to take place in the private inner courtyard at the Pioneer Inn in Lahaina as well as the post-wedding buffet breakfast at the Hyatt Maui Resort & Spa.
We also coordinated a weeklong itinerary, filled with snorkel trips with Trilogy Exursions, sunset cruises, dinner cruises, Pacific whale foundation whale watching, ziplining with Skyline Eco-Adventures and as well as an evening at the Old Lahaina Luau, inviting the guests to join the wedding party in some or all of the activities.
Bettys other Daughter and family had to stay on a few more days as their twins were sick with ear infections. Doctors on Call is located at the Hyatt Resort so they were able to get the babies ear medicine right away.  It was February and the island was nearly sold out but we found a studio at Napili Shores, located 5 miles up the road for the family.  I always encourage my Clients to purchase travel insurance for this reason.  The insurance covered most of their extra days on the island.
If you are thinking of a destination wedding, contact me (as I live on Maui)
for more information at
800 644-6659 or email Teresa@LuxuryHideaways.net
If you enjoyed this post, make sure you subscribe to my RSS feed!