Dear Teresa,
I've written this recommendation of your work to share with other LinkedIn users.
Details of the Recommendation: "I judiciously selected and trusted 100% Teresa to take control of my honey moon destination, Fiji. She works vigorously for us to ensure that we kept all the costs within my budget and not only that, also ensured that we stayed in one of the best resort in Fiji. Great work Teresa!
I would strongly recommend her for all travel needs, whether you're going to an exotic destination or cursing around the world. She does your dream come true."
Service Category: Travel Agent
Year first hired: 2012
Top Qualities: Great Results, Expert, High Integrity
If you enjoyed this post, make sure you subscribe to my RSS feed!
Teresa,
How else could I start this email with anything other than Vinaka! When we first started communicating with each other I wanted a Honeymoon that was going to be unforgettable and something that would be truly special, you certainly delivered plus more.

Koro Sun Resort was paradise on earth and of course we enjoyed the environment but what we loved the most was the staff and all the happy people we were surrounded by. We didn't know what to expect coming into Fiji but with all your wonderful planning and helpful notes we got through our entire Honeymoon with ease. Our Edgewater Bure was breath-taking and my wife literally had a grin from ear to ear since the moment I told her where we were going till our departure. We both are very happy and feel blessed to have gone to Fiji and now we want to continue visiting the Fiji islands. We both met some wonderful couples that we continue to stay in touch with and we also got very close with some of the staff so we will begin communicating with them soon.

The Fijian culture is nothing short of amazing, by that I mean everyone is extremely friendly, helpful, easy-going, etc. and the best part is we never once felt like a tourist. You gave us an unbeatable capstone to our marriage and for that I cant thank you enough.

I will doing everything I can to promote you and please feel free to send me links or instructions to post a review.

Again thank you so much for helping me plan the honeymoon and it was a pleasure working with you.

Love Always,

Devin & Jared C.

NOTE:  Jared and his wife went to Koro Sun, located on the East side of Fiji. There are 10 brand new Edgewater bures, each with its own ladder into the water!  This area of the resort is adults only, complete with check in area, brand new swimming pool and cocktail service.

Call me, the Travel Gal for more information at 800-644-6659 or email Teresa@Luxuryhideways.net
If you enjoyed this post, make sure you subscribe to my RSS feed!
Teresa,
We had a Great Time, it was most beautiful, and relaxing!! Love the people!! We took a walk to the village, and took the boat back. Snorkeled, and just relaxed alot. I looked up in the sky the first night I was there, and I could not believe what I was seeing. I've never seen so many stars in the sky, ever!!
Everything was Great!!, including you, and everything you set up for us…Since I am a musician, I am thinking about doing a fund raiser here in New Orleans for my new Fijian Musician Friends.  The guitar player did not have any extra strings, so when he broke one, he had to tie the two ends back together.  I'm gonna be sending him some guitar strings, an a guitar tuner, and some other things. But, if we are able to raise some money may get them some guitars, and who knows may need to go and deliver them to Viwa….
Thanks for everything, and yes if I hear of any friends looking for help planning a trip, I will most certainly give them your information.      Thanks So Much Teresa!!
Reed A.
If you enjoyed this post, make sure you subscribe to my RSS feed!
Hi Teresa!
We had such an amazing time!! The Fijian's were the some of the sweetest people we have ever met. So happy and hospitable!
The snorkel safari was our favorite activity! It was such an amazing experience! The coral was so beautiful! The colors and fish were so pretty! We kayaked, took the sunset cruise, visited the village, went hiking, and were pampered at the spa! We watched a coconut demonstration, took a cooking lesson, & learned basket weaving. The private beach picnic was very relaxing! Luckily we had good weather that day.
It rained a lot more than expected. We had only two days of sunshine, which was a bit of a bummer. However, we still had a great time! The rain was very relaxing. Perfect time for spa treatments! I don't think I've ever seen rain like that!
We played scrabble, read books, and made new friends! We had such a great time!! Thank you for all your help planning our trip. You were such a pleasure to work with!!
Thank you for the amazing honeymoon,
Ashely R.
If you enjoyed this post, make sure you subscribe to my RSS feed!
Hi Teresa,
I hope this email finds you well. Rob and I wanted to send you a HUGE, warm thank you!! Our destination wedding trip to Vomo Island was fabulous. We enjoyed every moment of it. The resort was awesome, the food wonderful and the staff like family. It was first class all the way from the moment we landed at the airport to the moment we left.
We had good weather and of course a little rain, but still beautiful. The day of the wedding, it rained until just 45 minutes prior to the start. I think Kimi was stress, but of course he had the perfect back up plan if the rain continued. 45 minutes before the wedding, the rain stopped, the sun came out and it was a gorgeous day. I have attached a few pictures of our stay and the wedding that I wanted to share with you. It was perfect and is a memory that will live in our hearts forever.
I could not have expected or asked for more from you or the Vomo family. Our vacation was absolutely perfect. I am sure we were not the perfectclients and I know we drove you crazy at times, but I truly appreciate you very much! Thank you again for making this week perfect!!!!
I hope you have a wonderful weekend.
Thanks,
Amber
If you enjoyed this post, make sure you subscribe to my RSS feed!
Bula,
I can't express to you how perfect our honeymoon was. Everything was PERFECT!
Our flight on Air New Zealand from LAX left on time and besides plenty of excellent food and beverages, the movies were actually pretty good, too. Once in Nadi, we were greeted at the airport by a Rosie agent and from there, totally taken care of to what was to be the best week of our lives!
Once we stepped off the helicopter, landing at Matamanoa and given fruity drinks [we] didn't have to lift a finger to do anything! Our bure was clean, spacious and the view was beyond our expectations! We had the Kabote bure (we found out that all the bures are named after Fijian birds) which was #21… I tell you this because it was the last bure on that side of the island and we got the sunset and moon view every night.
We both also bought massages and a trip to a traditional fijian village for Christmas services. While there we also formed several fulfilling relationships with other guests and many of the staff, which made our vacation all the more enjoyable. (You were right about the mainly adult guest population - there were very few children or families - majority of the guests were couples.)
I can honestly say that we made the most of our time at Matamanoa and took nothing for granted! We gave as generously as we could to the Christmas fund, but would have liked to given more. I would recommend (and already have) Matamanoa to anyone going on a vacation and hope you do, too.
Vinaka for doing such a fantastic job and spending the time and energy answering all my questions and calming my nerves.
You'll hear from us again when we decide to book our next trip to Fiji. If my wife, Jessica, has her way, you'll be getting a call from us next week!
Sincerely,
Peter & Jessica
If you too would like a Fiji island destination wedding and/or honeymoon,
contact the Travel Gal at 800 644-6659 or email Teresa@LuxuryHideaways.net
If you enjoyed this post, make sure you subscribe to my RSS feed!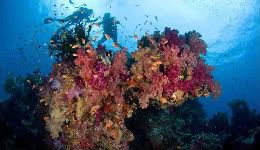 Bula Teresa!!!
I want to thank you for helping us with the most amazing honeymoon!!! It was such an amazing experience for both of us. Everything from the scuba diving to the village visit at Qamea Resort was incredible! We wished we had realized before leaving (and in all the emails you may have said I just dont recall) that we could take gifts to the kids in the village.
We ended up getting the nice people at Qamea Resort to buy some candy in town to take with us so it worked out.Vinaka vaka levu!!   Phil & Jamie
If you enjoyed this post, make sure you subscribe to my RSS feed!
Bula Teresa!
We had a wonderful time! The Fijian people were amazing and their smiles are contagious! We had Adi as our Bure Mama (private butler) and we wanted to bring her home with us!! The scuba diving was great - we didn't go fishing as no one was catching anything but we did everything else!!
Thank you so much for suggesting First Landing Resort - we loved it and it was an
awesome start to our honeymoon. The dayroom was beautiful and just what we needed to shower and sleep until our private Villa with swimming pool (which was so amazing) was ready. It went perfect! Our seaplane adventure was fine but they did have some issues later that week and then the mechanic arrived to take care of things.
Turtle Island exceeded our every expectation - and we made such wonderful new friends. If you would like I can send you something in writing so you'll have our comments if you ever want to use them on your website!
Thank you for everything!! I can send pictures one we get all settled.
Sandy and Greg [Read more]
If you enjoyed this post, make sure you subscribe to my RSS feed!
Bula!
My Husband and I just got back from our first 7 day vacation at Turtle Island, Fiji. We honestly felt like this was one of the best trips we have ever had in our lives. It immediately became clear that our expectations were by far exceeded. We knew it would be a beautiful island setting and have excellent service but we truly didn't expect to make the friends that we did.
The "Family Table" concept may not appeal to everyone but we loved it. We took the opportunity to
have a private beach picnic and to dine by ourselves on the pontoon but always looked forward to getting back to the group.
Lunch went on until 5:30 one day we were all having such a good time! The fabulous food and wine always makes for good conversation but the other guests we met, the entire staff, esepcially our Bure Mama, and the managers Paul and Amanda really became our friends. It is amazing how quickly you can get to know someone when you are in such a beautiful, relaxed environment. We have already signed up for another 10 day trip and we can hardly wait!
Vinaka once again,
Tim
If you too would like to relax on your own private island in the South Pacific
Call Me at 1-800-644-6659
Your 'See the South Pacific Specialist' at Luxury Hideaways
If you enjoyed this post, make sure you subscribe to my RSS feed!
Bula bula Teresa!
You provided my wife and I with outstanding personalized service in preparing our trip (that due to unexpected wedding budget overruns, we were unfortunately unable to take at that time). It was so outstanding that when my friend Mike B said that he was planning his honeymoon to Fiji, I told him that he MUST contact you to plan a trip.
My wife and I still plan on getting to the Fiji islands within the next 2 years, and I promise that you will be the first person that we contact for travel reservations and trip planning.
Aloha Teresa!
Bryan McN!
If you enjoyed this post, make sure you subscribe to my RSS feed!