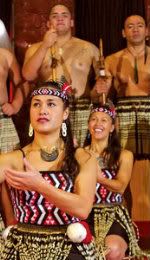 Hi Teresa
Yes yes yes! Our trip was all fabulous and even more than we expected! Auckland was great. Our tours were terrific! When we arrived we took a ferry to Devinport. It was such a lovely quaint town. In Rotorua the Springs was beautiful. We went to the Polanesia Spa and were pampered all day
Our cruise was wonderful. New Zealand is absolutely beautiful. We took so many pictures and had some enlarged and framed.
We saw our friends in Melbourne and had an Australian Barbie.
Sydney was really my dream. I had to touch the walls of the Opera House, to realize that I was truly there.  Our stop in Tasmania completed the dream of kangaroos and koalas.
We did so much and the time went so fast that we hardly believed it was time to come home.
You did such a wonderful job and made our trip worry free.  Absolutely everyone and everything was on time and perfectly planned.  You are terrrrrrrific!
Love ya
Mary Ann and Armand
If you enjoyed this post, make sure you subscribe to my RSS feed!
I cannot say that I enjoyed one part of it more than the other. Heron Island was wonderful, relaxing, and warm. We went on a picnic every day. Swam with Sea Rays and Phil was the adventurous one and swam with a Reef Shark. Lamington's was just as fabulous. We went on a trek with Mick O'Reilly, he was so full of information everywhere you looked there was something to see.
We had a wonderful time in Sydney as well. The condo was the right choice and it was in a great area, we walked practically everywhere. The bridge climb was so exhilarating; I cannot believe we did it. I was a little nervous at first but then you start up the bridge and are so in awe of the view you completely forget how high up you are. Hope you are doing well and cannot wait for the next adventure!
Kris & Phil
If you enjoyed this post, make sure you subscribe to my RSS feed!
I had the pleasure of visiting the beautiful city of Sydney last November. I spent 5 nts in Sydney and have decided I must return for no less then a month. There are 30 bays in Sydney and it is my goal to explore each one of them someday!Upon arriving in Sydney, I suggest spending a minimum of 5 nights enjoying the city sights. Sydney is rated the best city in the world by readers of Conde Nast Traveler. Sydney, with its friendly residents, agreeable climate,, natural beauty and relaxed outdoor-oriented lifestyle is a "walker friendly" city.
Don't miss when you travel to Sydney [Read more]
If you enjoyed this post, make sure you subscribe to my RSS feed!