One of the most picturesque and geographically diverse islands in the Society Group, enclosed in a single lagoon, it covers 75 square miles. Huahine (who-wah-hee-nay) is located 109 miles northwest of Papeete. The highest point on the island, Mt. Turi, reaches 2,200 feet and is located on Huahine Nui. Mt. Tavaiura in the Fitii Peninsula looks like a women's face, leading to her chest and her round belly, hence one of the interpretation for Huahine's original name (pregnant woman).
A deep, crystal-clear lagoon surrounds the two islands while magnificent bays and white-sand beaches add drama and solitude to their virtues. Relatively unchanged by the modern world, Huahine offers a slower taste of old Polynesia.
Probably one of Polynesia's best-kept secrets…Huahine is a "Garden of Eden" with lush forests, an untamed landscape and quaint villages. It is relatively unchanged by the modern world. The island's fertile soil provides bountiful harvests of a variety of melons as well as other fruits and vegetables. It is located approximately 105 miles northwest of the island of Tahiti.
Another unique thing about this island is the wooden boxes alongside the road that look like a newspaper delivery box. Very French in culture, these islanders have delicious-looking French baguettes delivered twice daily to residents and put in this box.
If you enjoyed this post, make sure you subscribe to my RSS feed!
Over the years I have received many calls looking for the 110 passenger luxury small ship Clipper Odyssey i.e. where is it sailing, what is it doing and which company is it attached to these days.  Great news - the Clipper Odyssey is with Zeagrahm Expeditions sailing amazing itineraries to remote islands around the world.
Zeagrahm Expedition trips are both educational and environmentally-focused, and are led by top experts in their respective fields. Zeagrahm strives assemble the "ultimate dream team" for the destination: marine biologists, ornithologists, geologists, botanists, historians, anthropologists, archaeologists, and dive masters. Zegrahm field leaders are well-known throughout the world; many of them are published writers, authors, and photographers.
Clipper Odyssey is one of the finest adventure ships afloat, carrying a maximum of 110-passengers, this luxury expedition vessel is ideally suited for cruising in off-the-beaten-path locales.
Clipper Odyssey Upcoming Expeditions:
For more information on any of these amazing adventures, contact the Travel Gal at
800 644-6659 or email Teresa@LuxuryHideaways.net
If you enjoyed this post, make sure you subscribe to my RSS feed!
Its time to broaden your horizons, lose the laptop, turn off the cell phone, embrace your inner explorer and set sail for the remote islands of the South Pacific.  Cruise aboard Zegrahm Expeditions Explorer Ship, the Clipper Odyssey April 16-May 2, 2013.
Visit this far frontier of the western South Pacific-including the outer islands of Papua New Guinea, Yap and Palau where you will embrace authentic, traditional cultures on exotic tropical islands.
This 17-day South Pacific tour will astonish you with diverse landscapes, from soaring volcanic peaks to submerged craters teeming with kaleidoscopic fish, and offers unique encounters with native Melanesian and Micronesian people and their exuberant ritualistic hospitality.
During your South Pacific adventure, one of the highlights will be touring the island of Yap where you will experience everything from a war canoe greeting to energetic native dances to rhythmic drumming and curious schoolchildren - a photographers heaven!
Throughout your South Pacific expedition, you will have the opportunity to hike through tropical foliage in search of endemic birds, enjoy leisurely strolls along warm sandy beaches, and snorkel and scuba dive nearly every day among fringing coral reefs populated by more than 1,400 fish species.
South Pacific expedition highlights:
Watch energetic dance performances by the Trobriand and Yap islanders, as well as the Baining tribe's dramatic fire-dance during the Yap tour and other island visits.
Hike lush jungles, stroll beaches brushed by palm fronds, view smoking volcanoes, and cruise by Zodiac along remote shorelines as part of your South Pacific adventure travels.
View spinner dolphins and sea turtles at sea and monitor lizards and flying foxes ashore.
Snorkel or dive amongst neon damsels, parrotfish, wrasses, and giant tridacna clams.
Look for magnificent frigate birds, white-bellied sea eagles, and sulphur-crested cockatoos.
Zegrahm Expeditions is an all inclusive South Pacific Expedition, including:
All gratuities, from porters and ship's crew to tour guides
All accommodations, including pre-voyage hotel nights
Welcome dinner and orientation briefing to get to know one another and get a good sense of what's to come during your South Pacific adventure travels
Daily activity options, from snorkeling and diving among vibrantly hued marine life to exploring remote islands and visiting with local schoolchildren
World-class lecture and South Pacific expedition team
All meals onboard and with the group ashore
All entrance fees, taxes, and landing and port charges
All transfers on the group arrival and departure days
Gift certificates for recommended South Pacific expedition gear and reading materials
Comprehensive pre-departure packet to prepare you for your South Pacific and Yap expedition, with everything from currency information and weather to shipboard amenities and a packing list
Medical and emergency evacuation insurance
For more information, costing and details, contact the Travel Gal at 800 644-6659
or email Teresa@LuxuryHideaways.net
If you enjoyed this post, make sure you subscribe to my RSS feed!
For the trip of a lifetime, join Tui Tai Adventure Cruises and;

Visit remote beaches
Snorkel incredible reefs
Kayak to local villages
Flexibility in cruise experience
Catering to your every wish
Luxury appointments
Much more…..
Fiji's only Luxury Adventure Class Cruise Vessel - Yacht Cruising At It's Best.
Tui Tai, brings you the premier adventure cruise experience in the South Pacific. Designed for active travelers looking for the ultimate active style of Fiji Vacation, the Tuitai will take you sea kayaking through remote island atolls, whitewater rafting amidst lush rainforest canyons, snorkeling pristine reefs and immersing yourself in Fiji's island culture.
How does the Tui Tai define adventure? [Read more]
If you enjoyed this post, make sure you subscribe to my RSS feed!
The Aranui is a mixed passenger/cargo vessel that operates between Tahiti and the Marquesas.  Experience a 14-day adventure cruise in the French Polynesia, Marquesas islands, begin the journey from Tahiti to Fakarava, Ua Pou, Nuku Hiva, Hiva Oa, Fatu Hiva, Tahuata, Ua Huka, Rangiroa and back to Papeete.
She offers comfortable, air-conditioned accommodations for about two hundred passengers. Passengers will be able to sunbathe on deck, swim in the pool, or enjoy exotic tropical drinks while the Aranui winds her way among the islands of the Marquesas.
The vessel operates under the French flag, and her crew are all Polynesian, primarily Marquesans. To give you an idea of the schedule, please see below (itinerary subject to change):
Itinerary:
Departure from Papeete, Tahiti dock at 10:30am
Day 2 - Fakarava, Tuamotu Islands
Day 3 - At Sea
Day 4 - Ua Pou (Hakahau-Hakahetau) Marquesas
Day 5 - Nuku Hiva (Taiohae-Hatiheu-Taipival)
Day 6 - Hiva Oa (Atuona)
Day 7 - Fatu Hiva (Omoa-Hanavave)
Day 8 - Hiva oa (Puamau-Hanaiapa)
Day 9 - Tahuata (Vaitahu-Hapatoni)
Day 10 - Ua Huka (Vaipaee-Hane-Hokatu), Ua Pou (Hakahau)
Day 11 - Nuku Hiva (Taiohae), Ua Pou (Hakahau)
Day 12 - At Sea
Day 13 - Rangiroa, Tuamotu Islands
Day 14 - Arrival back in Papeete at around 9:30am
Facts about the ship:
Facilities aboard the Aranui, include electrical current, telephones and a ship's boutique.
Meals
All meals are included in the price of carriage. Meals are served in the Aranui's dining room in an informal setting. Depending on the number of passengers, there will be on or two seatings. There is buffet breakfast. Lunch and dinner menus will vary depending on what fresh ingredients are available. Complimentary wine is provided at both lunch and dinner.
For shore excursions, we will provide either a picnic lunch or a delicious meal at a local restaurant.
Please let us know at the time of booking, or no later than three weeks in advance of the sailing date if you need a special, medically prescribed diet.
Clothing
Recommended clothing, luggage and sundries.
Shore Visits and Excursions
Information about excursions and activities available on your voyage.
Weather
The weather in the area is generally divided between the dry season, from March to October, and the wet season, from September to February. You can expect some rain even in the dry season, so we recommend you bring a poncho or other raingear for shore excursions. Temperatures during both seasons will average in the 80's during the day, and 60's-70's in the evening. Temperatures are given in Fahrenheit.
To experience the South Pacific in a more authentic & intimate way,
Contact the Travelgal at Teresa@Luxuryhideaways.net or 800 644-6659
If you enjoyed this post, make sure you subscribe to my RSS feed!
The Paul Gauguin was built with adventure in mind. There is an amazing Watersports Marina off the back of the ship where all of the watersports equipment is launched. From this marina you will easily be able to access the ocean and come face to face with a colorful parade of marine life, from magnificent parrot fish and clownfish to stately sea turtles. You will be able to hop aboard a windsurfer, launch a kayak, or embark on a Zodiac for optional diving adventures. Your first dive into crystal-clear waters will spoil you for anything else under the sun-or the seven seas. Also the ship's small footprint enables it to navigate hidden lagoons that larger ships would never dare to enter.
While cruising the French Polynesia take advantage of the crystal clear water teaming with sealife and learn how to SCUBA Dive! The Paul Gauguin is the only luxury ship in the South Seas to offer PADI certification onboard for novice divers as well as classes at all levels, from snorkeling to advanced scuba diving techniques, supervised by their own staff of PADI dive masters. For the convenience of their guests, all necessary equipment, including an air compressor to refill scuba tanks, is onboard.
For more information contact the Travel Gal at 800 644-6659 or email Teresa@LuxuryHideaways.net
If you enjoyed this post, make sure you subscribe to my RSS feed!
Are you looking for an adrenaline rush on your tropical island vacation? Forget about Bungy jumping or Ziplines! We have the ultimate adventure for you!  How about swimming with a shark? Well, swallow your fears and come face to face with one of Hawaii's most majestic and misunderstood creatures of the deep!
Oahu's North Shore has a large resident group of Galapagos and Sandbar sharks and Hawaii Shark Encounters visits a site where the sharks naturally occur to observe them. A specially designed shark cage not only protects but has plexiglass windows for a face to face encounter. Sometimes see as many as 30 sharks… and they come very close to the cage!
If you're looking for a once-in-a-lifetime adventure, I don't know if it gets better than this. Just getting in is a thrill, when sharks are circling the boat! You enter the floating shark cage from above (directly from the boat) and stay on the surface using a mask and snorkel (provided). Within just a few minutes of being inside the cage I relaxed and felt safe, realizing the sharks could not (nor were they trying to) get in the cage.
No experience is required. The best view is definitely from inside the cage but if going in the water is not for you, you can always stay in the boat and view sharks as they swim on or near the surface with fins slicing through the water.
In addition to being an unbelievable adventure, this is also an educational tour taking you into a world that few can ever experience. Guides offer fascinating facts about shark biology and behavior, about ocean life, conservation issues and about the significance of sharks in Hawaiian culture.
Hawaii Shark Encounters has been seen on National Geographic, Discovery Channel, CNN, Inside Edition, ET, Animal Planet and more! There are so many great reviews for Hawaii Shark Encounters…
"Absolutely Amazing"     "Don't be afraid, be amazed"    "This was on my bucket list"
Boat departs four times daily from Haleiwa Small Boat Harbor on Oahu's North Shore, for the 15 minute journey to the shark grounds (over 3 miles off shore). No rental car? No problem! We can include transfers from Waikiki if needed.
Word to the wise… it is a 32′ boat on the open ocean, and even on a calm day the boat still rocks! Early tour times offer calmer ocean conditions. Also, the water at the shark grounds is over 600 feet deep and you cannot see the bottom.
If you're looking for THE wildest ride of your life, give the TravelGal a call at 800 644-6659
or email Teresa@Luxuryhideaways.net
If you enjoyed this post, make sure you subscribe to my RSS feed!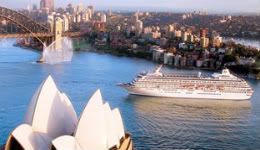 Depart from Auckland aboard Crystal Symphony December 20, 2012
Crystal Cruises has been awarded the "Best Large-Ship Cruise Line" for 15 years by Conde Nast Traveler.  Enjoy an Italian elegance, scrumptious cuisine and an extensive wine list at the Prego restaurant with signature creations by celebrity chef Piero Selvaggio.  Past guests rave about the unparalleled service, luxurious comfortable surroundings and sumptuous cuisine and extensive wine cellar.
Cruise Itinerary:
Day       Ports of Call       Arrival        Departure
1 Auckland, New Zealand —                  —
2 Auckland, New Zealand —          11:59 p.m.
3 Tauranga, New Zealand 9:00 a.m.    10:00 p.m.
4 At Sea
5 Napier, New Zealand 8:00 a.m.       6:00 p.m.
6 At Sea
7 Lyttleton (Christchurch) N.Z. 8:00 a.m.        6:00 p.m.
8 Port Chalmers (Dunedin) N.Z. 8:00 a.m.       6:00 p.m.
8 Cruise Dusky Sound
9 Cruise Milford Sound
10 At Sea
11 At Sea
12 Sydney, Australia 8:00 a.m.
13 Sydney, Australia
14 Sydney, Australia —             6:00 p.m.
15 At Sea
16 Melbourne, Australia 8:00 a.m.
17 Melbourne, Australia  depart ship
Your Package Includes:
Your package includes shipboard accommodations, ocean transportation, fabulous entertainment and daily activities, on-board meals and some beverages, port charges and more.
It does not include shore excursions, personal expenses, gratuities, or alcoholic beverages. Government fees and taxes are not included.
Call the Travel Gal for special pricing & details at 800 644-6659 or Teresa@Luxuryhideaways.net - Your Friend in the Islands!
If you enjoyed this post, make sure you subscribe to my RSS feed!
New Zealand - Whats there to do? Are you looking for the ultimate New Zealand Adventure? Then lets review some options for you whether you arrive in New Zealand by land or sea, we are able to customize your holiday.
HOT AIR BALLOONING
You have to rise early to catch a hot air balloon flight, but the experience beats a sleep-in every time. As you float over a world that is only just waking up, your smile will be as wide as the horizon.
With the exception of Queenstown, hot air ballooning operators in New Zealand are usually found on the flatter parts of the country - North Auckland, Waikato, Hawke's Bay and Wairarapa.
North Island flights will take you above lush rural areas, where you can observe an ornate natural tapestry of pasture, crops, vineyards, forests, roads, rivers, lakes and towns. In the South Island, the imposing Southern Alps provide an impressive snow-capped backdrop for hot air balloon flights that float over the sprawling patchwork of the Canterbury Plains.
From inflating the envelope at the beginning of your adventure to the champagne breakfast that marks the end of your flight, hot air ballooning is a long-lasting thrill.
SKY DIVING
Is it time to make the big leap? Sky diving is one of those things that many people say they're going to do "some day". Maybe that day is going to happen during your New Zealand vacation.
On a tandem skydive, where you'll be strapped onto the front of a qualified jumpmaster, there's plenty of time to admire the scenery on the way down. You can expect up to 60 seconds of free fall, followed by several minutes of peaceful floating before touchdown.
In the far north you can admire the beautiful Bay of Islands as you float towards the drop zone. The central north island has volcanic wonders to enjoy - crater lakes, geothermal areas and mountains. Canterbury, Wanaka and Queenstown deliver vast amounts of alpine scenery on your down-to-earth journey.
One of New Zealand's leading skydive operators, and a winner at the 2008 New Zealand Tourism Awards, is Skydive Lake Wanaka. With Skydive Lake Wanaka, you can enjoy a personalised scenic flight up, 45 - 60 seconds of freefall at 200 kilometres per hour harnessed to your instructor, and five minutes of gentle parachute gliding towards the landscapes below.
The most southern jump on offer is in Te Anau - it's a very imaginative way to see Fiordland!
SCENIC FLIGHTS
If you aren't quite the daredevil, then lets look at a more comfortable way to view New Zealand. Sightseeing from a small plane or helicopter will give you the ultimate view of New Zealand's spectacular geography.
You'll be able to count the volcanic cones that are scattered across the face of Auckland; appreciate the immensity of Lake Taupo, a supervolcano that's just biding its time; and glimpse the beautiful glaciers that tumble down from the peaks of the Southern Alps.
Flightseeing opportunities are concentrated in areas where the scenery is most extraordinary - Northland and Auckland, the central North Island, Canterbury, Queenstown, Fiordland and the West Coast.
Some operators combine airborne sightseeing with ground explorations. White Island, an active marine volcano in the Bay of Plenty, is a destination that uses this formula. At Mount Cook and Franz Josef a ski-plane operator makes glacier landings, so that you can get out and feel the quiet solitude of the mountains. Another rare treat is a flight to watch the whales at Kaikoura.
Contact the Travelgal to assist you in building your
ultimate adventure holiday to New Zealand
Teresa@Luxuryhideaways or 800 644-6659
If you enjoyed this post, make sure you subscribe to my RSS feed!
Australia Cruise Experience Up Close & Personal

Snorkeling
Diving
Glass bottom boats
Luxurious spa treatments & therapies
Delicious Cuisine
Only 35 guests on board
On board guest lecturers & specialists
Coral Princess Cruises In Australia
Discover a paradise of remote and uninhabited islands on your Australia Small Ship Cruise - become a lazy beachcomber or an inquisitive adventurer on one of our 3, 4 or 7 night cruises between Cairns and Townsville. [Read more]
If you enjoyed this post, make sure you subscribe to my RSS feed!