Spend the Christmas holidays this year aboard one of the luxury yachts of Seabourn sailing between Austalia and New Zealand.  Experience life on the award winning ship Seabourn Odyssey complete with stellar service, amenities and the finest shore excursions.
Be sure to arrive in Sydney at least 4 nights prior to your cruise so you have time to explore the Sydney Opera House (perhaps take in a play or symphony), dare to climb the Sydney Bridge & explore one of the 30 bays surrounding Sydney.  Board your yacht on Dec. 23rd and cruise under the Sydney Harbor Bridge while indulging in French chamapgne - Bon Voyage!
If you too would would like to get on onboard - Call the Travel Gal today for fabulous
Virtuoso pricing as well as added amenities at 800-644-6659 or email Teresa@Luxuryhideaways.net
Day
Date
Port
Arrive
Depart
0
23 Dec 2013
Sydney, Australia
1
24 Dec 2013
Sydney, Australia
02:00 PM
2
25 Dec 2013
At Sea
3
26 Dec 2013
Melbourne, Australia
08:00 AM
08:00 PM
4
27 Dec 2013
At Sea
5
28 Dec 2013
Hobart, Australia
08:00 AM
06:00 PM
6
29 Dec 2013
At Sea
7
30 Dec 2013
At Sea
8
31 Dec 2013
Milford Sound, New Zealand
08:00 AM
09:00 AM
8
31 Dec 2013
Cruising Fiordland Natl Park
9
01 Jan 2014
Oban (Halfmoon Bay), New Zealand
08:00 AM
05:00 PM
10
02 Jan 2014
Port Chalmers (Dunedin), NZ
08:00 AM
06:00 PM
11
03 Jan 2014
Timaru, New Zealand
08:00 AM
06:00 PM
12
04 Jan 2014
Akaroa (Christchurch, NZ)
07:00 AM
07:00 PM
13
05 Jan 2014
Wellington, New Zealand
10:00 AM
11:00 PM
14
06 Jan 2014
Picton, New Zealand
08:00 AM
06:00 PM
14
06 Jan 2014
Cruising Queen Charlotte Sound
15
07 Jan 2014
Kaikoura, New Zealand
08:00 AM
05:00 PM
16
08 Jan 2014
At Sea
17
09 Jan 2014
Tauranga (Rotorua) New Zealand
08:00 AM
06:00 PM
18
10 Jan 2014
Auckland, New Zealand
07:00 AM
If you enjoyed this post, make sure you subscribe to my RSS feed!
If you are an adventurous, energetic and athletic family that loves to explore the outdoors and take in all that nature has to offer, this is the trip for you. This trip includes New Zealands only native forest zipline canopy tour, Hobbiton movie set, a tour the village movie set from the Lord of the Rings trilogy, visiting Waitomo Glowworm Caves as well as experiencing a Maori Village.  We can even add bungy jumping into the mix, if interested.
We can organize a car for part of your journey, then set up tours along the way.  I would suggest quaint hotels for your journey, then end at a fabulous resort for the last few nights.
Along the way, you will experience:
* Waitomo Glowworm Caves - Today see the Waitomo glowworm, Arachnocampa luminosa, which is unique to New Zealand. Thousands of these tiny creatures radiate their unmistakable luminescent light as expert guides provide informative commentary on 'The Waitomo Glowworm Caves' historical and geological significance.
* Tamaki Tours Hangi & Concert - This evening you will be met at your accommodation by a representative from Tamaki Tours for your evening's Hangi and Concert excursion at a Maori Village.
* Te Puia 90 Minute Guided Tour - This geothermal valley is a special place, home to Te Arawa people for generations. The environment alone is of enormous geological significance, with thermal activity ranging from boiling mud to the world-famous 30-metre (100-foot) Pohutu geyser, erupting up to 20 times each day. Hot springs, boiling sulphurous pools, silica terraces and bubbling mud pools are among the natural wonders.
* Rainbow Springs - Breathe deeply, and take in the native bush, ferns, trees and plants that grow and flower all around you as you wander through the tree lined pathways at Rainbow Springs Nature Park. Enjoy the tranquillity of the crystal clear mineral water that flows tirelessly from the subterranean springs throughout the park, and marvel at the silent grace of the magnificent specimens of Rainbow, Brown and Tiger trout and feed them as they cruise the fern-fringed pools.
* The Agrodome Sheep Show is a one-hour performance where you will see nineteen sheep breeds introduced onto the stage, and be shown the art of sheep shearing, along with sheepdog demonstrations, cow milking, bottle feed lambs and an exciting sheep auction.
* Hobbiton Movie Set - tour the village movie set from the Lord of the Rings trilogy is situated on a working sheep and beef farm with scenic views across to the Kaimai Ranges.  The Hobbiton movie set has been returned to its natural state however, Hobbit holes and some structures from the film set are still present.  Your tour guide will escort you through the 10-acre site, recounting fascinating details of how the Hobbiton set was created.
* Experience New Zealand's only native forest zipline canopy tour - A 400 metre walk through native forest leads to the first launch platform where your guides familiarise you with the forest, birds and history of the area. You'll experience trail walking, 10 platforms, 6 ziplines and 2 swing bridges mixing thrill and slow paced observation of the forest.
* Breathtaking Lake Taupo - The start of the Waikato River signals the proximity of a huge watery crater - Lake Taupo. Your drive winds along the shore of this extinct volcano before ascending the plateau to view the ominous snow-clad peaks of Ruapehu, Ngauruhoe and Tongariro.  Continue along the desolate and barren Desert Road to windy Waiouru before dropping down into the farming community of Taihape.
* Fly from Wellington to Queenstown - From Wellington Airport fly across Cook Strait which divides New Zealand's North Island from the South Island, before following the Southern Alps mountain range towards Queenstown, New Zealand's adventure capital.
* Milford Sound - Today you will undertake a scenic cruise day trip from Queenstown to Milford Sound. Milford Sound is frequently referred to as the Eighth Natural Wonder of the World. The cruise is out to the open sea which takes you past towering Mitre Peak and the spectacular Bowen Falls.
* Safari Of The Scenes - When JRR Tolkien created Middle-Earth little did he know the magical landscapes of his imagination actually existed, 12,000 miles away from his homeland.
This morning you will be met at your accommodation for your 4WD sightseeing excursion.  It took Peter Jackson 10 years and millions of dollars to bring The Lord of the Rings to life on the big screen.  You can visit it today.
Many of the areas that the tour visits provide spectacular backdrops to much of the action in Peter Jackson's "The Fellowship of the Rings"; The Ford at Bruinen, The Misty Mountains, Isengard and Lothlorien, better known as Skippers Canyon, Macetown and Paradise, to name a few.
* This holiday should be one for the family memory books - time to fly home and share all of your amazing stories with friends and family.
NOTE:  The best months to travel to New Zealand would be in the spring and fall.  Their winter is our summer so if you wanted to visit Queenstown for skiing, the optimal time is right around the 4th of July.
If you too want to plan an amazing trip, contact me, the Travel Gal at 800 644-6659 or email Teresa@Luxuryhideaways.net
If you enjoyed this post, make sure you subscribe to my RSS feed!
While planning your holiday to New Zealand, save time for the Nevis Swing, (AKA Nevis Arc), at 120m is Queenstown's newest thrill seeking innovation brought to you buy the gravity pioneers.
Walk across a 70m suspension bridge to the Launch Pad which is suspended high above the valley floor. Then it's up to you to choose forwards, backwards, alone or with a friend, and finally whether to release yourself or be released by their crew. Arcers will find themselves getting suspended high above the valley floor in a fully secure harnessed swing dropping down the valley floor at an incredible speed and then swooping towards the oncoming cliff face!
The Nevis Swing is the world's biggest and fastest swing, are you up for it?
The trip includes:
** Return transport from the Queenstown Bungy Centre to the Nevis site
** Duration: Expect a 4 hour return trip, some trip lengths may vary
** Children 16 years and under must have written consent from a parent or guardian
** Spectators can go out to the Nevis site for a fee of $50. This allows access to the jump site and if you wish decide to go ahead and jump when you are out there the $50 goes towards the cost of your jump.
Contact the Travel Gal and team to plan your ultimate adventure vacation today by land or by sea!
800 644-6659 or Teresa@LuxuryHideaways.net
If you enjoyed this post, make sure you subscribe to my RSS feed!
Sleeping Beauties Castle here we come - and its not at Disneyworld! Thorngrove Manor Hotel is a picturesque castle (truly a luxury hideaway) located in the southern part of Australia, in the outskirts of Adelaide city.
Upon arrival at Thorngrove Manor Hotel, you will be transported back in time due to the iconic baroque towers, flamboyant interiors and fantasy turrets.  You will also discover antiques, exquisitely crafted rooms and furniture, winding staircases, friezes, stencilled designs at every turn.  You will also experience the utmost in privacy and service while staying here.
Thorngrove manor is 20 minutes from the Adelaide city centre, in South Australia's oldest wine region. It is a romantic retreat perfect for fabulous day trips to Kangaroo Island, Adelaide, Barossa Valley and the Clare Valley. A scenic marked walking trail winds its way to the nearby village of Stirling.
Thorngrove is part of the unique Small Luxury Hotels of the World, and has been considered as one of the world's most outstanding, romantic and artistic lodges in the planet.
Lets organize your Australia cruise to include a few nights at this romantic retreat either before or after your cruise! Contact me, the Travel Gal at 800 644-6659 or email Teresa@Luxuryhideaways.net
If you enjoyed this post, make sure you subscribe to my RSS feed!
If you are looking to connect with nature and spend some time with wildlife, New Zealand is for you.You can hire a punt on an urban river; relax for days on a houseboat, motor yacht or sailing vessel; be your own captain or hire an experienced professional crew.
The pristine landscapes and waterways of the Southern South Island offer a favourite cruising experience for many, offering scenic cruises through Fiordland, Queenstown and Stewart Island.
Whether you prefer a high speed jet boat ride or a leisurely jaunt, you'll find New Zealanders are happy to share with you their love of water-borne transport.
JET BOATING
Like a jet aircraft, a jet boat has no external propeller. Instead, it squirts water out at high speed just below the surface behind the boat. This allows the boat to operate in depths of only a few centimetres.
The jet boat was developed in the 1960s by New Zealand farmer William (Bill) Hamilton, to allow navigation of the shallow Canterbury rivers. However, enterprising New Zealanders soon realised its potential as an adventure activity.
Sit back, buckle yourself in and feel the acceleration. A New Zealand jet boat ride will take you powering through narrow river gorges, almost brushing against sheer rock faces; or skimming across the surface of water channels that weave through the shingle banks of braided rivers.
Jet boating is suitable for all ages and levels of fitness, and can be enjoyed the whole year round. Some of the most exhilarating trips are available near Queenstown and Canterbury. Other areas include the Buller and Makarora regions in the South Island and the Rangitaiki, Whanganui and Waikato Rivers in the North Island.
KAYAKING - SALT WATER
Exploring New Zealand's magnificent coastline by paddle power is an exercise and pure enjoyment. You can discover the coastal regions of national parks. You can paddle around islands and along fiords. You can even paddle a traditional Maori waka.
In the South Island, sea kayaking experiences can last half a day or several. Meander through the Marlborough Sounds, where waters are sheltered and people are few; follow the edge of the Abel Tasman National Park and hope for encounters with seals, dolphins and orca; get a sea level view of a fiord; or find your way around Okarito Lagoon, where you'll see all kinds of wading birds.
In the North Island you can embark on a sea kayaking safari around the Bay of Islands, Waiheke Island or Wellington harbour. Sheltered water experiences can be found on the Hokianga and Tauranga Harbours. Paddling around a marine reserve, such as Goat Island, is always fun - beach your kayak and go for a snorkel.
RAFTING
From a quiet drift through the forested wilderness to a white-knuckled, wide-eyed journey down turbulent rapids, rafting covers the full adventure spectrum.
The mountains of New Zealand's interior feed a myriad of fast flowing rivers that run through the forests to the sea. Grade 1 rivers offer relatively tranquil waters, while grade 5 rivers is regarded as an extreme sport. Trips ranging from a couple of hours to five days are led by qualified rafting guides who comply with established safety codes. All gear and special clothing is provided.
Rafting rivers in the North Island are mostly found in the central east coast areas of the Bay of Plenty and Hawke's Bay. In the South Island, you'll get the chance to try rafting around the resort town of Queenstown, Christchurch and on the West Coast. Some operators offer a combined helicopter and rafting experience. You can also try black water rafting through underground caves.
SAILING
There are several areas of New Zealand's coastline that are ideal for sailing adventures. Sheltered harbours open out to inshore cruising grounds dotted with picturesque islands, and there are popular coastal journeys with harbour-like bays conveniently spaced less than a day's sail apart.
You can charter a vessel and sail her yourself or opt for a skipper and crew. Skippered voyages range from an afternoon tea and sightseeing sail on the harbour to several days on an ocean-going maxi racing yacht.
The style of boat varies from restored historic square riggers to New Zealand's high-tech America's Cup winners. You can get as hands on or as laid back as you wish.
The maritime reserves of the Bay of Islands, Hauraki Gulf and Marlborough Sounds are among the best areas for a holiday afloat. Auckland, known as the City of Sails, has the world's largest number of boats per head of population.
WHALE WATCHING
Kaikoura, on the east coast of the South Island, is the main centre for whale watching in New Zealand. It's one of the only places in the world where you can easily see sperm whales.
Sperm whales, the largest of the toothed whales, grow to over 15 metres in length. They dive deep into the ocean to feed. The resident population of sperm whales at Kaikoura can be seen all year round. Orca (killer whales) may be seen from December to March, and humpback whales in June and July. Several dolphin species are seen almost daily in the area.
Whales thrive close to Kaikoura because of its unusual submarine landscape. The continental shelf drops quickly into a number of extremely deep underwater canyons. In addition, a warm current from the north meets a colder one from the south. This causes nutrients from deep within the ocean to be carried upward, a phenomenon that helps to support all types of marine life from plankton and krill to dolphins and whales.
DOLPHINS
An encounter with dolphins always feels such a privilege. Their gentle nature is something most people admire, and something we would prefer to see more of in humans. These playful creatures appear keen to communicate. They're quite a large animal, yet they present us with no danger. They are intelligent, but seem to be completely free of cruelty or greed. This may explain why swimming with dolphins has been rated by visitors as one of the top tourism experiences in the country.
Many dolphin species can be seen in New Zealand. There's the common dolphin and the large bottle-nosed dolphin, which can often exceed three metres in length. The smaller dusky dolphin is less than two metres long and is very playful. The Hector's dolphin is one of the world's rarest and smallest dolphins, and is found only in our waters.
New Zealand offers a wide selection of dolphin watching and swimming tours. Operators take great care not to harm the dolphins, and some of the tour price often goes towards dolphin conservation.
PENGUINS
These cute little creatures are bound to make you smile. In the sea they dive and swoop like other birds do in the air, and on land they march upright and waddle like officials in a parade.
You'll find three species of penguin around New Zealand. The korora, or little blue penguin, is the world's smallest. Standing only 25 centimetres tall, and weighing just over a kilogram, it is found in coastal waters and often comes ashore at night. The Marlborough Sounds, Akaroa Harbour, Oamaru and Stewart Island are excellent places to see little blues.
The rare hoiho, or yellow-eyed penguin, has a beautiful yellow eye band sweeping back from each yellow eye. You can find hoiho on the Otago Peninsula, just out of Dunedin, and along the South Otago Coast.
The Fiordland crested penguin is one of the world's rarest. It is found in Fiordland and Stewart Island, in the deep south of the South Island.
Antarctic king and gentoo penguins can be viewed at an aquarium and Antarctic attraction in Auckland.
To learn more about travel to New Zealand, call the Travel Gal at 800 644-6659 or email Teresa@LuxuryHideaways.net
If you enjoyed this post, make sure you subscribe to my RSS feed!
Do you want to organize an Australia vacation or honeymoon but not quite sure where to begin? Do you have 2 weeks to spare and want to relax on the beach as well as enjoy the city?  I suggest a bit of Melbourne, the Whitsunday Islands and finish up in Sydney! Here is a great sample itinerary - this is a great one for a family holiday as well as honeymoon - of course we will be able to customize it for you:
Day 1 Fly USA to Melbourne
Please note international air from the USA has not been included in the package price.
Day 2 You cross the International Dateline
The International Date Line is an imaginary line on the earth's surface that approximately coincides with the 180th meridian (LONGITUDE), and separates the calendar date. Traveling east across the line takes the traveler back one day; traveling west, takes the traveler forward one day.
Day 3 Welcome to Melbourne, Australia
On arrival into Melbourne, you will need to clear customs and make your way through the main arrivals hall where you will be transferred to your accommodation.
At first glance, Melbourne may resemble any other modern city with its skyline full of concrete & glass. However, if you look a little closer, you'll find the real Melbourne, a city of unique charm.  There are the clanging trams (street cars), swanky boutiques, friendly taxi drivers, Australian Rules Football, fickle weather and 'BYO's', by the hundred (restaurants to which you bring your own liquor or wine). Add to this, Melbourne's traditional virtues of tree lined boulevards, glorious parks, elegant buildings & imposing Victorian Banks & Churches, and of course the giant Melbourne Cricket Ground and you'll have some idea of the city.
Day 4 Melbourne tour
Melbourne is famous for its magnificent parks and gardens which surround the city. See the famous Floral Clock, Botanic Gardens, Flagstaff Gardens and inspect Captain Cook's Cottage in the beautiful Fitzroy Gardens.  See the colorful Victoria Market, Old Melbourne Gaol, Shrine of Remembrance and travel over the Westgate Bridge for panoramic views over Port Phillip Bay.
Day 5 At leisure, Melbourne
Melbourne, the capital of Victoria and a cultural hub, is known for the good things in life - fashion, food, entertainment and sport. This is a city of style, architecture, trams, theatres and art.
Day 6 Fly Melbourne to Whitsunday Islands
You will be transferred to the airport for your flight to the Whitsundays. Upon arrival you will board a luxury cruiser for your launch service to Hayman. (Deluxe option only.)
Bordered by the Great Barrier Reef and 74 tropical islands in the calm waters of the Coral Sea, the Whitsundays lie midway along Australia's Queensland coast.
Days 7-9 At leisure, Whitsunday Islands
Discover the wonder that is Heart Reef. Sink your feet into the white, silica sands of world-famous Whitehaven Beach. Or simply sail at sunset across our crystal-clear waters and take in the Islands of the Great Barrier Reef.
Day 10 Fly Whitsunday Islands to Sydney
Launch from Hayman to Hamilton Island. (Deluxe option only.)

Sunny, sexy, sophisticated - Sydney basks as the shining star of the southern hemisphere. The stunning Sydney Opera House and Sydney Harbour Bridge are the pride and joy, but there's much more to offer.
Sydney's sparkling harbor is the jewel in the city's crown. It's flanked by golden beaches and bush land, and is bisected by one of the most famous bridges in the world. Islands sprinkle its waters, and it's crisscrossed by all manner of craft, from water taxis and yachts to tour boats and ferries.
Day 11 Sydney city tour
Enjoy a morning touring Sydney's glorious city, harbor and famous beaches. Pass through the historic Rocks area and circular en route to Bondi Beach where we stop for morning tea (own expense). The tour will travel through Chinatown, Darling Harbour, Kings Cross and Double Bay, and you will view the Opera House, Harbour Bridge and visit Mrs. Macquarie's Chair.
Days 12-13 At leisure, Sydney
At your leisure to explore Sydney. Most of the major attractions of the city are within easy walking distance from your accommodation - Sydney Opera House, Darling Harbour, Centrepoint Tower, Circular Quay, The Rocks, etc.
Day 14 Fly Sydney to USA
You will be met and transferred by private vehicle to the airport for your departure flight.
11 nights From $2,275.00 per person based on double occupancy - land and internal air; prices subject to change; black outs apply; ask for sw-city/island trip.
* Please note international air from the USA has not been included in the package price.
For more information on travel to Australia - contact the Travel Gal at 800 644-6659 or email Teresa@LuxuryHideaways.net
If you enjoyed this post, make sure you subscribe to my RSS feed!
Discover New Zeland on a Expedition Small Ship Cruise

All meals included
Excursion, zodiacs & glass bottom boats
Guest lectures cultural & eco tourism
Amazing on shore sightseeing
Cultural experiences
Resort style accommodations
Much more…
Oceanic Discoverer Cruise New Zealand
On your expedition cruise through NZ your'll see and experience pristine landscapes and stunning natural features of the Land of the Long White Cloud. Get ready to be amazed by the spouting geysers, bubbling thermal pools, fiords, glaciers, snow-capped mountains, rivers and sweeping stretches of white sandy beaches enshrine the country's natural heritage; forever protected in 14 national parks. New Zealand is a land of spectacular landscapes,amazing wildlife, lush forests, and pleasant climate make it a haven for many outdoor activities, and a great place to unwind. [Read more]
If you enjoyed this post, make sure you subscribe to my RSS feed!
BULA!!
Yes… Fiji is beautiful!
The weddingmoon was awesome!  Upon arrival to the Outrigger on the Lagoon we were upgraded to a BEACHFRONT BURE for our entire stay for free - it was very nice!
We got just what we wanted!!  We couldn't have been more pleased with the Outrigger staff and property.  Thank you for your recommendation and helping with everything.  The wedding day was very stress free - exactly what Trish and I were looking for!  Moreen at the Outrigger did a great job!
The Bebe Spa was incredible and relaxing.  We do have plenty of pics….and I will try sending you some as soon as I can.  We took a day cruise out to Malolo Island through PJ's Island Cruises and were very satisfied.  The snorkeling was great and the crew was very friendly.  We also hung out by the pool several different days and relaxed.  One day we went to the Wildlife Eco Park right near the Outrigger and enjoyed seeing the native birds, lizards and forest.
Also, thanks for recommending that we not take the meal plan as we got by well with just the cash that we brought!
A big……VINAKA!!!
Briant and Trish B.
If you enjoyed this post, make sure you subscribe to my RSS feed!
My Mother, girlfriend and I ventured over to the island of Molokai to visit Kaulapapa Settlement where St. Damien preformed his lifesaving work with the Lepers and to experience the island of laidback island of Molokai.
We rented a room at Hotel Molokai, its not a 5 star resort but it has all of the amenities, including a beachfront pool, wifi, cell phone service, bar & restaurant and is styled after a Polynesian Village.
Hotel Molokai is full of character, reminiscent of a slower time, is quaint, as well as reeks of the aloha spirit.  Our room included a small kitchen, bedroom, a loft and a large lanai with table and chairs.  It is a genuine luxuryhideaway located oceanfront on Kamiloloa beach. By the way, it's the only place to get draft beer on the island!  The hotel is "community minded" as they offer a Polynesian show every Friday night as well as host a community party once a year.
From the moment we arrived at Hotel Molokai we were treated like family (ohana). Mind you, we arrived at about 9pm exhausted and very hungry. The cafe had stopped serving food but in the aloha spirit, they saw how hungry we were and just happened to have a pot of soup and home made bread still warm for us.
The activity at the hotel was fantastic - if you're going to Molokai you cannot miss the Friday night Kanikapila show where the locals get together to serenade, play ukulele and take turns dancing the hula.  I believe they would gather every Friday night whether there were guests at the hotel or not.  It is an ideal situation where the haoles (mainlanders) can get a glimpse of the authentic island culture.
I will recommend this resort to all of my Clients coming to Hawaii - you must make time to visit Molokai!
Room Tip: Pay the extra to reserve an oceanfront room to fully enjoy the view
For more information on any of the South Sea Islands, contact the Travel Gal at
800 644-6659 or email Teresa@LuxuryHideaways.net
If you enjoyed this post, make sure you subscribe to my RSS feed!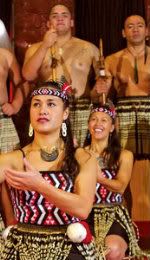 Hi Teresa
Yes yes yes! Our trip was all fabulous and even more than we expected! Auckland was great. Our tours were terrific! When we arrived we took a ferry to Devinport. It was such a lovely quaint town. In Rotorua the Springs was beautiful. We went to the Polanesia Spa and were pampered all day
Our cruise was wonderful. New Zealand is absolutely beautiful. We took so many pictures and had some enlarged and framed.
We saw our friends in Melbourne and had an Australian Barbie.
Sydney was really my dream. I had to touch the walls of the Opera House, to realize that I was truly there.  Our stop in Tasmania completed the dream of kangaroos and koalas.
We did so much and the time went so fast that we hardly believed it was time to come home.
You did such a wonderful job and made our trip worry free.  Absolutely everyone and everything was on time and perfectly planned.  You are terrrrrrrific!
Love ya
Mary Ann and Armand
If you enjoyed this post, make sure you subscribe to my RSS feed!