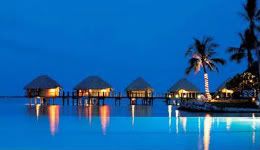 Manihi is an atoll in Tahiti's Tuamotu Archipelago. It is the idyllic retreat of a South Sea Society Island life. Manihi offers balmy breezes, idyllic pristine beaches and clear waters.
Where to stay: Manihi Pearl Beach Resort is a little luxury hideaway offering beachside and overwater bungalows with hardwood floors and palm-frond ceilings have ceiling fans, minibars, and coffeemakers.
The complimentary amenities include miniature golf, snorkel in the lagoon, and paddle kayaks and outrigger canoes at no extra charge.
There are only 41 guestroom at the resort, offering a very personal feel. The staff caters to the needs of each and every guest by helping plan trips, personalizing your bungalow and offering helpful tips about the area. Visitors will experience a relaxing and calm vacation surrounded by the pristine waters and natural, undiscovered beauty of the Tuamotu Archipelago.
The true gem of the resort is the surrounding water, filled with dazzling arrays of fish and coral reef life. Diving and snorkeling are the best way to see the beauty of the lagoon up close and personal. The resort is famous for its "Motu Picnic" which includes fishing, snorkeling, delicious seaside dining and an endless view of the turquoise blue horizon.
Manihi atoll is a great destination if you are looking for a Tahitian Cultured Pearl, which is Tahiti's largest export and a local specialty.
Visitors can explore Tahitian cultured black pearl farms in the Tuamotu atolls Manihi, Rangiroa and on the islands of Raiatea, Taha'a, and Huahine, and can watch the grafting of the blacked-lipped oysters that create these exotic and highly prized pearls. Before buying pearls, stop by theblacked-lipped oysters Tahiti Black Pearl Oyster Museum in Papeete to learn how to judge the value based on size, color, luster, and shape.
If you are looking for the ultimate island paradise, a tiny little haven for just a few chosen people,
Contact the Travel Gal at 800 644-6659 or Teresa@LuxuryHideaways
to plan your romantic beach vacation!
If you enjoyed this post, make sure you subscribe to my RSS feed!
On this mystical island with its necklace of white-fringed coral islets, Four Seasons elevates the excitement to redefine South Seas escape. Exotic over-water suites, and beachfront villas with pools, immerse you in ultramodern comforts and the spirit of French Polynesia.
Culinary art embraces operatic sunsets over the island's primeval peaks. Introduce your family to sea turtles. Kite-surf across the impossibly blue lagoon. Spirit yourselves away in a spa by the rolling Pacific surf. Surrender to the liberating service of a luxury resort unmatched on Bora Bora.
Opening mid 2008. Now confirming reservations for arrival from September 1, 2008.
If you enjoyed this post, make sure you subscribe to my RSS feed!