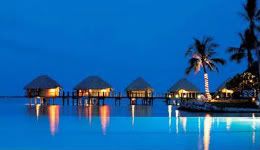 Manihi is an atoll in Tahiti's Tuamotu Archipelago. It is the idyllic retreat of a South Sea Society Island life. Manihi offers balmy breezes, idyllic pristine beaches and clear waters.
Where to stay: Manihi Pearl Beach Resort is a little luxury hideaway offering beachside and overwater bungalows with hardwood floors and palm-frond ceilings have ceiling fans, minibars, and coffeemakers.
The complimentary amenities include miniature golf, snorkel in the lagoon, and paddle kayaks and outrigger canoes at no extra charge.
There are only 41 guestroom at the resort, offering a very personal feel. The staff caters to the needs of each and every guest by helping plan trips, personalizing your bungalow and offering helpful tips about the area. Visitors will experience a relaxing and calm vacation surrounded by the pristine waters and natural, undiscovered beauty of the Tuamotu Archipelago.
The true gem of the resort is the surrounding water, filled with dazzling arrays of fish and coral reef life. Diving and snorkeling are the best way to see the beauty of the lagoon up close and personal. The resort is famous for its "Motu Picnic" which includes fishing, snorkeling, delicious seaside dining and an endless view of the turquoise blue horizon.
Manihi atoll is a great destination if you are looking for a Tahitian Cultured Pearl, which is Tahiti's largest export and a local specialty.
Visitors can explore Tahitian cultured black pearl farms in the Tuamotu atolls Manihi, Rangiroa and on the islands of Raiatea, Taha'a, and Huahine, and can watch the grafting of the blacked-lipped oysters that create these exotic and highly prized pearls. Before buying pearls, stop by theblacked-lipped oysters Tahiti Black Pearl Oyster Museum in Papeete to learn how to judge the value based on size, color, luster, and shape.
If you are looking for the ultimate island paradise, a tiny little haven for just a few chosen people,
Contact the Travel Gal at 800 644-6659 or Teresa@LuxuryHideaways
to plan your romantic beach vacation!
If you enjoyed this post, make sure you subscribe to my RSS feed!
Looking for a fabulous family vacation resort for Christmas?  Perhaps a "luxury hideaway with the little ones"? A little slice of heaven in Hawaii? Four Seasons Resort at Manele Bay is where you will want stay!
This Five Star resort offers impeccable service and is the perfect island getaway… so relaxing. While you are lounging by their lovely pool you will be treated to Evian spritzers, ice water, chilled towels and fruit kabobs. Steps from the resort, just down the beach path, you will find Hulopoe Bay and a great stretch of white sand beach. You can sit back and enjoy the sun or snorkel and explore the underwater world at best spot on the island for snorkeling and swimming. It will be the perfect time of year to see the Humpback whales and Spinner dolphins.
The Island of Lanai is a wonderful playground where you will find * Horseback riding * Golf * Snorkeling & SCUBA diving * Mountain biking * Skeet shooting * Lanai Art Center
The Spa is incredible and has 11 treatment rooms including red cedar dry heat saunas, eucalyptus steam rooms and rainforest showers. Dining is fabulous at both Manele Bay and their sister resort, The Four Season Lodge at Koele! You can also take a complimentary shuttle to the Lodge for the day or just to have a nice dinner.
The Four Seasons Manele Bay is a fantastic resort for children: they will be greeted with a welcome amenity, child size bathrobes, complimentary infant and children's toiletries, welcome milk and cookies on the evening of arrival and even a teen center is available.
Two Island Tip: If you are looking for something a little extra, would like to visit 2 islands but don't want to deal with the airports, a Maui-Lanai combo vacation is a great idea! Expeditions Ferry cruises five times a day with service between Lahaina Harbor, Maui & Manele Harbor, Lanai. The pleasant 45 minute crossing makes a Lanai add-on to any Maui stay easy and affordable!  Plus you'll be getting a whalewatching opportunity so be sure to bring your binoculars!
For more Christmas vacation ideas call us at 800 644-6659 or email Teresa@Luxuryhideaways.net today!
If you enjoyed this post, make sure you subscribe to my RSS feed!
The newest luxury hideaways opens its door - it will combine the wonders of Hawai'i and the magic of Disney.  Mickey & Minnie arrive on the island of Oahu on August 29, 2011 where a whole new kind of family vacation is beginning, the Island that truly is the heart of Hawai'i.
Aulani will be a Resort like no other. Inspired by the wonders and traditions of Hawai'i, Aulani has been uniquely designed for families. Perfectly placed on a beautiful beachfront cove, Aulani will offer kids, adults and families Hawaiian vacation experiences with a special magic that only Disney can create.
The resort was designed by Walt Disney Imagineers working hand in hand with locals to create a place celebrating Hawaiian culture and history. Everything from the wondrous volcanic peaks to the breathtaking Resort architecture honors the fundamental connection between nature and humanity that the Hawaiian people have cherished since the beginning of time. And because Hawaiians layer rich meaning in their words, so the name "Aulani" has more than one meaning. It is "the messenger of a chief", yet it is also "the one who delivers a message from a higher authority."
Lushly detailed rooms and suites as well as two- and three-bedroom villas invite you to unwind. Handmade distressed quality furniture welcome everyone home to their very own beach place. Families can look forward to experiencing amazing spaces created to bring everyone together.
Stay tuned for incredible packages and more details.
If you enjoyed this post, make sure you subscribe to my RSS feed!
Hayman Island, located on the Great Barrier Reef, Australia is truly a luxury hideaway!  It is a private island resort in a scenic and serene setting, ideal for couples and honeymooners. Hayman also offers a large range of activities for family vacations as well as the active traveler. It's the perfect place to relax by the pool or beach or have a day full of adventure and activities. Hayman has 5 restaurants, which appeals to travelers who like a lot of variety.
Discounted Ultimate Adventure rates apply to the following:
Stay 2 nights in a Luxurious Pool Room on Hayman Island with daily buffet breakfast in Azure, Roundtrip launch transfers from Hamilton Island and a Premium Full Day trip to the Great Barrier Reef.
Note: Non combinable, Conditions and Validity dates apply.
Why book Hayman Island?
1. The Beach Villas is the newest most luxurious accommodation in Australia. The villas are over 1,300 square feet, with private plunge pools and situated right on the beach
2. Coral-fringed beaches and majestic pools accentuate the secluded style of this private-island resort
3. Hayman offers elegant resort living with 210 guest rooms, suites, penthouses and beach villas - all of them include either a private terraces or balconies. Room types for each style of traveler in the Pool Wing, Lagoon Wing or Beach Wing
4. Winner of over 50 Australian and International Best Resort and Excellence awards
5. Guests can enjoy a vast amount of activities - from relaxation, indulgence to adventure - Ocean Massage, Night Dives, Sea Plane/Helicopter to Whitehaven Beach, Great Barrier Reef and Cruise Whitsundays outer reef pontoon
Families are welcome and kids will enjoy the vast array of activities and adventures at the Hayman Kids Club. Couples can and honeymooners are pampered by the Romance Escape or Spa Escape packages. Whichever the selection the award winning staff ensure that all guests enjoy the beauty and warmth of Hayman.
If you too would like to relax on a private island in Australia or combine a few days
with a South Pacific Cruise - Call Me at 1-800-644-6659
Your 'See the South Pacific Specialist' at Luxury Hideaways
If you enjoyed this post, make sure you subscribe to my RSS feed!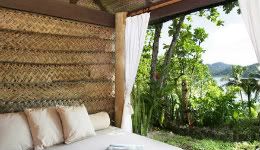 Hot Hot Hot Special - Just Released for a Limited Time Offer!
Matangi Private Island Resort is a family owned and operated resort, on a 240-acre private island, located in the lush tropical northern part of the Fiji Islands. This unique horseshoe-shaped island paradise boasts virgin tropical rainforest and white sand beaches. It's no surprise that it was voted in Islands Magazine as one of the "Top 10 Private Islands in the World" and also featured in "1,000 Places to See Before You Die", by Patricia Schultz.
Matangi Island offers 14 traditional Fijian designed bures, each with air-conditioning, ipod docking stations, outdoor stone shower, large sitting area, fully stocked mini bar and all the amenities of a luxury resort. The island caters to adults only. Rates include all meals, morning and afternoon tea, non-motorized water sports. Ideal for honeymooners, destination weddings, couples, romantic getaway, soft-adventure, snorkeling, scuba, hiking and seekers of natural beauty.
Costing begins at $3670pp in a Beachfront Bure - (beachfront bures at less than $500 per night)
The Stay 7/Pay 5 rate is valid for Travel June/July/August 2011
Booking Conditions
- Roundtrip airfare from Los Angeles on Air Pacific
- Minimum 7-night stay required
- Valid on all categories of accommodation
- Valid for Travel: 01 June 2011 - 31 August 2011
- New Bookings Only
- Cannot be combined with Summer Romance Bonus
- Honeymooners also receive a bottle of sparkling wine and one breakfast in bed
( Please advise at time of booking). [Read more]
If you enjoyed this post, make sure you subscribe to my RSS feed!
Scuba Dive Package - The Castaway Island Resort "Dive for Five" Deal
The package includes 5 nights accommodation and UNLIMITED** diving (our dive boat Sokia explores the seas three times a day) in some of the South Pacific's most beautiful dive spots.
This incredible scuba dive dream package includes…
* Five (5) nights accommodation in an Island Bure at Castaway Island, Fiji on twin share basis
* Welcome wine cocktail on arrival
* Unlimited diving for the entire stay** (We have three dive trips a day that leave the island)
* Includes dive equipment rental for the duration of your stay
* Invitation to Wednesday evening poolside party including staff cultural 'Meke' performance
* Unlimited use of non motorised water sports equipment
* Unlimited use of snorkeling equipment
* Unlimited use of tennis court, balls and racquets (for when you're all dived out)
This is a great deal that gives you beautiful Fiji island accommodation WITH UNLIMITED diving for the entire stay.
Perfect for scuba diving fanatics who need a long-long-long weekend away!
** denotes up to three (3) dives daily excluding night dives.
DIVE PACKAGE COST: Price is in USD$1599 per person twin share.(incl. Fiji taxes). Don't miss the boat!!
Castaway Island, Fiji is an award-winning iconic private island escape embodying the heart and soul of the South Pacific. The island's 174 acres are covered in rich tropical rainforest, surrounded by white sand beaches, vibrant coral reefs and azure waters.
Even though getting to Castaway from Fiji's mainland is just a short trip by either seaplane, helicopter or boat, when you're on the shores of our tropical island escape you feel a million miles away.
Offer will be valid to 31 March 2012
We Would Love To Assist You Plan Your Romantic Scuba Diving Adventure in Fiji!
Contact us at either 800 644-6659 or Teresa@Luxuryhideaways.net.
If you enjoyed this post, make sure you subscribe to my RSS feed!
When considering a cruise vacation to the Great Barrier Reef, Australia - be sure to save a few days to visit Thala Beach Lodge located near Port Douglas, in North Queensland. Thala Beach Lodge is a family owned 5 star luxury hideaway, boutique resort set spectacularly atop a headland with breathtaking views of the Coral Sea and provides the perfect location to explore the world-famous Great Barrier Reef and Daintree Rainforest.
An island on the mainland!
Located just 45 mins drive north of Cairns (where International and Domestic Airports are located) and just south of Port Douglas, Thala Beach Lodge is the only beach nature lodge providing Port Douglas accommodation on a private headland between Cairns and Port Douglas.
Guests of Thala Beach resort relax in one of 83 deluxe timber bungalows are built high on stilts and nestle in a forest canopy. Talk about a luxury treehouse! All bungalows have either ocean views or forest views. Thala Beach Lodge features a restaurant, 2 bars, coffee shop, pool and jacuzzi.
Why vacation at Thala Beach Lodge?
1. Thala IS AN EXPERIENCE, rather than just accommodation, due to the complimentary onsite guided nature tours included in all rates.
2. Rainforest & beach experience in ONE location - saves packing bags & changing hotels to get both North Queensland experiences.
3. An ISLAND ON THE MAINLAND, the resort is surrounded by water on three sides so you get the feel of an island vacation however saves the inconvenience & additional cost of ferry transfers.
4. Value: The all inclusive rate consists of breakfast, lunch & dinner daily plus roundtrip transfers between Cairns and Port Douglas as well as In room mini-bar with spirits, wine, beer, soda, snacks, tea and coffee.
Our opinion: This boutique coastal sanctuary is an experience to remember. Unique, tranquil and secluded, with your own private beach and close to the town of Port Douglas.
Thala Beach Lodge provides memorable experiences that capture the essence of the diverse North Queensland region from the thrill of exploring the secrets of the Great Barrier Reef, ancient tropical rainforest, wild expansive outback and ancestral rock art of Aboriginal tribes - to viewing the grandeur of it all by air. Or simply visit this paradise to step away from the crowd, take some time out for relaxation and marvel at the natural world.
If you enjoyed this post, make sure you subscribe to my RSS feed!
After a year-long renovation, the Matakauri Lodge on New Zealand's South Island reopens on August 27th, 2010. The Robertson family, the lodge's owners, also run the award-winning resorts Kauri Cliffs and the Farm at Cape Kidnappers on the North Island.
Located Seven minutes from Queenstown and spectacularly situated on Lake Wakatipu, Matakauri Lodge offers eleven luxurious suites. Each of the lodge's suites boasts its own private balcony affording vistas of Lake Wakatipu and the Remarkables Mountain peaks.   Matakauri's amenities include an infinity pool, sauna, and spa. The lodge will also boast an international gourmet restaurant which will provide their guests with the very best cuisine and dining experience in Queenstown.
Guests will find activities abound in Queenstown, (the adventure capital of New Zealand) which offers everything from golfing and wine touring to mountain biking and skiing.
Also, I suggest we include a stay at the award winning luxury lodges - Kauri Cliffs and  Cape Kidnappers located on the North Island of New Zealand.
If you enjoyed this post, make sure you subscribe to my RSS feed!
Directly from the sparkling shores of Vatulele Island Resort in Fiji, we are delighted to report that the sun is shining, the breezes are blowing, the people are singing and we are in such high spirits that we are offering you complimentary return flights between Vatulele Island Resort and Nadi town as well as our favorite special of stay 5 nights and pay for just 4 nights!
Vatulele Island Resort
Somewhere between 5 stars and heaven … Vatulele Island Resort is located on one of the most stunning islands in the world. Once you arrive you know that you have reached paradise, the sounds, smells, and sites of Vatulele will remain with you forever.
Vatulele Island is a stunning 31square KM (12 square miles) in area, and similar in shape to a footprint. Apart from the resort, the only other inhabitants live in 4 native Fijians villages with a population of around 1000 located on the Northern side of the island. These people form most of the resorts staff.
Since opening in 1990, Vatulele Island Resort has developed an enviable reputation in every corner of the globe and is often hailed as one of the top ten barefoot chic hideaways in the world. Set on a magnificent lagoon, the beauty of the site is coupled with a unique architectural style.
Priding itself on offering the utmost in luxurious and opulent service, Vatulele will cater to your every whim.
The Villages of Vatulele Island
The Fijians livelihood is sustained through fishing, farming and cloth making. In fact the majority of Fiji's famous Tapa Cloth is produced on Vatulele Island. The people are gentle, warm, and good humoured.
Resort guests are invited to see how the natural inhabitants live, enjoy a special Sunday church service, play a game of football, see the children at school, and observe them at work making their special tapa cloth, this local artwork is available for guests to purchase. The Village Chief meets guests in his stately bure and invites guests to join in a traditional Kava ceremony before granting permission to explore their home.
These incredible specials are for new bookings only. Valid for travel to 31 October 2010. Book before 31 July 2010. Minimum 5 night stay. 2 return domestic flights per booking. Please quote the following booking code: FLY4FREE.  *Conditions apply*
Contact the Travel Gal at 800 644-6659 or Teresa@luxuryhideaways.net for more details.
If you enjoyed this post, make sure you subscribe to my RSS feed!
Koa Kea Hotel & Resort is located on Poipu Beach, the sun-kissed south shore of the Hawaiian island of Kauai. This 121 room boutique, oceanfront hotel offers the most beautiful and romantic accommodations on the island. Their services and amenities include:
• Valet parking  • Concierge services
• Twice-daily housekeeping svc, incl. turndown
• Departure lounge  • Business services and email access
• Wi-fi throughout hotel & in room Internet access
• Kauai resort spa  • Fitness center  • Swimming pool  • Whirlpool
• Restaurant and lounge  • Pool bar
• Sundries and gift shop  • Meeting & Conference Facilities
• Beach Activities Hut Rentals - Snorkel Gear, Surf Boards, Boogie Boards, Beach Chairs
Kauai's diverse landscape offers a plethora of excursions flexible to the adventurous or relaxed traveler staying in Kauai. Near the resort, guests can choose from a multitude of soft adventure activities by engaging in lessons or renting equipment. Hiking, horseback riding and golfing are easily accessible and are spectacular ways for guests of Kauai to discover the island. This side of the island has ideal weather almost all year long making it an ideal location for enjoying outdoor activities.
In case you need another reason to visit, Koa Kea has just been included in the Conde Nast Traveler Top 100 Hot List for 2010!
Koa Kea Hotel & Resort is offering a variety of packages to pamper their Clients and some even include a 5th night free. Call the Travel Gal at 800 644-6659 or email teresa@luxuryhideaways.net for more details.
If you enjoyed this post, make sure you subscribe to my RSS feed!