Dear Teresa,
I've written this recommendation of your work to share with other LinkedIn users.
Details of the Recommendation: "I judiciously selected and trusted 100% Teresa to take control of my honey moon destination, Fiji. She works vigorously for us to ensure that we kept all the costs within my budget and not only that, also ensured that we stayed in one of the best resort in Fiji. Great work Teresa!
I would strongly recommend her for all travel needs, whether you're going to an exotic destination or cursing around the world. She does your dream come true."
Service Category: Travel Agent
Year first hired: 2012
Top Qualities: Great Results, Expert, High Integrity
If you enjoyed this post, make sure you subscribe to my RSS feed!
Hi Teresa,
So sorry about the response being so late seems there just isn't enough time in the days any more.  The trip was just wonderful! The flight was a little long but well worth it. Viwa Island Resort was just as you said it would be! Just totally relaxing and peaceful! The resort was just fantastic,and the staff was the best - so friendly and dedicated, the fact that the resort is restricted (number of people) makes it ever so friendly. We met a couple from New Zealand on the boat ride over and spent the week hanging out with them it really made the trip as we hit it off right away!
By the way, the conservation came up a few time with different couples staying there and you provided the best package by Far!! We gave your name to a few guests. Thanks for everything!  Hope to use you again (Hawaii next).    p.s. Do you do anything in the Bahamas?
Thanks again. Greg & Karen S. 2014
If you too are interested in an amazing, private, tropical island paradise call Teresa at 800 644-6659 or email Teresa@Luxuryhideaways.net today.
If you enjoyed this post, make sure you subscribe to my RSS feed!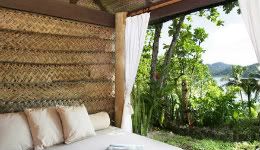 Hot Hot Hot Special - Just Released for a Limited Time Offer!
Matangi Private Island Resort is a family owned and operated resort, on a 240-acre private island, located in the lush tropical northern part of the Fiji Islands. This unique horseshoe-shaped island paradise boasts virgin tropical rainforest and white sand beaches. It's no surprise that it was voted in Islands Magazine as one of the "Top 10 Private Islands in the World" and also featured in "1,000 Places to See Before You Die", by Patricia Schultz.
Matangi Island offers 14 traditional Fijian designed bures, each with air-conditioning, ipod docking stations, outdoor stone shower, large sitting area, fully stocked mini bar and all the amenities of a luxury resort. The island caters to adults only. Rates include all meals, morning and afternoon tea, non-motorized water sports. Ideal for honeymooners, destination weddings, couples, romantic getaway, soft-adventure, snorkeling, scuba, hiking and seekers of natural beauty.
Costing begins at $3670pp in a Beachfront Bure - (beachfront bures at less than $500 per night)
The Stay 7/Pay 5 rate is valid for Travel June/July/August 2011
Booking Conditions
- Roundtrip airfare from Los Angeles on Air Pacific
- Minimum 7-night stay required
- Valid on all categories of accommodation
- Valid for Travel: 01 June 2011 - 31 August 2011
- New Bookings Only
- Cannot be combined with Summer Romance Bonus
- Honeymooners also receive a bottle of sparkling wine and one breakfast in bed
( Please advise at time of booking). [Read more]
If you enjoyed this post, make sure you subscribe to my RSS feed!
Scuba Dive Package - The Castaway Island Resort "Dive for Five" Deal
The package includes 5 nights accommodation and UNLIMITED** diving (our dive boat Sokia explores the seas three times a day) in some of the South Pacific's most beautiful dive spots.
This incredible scuba dive dream package includes…
* Five (5) nights accommodation in an Island Bure at Castaway Island, Fiji on twin share basis
* Welcome wine cocktail on arrival
* Unlimited diving for the entire stay** (We have three dive trips a day that leave the island)
* Includes dive equipment rental for the duration of your stay
* Invitation to Wednesday evening poolside party including staff cultural 'Meke' performance
* Unlimited use of non motorised water sports equipment
* Unlimited use of snorkeling equipment
* Unlimited use of tennis court, balls and racquets (for when you're all dived out)
This is a great deal that gives you beautiful Fiji island accommodation WITH UNLIMITED diving for the entire stay.
Perfect for scuba diving fanatics who need a long-long-long weekend away!
** denotes up to three (3) dives daily excluding night dives.
DIVE PACKAGE COST: Price is in USD$1599 per person twin share.(incl. Fiji taxes). Don't miss the boat!!
Castaway Island, Fiji is an award-winning iconic private island escape embodying the heart and soul of the South Pacific. The island's 174 acres are covered in rich tropical rainforest, surrounded by white sand beaches, vibrant coral reefs and azure waters.
Even though getting to Castaway from Fiji's mainland is just a short trip by either seaplane, helicopter or boat, when you're on the shores of our tropical island escape you feel a million miles away.
Offer will be valid to 31 March 2012
We Would Love To Assist You Plan Your Romantic Scuba Diving Adventure in Fiji!
Contact us at either 800 644-6659 or Teresa@Luxuryhideaways.net.
If you enjoyed this post, make sure you subscribe to my RSS feed!
Qamea Resort & Spa is located in the Northern islands of Fiji.  Qamea Resort is a breathtakingly beautiful island of dramatic lush, green, tropical jungle clad hills and white sand beaches.  The resort is an exclusive tropical destination for discerning travelers seeking a truly unique and authentic Fijian experience without sacrificing luxury or service. From the moment you step onto the island, you will feel as if you have entered a Fijian village set in a South Pacific tropical paradise.
Qamea is also romance defined. Reserve a romantic afternoon on honeymoon beach - a totally private beach just minutes from our resort. You will be whisked away by boat and dropped off on the beach with a picnic lunch and some snorkel gear. Let them know when you want to return and they will pick you up later in the day. The Fijian chef will pack a picnic lunch and a bottle of champagne or wine, and a boat will ferry you over to this most romantic of beaches.
Their ongoing commitment to providing affordable luxury accommodation is just one of the reasons why the resort received numerous awards such as one of the "Top Ten Hideaway Resorts in the World" by the Robb Report, as well as Conde Nast's highest award, "Most Excellent Resort in the Atlantic, Caribbean and Pacific Islands."
Call the Travel Gal at 800 644-6659 or email Teresa@Luxuryhideaways.net
for more details complimentary night specials
If you enjoyed this post, make sure you subscribe to my RSS feed!
Bula!
Check out this amazing package the award-winning Jean-Michel Cousteau Fiji Islands Resort is offering their Guests! The Rejuvenation package also includes 2 free nights when you reserve 7 nights at the resort. You will find world class coral reefs, blissful massages from nurturing Fijian hands as well as creative gourmet meals to name a few of the delights that await you.
7 night's accommodation* pay only for 5 nights!
All gourmet meals
Unlimited bottled non-alcoholic drinks
Choice of three days of 2 -tank dives for 2 adults or three days of 2 tank days for one adult and three 60 minute massage treatments for one adult. *
Ground transportation between Savusavu Airport and the resort
Foot massage upon arrival
Complimentary activities include: guided snorkelling trips with resident marine biologist, kayaking, catamaran sailing, yoga classes, visit to local village, rainforest and waterfall walk, tennis, volleyball, table tennis, glass bottom boat excursions, Savusavu town market trip, traditional Fijian medicine guided walk, coral city slide show, Fijian story telling, reef walks, night snorkeling & more.
Includes meet & greet at Nadi & Savusavu Domestic Airports, all gourmet meals, unlimited bottled beverages, specialty loose leaf teas, ground coffee, most activities including 4 off site excursions, vehicle transfers from Savusavu Airport to the resort, Bula Club for children and an exclusive nanny for each child 5 years and under.
Jean-Michel Cousteau Fiji Islands ResortDive & Rejuvenation package**: Stay 7 / Pay 5:
Valid for travel from Oct 18 - Dec 17, 2010 & Jan 11 - Mar 31, 2011 inclusive.
**Offer available for all new bookings from February 9 2010 on all bure categories* except for Oceanfront 2 bedroom & Oceanfront Suite for travel Oct 18- Dec 17, Jan 11 - 31 Jan 2011 & is non combinable with any other offer.
Call the Travel Gal for details and booking restrictions -800 644-6659 or Teresa@Luxuryhideaways.net
If you enjoyed this post, make sure you subscribe to my RSS feed!
Bula Teresa!
We had a wonderful time! The Fijian people were amazing and their smiles are contagious! We had Adi as our Bure Mama (private butler) and we wanted to bring her home with us!! The scuba diving was great - we didn't go fishing as no one was catching anything but we did everything else!!
Thank you so much for suggesting First Landing Resort - we loved it and it was an
awesome start to our honeymoon. The dayroom was beautiful and just what we needed to shower and sleep until our private Villa with swimming pool (which was so amazing) was ready. It went perfect! Our seaplane adventure was fine but they did have some issues later that week and then the mechanic arrived to take care of things.
Turtle Island exceeded our every expectation - and we made such wonderful new friends. If you would like I can send you something in writing so you'll have our comments if you ever want to use them on your website!
Thank you for everything!! I can send pictures one we get all settled.
Sandy and Greg [Read more]
If you enjoyed this post, make sure you subscribe to my RSS feed!
The Hawaiian family holiday is alive and well at the Maui Hyatt Regency Resort & Spa with an offer that makes it easier than ever to experience everything you've always loved about getting away together.
Discover the ultimate Kaanapali Beach hotel surrounded by 40 beachfront acres, this breathtaking Maui hotel presents an astonishing array of delightful ways to spend your days and nights. Frolic in the water playground, pamper yourself at the world class spa, play championship golf and tennis, scuba diving, ride the waves, its all here for all of your family.
The summer family vacation special includes:
- Full breakfast for all registered guests
- 15% discount on Hyatt Pure spa services
- 15% discount on dining
- Free 1/2 day kids program at Camp Hyatt
- Locally inspired in-room kids snack amenity
- Exclusive 20% discount valid in National Geographic's online store
- 1 free movie per stay
- 1 bottomless cup per child per stay
- Coloring book amenity for all kids
Plus get 50% off a second room - including full breakfast for up to four kids.
When you stay six or more nights get one night free plus a one room category upgrade.
Enjoy The Classic Family Vacation at participating Hyatt hotels and resorts worldwide through September 7, 2009. Terms & conditions apply.
To Reserve Your Stay with any Hyatt Regency Resort & Spa,
call 800 644-6659

Your 'See the South Pacific Specialist' at Luxury Hideaways
If you enjoyed this post, make sure you subscribe to my RSS feed!
Hi Teresa,
I just wanted to let you know that we had a wonderful time in the Fiji Islands! We loved every minute of it. Both resorts are awesome! We liked Navutu Stars the best, but Qamea Resort & Spa is fabulous too. It was nice to see two different sides of the islands.
Thanks again for all your help in planning our amazing honeymoon!
Kim [Read more]
If you enjoyed this post, make sure you subscribe to my RSS feed!
Viwa Island Resort - the best romantic holiday I've seen in a long time!
Viwa Island Resort is one of the newest resorts to open in the Fiji Islands. Located in the Yasawa Island chain, Viwa Island resort is an intimate & affordable boutique resort catering to adults only, offering just 11 delux beachfront bures (cottages).
The island is surrounded by a blossoming rich colourful coral reef that is abundant with a variety of aquatic life, making it a fantastic location for diving, fishing & snorkelling. The resort features an amazing swimming pool overlooking the beautiful beach, a restaurant with a variety of cuisine specialising in fresh seafood caught locally and fresh produce grown at the resort. The Yasawa Island chain is world renowned for having the biggest white sand beaches in all of Fiji. Check out the incredible deals:
The 7 nt package includes:
Stay 7 nights/pay for 5 nights
Welcome drink on arrival
Fruit plate in room on day of arrival
A romantic candlelight dinner for 2
A 30 minute massage per person
Cultural village trip
Non-motorized watersports are free ( snorkeling, handline fishing, kayaks etc.)
Snorkeling equipment provided complimentary during your stay
Free introduction to scuba class. Join their instructors in the pool to learn the basics
Need to add mealplan but it is approx $50.00USD per person/per day.
Transfers to/from airport to resort - taking a launch to resort (boat)
If you want helicopter you need to add about 300.00 USD per person and they only fly on tues/thurs/Saturdays
Total is killer rate of US$2114.00 - this is per couple NOT per person!
Great price on the package eh!!! This deal is valid until the end of March, 2009
If you too would like to visit an exotic island in the South Pacific
Call Me at 1-800-644-6659
Your 'See the South Pacific Specialist' at Luxury Hideaways
If you enjoyed this post, make sure you subscribe to my RSS feed!