Dear Teresa,
I've written this recommendation of your work to share with other LinkedIn users.
Details of the Recommendation: "I judiciously selected and trusted 100% Teresa to take control of my honey moon destination, Fiji. She works vigorously for us to ensure that we kept all the costs within my budget and not only that, also ensured that we stayed in one of the best resort in Fiji. Great work Teresa!
I would strongly recommend her for all travel needs, whether you're going to an exotic destination or cursing around the world. She does your dream come true."
Service Category: Travel Agent
Year first hired: 2012
Top Qualities: Great Results, Expert, High Integrity
If you enjoyed this post, make sure you subscribe to my RSS feed!
Hi Teresa,
So sorry about the response being so late seems there just isn't enough time in the days any more.  The trip was just wonderful! The flight was a little long but well worth it. Viwa Island Resort was just as you said it would be! Just totally relaxing and peaceful! The resort was just fantastic,and the staff was the best - so friendly and dedicated, the fact that the resort is restricted (number of people) makes it ever so friendly. We met a couple from New Zealand on the boat ride over and spent the week hanging out with them it really made the trip as we hit it off right away!
By the way, the conservation came up a few time with different couples staying there and you provided the best package by Far!! We gave your name to a few guests. Thanks for everything!  Hope to use you again (Hawaii next).    p.s. Do you do anything in the Bahamas?
Thanks again. Greg & Karen S. 2014
If you too are interested in an amazing, private, tropical island paradise call Teresa at 800 644-6659 or email Teresa@Luxuryhideaways.net today.
If you enjoyed this post, make sure you subscribe to my RSS feed!
An iconic tropical luxury hideaway and one of my favorite resorts is the St. Regis Princeville Resort located on the exclusive North Shore of Kaua'i in the Hawaiian Islands.  A luxurious haven, overlooking Hanalei Bay (so majestic that many songs have been written about this paradise) explore the quaint communities of Kilauea and Hanalei, ride horseback along the majestic Na Molokama mountain range or kayak the gorgeous Hanalei River. Resort guests enjoy a wide range of ocean sports and eco-adventures from surf lessons, snorkeling, stand up paddle boards and scuba diving.  Make sure you fit in hiking the dramatic Napali coastline.
Princeville Ranch Adventures offers exclusive ziplining, kayaking and hiking tours on 2,500 acres of private lands on the North Shore of Kaua'i. These guided tours take you away from crowds to pristine areas that are otherwise inaccessible to the public.
Contact the Travel Gal about free nights, upgrades and current airfare promotions.
Call me at 800-644-6659 or email Teresa@Luxuryhideaways.net today!
If you enjoyed this post, make sure you subscribe to my RSS feed!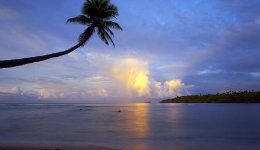 Recently voted as an Oprah favorite thing, Namale Resort & Spa is an all-inclusive boutique resort that is definitely a "luxury hideaway".  In celebration of this award, Namale is offering 2 free nights when you pay for 7 nights in a bure or villa for 2 people, including:
Chilled champagne and welcome basket in your villa upon arrival
Private candlelight dinner over the Koro Sea under a bed of stars
Romantic themed turn down service on the eve of guest departure
All inclusive-features of the resort:

All meals, champagne breakfast, 3 course lunches and 5 course dinners
All beverages (alcoholic & non-alcoholic) with no limitations on beers,spirits, house wines & house champagne
Daily replenishable mini bar
Daily laundry services
Nightly turndown services
Internet room access and Wi-Fi connections
Complimentary access to fitness center and indoor entertainment center
Activities such as snorkeling, horseback riding, Rainforest hikes and so much more
Catering to honeymooners and sophisticated vacationers seeking tranquility, privacy, fabulous outdoor activities, Namale is surrounded by 535 acres of lush tropical landscape.  The resort sits on a narrow headland overlooking the Koro Sea. Luxurious yet relaxed, the resort features traditional Fijian architecture and décor throughout.
Guests are welcome to  swim in one of three outdoor pools, take a dip in the spa tub, or take advantage of numerous water sports. The spectacular on-site spa, situated on a volcanic cliff overlooking the ocean, features a central hydrotherapy/aromatherapy room with a spa tub, soaking tubs, and a steam room. The resort also features a fitness center and an activities center with a movie theater, bowling alley, putting green, and virtual golf.  Kayaking, snorkeling and scuba diving are excellent - plan on spending plenty of time in the water, experiencing an abundant sea life teaming with multi colored fish and beautiful coral trees.
NOTE: I remember suntanning on a remote beach when an employee from the Resort popped out of the bushes to ask me if I wanted a cocktail!
If you're looking for the ultimate romantic resort and want to experience the most outrageous spa in all of Fiji - Namale is for you!
Namale Resort is very intimate and only offers 19 bures & villas to choose from, stay dates are 1/15/2013 thorugh 4/15/2013.
Call me, the Travel Gal before 23rd of December 2012 for an extra special treat
at 800 644-6659 or email Teresa@LuxuryHideaways.net.
If you enjoyed this post, make sure you subscribe to my RSS feed!
The Ritz Carlton Kapalua, Maui is celebrating its 20th anniversary this October!  The Ritz Carlton overlooks the famed surfers paradise of Honolua Bay and is surrounded by premier Kapalua Golf Courses. This gorgeous luxury hideaway is a paradise resort immersed in legendary Hawaiian culture and magnificent beauty.
In celebration of this amazing resort, the Ritz Carlton is offering a "Legacy of Aloha" accommodation package from September 1st - December 18th, 2012. Deluxe accommodations will be offered at a 20% discount off the nightly rate making this is a platinum anniversary that can't be missed.
This package will also include a commemorative insider's guide that offers amazing savings and showcases the top 20 must do experiences at this destination resort in Kapalua.
For more information on all the Ritz Carlton Kapalua has to offer
contact the Travel Gal at

800 644-6659 or email Teresa@LuxuryHideaways.net
If you enjoyed this post, make sure you subscribe to my RSS feed!
Teresa:
We had a WONDERFUL trip.  THANK YOU!!! THANK YOU!!!
The Four Seasons Hualalai on the Big Island was AMAZING!!  They upgraded us to the O'hana Suite and really treated us like royalty.  Justin at the front desk was a great help.  I wrote a note to the GM referencing his excellent service.
Thank you again,
Brent & Leah M.
If you enjoyed this post, make sure you subscribe to my RSS feed!
While touring the islands of Tahiti last November, I visited some of the most beautiful and luxurious resorts in the world.  I was very impressed with Le Meridien Bora Bora.
Overlooking Mt. Otemanu, Le Meridien Bora Bora is on its own motu (lagoon island) where guests from around the globe arrive by boat.  Fares (bungalows) are scattered all around the resort in overwater and beachside bungalows so there isn't a crowded feel at all.
The inner lagoon at Le Meridien Bora Bora is a sanctuary for hawksbill turtles, and has a programme that raises young turtles and eventually releases adults into the wild. The programme operates under the supervision of the Ministry for the Environment. Guests can learn about the turtles, but also have the opportunity to swim among them in their natural habitat, the lagoon.  Guests will also enjoy the many colourful tropical fish that inhabit the same waters.
The resort is a perfect destination for both families as well as romantic couples due to the wide range of activities and spacious feel of this incredible sanctuary.
For more information, contact the Travel Gal at 800 644-6659 or Teresa@luxuryhideaways.net
If you enjoyed this post, make sure you subscribe to my RSS feed!
Recently I traveled all over the islands of Tahiti to check out the most luxurious and romantic boutique luxury hideaways in the South Pacific - hey somebody has to do it right?!  My vote is for Le Taha'a Private island Resort & Spa!
We were met at the airport by our speedboat - imagine walking off a plane and right over to your waiting yacht! This was the first clue we were experiencing top of the line luxury! Our 20 minute ride was a photographers dream - pictures of pearl farms on stilts in the water, the oceanfront community church of Taha'a as well as the assorted little glimpse into island life makes for some great memories.
Arriving at Le Taha'a we were escorted to our huge overwater, island inspired bungalows complete with private deck, snorkle gear, seperate bath w/shower and amazing soaking tub, and king size bed - absolutely one of the most luxurious bungalows I've ever seen.
We dined in the Ohiri Restaurant which is the resorts goumet option. The Chef delighted us with french/polynesian fusion cuisine. The Sommelier selected wine to compliment the cuisine from their excellent wine cellar.
TravelGal opinion: The food! Oh my stars! We enjoyed a 4 course dinner with wine pairing that will rival any top restaurant - for the foodies out there - this is where you want to be!
Atmosphere is cozy, warm and romantic…palm trees are swaying, birds are singing, life is good on Le Taha'a.
Room Tip: Every room is amazing but I would pay up to experience the overwater bungalows.
For more inside scoop - call the Travel Gal at 800 644-6659
If you enjoyed this post, make sure you subscribe to my RSS feed!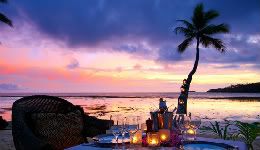 Namale Resort & Spa is an 5 star all inclusive, adults only luxury hideaway tucked away in the jungle on the East side of Fiji - it is extremely romantic and in fact has been voted #1 most romantic resort in Fiji by 2011 Tripadvisor readers.
In celebration of the award, Namale Resort is offering a Valentines Day special - stay 7 nights/pay for 5 nts at this amazing resort.
Namale caters up to 44 people at any one time. With 120 staff on call to help turn dreams into a reality, their guests are pampered beyond belief.  Since we are talking about pampering - the Spa is world class - Namale Spa & Sanctuary is like no other… Built on 10,000 square feet of volcanic uplifts, treatments consist of a blend of Asian, Western and traditional Pacific techniques; leaving a feeling of relaxation and wellness for the mind, body, and soul.
To further celebrate love in Fiji, Namale created a Holiday Package for the perfect Valentines Day which includes seven nights at any bure or villa at the Namale Resort plus the following amenities:
All Meals - Full service breakfasts, 3-course lunches and 5-course dinners and snacks
All beverages including beer, liquor, red and white wines and champagne
Round trip transfers to and from Savusavu Airport
Fully stocked and daily replenished mini-bar
Daily laundry service
Complimentary access to the Namale Fitness Centre, Kava Bowl (Indoor Entertainment Centre) & Hydrotherapy Room at the Namale Spa & Sanctuary
Complimentary activities include freshwater pools, snorkeling, kayaking, horseback riding, golfing, volleyball, bowling, virtual golf, waterfall hikes, movie theatre and more!
For more information contact the Travel Gal at 800 644-6659 or email Teresa@LuxuryHideaways.net
If you enjoyed this post, make sure you subscribe to my RSS feed!
Aulani, A Disney Resort & Spa, Ko Olina, Hawai'i, (Hawaii's newest Luxury Hideaway) Buy 4 Nights in Paradise, Get the 5th Night Free! Plus a Limited Time Offer of a $500 Disney Gift Card!
Aulani Resort provides activities for all age groups. Its the perfect combination of Hawaii and Disney Magic. This fantastic Grand Opening Offer enables your family to experience Aulani - the newest Disney Resort - and enjoy your most magical vacation yet when you stay 4 nights and get your 5th consecutive night free! In addition to this great special, we are offering for a limited time $500 Disney Gift Cards with a minimum 5 night stay at Aulani, A Disney Resort & Spa, Ko Olina, Hawai'i. The Disney Gift Card may be used for dining, spa treatments, family recreation activities and at the front desk upon checkout.
Travel 11/27 - 12/24/11, 01/04 - 01/31/12 (blackouts may apply), book 10/14/11 - 12/16/11
Children under 18 stay free in same room with parents using existing bedding
Call your South Pacific Specialist today at 800 644-6659
Be sure to mention "BSKY CODE"
If you enjoyed this post, make sure you subscribe to my RSS feed!