An iconic tropical luxury hideaway and one of my favorite resorts is the St. Regis Princeville Resort located on the exclusive North Shore of Kaua'i in the Hawaiian Islands.  A luxurious haven, overlooking Hanalei Bay (so majestic that many songs have been written about this paradise) explore the quaint communities of Kilauea and Hanalei, ride horseback along the majestic Na Molokama mountain range or kayak the gorgeous Hanalei River. Resort guests enjoy a wide range of ocean sports and eco-adventures from surf lessons, snorkeling, stand up paddle boards and scuba diving.  Make sure you fit in hiking the dramatic Napali coastline.
Princeville Ranch Adventures offers exclusive ziplining, kayaking and hiking tours on 2,500 acres of private lands on the North Shore of Kaua'i. These guided tours take you away from crowds to pristine areas that are otherwise inaccessible to the public.
Contact the Travel Gal about free nights, upgrades and current airfare promotions.
Call me at 800-644-6659 or email Teresa@Luxuryhideaways.net today!
If you enjoyed this post, make sure you subscribe to my RSS feed!
Hi Teresa,
I just wanted to write and thank you for all your work the last few months helping to make our trip to Hawaii for the wedding so wonderful.  Also in working so hard to get Shannon and Alan situated for their continued stay. They are very pleased with Napili Shores and are planning to have breakfast at the Gazebo tomorrow morning. The babies are doing better and they're able to enjoy their extra days which, thanks to your making sure they had travel insurance, will be mostly paid for.
It really was a great time.  Hard to believe it's all over.  We were all pleased with the Kaanapali Beach Villas, the Pioneer Inn and the breakfast at the Hyatt-great suggestions all of them.  The cruises and tours people did were good too.  It was VERY busy with trips to and from the airport and people coming and going all the time but we knew that would be the way it was.  We were blessed to have so many people there for the Maui wedding and happy to assist in their travels.  I would have liked about two more days, one for a trip north and one for a trip up towards the volcano area, and I never tire of spending time in the ocean and on the beach.  But hopefully we'll be back and can do all those things.
I'll send some wedding photos when we get them.  Take care and let us know when the grandbaby comes-there's nothing better!
Betty
If you enjoyed this post, make sure you subscribe to my RSS feed!
The Royal Lahaina Resort is Maui's original beachfront resort - located direct oceanfront in North Kaanapali.  This luxury hideaway reflects the spirit of aloha with its laidback atmosphere and island ambiance. But don't let that fool you, there is a lot going on, including the newest (and only) Jazz Club on the island.  Join David Choy and friends to enjoy world class music and entertainment at Jazz Club Maui, where Hawaii's most talented musicians will be performing smooth jazz, rhythm & blues. Saturday Nights from 8:30pm to midnight, starting May 26, 2012.
The resort was refurbished in 2008 but still maintain the island flare - the oceanfront cottage accommodations are reminiscent of Hawaii's Plantation Era, while the 12 story Lahaina Kai Tower's luxurious guestrooms and suites feature state of the art amenities and island inspired décor.
The resort is surrounded by 2 championship golf courses.  Take advantage of the "Royal-Tee Golf Package" listed below:
ROYAL-TEE GOLF PACKAGE*
From $279 per night valid March 1, 2012 - November 30, 2012
Five night minimum stays receive a reduced rate in an Ocean View room, full American buffet breakfast for two daily, four rounds of golf per stay at either of the two championship Kaanapali Golf Courses, plus complimentary golf club rentals.
*Royal-Tee Golf package tee times are available after 11am at either the Royal Kaanapali Golf Course or Kaanapali Kai Golf Course. Tee times can be made within 90 days of arrival directly with the hotel. Not applicable for groups
If you're not a golfer, then take advantage of the 5th night free package.  There are plenty of activities, the Resort is known for its popular nightly luau, drawing visitors from all over the island.  Resort guests will also find 2 oceanfront swimming pools, shopping, an 11 court tennis ranch, ocean-view dining and classic tiki bars.
5TH NIGHT FREE PACKAGE
Valid Apr. 1, 2012-Mar. 31, 2013. Blackout Dates Apply: Dec. 22, 2012-Jan. 2, 2013.
For every 5 nights booked your package price will be reduced by an amount equal to one night's room revenue in the Oceanfront Cottage Room and Lahaina Kai Tower: Ocean View, Deluxe Ocean View, and Ocean Front View Rooms. Valid on consecutive night stays only.
Visit the Royal Lahaina Resort and step back in time when life moved at a slower pace and the beaches are virtually empty except for a few snorkelers and shell seekers.
For more information and island inside scoop, contact the Travel Gal at 800 644-6659 or Teresa@Luxuryhideaways.net
If you enjoyed this post, make sure you subscribe to my RSS feed!
Dear Teresa;
Jim and I want to thank you from the bottom of our hearts for the wonderful vacation you planned for us. We loved Sugar Beach so much. Loved walking the 2 miles of beach every morning, the Farmers Market across the street, the close proximity to Up Country, Wailea beaches, shopping, etc. Even Kihei was great.
Doing the 2nd week in Lahaina was a brilliant call on your part. Lahaina Shores is such an intimate, homey, relaxed yet sophisticated hotel. Love that place! Our room was perfect. But with that view it wouldn't have mattered much what the room was like.
Thank you for thinking of the whale watch adventure with Hawaii Ocean Rafting. We carry that memory of seeing them so closely with us still. Makes it a little easier to handle the fact that we're back in 40 degree rain again.
Paddling with the Lahaina Canoe club was great too. Something I never would have done without your suggestion/encouragment. I worked my tail off, but felt truly exhilerated when we were done. If I lived there I would definitely be a member.
All in all it was really a perfect vacation. We feel so relaxed and rejuvenated (re-connected too). I mean that Teresa, with all my heart.
It was exactly what we hoped for and needed. Thank you so very much. You are travel agent extroidinaire!
Aloha, love and kisses,
Jim & Barb S.
If you enjoyed this post, make sure you subscribe to my RSS feed!
I am returning to the Hawaiian Island of Molokai after 5 years, this time my Mother and sisters are joining me.  I am planning an "Experience Molokai" on a 4 day excursion.   We will stay at Hotel Molokai (a genuine luxury hideaway) from all things mainstream - which is styled after a Polynesian village and located on Kamiloloa beach.  It is a tiny oceanfront resort complete with a bar and restaurant - by the way, it's the only place to get draft beer on the island!  The hotel is "community minded" as they offer a Polynesian show every Friday night as well as host a community party once a year - this year its on January 24th - we will be there.
When visiting Molokai you will experience authentic Hawaii with unspoiled coastlines, serene seascapes, untamed wilderness and no building taller then a cocoanut tree.  In the central town of Kaunakakai, absent of traffic lights and virtually unchanged since the early 1900's.
This charming paniolo (Hawaiian cowboy) town is also the island's main harbor, where some locals still fish for their dinner. Stroll down to Kaunakakai Harbor to the end of the state's longest pier, extending well past the reef - just you, the local fisherman and the sound of local boats slowly jetting out of the harbor.
If you enjoyed this post, make sure you subscribe to my RSS feed!
Here are a few tips to ensure a great trip to Hawaii:
*  Reconfirm your flight, seat assignment and frequent-flyer number with the airline 24 hours before departure;
* You must present legal photo identification upon check-in in order to receive you boarding pass.  Passengers without boarding passes will not be allowed through the security checkpoint;
*  You should consider using the curbside porter service to expedite check-in, if available;
*  You should keep check-in bags fit and trim, and under the airlines' maximum weight allowance. Call the airline for weight and quantity restrictions;
*  Excess luggage may trigger additional fees from the airlines, and in some cases, may not be allowed on the plane at all;
* Be sure to pack photo film in carry-on bags. The equipment that screens check-in luggage can be hazardous to undeveloped film;
* Do not pack food and beverages into check-in luggage;
* Do not bring gifts pre-wrapped.  The baggage screeners may need to examine them;
*  Upon check out of your hotel, be sure to check with the Hotel Concierge or Front Desk how much time you should give yourself to drive to the airport.  Allow sufficient time to drop off your car;
* Upon your return flight to the U.S. Mainland, plan on sending your check-in luggage through the U.S. Department of Agriculture (USDA) baggage inspection station before you head for the ticket counter. USDA regulates the export of flowers, fruit and other plant materials from Hawaii.
Bringing Fruit Home
USDA regulations do not allow un-inspected fruits, flowers and other plant material to leave Hawaii. But if you would really like to take some home, the easiest way is to place an order in advance from one of the several companies that will select, pack, and deliver produce to the airport. These pre-ordered products (including pineapples, papaya, onions, macadamia nuts and protea flowers) are pre-inspected and cleared for shipment out of state.
For more travel tips and information contact
The Travel Gal at 800 644-6659 or
call Teresa@Luxuryhideaways.net
If you enjoyed this post, make sure you subscribe to my RSS feed!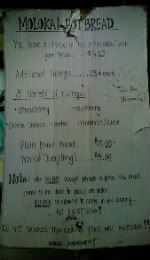 Visit the main town of Kaunakakai stop by Kanemitsu Bakery's "Hot Bread Run," a local favorite from 10 p.m. to 12 a.m., Wednesday through Sunday only. Go to the back door of the bakery down the alley, knock on the door and order your favorite treats, including fresh Molokai Bread smothered with choices of butter, cinnamon, cream cheese, raspberry and blueberry jam or have the works (everything) guava, cream cheese, cinnamon, apples and more.
NOTE: A few years ago I participated in a midnight breadrun on Molokai - its fantastic but also the best kept secret in the islands. This is the first time I've seen the Molokai Breadrun mentioned in print. Also I have met very few kaamaiana that have participated in it. Truly not to be missed!
Enjoy the music at Hotel Molokai's Ocean side Restaurant every Friday afternoon from 4:30 p.m. to 6:00 p.m. That's when Molokai's kupuna (elders, pronounced koo-POO-nah) gather to sing and play Hawaiian music Molokai style. Cocktails and pupu (hors doeuvres, pronounced poo-poo) served ocean side.
Stock up on food at Misaki's Store in Kaunakakai, especially if you're arriving on Sunday morning before 11 a.m. In the afternoon, Molokai's grocery stores all close for the rest of the day. Molokai Wine and Spirits is open daily until 10 p.m., selling some of the finest wines and beers. They also offer snacks, ice cream, ice and non-alcoholic beverages.
Attend a church service. Known as an island of prayer, Molokai has more than 23 churches representing numerous denominations. Many of them offer services twice a day as well as evening services. The Molokai Dispatch newspaper publishes a guide to church services, hours and locations.
Go on a guided hike to discover the heart of Molokai.
Watch Moana's Hula Halau (school, pronounced HAH-low) practice their art at the Mitchell Pauole Community Center on Wednesdays at 5:30 p.m. Although Molokai is known as the birthplace of hula, you won't find any commercial hula shows on the island, and this is the best way to experience this traditional dance.
If you enjoyed this post, make sure you subscribe to my RSS feed!
Hula is a dance form accompanied by chant or song. It was developed in the Hawaiian Islands by the Polynesians who originally settled there. The chant or song is called a mele. The hula dramatizes or comments on the mele.
There are many styles of hula. They are commonly divided into two broad categories: Ancient hula, as performed before Western encounters with Hawaii, is called kahiko. It is accompanied by chant and traditional instruments. Hula as it evolved under Western influence, in the 19th and 20th centuries, is called auana. It is accompanied by song and Western-influenced musical instruments such as the guitar, the ukulele, and the double bass.
Terminology for two main additional categories is beginning to enter the hula lexicon: "Monarchy" includes many hula which were composed and choreographed during the 19th century. During that time the influx of Western culture created significant changes in the formal Hawaiian arts, including hula. "Ai Kahiko", meaning "in the ancient style" are those hula written in the 20th and 21st centuries that follow the stylistic protocols of the ancient hula kahiko.
Hula is taught in schools called halau. The teacher of hula is the kumu hula, where kumu means source of knowledge. Hula dancing is a complex art form, and there are many hand motions used to signify aspects of nature, such as the basic Hula and Coconut Tree motions, or the basic leg steps, such as the Kaholo, Ka'o, and Ami.
There are other dances that come from other Polynesian islands such as Tahiti, Samoa, Tonga and Aotearoa (New Zealand); however, the hula is unique to the Hawaiian Islands.
If you enjoyed this post, make sure you subscribe to my RSS feed!
Are you planning on a visit to Hawaii? I am sure you will want to experience the beautiful Maui beaches, drive up to Haleakala Crater, watch the World Class Windsurfers practice at Hookipa Beach & cool down with a cup of shave ice.
Please save a few minutes to tour the Lahaina Court & Custom House, located in the heart of Lahaina nestled in between the Banyan Tree and Lahaina Harbor. The Lahaina Court House has served in an official capacity since 1860. The building oversaw the change from Kingdom of Hawai'i to government by the United States and was once used as a Courtroom, Police Station and jail. Lahaina Courthouse now officially welcomes visitors to West Maui.
The 2nd floor of the Courthouse functions as a Museum, featuring a large wall display box with a real treasure for the people of Hawaii: the 1890s Hawaiian Flag. This is the same flag that flew over the Court & Custom House when Hawai'i officially became a U.S. Territory.
Arthur Waal Sr., Lahaina's Assistant Postmaster at the time, was ordered to lower the flag of the Hawaiian Kingdom and raise the Stars & Stripes during a poignant ceremony on August 12, 1898.  Read about his family discovering & returning the flag to us just a few years ago! I am sure it'll give you "chicken skin" (goose bumps) to contemplate what life was like when the flag you are viewing graced the flagpole & blew in the wind.
Contact the Travel Gal when planning your Hawaiian holiday.
Your Friend in the Islands!
Teresa@LuxuryHideaways.net or call me at 800 644-6659
If you enjoyed this post, make sure you subscribe to my RSS feed!
Aloha and Mahalo!
Friendly smiles, beautiful flowers and gentle breezes greet you from the moment you arrive in Hawaii.
The Islands of Aloha are a wonderful destination for your next holiday or it is also a great stopover destination to consider for your onward or return flight home from the South Pacific.
Relax for a few days on the renowned Waikiki beach with its abundance of night life, beach activities and fine shopping. Or consider a 30 minute island hop over to the #1 island in the World - Maui, (Maui No Ka Oi) where the rich and famous vacation with its international golf courses, white sand beaches and breathtaking vistas. Of course, you don't need to be rich and famous to visit my island home. It is very laid back, easy going and there are plenty of things to do on the cheap - after all - the beach is free!
Hawaii Climate & Weather: As the islands are located in the tropics, temperatures remain fairly stable year-round. The temperature of the islands is also influenced by several winds. Trade winds from the east and northeast keep the air balmy most of the year, while the kona - a leeward wind - may bring sticky weather during summer and storms in winter. Winter trade winds bring frequent rains to many areas but in spring and summer, showers are fairly uncommon.
Summer (Apr-Nov) 75-84 and Winter (Dec-Mar) 64-77
Lets begin planning your Hawaiian Holiday now!
See you in paradise!
The Travel Gal - Your Friend in the Islands!
800 644-6659 or Teresa@Luxuryhideaways.net
If you enjoyed this post, make sure you subscribe to my RSS feed!