I have Clients asking about internet & phone service while vacationing in Fiji. I remind them that once they travel to an island the size of a postage stamp in the middle of the Pacific Ocean where the locals still use smoke signals and loli drums to communicate, their phone card just might not work.
Having said that, I have been told the best internet solution would be to purchase a local pre paid Flashnet from a Vodafone shop at the Nadi Airport or on the mainland. These are relatively inexpensive and the cost is currently from F$39 (plus the recharge cost). Vodafone currently has a shop at the airport, right beside the ANZ bank as you come through the arrivals door.
You may be able to purchase a Flashnet online so that the airport branch will have one ready for you upon arrival into the country, so all you will be required to do is register on collection. The Flashnet can be plugged into your laptop to connect to the Internet and can be used in many places. For further details, you may wish to visit their web site at: www.vodafone.com.fj.
For more information on travel to the Fiji Islands, call 800 644-6659
or email teresa@luxuryhideaways.net
If you enjoyed this post, make sure you subscribe to my RSS feed!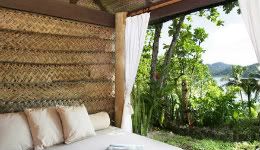 Hot Hot Hot Special - Just Released for a Limited Time Offer!
Matangi Private Island Resort is a family owned and operated resort, on a 240-acre private island, located in the lush tropical northern part of the Fiji Islands. This unique horseshoe-shaped island paradise boasts virgin tropical rainforest and white sand beaches. It's no surprise that it was voted in Islands Magazine as one of the "Top 10 Private Islands in the World" and also featured in "1,000 Places to See Before You Die", by Patricia Schultz.
Matangi Island offers 14 traditional Fijian designed bures, each with air-conditioning, ipod docking stations, outdoor stone shower, large sitting area, fully stocked mini bar and all the amenities of a luxury resort. The island caters to adults only. Rates include all meals, morning and afternoon tea, non-motorized water sports. Ideal for honeymooners, destination weddings, couples, romantic getaway, soft-adventure, snorkeling, scuba, hiking and seekers of natural beauty.
Costing begins at $3670pp in a Beachfront Bure - (beachfront bures at less than $500 per night)
The Stay 7/Pay 5 rate is valid for Travel June/July/August 2011
Booking Conditions
- Roundtrip airfare from Los Angeles on Air Pacific
- Minimum 7-night stay required
- Valid on all categories of accommodation
- Valid for Travel: 01 June 2011 - 31 August 2011
- New Bookings Only
- Cannot be combined with Summer Romance Bonus
- Honeymooners also receive a bottle of sparkling wine and one breakfast in bed
( Please advise at time of booking). [Read more]
If you enjoyed this post, make sure you subscribe to my RSS feed!
Fiji, blessed with 333 magnificent islands, some inhabited, most not. It is a land where there is still room to move. Set in the tropical South Pacific, Fiji is surely the essence of a tropical island paradise. White sandy beaches, swaying coconut trees, pristine oceans and waterways and a range of things to do and see that will appeal to the most discerning traveler.
Situated south of the equator, this tropical paradise is easily accessible from Los Angeles, Hawaii, Melbourne, Sydney, Brisbane, Auckland and Tokyo.
Revel in the 5-star resorts, stroll on glimmering white beaches hand-in-hand at sunset, snorkel, dive, surf or kayak our pristine oceans, whitewater raft our clear and clean waterways, cruise the ocean around our mainland and outer islands, trek our rainforests, backpack the outer islands, visit the welcoming villages and experience sustainable living or immerse yourself in our unique island culture and history.
And then there's our most precious asset - smiling, generous, relaxed Fijians who greet you and everyone they meet with our famous and welcoming 'Bula!!'
Fiji Entry Requirements
No shots are necessary to go to Fiji. All visitors to Fiji require a passport. Entry visas are granted on arrival for a stay of four months for nationals of Australia, the U.S., Canada, and the United Kingdom. (Please check with your nearest Fijian Embassy for other countries' entry requirements. Visas may be extended for up to six months; please contact the Embassy for details. People who wish to work or reside in Fiji must obtain the appropriate visa prior to arrival in Fiji.
Electricity
The electricity in Fiji is 240 volt 50 Hz AC (alternating current). The plug is a 3-prong plug, just like those used in Australia and New Zealand. The resorts usually offer a converter that guests may use, but in high occupancy time periods, it is best to have your own converter with you for cameras or laptops. Converters are available at many department stores in the travel & luggage section.
Fiji Weather Information
Fiji enjoys a tropical climate year-round. You can expect warm temperatures: 75 to 90 degrees with humidity during the day, and 70 to 78 at night. Most resorts are located in areas on the islands where the bures receive cool breezes for most of the year. Fiji is located in the tropics, so there is always the possibility of a rain shower, but normally these showers will last a short while and then move on. Because Fiji is so close to the equator, there is little variation in the seasons, although the "summer" months of December through March are known to have a little more rain and humidity.
Island attire
Life is very casual & laid back in Fiji so pack your bags for fun and sun. Shorts, cotton shirts, sundresses, and bathing suits are all appropriate. Don't forget sunglasses, a hat and perhaps a cover-up, since Fiji's sun can be fierce. Some excursions are best tackled in sandals or sports style footwear. Even in our winter (U.S. summer), the climate is tropical, but it's wise to bring a sweater for the evenings, just in case.
What Else to Bring
You also may want to bring: a camera with extra film, sunblock/sunscreen, a Walkman/personal CD player, reef-walkers or other comfortable shoes for walking along the coral sand beach, spare glasses or contact lenses.
Contact the Travel Gal
Your Friend in the Islands
800 644-6659 or Teresa@Luxuryhideaways.net
If you enjoyed this post, make sure you subscribe to my RSS feed!
MAJOR CENTRES
Nuku' alofa is the capital and home of the Royal Palace. Other major centres are Eua island, an ideal retreat for hikers, adventurers and naturalists, and Vava'u island which has two beautiful beaches on the main island and a scenic drive around the west coast with stunning views of Port of Refuge Harbour and the numerous outer islands.
Ha'apai island is a favourite with visitors who are invited to stay in the village and participate in all aspects of village life from 'kava' ceremonies, feasting and dancing to hunting 'feke' octopus with village fishermen in outrigger canoes.
THE PEOPLE
The majority of Tonga's 96,000 people live on Tongatapu. Polynesians by race, they speak Tongan and English.
HISTORY
Archaeologists claim Tonga has been inhabited since the 5th century BC. It was first discovered by two Dutch navigators in 1616. They were followed by Tasman, Wallis, Captain Cook, Bligh of the Bounty whose sailors mutineered in Tongan waters, and the missionaries.
Today the Kingdom of Tonga is ruled by King Taufa'ahau Tupou IV who reigns as a constitutional monarch. Formerly a British protectorate, Tonga gained its independence in 1970 and is now part of the British Commonwealth.
NATURE
Vegetation is typically South Pacific with masses of hibiscus and frangipani, coconut groves, pandanus palms and banana plantations.
Not far from Nuku'alofa hundreds of flying foxes cling to high trees at Kolovai. Frigate birds are common, as are the Pacific golden plover, the Pacific black duck, swiftlets (Pacific swallows) and the blue crowned lorikeet.
Tonga was the first Pacific island country to create marine parks or sanctuaries. Four such parks now exist, rich in fish, coral and marine life.
CLIMATE
A warm tropical climate exists throughout the year. There is a mild, dry season May through October, with a hotter, humid season November through April.
CURRENCY
The Tongan dollar or pa'anga equals 100 seniti (cents). Notes are in 50 seniti, 1, 2, 5, 10, 20 and 50 p'anga denominations. Coins are in 1, 2, 5, 10 and 50 seniti, also 1 & 2 p'anga. Foreign currency exchange is available at most major hotels and the Bank of Tonga. Banking hours are 9:30am - 3:30pm Mon - Fri, 9:30am - 11am Sat. The Bank of Tonga has branches on Tongatapu, Vava'u, Ha'apai and 'Eua.
SHOPPING
Tonga offers duty free items, Island handcrafts and Island wear such as mumus and the Tongan "Pulisami". Regular shopping hours are Monday-Friday 8:30am - 4:30pm. All main stores close on Saturday at 12 noon and do not reopen until Monday. There is no trading of any manner on Sunday.
MEDICAL & HEALTH
Piped water supplies are chlorinated, and are satisfactory for drinking. There are comprehensive medical and dental facilities available. Copyright © Goway 2009
If you enjoyed this post, make sure you subscribe to my RSS feed!
Unspoiled…You'll discover empty stretches of powder white sand beaches, no high rise hotels, no tourist traps,

just intimate bungalow (bure) style resorts that offer honeymooners their own hideaway in paradise!

The Ocean…The ocean water is crystal clear, lukewarm and perfect for snorkeling, diving and swimming.
Safe… crime is just about non existent against tourists, no radical groups in Fiji, no corruption, trustworthy people, no solicitors approach you on the beaches or streets.
Friendly people…they speak English and love tourists! They love to serve you with a smile and a song. You'll go back to Fiji for the people.. you'll make life long friends!
Inexpensive…food , drink, souvenirs are less expensive and higher quality than Mexico..$1US dollar = $1.50 Fiji dollars-(approx.)
Easy to get to….10 hours night flight, non stop to Fiji from Los Angeles depart LAX at 11pm, arrive Fiji 5am…return leave Fiji 10pm arrive LAX 1pm on the same day!!

Safe flight…planes are 747/767 Jets.

Variety…There are a million things to do!!! Hiking, Fishing, Snorkeling, horseback riding, shopping, sailing, cultural events, music, island hopping…

Famous…they filmed "Castaway" with Tom Hanks in Fiji..and "The Blue Lagoon" with Brooke Shields!!!

333 islands…and many, many, awesome resorts to choose from. Trust an expert who knows the islands to assist you in making the right choice!!!
If you too would like to visit the islands of Fiji
Call Me at 1-800-644-6659
Your 'See the South Pacific Specialist' at Luxury Hideaways
If you enjoyed this post, make sure you subscribe to my RSS feed!
The beautiful islands of Fiji are situated in the blue seas of the South Pacific and have been called the world's friendliest paradise. Set in truly magical surrounds with an inviting tropical climate, lush vegetation and white sandy beaches. The Fijian people personify hospitality and have a more gentle pace of life, mixed with a rich blend of culture and traditions.
Accommodations
Accommodations range from budget to luxury and 5-star with the amenities you would expect. What is a "bure"? A bure is a thatched roof resort villa reflecting the style of a traditional Fijian village accommodation with all your 3-5 star inclusions.
Airport
Nadi Airport is the gateway for International travelers and is situated only minutes from Nadi Town. Nausori Airport is about 40 minutes drive from Suva city.
Banking hours
Monday to Thursday 9:30am to 3:00pm; Friday 3:30am to 4:00pm. There is a 24 hour bank at Nadi Airport.
Passport and Visas
All visitors to Fiji must have a valid passport with at least six months validity from the date of departure from Fiji. No visas are required for North American passport holders for a 30 day stay or less. Visitors not traveling on North American passports should check visa details with their travel agent.
Climate
A Fijian Coastline Fiji enjoys a tropical maritime climate, with maximum summer temperature in November through to April averaging 30°C. The cooler months from May to October have a maximum average of a pleasant 26°C. The summer months is the usual time for tropical rain and cyclone activity, although rain can occur at any time through the year. Trade winds from the east southeast bring year long cooling breezes late afternoon and early evening.
Clothing
Visitors to Fiji need a light, tropical wardrobe. Bathing suits, shorts and T-shirts are a must. The emphasis is on casual attire; however; for exclusive resorts or high category hotels a "smart casual" dress is more appropriate. Visitors are asked to dress modestly when visiting villages or when shopping in town.
Credit Cards and Travelers' Checks
Traveler's checks are the safest way to take money with you on holidays. International credit cards are welcome at most hotels, restaurants, shops, rental car agencies, tour and cruise companies.
Currency
The Fijian dollar is the basic unit of currency. It is issued in dollar notes and cent coins. Banks will offer the best rate of exchange, although currency exchanges will also be available at hotels and resorts.
Electricity
The electrical current in Fiji is 240 volts AC 40 cycle. Fiji has a three-pin power outlet.
Language
Fiji is an English speaking country. Their national language is Fijian, however you won't have any trouble communicating with these friendly, open people. A Fijian Lunch
Health
There are no specific requirements or inoculations needed for travel to Fiji. However, we do suggest you seek advice from your physician regarding your individual requirements.
Tipping
Tipping is not encouraged in Fiji and it is left to the individual to determine whether or not to pay a gratuity.
For more information on travel to Fiji or anywhere else in the South Pacific, please call the Specialists at 800 644-6659 or email at info@luxuryhideaways.net
If you enjoyed this post, make sure you subscribe to my RSS feed!
Dress is always casual and comfortable. We suggest loose fitting, cotton wash & wear clothing for both your cruise and land adventure if your opting for one. While you will have opportunities to dress up depending on the cruise or resort you are choosing the basics of your suitcase should be for fun and relaxing which is what you will mostly be doing on your vacation in and around Fiji

It's a good idea to pack a change of clothing in a separate carry-on bag.
Each person is limited to 2 suitcases (up to 70 pounds/31 kilos) on international flights and only 33 pounds/15 kilos for domestic flights.
Brief Check List
2 knee length shorts

2 skirts or dresses

Blouses, shirts or t-shirts

Cotton trousers (denims if you plan to ride horses)

2 swimsuits

2 pairs of tennis or hiking shoes

Reef walkers

Thongs or sandals

Light jacket or sweater

Camera, batteries & film

Sunscreen & toiletries

Medication

Passports & Visa's (when required)

Some cash on hand, and a major credit card (many of the resorts accept major credit cards)
Cultural Hint:

Visitors are asked to be careful not to offend local sensibilities. Wearing bikinis and ultra-brief, swimming costumes is fine at the resort but not when visiting villages or shopping in town. At such times it is easy to take a sulu to use as a wrap-around so no offence is caused. Both men and women should be careful to respect local feelings.
Popular Dress on the Island: Leave room in your bag to buy one or two!
The wrap-around "sulu" is Fiji's most distinctive and versatile form of dress. It is women who obtain the most benefit from the "sulu". There are at least ten different ways in which it can be used, even for evening wear. Ask your resort staff for hints on tying and wearing your "sulu".
If you enjoyed this post, make sure you subscribe to my RSS feed!