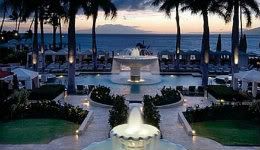 Who would've ever thought people would be flocking to Maui to cool off?! If our signature tradewinds and a dip in the beautiful blue Pacific never sounded so good, check out the low airfare that's being offered on nearly every travel site! It's currently 78 degrees and breezy here. What's the weather like in your neck of the woods?
By Four Seasons Resort Maui at Wailea
The Four Seasons Resort Maui at Wailea offers their Guests paradise with an understated island elegance.  Upon check-in, guests or the Four Seasons Resort Maui at Wailea are greeted with a fragrant fresh flower lei and a cool towel.
The two-story, open-air lobby faces the ocean and includes three restaurants, a casual bar, a spa, and health club wrapped around a courtyard with fountains, swimming pools, and spa tubs. By day, couples and families stake out prime poolside and white-sand beach spots. At night, live piano, ukulele, violin, and guitar music at the dining spots fills the air.
The resort is excited to announce their newly added infinity pool with 160 square-foot luxury cabanas, set in the exclusive 4100 square-foot Serenity Pool Terrace located on the southern-most ocean front of the resort area. Guests will find complimentary cool towels, bottled water, and Evian spritzes. The Four Seasons Resort Maui at Wailea beach concierge offers snorkeling gear at no additional charge. Individual and couples' massage treatments are offered in three private thatched-roof huts by the beach.
Three award winning restaurants serve a variety of cuisine from Italian to Pacific Rim to Steak & Seafood. , and a 21,000-square-foot spa provides a full range of exercise options and relaxation treatments.  The Travel Gal highly recommends their Spa services as some of the best on the island.
For more insider island information, contact the Travel Gal at 800 644-6659
or email Teresa@Luxuryhideaways.net
If you enjoyed this post, make sure you subscribe to my RSS feed!
While visiting the Hawaiian Islands, the most economical way to vacation is to rent a condominium on or near the beach, especially if this is a family vacation.  The condominiums are set up with full kitchens and separate bedrooms - who wants to vacation with their kids in their bedroom for a week?! (what you get when you reserve just a hotel room for the family).
If you hurry you can take advantage of every 3rd night free at participating Aston Hotels and Resorts properties on four Hawaiian islands when you reserve your trip by Feb. 17, 2012. Following are the nightly starting rates for the promotion:
Oahu hotels (for travel from Apr. 1-June 30, 2012):
-Aston Waikiki Beachside Hotel from $137
-Aston Waikiki Joy Hotel from $147
-Aston Pacific Monarch from $183
Hawaii Island (for travel from Mar. 25-June 21, 2012):
-Aston Kona by the Sea from $245
-Aston Shores at Waikoloa from $259
-Aston Waikoloa Colony Villas from $285
Kauai (for travel from Mar. 25-June 21, 2012):
-Aston Aloha Beach Hotel from $119
-Aston Islander on the Beach from $165
-Aston at Poipu Kai from $229
-Aston Waimea Plantation Cottages from $299
Maui (for travel from April 9-June 19, 2012):
-Aston Maui Lu from $195
-Aston at the Maui Banyan from $199
-Aston Kaanapali Shores from $209
-?Aston Maui Kaanapali Villas from $209
-Aston at Papakea Resort from $209
-Aston Mahana at Kaanapali from $295
-?Aston Maui Hill from $309
In addition to the free nights offer, Aston is promoting its exclusive Aloha Book, with offers worth more than $2,500 in savings on dining, shopping and activities. The amenity serves as a guide to some of the best culture, history, cuisine and attractions in Hawaii.
Contact the Travel Gal at 800 644-6659 or email teresa@luxuryhideaways.net for more details.
If you enjoyed this post, make sure you subscribe to my RSS feed!
Take Advantage of Low New Year's Fares to the Hawaiian Islands! Plan an informative, active and fun trip for your family and spend a week this winter in paradise. Assign your kids to write a report on their educational adventures in Hawaii.
Oahu - There is only one Royal Palace on U.S. soil and its located on this island. 'Iolani Palace entertained Heads of State, including Queen Elizabeth.  'Iolani Palace, the official residence of Hawaii's monarchy, is a marvel of opulence, innovation, and political intrigue. Meticulously restored to its former grandeur, this National Historic Landmark in downtown Honolulu tells of a time when their Majesties, King Kalakaua, who built it in 1882, and his sister and successor, Queen Lili'uokalani, walked its celebrated halls.
After experiencing your educational walking tour, have you secretly wanted to visit surfers paradise out at Pipeline? The winter waves are the biggest and best of the year!
Maui - The islands of Maui, Molokai and Lanai create a "perfect craddle" for the Humpback Whales to frolick, play and birth their new baby calves.  How about taking your kids on a whale watch and view the Humpback whales teaching their baby calves how to breach?  Lets plan a cruise where they will be able to listen to whale songs through underwater hydrophones, watch mothers and calves interact and see males compete for females!

Hawaii - The volcanoes on the Big island of Hawaii are still erupting - this would make a great science report! The island called Hawaii is larger than all of the other islands combined, big enough to include 11 of the world's 13 climactic zones—from sandy beaches to snowcapped mountains. Here you can experience accessible waterfalls and rainforests in Hilo or view Kilauea, one of the world's most active volcanoes.
Kauai - The oldest and northernmost island in the Hawaiian chain is known for its dramatic, natural beauty. Adventure lovers, those seeking romantic locales, and family vacationers all can find what they are after in Kauai — from the spectacular sea cliffs on the North coast to the amazing Waimea Canyon.
Give your family the gift of travel this Christmas and yourself a little soul-rejuvenating vacation this year? The mild climate and relaxed lifestyle make winter a wonderful time to visit Hawaii.
With Hawaiian Airs' special low fares, you can enjoy an Island adventure to kick 2012 off with a dose of aloha spirit.
Booking Period - 11/14 - 11/21/2011
Hawaii Flights from $298* RT
These are just a few ideas - give us a call for more ideas as we know the islands best!  Call 800 644-6659 or Teresa@LuxuryHideaways.net
If you enjoyed this post, make sure you subscribe to my RSS feed!
Two of my favorite West Maui oceanfront condominiums are on sale.  Both properties qualify for my "luxury hideaway" criteria and are perfect for the romantic beach holiday or a relaxing and affordable family vacation.
The luxury Kaanapali Alii condominium resort is located centerfront on Kaanapali Beach is the place to be if you are looking for miles of white sand beach, walking distance to shops, bars & restaurants but still want your own little beachside oasis.  It also boasts the newest oceanview swimming pool.
If you are wanting to enjoy watching the dramatic Maui ocean sunsets, Kaanapali Alii offers ocean views that overlook the pool as well as unobstructed oceanfront views of the blue Pacific while sipping your maitai from your private lanai.
The packages begin pricing and include:
1 Bedroom Garden View
5 day compact car
Free parking
Stay 08/15/11 - 12/17/11
5 nights from $1770 for up to 4, "Super Saver 3 Promo"
—-
Lahaina Shores Beach Resort is the smaller sister condominium located in the heart of old Lahaina town.
Located direct oceanfront, along historic Front Street where Hawaiian royalty and Yankee adventurers once strolled - a quietly elegant oasis in an unbeatable location.
Pass through arched colonnades into an airy lobby, opening into the sea, and you're struck by her old-fashioned charm.  Casually stroll along the beach to your dinner reservation at a different restaurant every night or enjoy a bottle of wine an plate of pupus (appetizers) on your lanai while taking in the gorgeous sunset and listening to the beautiful South Pacific live entertainment from Feast at Lele located just below you.
Note from TravelGal: Always ask for the North end/highest floor so you will be able to watch the hula dancing complete with fire knife dancers performed nightly beachside at 505 Front Street.
Studio Mountain View
5 day compact car
Stay 07/27/11 - 01/01/12
5 nights from $755 for 2, "Super Saver 3 Promo"
For more details contact the Travelgal on island at 800 644-6659 or Teresa@luxuryhideaways.net
If you enjoyed this post, make sure you subscribe to my RSS feed!
Honua Kai Resort & Spa is situated on world-famous Kaanapali North Beach, provides an unparalleled level of service and all the amenities of a luxury resort with expansive one, two, and three bedroom suites. Perhaps the greatest luxury of all is simply the space to spread out. Inside, the feel is that of a luxury Maui vacation home, graciously furnished in exotic wood and polished granite, and tastefully equipped with top of the line appliances. The gourmet kitchens contain everything you need to make a fantastic meal. Or simply make reservations at one of our spectacular restaurants. This is the Hawaii vacation you have always imagined, exactly as you imagined it.
5 night packages - Valid 5/18 - 6/10/10
Maui's Newest Resort - Honua Kai Resort & SpaOhana Suite Resort View $986 pp
Ohana Suite Partial Ocean View $1,068 pp
Ohana Suite Ocean View $1,153 pp
1 Bedroom Suite Resort View $1,068 pp
1 Bedroom Suite Partial Ocean View $1,236 pp
1 Bedroom Suite Ocean View $1,318 pp
Packages include:
5 Days Alamo Full Size Rental Car - Full Size Car at Compact Prices
5 Nights Suite Accommodations at Honua Kai
Sunshine Helicopters West Maui DLX Tour FX STAR in First Class Seating
$25.00 Nightly Resort Fee not included
All Applicable Taxes
Airfare is NOT included. Competitive coach and first class airfare is available nationwide on Alaska, Delta, Hawaiian, Northwest or United Airlines. Prices are per person double occupancy and include all taxes. Not combinable with any other special. Full payment will guarantee fare. Subject to change without notice. Certain conditions and restrictions may apply. Travel must be completed within time periods listed for rates shown. Prices are in U.S. dollars.
Call the Travel Gal at 800 644-6659 or Teresa@Luxuryhideaways.net
Your Friend in the Islands!
If you enjoyed this post, make sure you subscribe to my RSS feed!
I've been out shopping for you and have found an incredible deal! - Receive $500.00 in Airfare Credit when you Travel to the South Pacific! Of course there is some small print but its really "manini" (small in Hawaiian). You just need to stay 5 nights and a participating hotel, but the good news is, alot of hotels are participating!
This offer applies to travel to Tahiti, Fiji, Australia or New Zealand. We can customize your itineray and just work within the airlines boundries and we are good to go! [Read more]
If you enjoyed this post, make sure you subscribe to my RSS feed!
SEATTLE, Wash. - American Safari Cruises is deferring entry into the Hawaii inter-island cruise market until a time when the capital funding markets and the overall U.S. economy improve, announces Capt. Dan Blanchard, President and CEO. [Read more]
If you enjoyed this post, make sure you subscribe to my RSS feed!
Maui's choice for fun sailing!
We are offering a complimentary 2 for 1 sunset sail when you reserve a weeklong holiday on Maui. Give us a call for details. Come aboard the Scotch Mist II and have the sailing cruise of your life - great boat, steady winds, beautiful waters, and friendly dolphins! Scotch Mist II is a Santa Cruz 50 sailing Yacht. Built for speed and the 1984 Victoria-Maui International Yacht Race, she was 1st to finish. FAST IS FUN! For her size, she is the fastest production line sailboat in the world.
If you enjoyed this post, make sure you subscribe to my RSS feed!