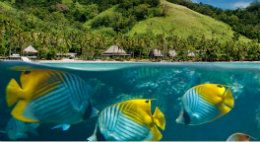 Lalati Resort & Spa is a boutique luxury hideaway located on Bequ Lagoon, Fiji Islands.  Bequ Lagoon is known for some of the best snorkeling in all of Fiji and Lalati Resort is an affordable island escape for you and your honey.  The resort caters to just 10 lucky couples at a time - adults only! The rates begin at $2390.00 per couple for 7 nights including all meals, transfers and taxes for the Seaview cottage.  April 1st the rates increase to $2,650.00 per couple as the lead in rate.  Check out the "bit" of information below and call us today.
Bula Bonus - anyone reserving 7 nights thru Bula Vacations receives a romantic private candlelight dinner, and a rejuvenating 30-minute spa treatment. Romantic interludes include sunset cruises, private island picnics, private kayak excursions, a snorkeling safari for two, moonlight massages and a sparkling bay just awaiting discovery.
If you would like to be married in Fiji, the simple wedding is $825.00 and includes:
Transfers for registration at government office
Floral Salsalus for bride and groom
Local minister or civil servant
Wedding cake
Kava ceremony
Champagne wedding toast & candlelight dinner
Wedding coordinator
Just bring the Groom and a dress!  Here is the link http://bit.ly/12NYO45
For more information call me at 800 644-6659 or email Teresa@Luxuryhideaways.net
If you enjoyed this post, make sure you subscribe to my RSS feed!
Are you looking for a unique and memorable holiday this summer for your family vacation? Perhaps a remote tropical island where you all can run away from the mainland madness and reconnect under a palm tree or while teaching your children how to snorkel or boogie board?  The Fiji Islands are the answer for you! There are some fabulous luxury hideaways to explore.
You and your honey will be pampered (perhaps a private beach picnic for the 2 of you) and your kids will have an authentic, educational experience learning about a different culture under great supervision - Fijians love children!
I have personally traveled to the Fiji islands 5 times - twice taking my children with me and I can tell you first hand it really opened their eyes to what life is like outside the U.S. and has turned them both into world travelers.
Contact me for more information on Fiji family resort deals and to secure these great rates while they last. 
My number is 800 644-6659 or email me at Teresa@LuxuryHideaways.net
If you enjoyed this post, make sure you subscribe to my RSS feed!
Yes this is correct! For the first time ever, Qamea Resort is offering free wine, beer & soft drinks (by the glass)
The owners of Qamea Resort & Spa have sourced a large shipment of quality New Zealand wines, and will offer them FREE by the glass to all guests staying from 1 April 2012. In addition to the wine, the resort will also offer FREE Fijian draft beer on tap by the glass and a selection of FREE soft drinks by the glass. This will be offered to all of our valued guests at Qamea Resort & Spa beginning 1 April 2012.
WHAT DOES THIS MEAN FOR YOU?
EVERY Guest staying from 1 April 2012 - 31 March 2013 will receive unlimited and COMPLIMENTARY selected wines, draft beer on tap and soft drinks (all by the glass) served from the bar between noon and 10pm daily.
Qamea Resort and Spa is located in the Eastern side of the Fiji Islands, just a short speed boat ride from Taveuni Island.
Qamea is an exclusive tropical destination for discerning travelers seeking a truly unique and authentic Fijian experience without sacrificing luxury or service.
From the moment you step onto the island, you will feel as if you have entered a Fijian village set in a South Pacific tropical paradise.
Travel gal note: This is a fantastic adults only, luxury resort that offers privacy, jungle experience, private beach picnics and more!
This fantastic offer was just announced a few days ago - contact the Travel Gal for more details at 800 644-6659 or teresa@luxuryhideaways.net
If you enjoyed this post, make sure you subscribe to my RSS feed!
The Islands of Fiji is the perfect holiday choice for a family with children of all ages. The Fijians will embrace your children while teaching them about the Fijian way of life. Not only will it be a relaxing and memorable vacation, your children will be receiving an education on a different culture. No amount of schooling will give them this ultimate life experience.
The 333 islands of Fiji, located approximately 10 hours from Los Angeles and offer a wide selection of family friendly resorts that are perfect to keep the kids entertained and active all day. In fact the kids have so much fun that they won't want to leave! Fijians are known as some of the friendliest people on earth and Fiji offers a true Polynesian experience. No chain restaurants and no mega-malls. This is what getting away from it all is really about and investing in family time is more important than ever.
To celebrate and inspire family travel to the South Pacific in 2010, we have just launched a special offer - ''Kids Fly FREE to Fiji". This incredible offer includes flights from just $679pp* each way based on roundtrip airfare from Los Angeles for two traveling adults and two children will fly free. The savings on flights can be used to upgrade resorts or enjoy additional experiences at the resort.  It is incredible and only available for a limited time.
By the way - my children have traveled to Fiji twice with me and its their most memorable holiday!
For more information call the Travel Gal at 800 644-6659 or Teresa@Luxuryhideaways.net
If you enjoyed this post, make sure you subscribe to my RSS feed!
The Fiji Islands have been rated among the top 15 cheapest countries for American travelers during the current severe recession in the US financial market. "Fiji is one of the many places that is suddenly become more affordable to American travelers" according to America's Forbes.com. A recent 20% devaluation of the Fiji dollar coupled with a 40% gain by the greenback means that $USD100 currently buys $FJD210 on the ground. Tourism Fiji Regional Director Ili Matatolu welcomed the rating and hoped that Americans will take advantage of this opportunity in 2009 and get fantastic deals on Fiji.
In another article travel to Fiji is now even more affordable than ever from Honolulu, LAX and Vancouver with "Go to Fiji Now" Bula Special Rates offered by Air Pacific, Fiji's international airline. Roundtrip airfare from Honolulu and LAX to Nadi starts at US$565, valid for sale until June 30, 2009 for travel thru December 31, 2009. (Air Pacific Booking Code N)
Are you interested in traveling to Islands of Fiji?
Contact Teresa@luxuryhideaways.net or 800 644-6659 today
If you enjoyed this post, make sure you subscribe to my RSS feed!
It's rare, but sometimes Tui Tai cabins are available at the last minute (someone had to cancel, or even a group had to cancel), and these situations make a much-reduced rate available. We'll apply last-minute special rates to bookings made within 14-days of the adventure cruise departure date, assuming we have cabins available. [Read more]
If you enjoyed this post, make sure you subscribe to my RSS feed!
The Likuliku Lagoon Resort & Blue Lagoon Cruise 7 Night Combo Special
LikuLiku Lagoon Resort (the only resort in Fiji with overwater bungalows!) and Blue Lagoon Cruises have teamed up to offer you an excellent holiday! Book a Deluxe Beachfront Bure or Over Water Bure for two people for four nights and receive complimentary one way helicopter transfer from the airport to Likuliku Lagoon Resort, all meals included as well as couples spa treatment. Book a Blue Lagoon Cruises 4day/3night Gold Club cruise and receive a free pickup from Likuliku Resort at start of cruise, a complimentary cabin upgrade at the time of reservation and an indulgent bubbly breakfast in bed on any morning chosen.
Special Conditions:
- Offer valid only if booked as an 8 day/7night package
- Available only on Deluxe Beachfront and Over Water Bures at Likuliku Resort
- Transfers from Blue Lagoon cruises to airport are not included
- Guest must stay at Likuliku Resort first for combination to be valid.
Booking Code: LLRBLC7 COMBO - Valid Until: June 30, 2008
If you enjoyed this post, make sure you subscribe to my RSS feed!