Aloha and Ia Orana!
Are you considering celebrating a romantic getaway in the South Pacific?  I suggest escaping to the island paradise Bora Bora, located in French Polynesia! The Hilton Bora Bora Nui Resort & Spa is offering amazing deals - inclusive of breakfast & dinner daily!  This is a huge savings as you want to make sure most of your meals are pre purchased!
Travel Gal Promotion: Guests who stay 6 nights or longer at the Hilton Bora Bora Nui & Spa will receive 2 nights for free.
Restrictions: A 6-night minimum stay is required. Valid for new bookings only. Combinable with Honeymoon Offer only.
Booking window: Dec 26, 2012 to May 10, 2013
Travel window: Jan 15, 2013 to Jun 9, 2013 (must depart by Jun 9, 2013)
Note: If you are traveling after June, contact me for the lastest and greatest promotions as we are already working with Clients planning their trips in October 2013!
Here is some information on dining at Bloody Marys as well as shark feeding 4 x 4 jeep safari tour, jet ski and helicopter tours - call me at 800 644-6659 for more details - http://bit.ly/11lPjdK
Your friend in the islands,
Teresa
If you enjoyed this post, make sure you subscribe to my RSS feed!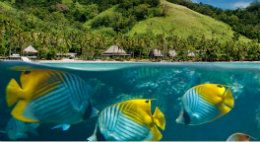 Lalati Resort & Spa is a boutique luxury hideaway located on Bequ Lagoon, Fiji Islands.  Bequ Lagoon is known for some of the best snorkeling in all of Fiji and Lalati Resort is an affordable island escape for you and your honey.  The resort caters to just 10 lucky couples at a time - adults only! The rates begin at $2390.00 per couple for 7 nights including all meals, transfers and taxes for the Seaview cottage.  April 1st the rates increase to $2,650.00 per couple as the lead in rate.  Check out the "bit" of information below and call us today.
Bula Bonus - anyone reserving 7 nights thru Bula Vacations receives a romantic private candlelight dinner, and a rejuvenating 30-minute spa treatment. Romantic interludes include sunset cruises, private island picnics, private kayak excursions, a snorkeling safari for two, moonlight massages and a sparkling bay just awaiting discovery.
If you would like to be married in Fiji, the simple wedding is $825.00 and includes:
Transfers for registration at government office
Floral Salsalus for bride and groom
Local minister or civil servant
Wedding cake
Kava ceremony
Champagne wedding toast & candlelight dinner
Wedding coordinator
Just bring the Groom and a dress!  Here is the link http://bit.ly/12NYO45
For more information call me at 800 644-6659 or email Teresa@Luxuryhideaways.net
If you enjoyed this post, make sure you subscribe to my RSS feed!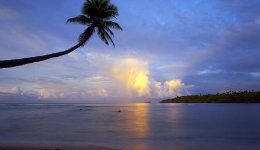 Recently voted as an Oprah favorite thing, Namale Resort & Spa is an all-inclusive boutique resort that is definitely a "luxury hideaway".  In celebration of this award, Namale is offering 2 free nights when you pay for 7 nights in a bure or villa for 2 people, including:
Chilled champagne and welcome basket in your villa upon arrival
Private candlelight dinner over the Koro Sea under a bed of stars
Romantic themed turn down service on the eve of guest departure
All inclusive-features of the resort:

All meals, champagne breakfast, 3 course lunches and 5 course dinners
All beverages (alcoholic & non-alcoholic) with no limitations on beers,spirits, house wines & house champagne
Daily replenishable mini bar
Daily laundry services
Nightly turndown services
Internet room access and Wi-Fi connections
Complimentary access to fitness center and indoor entertainment center
Activities such as snorkeling, horseback riding, Rainforest hikes and so much more
Catering to honeymooners and sophisticated vacationers seeking tranquility, privacy, fabulous outdoor activities, Namale is surrounded by 535 acres of lush tropical landscape.  The resort sits on a narrow headland overlooking the Koro Sea. Luxurious yet relaxed, the resort features traditional Fijian architecture and décor throughout.
Guests are welcome to  swim in one of three outdoor pools, take a dip in the spa tub, or take advantage of numerous water sports. The spectacular on-site spa, situated on a volcanic cliff overlooking the ocean, features a central hydrotherapy/aromatherapy room with a spa tub, soaking tubs, and a steam room. The resort also features a fitness center and an activities center with a movie theater, bowling alley, putting green, and virtual golf.  Kayaking, snorkeling and scuba diving are excellent - plan on spending plenty of time in the water, experiencing an abundant sea life teaming with multi colored fish and beautiful coral trees.
NOTE: I remember suntanning on a remote beach when an employee from the Resort popped out of the bushes to ask me if I wanted a cocktail!
If you're looking for the ultimate romantic resort and want to experience the most outrageous spa in all of Fiji - Namale is for you!
Namale Resort is very intimate and only offers 19 bures & villas to choose from, stay dates are 1/15/2013 thorugh 4/15/2013.
Call me, the Travel Gal before 23rd of December 2012 for an extra special treat
at 800 644-6659 or email Teresa@LuxuryHideaways.net.
If you enjoyed this post, make sure you subscribe to my RSS feed!
There is no need to go to the shopping mall!  Traveling to the warm and balmy South Seas is more inviting then a new sweater or snow shovel!  Just mentioning the exotic islands of Bora Bora, Moorea, Huahine or Taha'a will warm a persons soul - so grab your flip flops and lets plan your romantic Christmas present for just you and your honey on this all inclusive 300 passenger ship today!
m/s Paul Gauguin is offering 50% off standard cruise fares plus included roundtrip airfare from Los Angeles! An incredible savings on all of their Tahiti and French Polynesia cruises.
There are several itineraries from which to choose.  There is a 7 night cruise around the islands of Tahiti, but there are also 10 night cruises visiting the Society Islands & Tuamotus or 11 night cruises visiting the  Cook Islands & Society Islands as well as 11 night cruises around the Marquesas, Tuamotus & Society Islands so you can see the options are endless!
The m/s Paul Gauguin was designed specifically to sail the shallow seas of Tahiti and French Polynesia, visiting small ports that larger ships can't reach and effortlessly blending into the stunning natural beauty of the South Seas.
Life onboard the Gauguin is grand!  You will be traveling aboard a 5 star floating resort where the dining is exquisite and the drinks are flowing.
Enjoy the swim step off the back of the ship, where you can launch your kayak for 2 or try snorkeling.  There is so much to do - there are only 300 lucky passengers that get to explore the South Pacific each week so they do sell out, plan ahead, lets wrap up a brochure in a pareo for you to place under the tree for a memorable holiday!
Call me today - the Travel Gal at 800 644-6659 or email Teresa@LuxuryHideaways.net for more details.
If you enjoyed this post, make sure you subscribe to my RSS feed!
Its beginning to feel alot like winter… and now is the time to plan your winter escape. How about cruising around the South Pacific - not on a huge cruise ship - but on a working freighter! I promise, they will not enlist your assistance in working aboard the Aranui freighter, instead you will be exploring the remote islands, deep in the South Pacific, where few Tourists have tread before!
Here is a sample itinerary:
Day 1 - Papeete, Tahiti
Day 2 - Fakarava, Tuamotu Islands
Day 3 - At Sea
Day 4 - Nuku Hiva (Taiohae-Hatiheu-Taipival)
Day 5 - Ua Pou (Hakahau-Hakahetau) Marquesas
Day 6 - Hiva Oa (Atuona)
Day 7 - Fatu Hiva (Omoa-Hanavave)
Day 8 - Hiva oa (Puamau-Hanaiapa)
Day 9 - Tahuata (Vaitahu-Hapatoni)
Day 10 - Ua Huka (Vaipaee-Hane-Hokatu)
Day 11 - Nuku Hiva (Taiohae), Ua Pou (Hakahau)
Day 12 - At Sea
Day 13 - Rangiroa, Tuamotu Islands
Day 14 - Arrival back in Papeete with a pocketfull of stories at around 9:30am
For more information and to begin planning this fabulous adventure call me, the Travel Gal
at 800 644-6659 or email Teresa@LuxuryHideaways.net
If you enjoyed this post, make sure you subscribe to my RSS feed!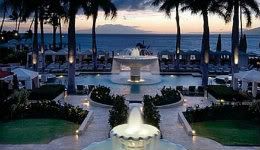 Who would've ever thought people would be flocking to Maui to cool off?! If our signature tradewinds and a dip in the beautiful blue Pacific never sounded so good, check out the low airfare that's being offered on nearly every travel site! It's currently 78 degrees and breezy here. What's the weather like in your neck of the woods?
By Four Seasons Resort Maui at Wailea
The Four Seasons Resort Maui at Wailea offers their Guests paradise with an understated island elegance.  Upon check-in, guests or the Four Seasons Resort Maui at Wailea are greeted with a fragrant fresh flower lei and a cool towel.
The two-story, open-air lobby faces the ocean and includes three restaurants, a casual bar, a spa, and health club wrapped around a courtyard with fountains, swimming pools, and spa tubs. By day, couples and families stake out prime poolside and white-sand beach spots. At night, live piano, ukulele, violin, and guitar music at the dining spots fills the air.
The resort is excited to announce their newly added infinity pool with 160 square-foot luxury cabanas, set in the exclusive 4100 square-foot Serenity Pool Terrace located on the southern-most ocean front of the resort area. Guests will find complimentary cool towels, bottled water, and Evian spritzes. The Four Seasons Resort Maui at Wailea beach concierge offers snorkeling gear at no additional charge. Individual and couples' massage treatments are offered in three private thatched-roof huts by the beach.
Three award winning restaurants serve a variety of cuisine from Italian to Pacific Rim to Steak & Seafood. , and a 21,000-square-foot spa provides a full range of exercise options and relaxation treatments.  The Travel Gal highly recommends their Spa services as some of the best on the island.
For more insider island information, contact the Travel Gal at 800 644-6659
or email Teresa@Luxuryhideaways.net
If you enjoyed this post, make sure you subscribe to my RSS feed!
Paul Gauguin Christmas Cruise - Save 50% off PLUS Free Air from LAX for the first 2 guests in a stateroom. Below is a sample itinerary that is offered on most sailings year around.  However, Gauguin does not offer this incredible discount very often.
Check out this itinerary:
21/Dec 12  LAX - Papeete depart 11:30pm arrive 6:05am
22/Dec 12  Meet/greet and transfer to pre-cruise hotel
22/Dec 12  Dayroom reserved
22/Dec 12  Transfer to Paul Gauguin
22/Dec 12  Embark Paul Gauguin in Papeete, Tahiti -  Mid afternoon - set sail 11:45pm
23/Dec 12 Raiatea - 11:00am to 6:00pm
24/Dec 12  Taha'a (Motu Mahana) - 9:00am - 5:00pm
25/Dec 12 Bora Bora 8:00am overnight - Merry Christmas!
26/Dec 12 Bora Bora Depart 5:00pm
27/Dec 12 Moorea 8:00am - overnight
28/Dec 12 Moorea depart 7:30pm
29/Dec 12 Disembark Papeete 8:00am
29/Dec 12 - Transfer to post cruise dayroom
29/Dec 12 - Transfer to airport
29/Dec 12  Papeete - LAX depart 11:50pm arrive 10:00am 30/Dec
Some of the benefits and features of this luxury cruise:
Spacious, all-oceanview suites and staterooms
Complimentary beverages incl. select wines
All onboard gratuities included
Complimentary select spirits & soft drinks
Complimentary 24-hour room service
Refrigerator replenished daily with soft drinks, beer and bottled water
Watersports Marina
Cousteau Ambassadors of the Environment Youth Program
Watersports Marina: Watersports are a highlight of the Paul Gauguin Cruises' experience. The ships' small size allow for them to navigate in shallow lagoons and narrow channels where larger ships may not sail. On the m/s Paul Gauguin, with the specially designed retractable watersports platform, guests may descend to sea level where they can conveniently hop aboard a windsurfer, launch a kayak, or set out for a SCUBA diving expedition. A SCUBA certification program is offered on The Gauguin.
Ambassadors of the Environment Youth Program: Explorer and environmentalist Jean-Michel Cousteau is committed to the belief that the survival of the world's oceans depends on capturing the imagination at a young age. In order to ensure that conservation remains a priority among future generations, he created the Ambassadors of the Environment Youth Program under the auspices of the Ocean Futures Society.
Reserve thru Park Avenue Travel/Luxury Hideaways and also receive an additional 5% off PLUS $100.00 per person shipboard credit for select cruises.
Contact the Travel Gal at 800 644-6659 or Teresa@LuxuryHideaways.net
If you enjoyed this post, make sure you subscribe to my RSS feed!
The m/s Paul Gauguin - our favorite boutique, luxury cruiseship that is actually more like a large yacht is now even better then ever!  The Gauguin just completed a $7 million renovation.
Guests can now enjoy the following brand-new amenities:
- New décor, including new flooring and replaced carpeting, elegant furniture, new window treatments, and decorative wall panels in all suites, staterooms and public areas
- New furnishings and lighting in the ship's elegant dining areas
- A new built-in banquet and expanded gaming in Le Casino
- Improved dance floors, where guests dance the night away under the South Pacific sky
- A new integrated display case for books and art
- New signage, providing a lighter, brighter feel
The Gauguin offers all-inclusive pricing - especially when you consider that you'll also save 50% off standard cruise fares plus FREE airfare from Los Angeles–an additional value of up to $3,200 per couple on select sailings.
Contact the Travel Gal for specials and exclusive Virtuoso amenities!
800 644-6659 or Teresa@luxuryhideaways.net
If you enjoyed this post, make sure you subscribe to my RSS feed!
Are you looking for a unique and memorable holiday this summer for your family vacation? Perhaps a remote tropical island where you all can run away from the mainland madness and reconnect under a palm tree or while teaching your children how to snorkel or boogie board?  The Fiji Islands are the answer for you! There are some fabulous luxury hideaways to explore.
You and your honey will be pampered (perhaps a private beach picnic for the 2 of you) and your kids will have an authentic, educational experience learning about a different culture under great supervision - Fijians love children!
I have personally traveled to the Fiji islands 5 times - twice taking my children with me and I can tell you first hand it really opened their eyes to what life is like outside the U.S. and has turned them both into world travelers.
Contact me for more information on Fiji family resort deals and to secure these great rates while they last. 
My number is 800 644-6659 or email me at Teresa@LuxuryHideaways.net
If you enjoyed this post, make sure you subscribe to my RSS feed!
While visiting the Hawaiian Islands, the most economical way to vacation is to rent a condominium on or near the beach, especially if this is a family vacation.  The condominiums are set up with full kitchens and separate bedrooms - who wants to vacation with their kids in their bedroom for a week?! (what you get when you reserve just a hotel room for the family).
If you hurry you can take advantage of every 3rd night free at participating Aston Hotels and Resorts properties on four Hawaiian islands when you reserve your trip by Feb. 17, 2012. Following are the nightly starting rates for the promotion:
Oahu hotels (for travel from Apr. 1-June 30, 2012):
-Aston Waikiki Beachside Hotel from $137
-Aston Waikiki Joy Hotel from $147
-Aston Pacific Monarch from $183
Hawaii Island (for travel from Mar. 25-June 21, 2012):
-Aston Kona by the Sea from $245
-Aston Shores at Waikoloa from $259
-Aston Waikoloa Colony Villas from $285
Kauai (for travel from Mar. 25-June 21, 2012):
-Aston Aloha Beach Hotel from $119
-Aston Islander on the Beach from $165
-Aston at Poipu Kai from $229
-Aston Waimea Plantation Cottages from $299
Maui (for travel from April 9-June 19, 2012):
-Aston Maui Lu from $195
-Aston at the Maui Banyan from $199
-Aston Kaanapali Shores from $209
-?Aston Maui Kaanapali Villas from $209
-Aston at Papakea Resort from $209
-Aston Mahana at Kaanapali from $295
-?Aston Maui Hill from $309
In addition to the free nights offer, Aston is promoting its exclusive Aloha Book, with offers worth more than $2,500 in savings on dining, shopping and activities. The amenity serves as a guide to some of the best culture, history, cuisine and attractions in Hawaii.
Contact the Travel Gal at 800 644-6659 or email teresa@luxuryhideaways.net for more details.
If you enjoyed this post, make sure you subscribe to my RSS feed!