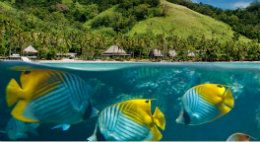 Lalati Resort & Spa is a boutique luxury hideaway located on Bequ Lagoon, Fiji Islands.  Bequ Lagoon is known for some of the best snorkeling in all of Fiji and Lalati Resort is an affordable island escape for you and your honey.  The resort caters to just 10 lucky couples at a time - adults only! The rates begin at $2390.00 per couple for 7 nights including all meals, transfers and taxes for the Seaview cottage.  April 1st the rates increase to $2,650.00 per couple as the lead in rate.  Check out the "bit" of information below and call us today.
Bula Bonus - anyone reserving 7 nights thru Bula Vacations receives a romantic private candlelight dinner, and a rejuvenating 30-minute spa treatment. Romantic interludes include sunset cruises, private island picnics, private kayak excursions, a snorkeling safari for two, moonlight massages and a sparkling bay just awaiting discovery.
If you would like to be married in Fiji, the simple wedding is $825.00 and includes:
Transfers for registration at government office
Floral Salsalus for bride and groom
Local minister or civil servant
Wedding cake
Kava ceremony
Champagne wedding toast & candlelight dinner
Wedding coordinator
Just bring the Groom and a dress!  Here is the link http://bit.ly/12NYO45
For more information call me at 800 644-6659 or email Teresa@Luxuryhideaways.net
If you enjoyed this post, make sure you subscribe to my RSS feed!
Whether you are visiting a luxury hideaway like Le Taha'a Resort & Spa or cruising aboard the luxury cruise ship m/s Paul Gauguin, you do need to bring some $$$ - here is a money guide to assist you.
Money & Currency
Travelers checks, US dollars and credit cards are accepted in tourist areas. The hotels will also exchange money for their guests;

The currency used in French Polynesia is the French Pacific Franc  (CFP or XPF);

There is approximately 100 CFP or XPF to one U.S. dollar, depending on the rate of exchange fluctuations;

Major credit cards are widely accepted;

ATM's are available in Papeete, Faa'a airport as well as several locations throughout the islands;
Phone Service in Tahiti
Phone cards can be purchased at the local post office. NOTE: Phone calls from Tahiti to the US are very expensive, so we advise calling your party and then having them call you back. Fax services are also available at the hotels;
Cell phone service
Cell phone service may be available in Tahiti.  However, check with your provider before departure to check for availability and international rates - NOTE: When you call your carrier, do be sure they are not listing your plan under "France" instead of French Polynesia - it can get expensive - last year AT & T did not have a plan for the islands of Tahiti.
For more information and to assist with your trip to the South Pacific call me, the Travel Gal at
800 644-6659 or email Teresa@LuxuryHideaways.net
If you enjoyed this post, make sure you subscribe to my RSS feed!
Aloha, My Clients contact me for all sorts of travel requests, even if it isn't in the South Pacific.  In this instance, Mike wanted to spoil his wife for their 10 yr anniversary aboard a luxury cruise.  We chose Oceania in a Penthouse suite for a 10 night cruise from Lisbon to New York.  Of course the highlight is sailing into the New York Harbor. Here is Mikes report:
Aloha! And Mele Kalikimaka! Sorry that this is so late and that I have not gotten back to you any sooner. When I got back to work, I was swamped! Yes, Yes, YES! We had the best time ever!!! We have not stopped talking about it and are now thinking of the next trip. It is difficult because I said that we would go to Hawaii but I cannot tell you how much we enjoyed our trip on Oceana! In fact, my mother just came from her trip on Oceana but was not happy with her travel agent and said that she will be talking to you next!!! One thing that Suzette and I have learned is that we need to add another 2 to 3 days on to our travel before we get on any boat. There was not enough time in Lisbon. Lesson learned! As to Lisbon, We did not get enough and will be going back within the next 2 years (I expect) with Spain also in the travel. (Something to think about for you! Any possibilities as part of a group trip?) On the trip, we were not able to stop in the Azores due to a dock strike (Suzette was not happy but I told her that it means we need to do this same trip again! She was happy with my response!) but went on to Saint John's, Newfoundland and Labrador. We found Madera and Maine to be the most interesting and exciting stops. (Exciting stops means that we want to go back.) I will tell Suzette that you said thank you for the referral and I am sorry that it did not work out but you have Suzette and I as dedicated customers! And I will continue to refer you to my friends!

Contact me, the Travel Gal at 800 644-6659 for more details!
If you enjoyed this post, make sure you subscribe to my RSS feed!
During the months of November and May there is a fabulous small ship that sails between the islands on a weekly voyage - their tagline is "luxury in the pursuit of adventure".  The Safari Explorer is a 36 passenger yacht, based in Seattle WA and owned by Innersea Discoveries & American Safari Cruises. Onboard guests will enjoy a weekly cruise around the islands, the trip is affectionately named the Hawaiian Seascapes.  This luxury adventure will focus on the abundant wildlife of the Hawaiian waters.
Safari Explorer itinerary:
Day 1 - Lana'I - Embarkation - Today you will be met with a warm aloha where the Captain and crew greet you with champagne as you board your awaiting yacht, the Safari Explorer.   Watch for marine life as you enjoy your first sunset prior to dropping anchor for the evening.
Day 2 - Lana'I - Gear up for a day of exploration and fun!  Your activities will include snorkeling, paddle boarding, kayaking, skiffing; and a stroll along Shipwreck Beach to the ancient Hawaiian petroglyphs. The Humpback National Marine Sanctuary-located between Lana'i, Moloka'i, and Maui-provides front-row seats as you cruise through these productive marine breeding grounds.
Day 3 - Olowalu/West Maui - Today you will cruise 9 miles to the island of Maui. Today you will explore amazing coral gardens teaming with sea life.  Later you'll enjoy a sail aboard an authentic hand carved outrigger canoe.
Day 4 - Moloka'I - Explore the charming paniolo (Hawaiian cowboy) town of Kaunakakai.  Visit a plumeria farm and relax at one of the longest beaches in Hawaii.  Stop by a macadamia nut farm and stop for coffee at a plantation.
Day 5 - Moloka'i - Halawa Valley - Hands-on activities await you in the picture book Halawa Valley. "Talk story" with locals and experience their land and traditions as few visitors ever do.
Day 6 - Kailua Kona, Hawaii - Your adventure today begins aboard a skiff to Kealakekua Bay, where Captain Cook was slain in 1779. A guided walking tour unveils this historic town.  Tonight you'll anchor at an offshore location for a night of snorkeling with Giant Pacific Manta rays!
Day 7 - Honomalino Bay/Opihihali - Fringed by coconut palms, the bay reveals a diversity of colorful corals, sponges and tropical fish.
Day 8 - Hawaii, the Big Island - Disembark - As the Safari Explorer docks at Kawaihae Harbor, you'll be transferred to the Kona Airport or to your extended Un-Cruise hotel stay.
We are able to extend your fabulous vacation at one of the premier hotels in Hawaii.  I suggest the Four Seasons Hualalai for a few more days of relaxation.
For more information, call me, the Travel Gal at 800 644-6659 or email Teresa@LuxuryHideaways.net
If you enjoyed this post, make sure you subscribe to my RSS feed!
If you are an adventurous, energetic and athletic family that loves to explore the outdoors and take in all that nature has to offer, this is the trip for you. This trip includes New Zealands only native forest zipline canopy tour, Hobbiton movie set, a tour the village movie set from the Lord of the Rings trilogy, visiting Waitomo Glowworm Caves as well as experiencing a Maori Village.  We can even add bungy jumping into the mix, if interested.
We can organize a car for part of your journey, then set up tours along the way.  I would suggest quaint hotels for your journey, then end at a fabulous resort for the last few nights.
Along the way, you will experience:
* Waitomo Glowworm Caves - Today see the Waitomo glowworm, Arachnocampa luminosa, which is unique to New Zealand. Thousands of these tiny creatures radiate their unmistakable luminescent light as expert guides provide informative commentary on 'The Waitomo Glowworm Caves' historical and geological significance.
* Tamaki Tours Hangi & Concert - This evening you will be met at your accommodation by a representative from Tamaki Tours for your evening's Hangi and Concert excursion at a Maori Village.
* Te Puia 90 Minute Guided Tour - This geothermal valley is a special place, home to Te Arawa people for generations. The environment alone is of enormous geological significance, with thermal activity ranging from boiling mud to the world-famous 30-metre (100-foot) Pohutu geyser, erupting up to 20 times each day. Hot springs, boiling sulphurous pools, silica terraces and bubbling mud pools are among the natural wonders.
* Rainbow Springs - Breathe deeply, and take in the native bush, ferns, trees and plants that grow and flower all around you as you wander through the tree lined pathways at Rainbow Springs Nature Park. Enjoy the tranquillity of the crystal clear mineral water that flows tirelessly from the subterranean springs throughout the park, and marvel at the silent grace of the magnificent specimens of Rainbow, Brown and Tiger trout and feed them as they cruise the fern-fringed pools.
* The Agrodome Sheep Show is a one-hour performance where you will see nineteen sheep breeds introduced onto the stage, and be shown the art of sheep shearing, along with sheepdog demonstrations, cow milking, bottle feed lambs and an exciting sheep auction.
* Hobbiton Movie Set - tour the village movie set from the Lord of the Rings trilogy is situated on a working sheep and beef farm with scenic views across to the Kaimai Ranges.  The Hobbiton movie set has been returned to its natural state however, Hobbit holes and some structures from the film set are still present.  Your tour guide will escort you through the 10-acre site, recounting fascinating details of how the Hobbiton set was created.
* Experience New Zealand's only native forest zipline canopy tour - A 400 metre walk through native forest leads to the first launch platform where your guides familiarise you with the forest, birds and history of the area. You'll experience trail walking, 10 platforms, 6 ziplines and 2 swing bridges mixing thrill and slow paced observation of the forest.
* Breathtaking Lake Taupo - The start of the Waikato River signals the proximity of a huge watery crater - Lake Taupo. Your drive winds along the shore of this extinct volcano before ascending the plateau to view the ominous snow-clad peaks of Ruapehu, Ngauruhoe and Tongariro.  Continue along the desolate and barren Desert Road to windy Waiouru before dropping down into the farming community of Taihape.
* Fly from Wellington to Queenstown - From Wellington Airport fly across Cook Strait which divides New Zealand's North Island from the South Island, before following the Southern Alps mountain range towards Queenstown, New Zealand's adventure capital.
* Milford Sound - Today you will undertake a scenic cruise day trip from Queenstown to Milford Sound. Milford Sound is frequently referred to as the Eighth Natural Wonder of the World. The cruise is out to the open sea which takes you past towering Mitre Peak and the spectacular Bowen Falls.
* Safari Of The Scenes - When JRR Tolkien created Middle-Earth little did he know the magical landscapes of his imagination actually existed, 12,000 miles away from his homeland.
This morning you will be met at your accommodation for your 4WD sightseeing excursion.  It took Peter Jackson 10 years and millions of dollars to bring The Lord of the Rings to life on the big screen.  You can visit it today.
Many of the areas that the tour visits provide spectacular backdrops to much of the action in Peter Jackson's "The Fellowship of the Rings"; The Ford at Bruinen, The Misty Mountains, Isengard and Lothlorien, better known as Skippers Canyon, Macetown and Paradise, to name a few.
* This holiday should be one for the family memory books - time to fly home and share all of your amazing stories with friends and family.
NOTE:  The best months to travel to New Zealand would be in the spring and fall.  Their winter is our summer so if you wanted to visit Queenstown for skiing, the optimal time is right around the 4th of July.
If you too want to plan an amazing trip, contact me, the Travel Gal at 800 644-6659 or email Teresa@Luxuryhideaways.net
If you enjoyed this post, make sure you subscribe to my RSS feed!