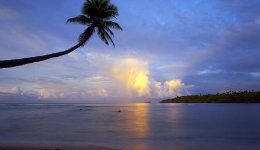 Recently voted as an Oprah favorite thing, Namale Resort & Spa is an all-inclusive boutique resort that is definitely a "luxury hideaway".  In celebration of this award, Namale is offering 2 free nights when you pay for 7 nights in a bure or villa for 2 people, including:
Chilled champagne and welcome basket in your villa upon arrival
Private candlelight dinner over the Koro Sea under a bed of stars
Romantic themed turn down service on the eve of guest departure
All inclusive-features of the resort:

All meals, champagne breakfast, 3 course lunches and 5 course dinners
All beverages (alcoholic & non-alcoholic) with no limitations on beers,spirits, house wines & house champagne
Daily replenishable mini bar
Daily laundry services
Nightly turndown services
Internet room access and Wi-Fi connections
Complimentary access to fitness center and indoor entertainment center
Activities such as snorkeling, horseback riding, Rainforest hikes and so much more
Catering to honeymooners and sophisticated vacationers seeking tranquility, privacy, fabulous outdoor activities, Namale is surrounded by 535 acres of lush tropical landscape.  The resort sits on a narrow headland overlooking the Koro Sea. Luxurious yet relaxed, the resort features traditional Fijian architecture and décor throughout.
Guests are welcome to  swim in one of three outdoor pools, take a dip in the spa tub, or take advantage of numerous water sports. The spectacular on-site spa, situated on a volcanic cliff overlooking the ocean, features a central hydrotherapy/aromatherapy room with a spa tub, soaking tubs, and a steam room. The resort also features a fitness center and an activities center with a movie theater, bowling alley, putting green, and virtual golf.  Kayaking, snorkeling and scuba diving are excellent - plan on spending plenty of time in the water, experiencing an abundant sea life teaming with multi colored fish and beautiful coral trees.
NOTE: I remember suntanning on a remote beach when an employee from the Resort popped out of the bushes to ask me if I wanted a cocktail!
If you're looking for the ultimate romantic resort and want to experience the most outrageous spa in all of Fiji - Namale is for you!
Namale Resort is very intimate and only offers 19 bures & villas to choose from, stay dates are 1/15/2013 thorugh 4/15/2013.
Call me, the Travel Gal before 23rd of December 2012 for an extra special treat
at 800 644-6659 or email Teresa@LuxuryHideaways.net.
If you enjoyed this post, make sure you subscribe to my RSS feed!
There is no need to go to the shopping mall!  Traveling to the warm and balmy South Seas is more inviting then a new sweater or snow shovel!  Just mentioning the exotic islands of Bora Bora, Moorea, Huahine or Taha'a will warm a persons soul - so grab your flip flops and lets plan your romantic Christmas present for just you and your honey on this all inclusive 300 passenger ship today!
m/s Paul Gauguin is offering 50% off standard cruise fares plus included roundtrip airfare from Los Angeles! An incredible savings on all of their Tahiti and French Polynesia cruises.
There are several itineraries from which to choose.  There is a 7 night cruise around the islands of Tahiti, but there are also 10 night cruises visiting the Society Islands & Tuamotus or 11 night cruises visiting the  Cook Islands & Society Islands as well as 11 night cruises around the Marquesas, Tuamotus & Society Islands so you can see the options are endless!
The m/s Paul Gauguin was designed specifically to sail the shallow seas of Tahiti and French Polynesia, visiting small ports that larger ships can't reach and effortlessly blending into the stunning natural beauty of the South Seas.
Life onboard the Gauguin is grand!  You will be traveling aboard a 5 star floating resort where the dining is exquisite and the drinks are flowing.
Enjoy the swim step off the back of the ship, where you can launch your kayak for 2 or try snorkeling.  There is so much to do - there are only 300 lucky passengers that get to explore the South Pacific each week so they do sell out, plan ahead, lets wrap up a brochure in a pareo for you to place under the tree for a memorable holiday!
Call me today - the Travel Gal at 800 644-6659 or email Teresa@LuxuryHideaways.net for more details.
If you enjoyed this post, make sure you subscribe to my RSS feed!
Its beginning to feel alot like winter… and now is the time to plan your winter escape. How about cruising around the South Pacific - not on a huge cruise ship - but on a working freighter! I promise, they will not enlist your assistance in working aboard the Aranui freighter, instead you will be exploring the remote islands, deep in the South Pacific, where few Tourists have tread before!
Here is a sample itinerary:
Day 1 - Papeete, Tahiti
Day 2 - Fakarava, Tuamotu Islands
Day 3 - At Sea
Day 4 - Nuku Hiva (Taiohae-Hatiheu-Taipival)
Day 5 - Ua Pou (Hakahau-Hakahetau) Marquesas
Day 6 - Hiva Oa (Atuona)
Day 7 - Fatu Hiva (Omoa-Hanavave)
Day 8 - Hiva oa (Puamau-Hanaiapa)
Day 9 - Tahuata (Vaitahu-Hapatoni)
Day 10 - Ua Huka (Vaipaee-Hane-Hokatu)
Day 11 - Nuku Hiva (Taiohae), Ua Pou (Hakahau)
Day 12 - At Sea
Day 13 - Rangiroa, Tuamotu Islands
Day 14 - Arrival back in Papeete with a pocketfull of stories at around 9:30am
For more information and to begin planning this fabulous adventure call me, the Travel Gal
at 800 644-6659 or email Teresa@LuxuryHideaways.net
If you enjoyed this post, make sure you subscribe to my RSS feed!
The 21st Hawaiki Nui Va'a (or canoe paddle race) is currently underway - it is an intense, three-day outrigger canoe race from Huahine to Raiatea, Raiatea to Taha'a, and finally Taha'a to Bora Bora. To find out more about the history of the Hawaiki Nui Va'a click here,http://bit.ly/PHUNd4
Last year I was in Tahiti at this time - explored the islands and sought out a pathway for a great adventure - following the path of the race.  This is an international event, paddlers arrive from around the world.  If you're interested you definitely need to plan a year in advance, I'm experiencing the adventure next year! Bring it on!
If you enjoyed this post, make sure you subscribe to my RSS feed!
Hi Teresa - Sorry I have not written sooner to thank you for helping us with a wonderful and memorable trip to Maui.  The trip was all amazing! We especially loved Hana and the drive was very fun.  We stopped at a few places on our way to Hana, did a few waterfalls.
Travaasa Hana was great and very relaxing.  I could have spent a few more days there.  We went to the Seven Sacred Pools and then hiked to the Waimuku waterfall, but mostly chilled out.
We also enjoyed Feast at Lele in Lahaina. We also made it over to Mama's Fish House and walked around Paia, watched the windsurfers and got to Makawao. All in all packed quite a bit in.
Michele and I decided that we want to come back in a few years with the kids.  I think both of them would love it.
Thanks for all your effort in making our 10 year anniversary trip awesome!
Kevin S.
If you enjoyed this post, make sure you subscribe to my RSS feed!
When I visited the islands of Tahiti my favorite mode of travel was the Aremiti Ferry between the main island of Tahiti and Moorea.
It was a real treat to board the ferry, stop at the coffee bar for a fresh chocolate croussant and strong cup of coffee before climbing the steps to the top deck to bask in the sun for our 30 minute ride to Moorea.
This was not a "Tourist boat", this is their main form of transportation! We were joined by school children and Mothers shopping at the Market as well as a few Tourists.
Travel to the island of Bora Bora as well as the outer islands is a short airplane ride aboard the domestic airline, Air Tahiti.  It is located at Tahiti Faa'a Airport and is also a laid back and enjoyable experience.  No TSA lines of course!
As the major inter-island airline, Air Tahiti serves 40 islands, including Moorea, with newer, twin-engine, jet-prop aircraft. Flights to the neighboring islands depart from Tahiti Faa'a Airport with frequent daily service between the most visited islands. This is the same airport where the international flights arrive in Papeete (PPT).
When I assist Clients with a trip to Tahiti, I suggest they visit 2 or 3 islands, depending on the length of their vacation.  We organize the Ferry boat and any other inter island transportation needed prior to departing the U.S.
Contact me, the Travel Gal at 800 644-6659 or email Teresa@LuxuryHideaways.net
to assist with your French Polynesian adventure!
If you enjoyed this post, make sure you subscribe to my RSS feed!