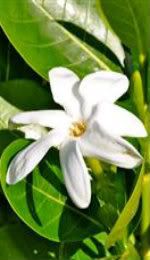 The "Tiare Tahiti" is the queen of all flowers in the Tahitian islands. It is symbol of all things pure and exotic. This white flower from the Gardenia family graces the air with an intoxicating scent.
As you board Air Tahiti Nui, flight attendants will give you one of these delicate flowers  as a "welcome" to your Polynesian escape. Locals wear the flower behind their ear… A cute story tells that worn behind the left ear, your heart is taken. But worn behind the right ear, it means that your heart is available for love…your exotic South Pacific island adventure begins!
If you enjoyed this post, make sure you subscribe to my RSS feed!
Sleeping Beauties Castle here we come - and its not at Disneyworld! Thorngrove Manor Hotel is a picturesque castle (truly a luxury hideaway) located in the southern part of Australia, in the outskirts of Adelaide city.
Upon arrival at Thorngrove Manor Hotel, you will be transported back in time due to the iconic baroque towers, flamboyant interiors and fantasy turrets.  You will also discover antiques, exquisitely crafted rooms and furniture, winding staircases, friezes, stencilled designs at every turn.  You will also experience the utmost in privacy and service while staying here.
Thorngrove manor is 20 minutes from the Adelaide city centre, in South Australia's oldest wine region. It is a romantic retreat perfect for fabulous day trips to Kangaroo Island, Adelaide, Barossa Valley and the Clare Valley. A scenic marked walking trail winds its way to the nearby village of Stirling.
Thorngrove is part of the unique Small Luxury Hotels of the World, and has been considered as one of the world's most outstanding, romantic and artistic lodges in the planet.
Lets organize your Australia cruise to include a few nights at this romantic retreat either before or after your cruise! Contact me, the Travel Gal at 800 644-6659 or email Teresa@Luxuryhideaways.net
If you enjoyed this post, make sure you subscribe to my RSS feed!
1.    What are your travel dreams? Where would you like to go? Perhaps a tropical island in the South Pacific, a historic tour of Italy or a gourmet food and wine cruise thru Australia & New Zealand?  Antarctica anyone? Golf tour in Scotland or Ireland? How about a the freighter Aranui III as it delivers goods round the remote islands of the South Pacific? Did you know its the 100th birthday of the discovery of Machu Picchu in Peru? We can make it happen with a little planning - I am here to assist you - at no additional cost.  Even tho this website is dedicated to the South Pacific, I have been assisting my Clients for over 20 years, with travel plans all over the world.
2.     Do you know how much your trip would cost? Talk to me about securing a quote for your trip - we are able to customize it to fit your budget and timeframe. We also need to discuss length of the trip, how many days in each destination?  If it doesn't make sense - I will tell you.
3.     Credit card reward points - I am all about free airline tickets - talk to your credit card company about earning miles for your purchases.  If you have questions, give me a call and I am happy to point you in the right direction.
4.     Make Travel a priority in your life - the first step is dreaming it; then lets begin planning for it.  Everyone gets busy and can make excuses, but if you don't plan for it, it won't happen.
5.     Paying for the trip - many people do not realize you can secure a reservation with a partial payment, then set up monthly payments or you can pay the balance 60 days prior to travel.
6.     Vacations are good for productivity - everyone needs to recharge their batteries - there are always deadlines and a laundry list of things to accomplish.  Don't wait until the list is finished to plan your trip.
7.     You've heard of "the bucket list" - begin now with listing where you'd like to go within the next few years and give me a call, I am happy to assist you in planning your "travel goals!"
8.     Are you able to work remotely? If so, this will give you more time on your vacation.  In this computer age, its easier then ever to work from your vacation destination.  Travel whenever you want but set time aside to get some work done.
Call me for more details, I've been a Travel Adivsor for the past 20 years and am happy to brainstorm with you.  My number is 800 644-6659 (when I am out of the office it is attached to my cell phone). Or email Teresa@Luxuryhideaways.net and lets get started!
If you enjoyed this post, make sure you subscribe to my RSS feed!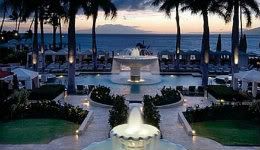 Who would've ever thought people would be flocking to Maui to cool off?! If our signature tradewinds and a dip in the beautiful blue Pacific never sounded so good, check out the low airfare that's being offered on nearly every travel site! It's currently 78 degrees and breezy here. What's the weather like in your neck of the woods?
By Four Seasons Resort Maui at Wailea
The Four Seasons Resort Maui at Wailea offers their Guests paradise with an understated island elegance.  Upon check-in, guests or the Four Seasons Resort Maui at Wailea are greeted with a fragrant fresh flower lei and a cool towel.
The two-story, open-air lobby faces the ocean and includes three restaurants, a casual bar, a spa, and health club wrapped around a courtyard with fountains, swimming pools, and spa tubs. By day, couples and families stake out prime poolside and white-sand beach spots. At night, live piano, ukulele, violin, and guitar music at the dining spots fills the air.
The resort is excited to announce their newly added infinity pool with 160 square-foot luxury cabanas, set in the exclusive 4100 square-foot Serenity Pool Terrace located on the southern-most ocean front of the resort area. Guests will find complimentary cool towels, bottled water, and Evian spritzes. The Four Seasons Resort Maui at Wailea beach concierge offers snorkeling gear at no additional charge. Individual and couples' massage treatments are offered in three private thatched-roof huts by the beach.
Three award winning restaurants serve a variety of cuisine from Italian to Pacific Rim to Steak & Seafood. , and a 21,000-square-foot spa provides a full range of exercise options and relaxation treatments.  The Travel Gal highly recommends their Spa services as some of the best on the island.
For more insider island information, contact the Travel Gal at 800 644-6659
or email Teresa@Luxuryhideaways.net
If you enjoyed this post, make sure you subscribe to my RSS feed!