We had wonderful time on our trip!!  Thank you so much for putting it together for us.  Neal & I thought you must have put in lots of time and energy to get us such a special trip.
We missed a couple of stops on our cruise.  There was a major storm so the Captain had to turn around and head back up the New Zealand coast to where the two island are and cut through there to get over to Australia.  It was quite exciting - the Captain told us the winds were 100 miles an hour.  He also said that for a while he cut the engine and the wind was pushing us backwards.  We stopped at Port Chalmers & then had 3 days at sea  - I'm not sure which places we missed - I think one had  a fiord in its name. I think we missed 2 stops during that time but we didn't care.  The crew made lots of activites for everyone to do and we all had a good time.  We enjoyed all the different Trivia games, Neal & Merrit & Sue played Bingo a couple times everyday  - Sue even won once.
The condo in Sydney was spectacular!   We particularly enjoyed the views of the harbor.  Each morning we looked forward to seeing what new crusie ships had arrived overnight.
Everything was so handy  -  short walk to the harbor, the rocks and shopping.  What more can a tourist hope for!!
Even though it started off hectic - with the storm in Seattle - it didn't take us long to love every minute of our trip.   We especially liked the Blue Mountain Tour we took.  Actually we liked all the tours and places we went while in New Zealand & Australia.
Thanks again for all the time and effort you put in to make our trip so special!
Dolores & Neal
If you enjoyed this post, make sure you subscribe to my RSS feed!
While visiting the Hawaiian Islands, the most economical way to vacation is to rent a condominium on or near the beach, especially if this is a family vacation.  The condominiums are set up with full kitchens and separate bedrooms - who wants to vacation with their kids in their bedroom for a week?! (what you get when you reserve just a hotel room for the family).
If you hurry you can take advantage of every 3rd night free at participating Aston Hotels and Resorts properties on four Hawaiian islands when you reserve your trip by Feb. 17, 2012. Following are the nightly starting rates for the promotion:
Oahu hotels (for travel from Apr. 1-June 30, 2012):
-Aston Waikiki Beachside Hotel from $137
-Aston Waikiki Joy Hotel from $147
-Aston Pacific Monarch from $183
Hawaii Island (for travel from Mar. 25-June 21, 2012):
-Aston Kona by the Sea from $245
-Aston Shores at Waikoloa from $259
-Aston Waikoloa Colony Villas from $285
Kauai (for travel from Mar. 25-June 21, 2012):
-Aston Aloha Beach Hotel from $119
-Aston Islander on the Beach from $165
-Aston at Poipu Kai from $229
-Aston Waimea Plantation Cottages from $299
Maui (for travel from April 9-June 19, 2012):
-Aston Maui Lu from $195
-Aston at the Maui Banyan from $199
-Aston Kaanapali Shores from $209
-?Aston Maui Kaanapali Villas from $209
-Aston at Papakea Resort from $209
-Aston Mahana at Kaanapali from $295
-?Aston Maui Hill from $309
In addition to the free nights offer, Aston is promoting its exclusive Aloha Book, with offers worth more than $2,500 in savings on dining, shopping and activities. The amenity serves as a guide to some of the best culture, history, cuisine and attractions in Hawaii.
Contact the Travel Gal at 800 644-6659 or email teresa@luxuryhideaways.net for more details.
If you enjoyed this post, make sure you subscribe to my RSS feed!
Recently I traveled all over the islands of Tahiti to check out the most luxurious and romantic boutique luxury hideaways in the South Pacific - hey somebody has to do it right?!  My vote is for Le Taha'a Private island Resort & Spa!
We were met at the airport by our speedboat - imagine walking off a plane and right over to your waiting yacht! This was the first clue we were experiencing top of the line luxury! Our 20 minute ride was a photographers dream - pictures of pearl farms on stilts in the water, the oceanfront community church of Taha'a as well as the assorted little glimpse into island life makes for some great memories.
Arriving at Le Taha'a we were escorted to our huge overwater, island inspired bungalows complete with private deck, snorkle gear, seperate bath w/shower and amazing soaking tub, and king size bed - absolutely one of the most luxurious bungalows I've ever seen.
We dined in the Ohiri Restaurant which is the resorts goumet option. The Chef delighted us with french/polynesian fusion cuisine. The Sommelier selected wine to compliment the cuisine from their excellent wine cellar.
TravelGal opinion: The food! Oh my stars! We enjoyed a 4 course dinner with wine pairing that will rival any top restaurant - for the foodies out there - this is where you want to be!
Atmosphere is cozy, warm and romantic…palm trees are swaying, birds are singing, life is good on Le Taha'a.
Room Tip: Every room is amazing but I would pay up to experience the overwater bungalows.
For more inside scoop - call the Travel Gal at 800 644-6659
If you enjoyed this post, make sure you subscribe to my RSS feed!
This year the annual 3 day canoe race is set for Nov. 7-9, 2012 in the Leeward Islands of Tahiti.  Va'a (canoe racing) is one of the traditional sport of Tahiti.  Over 100 canoes will race between the islands of Huahine, Raiatea, Taha'a and Bora Bora.  The finishing line will be at the Matira Point in Bora Bora.  Travel Gal is making plans to be there - who wants to join me?
For more information contact me at Teresa@LuxuryHideaways.net
If you enjoyed this post, make sure you subscribe to my RSS feed!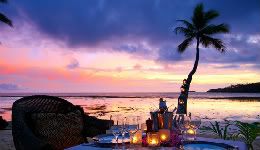 Namale Resort & Spa is an 5 star all inclusive, adults only luxury hideaway tucked away in the jungle on the East side of Fiji - it is extremely romantic and in fact has been voted #1 most romantic resort in Fiji by 2011 Tripadvisor readers.
In celebration of the award, Namale Resort is offering a Valentines Day special - stay 7 nights/pay for 5 nts at this amazing resort.
Namale caters up to 44 people at any one time. With 120 staff on call to help turn dreams into a reality, their guests are pampered beyond belief.  Since we are talking about pampering - the Spa is world class - Namale Spa & Sanctuary is like no other… Built on 10,000 square feet of volcanic uplifts, treatments consist of a blend of Asian, Western and traditional Pacific techniques; leaving a feeling of relaxation and wellness for the mind, body, and soul.
To further celebrate love in Fiji, Namale created a Holiday Package for the perfect Valentines Day which includes seven nights at any bure or villa at the Namale Resort plus the following amenities:
All Meals - Full service breakfasts, 3-course lunches and 5-course dinners and snacks
All beverages including beer, liquor, red and white wines and champagne
Round trip transfers to and from Savusavu Airport
Fully stocked and daily replenished mini-bar
Daily laundry service
Complimentary access to the Namale Fitness Centre, Kava Bowl (Indoor Entertainment Centre) & Hydrotherapy Room at the Namale Spa & Sanctuary
Complimentary activities include freshwater pools, snorkeling, kayaking, horseback riding, golfing, volleyball, bowling, virtual golf, waterfall hikes, movie theatre and more!
For more information contact the Travel Gal at 800 644-6659 or email Teresa@LuxuryHideaways.net
If you enjoyed this post, make sure you subscribe to my RSS feed!