Hi Teresa,
The honeymoon was amazing!!! Tahiti is beautiful! Expensive though!!
Thanks for your help in planning this trip, we had a wonderful time.
We were upgraded at the Intercontinental in Moorea to a premium beach bungalow. That was pretty cool except that the waters were a little choppy so it was a little difficult to snorkel.  Still beautiful though!
In Bora Bora, the Hilton was amazing! Unfortunately, they were completely booked and we were not able to get an upgrade but our bungalow was still amazing.  Being able to jump off the deck into the water to snorkel was cool as well!
I'm so glad that you were able to get some of the meals covered under our package. The food was ridiculously expensive! We were very shocked at the quality and the price.  The quality was mediocre and the price was outrageous.  However, we did have an amazing meal at one of the local restaurants in Moorea. The Polynesian buffet at the Intercontinental was very entertaining as well.
As for the excursions, the ATV tour in Moorea was so much fun! It was definitely a good choice.  We also signed up for deep sea fishing in Moorea, which was a BAD choice. We didn't catch any fish and I was sea sick the entire time.  I normally don't even get sea sick! As for Bora Bora, the jet skiing was a lot of fun as well. It was bascially a circle island tour on jet skis. However, we signed up for a Lagoon Safari and that was by far the best excursion! We got to swim with sharks and sting rays!! The jungle safari in Bora Bora was the least fun.  It involved just sitting in a jeep and touring the island with some off roading, but not much. Luckily, it was the cheapest!
Thanks again for organizing the trip!  We had a fabulous time and are very sad to be back at work!
Jocelyn
If you enjoyed this post, make sure you subscribe to my RSS feed!
Are you dreaming of the islands of Tahiti? Are you having visions of seeing crystal clear blue water and pretty little fish thru your snorkle mask? Lazily kicking your fins around a secluded lagoon with the only sound you hear is the waves lapping the shoreline. You are completely relaxed knowing all of your vacation expenses are covered because you have a stateroom aboard the m/s Paul Gauiguin - the all inclusive small ship cruise that is more like a large yacht with its swim step off the back of the boat, filled with all the water toys you need for a week?
Welcome aboard!
Reserve your stateroom by October 8, 2011 onboard the Paul Gauguin sailing around the South Pacific.  The Gauguin is offering unbelievable savings on select sailings of two of their most popular voyages.  While you reap the benefit of these exceptional savings, you'll also enjoy the highest standards of luxury, quality and service in the most exquisite destination on Earth.
TAHITI & THE SOCIETY ISLANDS | 7 NIGHTS Fares from $3,647 per guest for the dates of March 31, 2012/ April 21, 2012/ April 28, 2012 and May 5, 2012 Plus FREE airfare from Los Angeles
or
MARQUESAS, TUAMOTUS & SOCIETY ISLANDS | 14 NIGHTS Fares from $4,997 per guest for April 7, 2012 sailing Plus FREE airfare from Los Angeles
Space is extremely limited and filling up fast - call the Travel Gal at 800 644-6659 or
email Teresa@LuxuryHideaways.net for more details & restrictions
If you enjoyed this post, make sure you subscribe to my RSS feed!
I have Clients asking about internet & phone service while vacationing in Fiji. I remind them that once they travel to an island the size of a postage stamp in the middle of the Pacific Ocean where the locals still use smoke signals and loli drums to communicate, their phone card just might not work.
Having said that, I have been told the best internet solution would be to purchase a local pre paid Flashnet from a Vodafone shop at the Nadi Airport or on the mainland. These are relatively inexpensive and the cost is currently from F$39 (plus the recharge cost). Vodafone currently has a shop at the airport, right beside the ANZ bank as you come through the arrivals door.
You may be able to purchase a Flashnet online so that the airport branch will have one ready for you upon arrival into the country, so all you will be required to do is register on collection. The Flashnet can be plugged into your laptop to connect to the Internet and can be used in many places. For further details, you may wish to visit their web site at: www.vodafone.com.fj.
For more information on travel to the Fiji Islands, call 800 644-6659
or email teresa@luxuryhideaways.net
If you enjoyed this post, make sure you subscribe to my RSS feed!
The Feast at Lele is located in Lahaina, at the South end of Front Street - 505 Front Street, on the water. Lele is the ancient name for Lahaina, and on this beach is where the royals would entertain and feast. It is no wonder then that this is now the home to the "Cadillac" of luaus, the Feast at Lele – an intimate and sophisticated evening with Polynesian cuisine and entertainment.
Each presentation is designed with authenticity in mind. The tour begins in Hawaii; then they journey to New Zealand, Tahiti and end with Samoa — the show is very entertaining and beautiful. The luau is very elegant and I love that it is a sit down dinner with wonderful entertainment, food and drinks.
What makes Feast at Lele special among luaus is that it is a sit down dinner (no standing in a buffet line!), with prIvate tables reserved for the number of people in each party. The setting is spectacular, and every table offers a panoramic view.
The Menu is designed by Executive Chef James McDonald and he presents a celebration of Polynesian cuisine with each course progressing through the islands of Polynesia to match the entertainment: first course from Hawaii, second course from New Zealand, third course from Tahiti, fourth course from Samoa and fifth course is dessert. Traditional Polynesian staples like banana, taro and sweet potato chips served with a tropical ginger and ogo seaweed salsa. You will not leave hungry and will love the authenticity of this fabulous luau.
If you want to celebrate a special occasion like an anniversary, honeymoon or birthday - the Feast at Lelel is "doin' it island style".
For more Island style ideas call the Travel Gal at 800 644-6659 or email teresa@luxuryhideaways.net
If you enjoyed this post, make sure you subscribe to my RSS feed!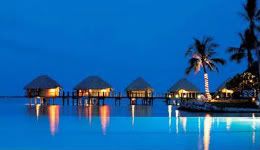 Manihi is an atoll in Tahiti's Tuamotu Archipelago. It is the idyllic retreat of a South Sea Society Island life. Manihi offers balmy breezes, idyllic pristine beaches and clear waters.
Where to stay: Manihi Pearl Beach Resort is a little luxury hideaway offering beachside and overwater bungalows with hardwood floors and palm-frond ceilings have ceiling fans, minibars, and coffeemakers.
The complimentary amenities include miniature golf, snorkel in the lagoon, and paddle kayaks and outrigger canoes at no extra charge.
There are only 41 guestroom at the resort, offering a very personal feel. The staff caters to the needs of each and every guest by helping plan trips, personalizing your bungalow and offering helpful tips about the area. Visitors will experience a relaxing and calm vacation surrounded by the pristine waters and natural, undiscovered beauty of the Tuamotu Archipelago.
The true gem of the resort is the surrounding water, filled with dazzling arrays of fish and coral reef life. Diving and snorkeling are the best way to see the beauty of the lagoon up close and personal. The resort is famous for its "Motu Picnic" which includes fishing, snorkeling, delicious seaside dining and an endless view of the turquoise blue horizon.
Manihi atoll is a great destination if you are looking for a Tahitian Cultured Pearl, which is Tahiti's largest export and a local specialty.
Visitors can explore Tahitian cultured black pearl farms in the Tuamotu atolls Manihi, Rangiroa and on the islands of Raiatea, Taha'a, and Huahine, and can watch the grafting of the blacked-lipped oysters that create these exotic and highly prized pearls. Before buying pearls, stop by theblacked-lipped oysters Tahiti Black Pearl Oyster Museum in Papeete to learn how to judge the value based on size, color, luster, and shape.
If you are looking for the ultimate island paradise, a tiny little haven for just a few chosen people,
Contact the Travel Gal at 800 644-6659 or Teresa@LuxuryHideaways
to plan your romantic beach vacation!
If you enjoyed this post, make sure you subscribe to my RSS feed!
Aloha and Ia Orana,
Cruising around the islands of Tahiti for a romantic cruise celebration sounds like a fabulous idea to me! Lets review some small ship cruise options for you:
7 Night Haumana Cruise
A unique experience of discovery in the pristine ocean environment of Rangiroa!  Cruise in luxury in one of 12 well-appointed cabins, with all-inclusive gourmet dining and charming motu picnics. Swim, snorkel, hike, or relax on the deck at sea in this romantic paradise. The 7 night cruise departs from Rangiroa on Saturdays and Wednesdays. The guests fly into Papeete, stay overnight 1 night, then they will be transferred by plane to Rangiroa.
Location: Rangiroa, Tahiti.
Haumana Cruise Amenities:
Air Conditioning, Bar (On upper deck & open all day.), Bathroom Amenities, Boutique, CD Player, DVD Player, Hair Dryer, Housekeeping (Twice daily), In Room Safe, Jacuzzi, Mini-Bar, Television, VCR.
Haumana Cruise Activities:
Dolphin Watch, Fishing, Fly Fishing, Jacuzzi, Jet Skiing (At an additional cost), Kayaking, Nature Excursions (Visit unspoiled motus and virgin reefs), Polynesian Dance Lesson, Snorkeling, Surfing, Vineyard (Dominique Auroy's Vineyard).
Attractions:
Snorkeling, swimming, authentic island craft demonstrations and performances by local cultural groups.
If you would like to experience the romantic islands in the South Pacific,
Call 800 644-6659 or email Teresa@LuxuryHideaways.net for more details
_____
The Aranui III offers 86 cabins & is an Inter-Island Freighter!
Have you ever longed to hop a freighter to the romantic South Seas? Well, now you can, with Aranui Cruises - a delightful alternative to the more sumptuous cruises in and around Tahiti. The Aranui III is a state-of-the-art freighter that delivers supplies to the Marquesa Islands and also carries passengers.
Inspired by the tales of Herman Melville, Jack London and Robert Louis Stevenson, travelers go along to get in touch with the spirit of adventure that lies dormant in us all, and because no other cruise offers such an authentic slice of Polynesian life.
The Aranui III offers 13 to 16 night trips with Saturday departures.
Aranui Amenities:
Air Conditioning, Balcony or Patio, Bathtub, Cocktail Lounge, Gym/Fitness Center, Laundry Service (Washers & Dryers available; No Dry Cleaning), Library, Live Entertainment (Members singing and playing hand craft ukuleses), Refrigerator, Shared Bathroom.
Aranui Activities:
Fishing, Horseback Riding (On Ua Huka Island), Scuba Diving, Snorkeling, Surfing, Swimming Pool.
If you would like to experience the romantic islands in the South Pacific,
Call 800 644-6659 or email Teresa@LuxuryHideaways.net for more details
_______
Paul Gauguin Cruise
Named after France's greatest Post-Impressionist painter, whose work is indelibly linked to Tahiti and Polynesia, the Paul Gauguin is the ideal ship on which to explore the world's last natural paradise. The ship accomodates 318 passengers and departs out of Papeete. Come experience the ultimate in luxury, service and impeccable cuisine aboard a ship that celebrates the art of living in true Gallic style.
Paul Gauguin Cruise Amenities:
Air Conditioning, Bathrobe, Bathroom Amenities, Bathtub, Beauty Salon, Boutique, Business Center (There are four computers and a printer), Butler Service (In Suites only), CD Player, Concierge, DVD Player, Direct Dial Phone, Dry Cleaning Available, Fax Machine Available (Sent/received through the reception desk), Fruit, Gym/Fitness Center, Gym/Fitness Center, Hair Dryer, Internet Access, Laundry Service, Library (A wide selection of books is available), Medical Services (Doctor & nurse equipped to provide medical care), Mini-Bar, Refrigerator, Room Service, Room Service (24-hour room service), Shower, Spa Services (Carita Spa & Beauty Salon), Television (TV/ VCR), Video Library.
Paul Gauguin Cruise Activities:
Art Gallery (Fare Tahiti Gallery), Casino, Casino, Dance Club (La Palette Lounge, Piano bar & romantic nightclub), Diving, Island Excursions, Kayaking, Kayaking, Night Club (Polynesian performances, dancing, cabaret singer), Outdoor Pool, Scuba Lessons, Snorkeling, Swimming Pool, Water Skiing, Windsurfing.
If you would like to experience the romantic islands in the South Pacific,
Call 800 644-6659 or email Teresa@LuxuryHideaways.net for more details
If you enjoyed this post, make sure you subscribe to my RSS feed!
Here are a few tips to ensure a great trip to Hawaii:
*  Reconfirm your flight, seat assignment and frequent-flyer number with the airline 24 hours before departure;
* You must present legal photo identification upon check-in in order to receive you boarding pass.  Passengers without boarding passes will not be allowed through the security checkpoint;
*  You should consider using the curbside porter service to expedite check-in, if available;
*  You should keep check-in bags fit and trim, and under the airlines' maximum weight allowance. Call the airline for weight and quantity restrictions;
*  Excess luggage may trigger additional fees from the airlines, and in some cases, may not be allowed on the plane at all;
* Be sure to pack photo film in carry-on bags. The equipment that screens check-in luggage can be hazardous to undeveloped film;
* Do not pack food and beverages into check-in luggage;
* Do not bring gifts pre-wrapped.  The baggage screeners may need to examine them;
*  Upon check out of your hotel, be sure to check with the Hotel Concierge or Front Desk how much time you should give yourself to drive to the airport.  Allow sufficient time to drop off your car;
* Upon your return flight to the U.S. Mainland, plan on sending your check-in luggage through the U.S. Department of Agriculture (USDA) baggage inspection station before you head for the ticket counter. USDA regulates the export of flowers, fruit and other plant materials from Hawaii.
Bringing Fruit Home
USDA regulations do not allow un-inspected fruits, flowers and other plant material to leave Hawaii. But if you would really like to take some home, the easiest way is to place an order in advance from one of the several companies that will select, pack, and deliver produce to the airport. These pre-ordered products (including pineapples, papaya, onions, macadamia nuts and protea flowers) are pre-inspected and cleared for shipment out of state.
For more travel tips and information contact
The Travel Gal at 800 644-6659 or
call Teresa@Luxuryhideaways.net
If you enjoyed this post, make sure you subscribe to my RSS feed!
If you enjoyed this post, make sure you subscribe to my RSS feed!
Early Saturday morning marked the annual Pailolo Challenge Canoe Race between Maui and Molokai scheduled for a 9:00am start at D.T. Fleming Beach. I arrived at 730 am, along with 2 greyhound busses of paddlers from the Westin Villas. Hundreds of paddlers fly in from all islands for this event. It is one of the last canoe races of the season that runs from the end of May until the beginning of August. Paddlers train all year for this 26 mile race. Last year approx 100 teams participated in the Challenge.
Driving my little car down toward Fleming beach, there was a light mist in the air - the Hawaiians would call it a blessing, I looked out onto the water, there was a rainbow - I think the blessing is in the rainbow.
As I was setting up my little mat on the hillside to ensure a great view, I began talking story with an older Hawaiian gentleman resting at a picnic table. I asked him if he ever paddled the Pailolo channel - oh sure yea he says, "Back in '58 it was just a bunch of us guys getting together, nothing organized like this, just guys having fun. We later formed the Lahaina Canoe club in about 1960.'" Someone asked him if the 1st place team in the Pailolo challenge won any money, he replied, "No, but they give choke prizes, its done for sport and good times."
There were a few hundred people on the beach and grassy area, team members preparing their canoes, family and friends wishing safe passage and a general excitement in the air. I spotted an old friend of mine that was in the race, he shared that in an effort to prepare for this race, the paddlers have already spent the season racing against the other dozen or so Canoe Clubs around the islands. Also they've paddled quite a few practice runs for the 26 mile race by paddling their one-man canoes over to Molokai, then hopping onboard the ferry for the trip back to Maui. The Molokai ferry allows paddlers to carry a one-man canoe onboard, stacked in the back of the ferry.
I've also learned, each team consists of 9 - 12 members. Each canoe is assigned an escort boat (most of the escort boats were small commercial fishing boats) that carry the extra paddlers on board as there are only 6 seats on each canoe. It takes an average of 3 hours or more to paddle across the channel. The paddlers change out 1 seat every 10 minutes thereby allowing each paddler to paddle for an hour, then take a break and watch the action from the comfort of the escort boat. He continues on that It's pretty much a straight shot from D.T.Fleming Beach to Kauanakakai Harbor. Just paddle to the Kamalu Buoy and turn toward Molokai.
Pailolo Channel is one of the windiest channels in the Hawaiian Islands. The tradewinds blowing between Maui and Molokai funnel the waves into perfectly spaced bumps that offer a great ride virtually all the way from Fleming Beach to Kaunakai Pier 26 miles away.
As 9:00am was fast approaching, the canoes were carried down to the shorebreak, everyone sporting their team colors. There were lots of spectators milling about, taking pictures and generally getting in the way. As the paddlers launched their canoes across the waves breaking on the shoreline, the first 6 paddlers climbed aboard their canoe and began paddling out to meet up with their assigned escort boat. The rest of the team members jumped in the water and began swimming out to meet the escort boat as well. The canoes lined up on the horizon, the gun sounded and the race began - 26 miles to Molokai…..
Of course I was still on the beach on Maui but I knew when the race was over and everyone was safely in, all of the teams would be greeted with flower leis, hugs, ono grinds, cold drinks and lots of aloha - next year I'll need to plan ahead to meet the canoes and share in the good times on Molokai. Ahh life on an island in the middle of the sea….
If you enjoyed this post, make sure you subscribe to my RSS feed!
From November to February, Oahu's North Shore waves average heights of 16 feet. For about 20 days during this peak season, waves swell to 36 to 50 feet in size. On occasion, winter waves have topped 100 feet. It's awe-inspiring to watch, but surfing these massive waves is best left to the pros. The Vans Triple Crown of Surfing will take place November 12 - 20, 2011.
Turtle Bay Resort & Ocean-villas information
One of the closest and best hotels to stay in to see all the action close by is the Turtle Bay Resort & Oceanvillas - a little luxury hideaway tucked into the North shore. Here is some info on the resort:
Oceanfront resort
Set on 880 oceanfront acres just four miles from the renowned Banzai Pipeline and Sunset Beach.
Beach cottages
Each of the 400 guestrooms and beach cottages offer oceanfront views and gracious Hawaiian service.
Spa, surfing & golf! - need we say more?
Enjoy dining choices from poolside casual to upscale gourmet, and recreation options including Spa Luana, 10 tennis courts, horseback riding, surfing, and 36 holes of championship golf.
What to Expect: Set along five miles of secluded shoreline, coves, and bays, this 880-acre Oahu resort encapsulates the North Shore's natural beauty. Adjacent to the resort's east side is Kuilima Cove, protected by a reef from ocean swells for prime snorkeling and swimming. On the resort's west side is Turtle Bay, site of surfing tournaments.
Amenity Highlights: Spa Luana offers a range of locally inspired massages and body treatments such as the Hawaii Coffee & Macadamia Nut Scrub. Turtle Bay Resort's pool complex has a 70-foot main pool area, two secluded spa tubs, a large children's pool, and an upper-level pool with a rock waterfall and 80-foot waterslide. Other leisure options include two championship golf courses, tennis courts, and surfing lessons.
Insider Tip: Though it can't be seen, only imagined, there is an underwater canyon in front of the resort that humpback whales follow when returning to their summer home in Alaska after wintering in Hawaii. A Honolulu newspaper rated the resort as one of the 10 best whale-watching places on Oahu.
For more information and special rates call the Travel Gal
at 800 644-6659 or teresa@luxuryhideaways.net
If you enjoyed this post, make sure you subscribe to my RSS feed!