Do you hear a little whisper in your ear? Perhaps the swaying palm tree or ocean breeze? Are the islands of Tahiti calling you?  Bora Bora, Moorea, Raiatea, Taha'a, Huahine…come and explore lush green valleys, numerous waterfalls, pineapple and vanilla plantations. Private island beach picnic on a deserted motu? Champagne & lobster are a great combination!
Do you dream of strolling along a white sand beach with swaying palms, hiking spectacular mountain peaks, or snorkeling in the multi-hued lagoons of a tropical island?
In an overcrowded, overdeveloped and overcomplicated world, Tahiti and her islands offer a welcomed trip back. Go back to a time of simple, natural beauty-where no structure is taller than a palm tree. Time to begin planning your winter vacation…
If you enjoyed this post, make sure you subscribe to my RSS feed!
Kokua means to help, cooperate, assist or support. It means to care and share with each other. Your client may see signs on Maui that say: "Please Kokua." That means to please understand and please cooperate.
If you enjoyed this post, make sure you subscribe to my RSS feed!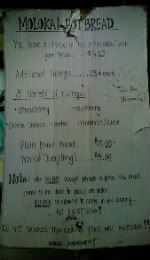 Visit the main town of Kaunakakai stop by Kanemitsu Bakery's "Hot Bread Run," a local favorite from 10 p.m. to 12 a.m., Wednesday through Sunday only. Go to the back door of the bakery down the alley, knock on the door and order your favorite treats, including fresh Molokai Bread smothered with choices of butter, cinnamon, cream cheese, raspberry and blueberry jam or have the works (everything) guava, cream cheese, cinnamon, apples and more.
NOTE: A few years ago I participated in a midnight breadrun on Molokai - its fantastic but also the best kept secret in the islands. This is the first time I've seen the Molokai Breadrun mentioned in print. Also I have met very few kaamaiana that have participated in it. Truly not to be missed!
Enjoy the music at Hotel Molokai's Ocean side Restaurant every Friday afternoon from 4:30 p.m. to 6:00 p.m. That's when Molokai's kupuna (elders, pronounced koo-POO-nah) gather to sing and play Hawaiian music Molokai style. Cocktails and pupu (hors doeuvres, pronounced poo-poo) served ocean side.
Stock up on food at Misaki's Store in Kaunakakai, especially if you're arriving on Sunday morning before 11 a.m. In the afternoon, Molokai's grocery stores all close for the rest of the day. Molokai Wine and Spirits is open daily until 10 p.m., selling some of the finest wines and beers. They also offer snacks, ice cream, ice and non-alcoholic beverages.
Attend a church service. Known as an island of prayer, Molokai has more than 23 churches representing numerous denominations. Many of them offer services twice a day as well as evening services. The Molokai Dispatch newspaper publishes a guide to church services, hours and locations.
Go on a guided hike to discover the heart of Molokai.
Watch Moana's Hula Halau (school, pronounced HAH-low) practice their art at the Mitchell Pauole Community Center on Wednesdays at 5:30 p.m. Although Molokai is known as the birthplace of hula, you won't find any commercial hula shows on the island, and this is the best way to experience this traditional dance.
If you enjoyed this post, make sure you subscribe to my RSS feed!
Aloha,
I was very pleased with Teresa's voluntary information about Maui. We have been there before but she added to our former experience. I especially like her phone etiquette and follow/up. She was able to get us the exact type of condo we needed. She suggested reserving a car for us and saved us a tremendous about of worry about added reservations. I will definitely trust her with any future reservations.
Sincerely
Joyce S.  August 2011
Note: Joyce reserved an 11 day vacation at the Aston Papakea Resort on Maui for herself and family
Aston Papakea Resort:
Located on the West side of Maui, just 4 miles North of Lahaina is one of my favorite moderately priced luxury hideaways (they dont have to be expensive!) - Papakea Resort. It is an oceanfront condominium surrounded with hibiscus, plumeria trees and bird of paradise, it is a gardners delight. The property is immaculate and offer 2 large swimming pools, spa tubs, 18-hole putting greens, shuffleboard courts, and barbecue areas.
Papakea Resort offers studios as well as 1 and 2 bedroom condos.  They are very spacious with all of the amenities of home, including a washer/dryer and dishwasher, the conveniences of a hotel, and the fun-and-games of a resort bring family life to full flower.
Honeymooners find the spacious grounds and unusually beautiful gardens to be the perfect spots for restful privacy. On Monday evenings, a complimentary mai tai party brings everyone together for hula lessons and Hawaiian music.  The Aston Papakea offers my clients the enjoyment of living on an island in the middle of the Sea.
Are you ready to stick your toes in the sand and a maitai in your hand?
Call me at 800 644-6659 or email Teresa@Luxuryhideaways.net
If you enjoyed this post, make sure you subscribe to my RSS feed!
Aloha means hello, love, mercy, compassion, pity or goodbye. More importantly, it's an expression of the heart. Aloha is shown in numerous ways. A person who gives a lei to a visitor is sharing aloha. Aloha is also a spiritual recognition of the physical person, and thus, is sometimes expressed through an embrace, handshake or other form of physical contact, because for many, it's important to feel the other person.
If you enjoyed this post, make sure you subscribe to my RSS feed!
The Hawaiian Islands are the most isolated island chain on earth, and is located some 2,500 miles from the nearest continent.
Call me for more island information from a Kaamaiana (resident)
or if you'd like to visit our beautiful islands soon - Call Me at 1-800-644-6659
Your 'See the South Pacific Specialist' at Luxury Hideaways
If you enjoyed this post, make sure you subscribe to my RSS feed!
Be sure to take the time to uncover the significance of Lahaina, Maui as the first capital of Hawaii, the Pacific's wildest whaling port and a plantation settlement! This free, self-guided walking tour takes visitors to 62 significant sites throughout Lahaina, many of which have been designated National Historic Landmarks. Bronze plaques around Front Street mark the trail and designate points of interest.  Reward yourself at the end of the tour with a maitai at the famous Pioneer Inn, where Mark Twain slept.
If you enjoyed this post, make sure you subscribe to my RSS feed!
Are you looking for an adrenaline rush on your tropical island vacation? Forget about Bungy jumping or Ziplines! We have the ultimate adventure for you!  How about swimming with a shark? Well, swallow your fears and come face to face with one of Hawaii's most majestic and misunderstood creatures of the deep!
Oahu's North Shore has a large resident group of Galapagos and Sandbar sharks and Hawaii Shark Encounters visits a site where the sharks naturally occur to observe them. A specially designed shark cage not only protects but has plexiglass windows for a face to face encounter. Sometimes see as many as 30 sharks… and they come very close to the cage!
If you're looking for a once-in-a-lifetime adventure, I don't know if it gets better than this. Just getting in is a thrill, when sharks are circling the boat! You enter the floating shark cage from above (directly from the boat) and stay on the surface using a mask and snorkel (provided). Within just a few minutes of being inside the cage I relaxed and felt safe, realizing the sharks could not (nor were they trying to) get in the cage.
No experience is required. The best view is definitely from inside the cage but if going in the water is not for you, you can always stay in the boat and view sharks as they swim on or near the surface with fins slicing through the water.
In addition to being an unbelievable adventure, this is also an educational tour taking you into a world that few can ever experience. Guides offer fascinating facts about shark biology and behavior, about ocean life, conservation issues and about the significance of sharks in Hawaiian culture.
Hawaii Shark Encounters has been seen on National Geographic, Discovery Channel, CNN, Inside Edition, ET, Animal Planet and more! There are so many great reviews for Hawaii Shark Encounters…
"Absolutely Amazing"     "Don't be afraid, be amazed"    "This was on my bucket list"
Boat departs four times daily from Haleiwa Small Boat Harbor on Oahu's North Shore, for the 15 minute journey to the shark grounds (over 3 miles off shore). No rental car? No problem! We can include transfers from Waikiki if needed.
Word to the wise… it is a 32′ boat on the open ocean, and even on a calm day the boat still rocks! Early tour times offer calmer ocean conditions. Also, the water at the shark grounds is over 600 feet deep and you cannot see the bottom.
If you're looking for THE wildest ride of your life, give the TravelGal a call at 800 644-6659
or email Teresa@Luxuryhideaways.net
If you enjoyed this post, make sure you subscribe to my RSS feed!
Two of my favorite West Maui oceanfront condominiums are on sale.  Both properties qualify for my "luxury hideaway" criteria and are perfect for the romantic beach holiday or a relaxing and affordable family vacation.
The luxury Kaanapali Alii condominium resort is located centerfront on Kaanapali Beach is the place to be if you are looking for miles of white sand beach, walking distance to shops, bars & restaurants but still want your own little beachside oasis.  It also boasts the newest oceanview swimming pool.
If you are wanting to enjoy watching the dramatic Maui ocean sunsets, Kaanapali Alii offers ocean views that overlook the pool as well as unobstructed oceanfront views of the blue Pacific while sipping your maitai from your private lanai.
The packages begin pricing and include:
1 Bedroom Garden View
5 day compact car
Free parking
Stay 08/15/11 - 12/17/11
5 nights from $1770 for up to 4, "Super Saver 3 Promo"
—-
Lahaina Shores Beach Resort is the smaller sister condominium located in the heart of old Lahaina town.
Located direct oceanfront, along historic Front Street where Hawaiian royalty and Yankee adventurers once strolled - a quietly elegant oasis in an unbeatable location.
Pass through arched colonnades into an airy lobby, opening into the sea, and you're struck by her old-fashioned charm.  Casually stroll along the beach to your dinner reservation at a different restaurant every night or enjoy a bottle of wine an plate of pupus (appetizers) on your lanai while taking in the gorgeous sunset and listening to the beautiful South Pacific live entertainment from Feast at Lele located just below you.
Note from TravelGal: Always ask for the North end/highest floor so you will be able to watch the hula dancing complete with fire knife dancers performed nightly beachside at 505 Front Street.
Studio Mountain View
5 day compact car
Stay 07/27/11 - 01/01/12
5 nights from $755 for 2, "Super Saver 3 Promo"
For more details contact the Travelgal on island at 800 644-6659 or Teresa@luxuryhideaways.net
If you enjoyed this post, make sure you subscribe to my RSS feed!