If I have a Clients wanting to plan a romantic, adventurous and active holiday tucked away in a boutique resort off the beaten path in the South Pacific - the first person I turn to is Lynette Wilson, Owner of Destination World.
Lynette, (who returns at least 2 weeks a year to her native Australia), will figure out how to squeeze into a tight time frame everything on your wish list, including but not limited to all the highlights of Australia -Sydney (scaling the Sydney Bridge), Perth (All Aboard the Indian-Pacific Train, the Great Barrier Reef - scuba diving with turtles, sharks, dolphins - oh my!
Her real love are the islands of Fiji, where she's spent more than 400 days in the past 10 years (she even has an office in Nadi - so you will have a friend in the islands).  Her connections can get you access to private luxury island resorts as well as archaeological sites that are normally off-limits or a private tour of a non-commercial black pearl farm.
NOTE: She also runs a charity where she flies in Doctors & Nurses once a year to help the Fijian children - so when we work with her, party of the funds are helping the Fiji Islands.
At this moment we are working on a Client interested in a few weeks in New Zealand during the upcoming sailing regatta next March, 2012.  His itinerary includes:
AMERICAS CUP SAILING EXPERIENCE - Minimum 8 people / Max 30 people.
A unique opportunity to participate as crew on an actual America's Cup yacht. Take the helm, exert energy on the grinders or simply sit back and enjoy the ride as you sail the beautiful Waitemata Harbour.
The America's Cup is the world's oldest and most prestigious sporting trophy and ultimate yachting regatta.
Two hour America's Cup sailing experience:
· Participate as crew or sit back and relax   · No experience necessary
A sail on one of the America's Cup yachts has become a 'must do' attraction in Auckland. Whether you are an experienced sailor or have never been on the water, this is a once in a lifetime experience not to be missed.
The America's Cup was raced in Auckland in 2000 and 2003. With Sail NZ being an official Emirates Team Zealand supplier, no visit to New Zealand is complete without experiencing the real Auckland, the 'City of Sails'.
Bonus Inclusion:
Entry to the Maritime Museum, including Blue Water Black Magic exhibition, a tribute to Sir Peter Blake and New Zealand's extraordinary yachting success.
This is just one of the days we have planned for my lucky couple!  If you are interested in more information or need assistance in planning a unique and memorable holiday, call the TravelGal at 800 644-6659 and together with Lynette, we will make your travel dreams come true!
If you enjoyed this post, make sure you subscribe to my RSS feed!
Hayman Island, located on the Great Barrier Reef, Australia is truly a luxury hideaway!  It is a private island resort in a scenic and serene setting, ideal for couples and honeymooners. Hayman also offers a large range of activities for family vacations as well as the active traveler. It's the perfect place to relax by the pool or beach or have a day full of adventure and activities. Hayman has 5 restaurants, which appeals to travelers who like a lot of variety.
Discounted Ultimate Adventure rates apply to the following:
Stay 2 nights in a Luxurious Pool Room on Hayman Island with daily buffet breakfast in Azure, Roundtrip launch transfers from Hamilton Island and a Premium Full Day trip to the Great Barrier Reef.
Note: Non combinable, Conditions and Validity dates apply.
Why book Hayman Island?
1. The Beach Villas is the newest most luxurious accommodation in Australia. The villas are over 1,300 square feet, with private plunge pools and situated right on the beach
2. Coral-fringed beaches and majestic pools accentuate the secluded style of this private-island resort
3. Hayman offers elegant resort living with 210 guest rooms, suites, penthouses and beach villas - all of them include either a private terraces or balconies. Room types for each style of traveler in the Pool Wing, Lagoon Wing or Beach Wing
4. Winner of over 50 Australian and International Best Resort and Excellence awards
5. Guests can enjoy a vast amount of activities - from relaxation, indulgence to adventure - Ocean Massage, Night Dives, Sea Plane/Helicopter to Whitehaven Beach, Great Barrier Reef and Cruise Whitsundays outer reef pontoon
Families are welcome and kids will enjoy the vast array of activities and adventures at the Hayman Kids Club. Couples can and honeymooners are pampered by the Romance Escape or Spa Escape packages. Whichever the selection the award winning staff ensure that all guests enjoy the beauty and warmth of Hayman.
If you too would like to relax on a private island in Australia or combine a few days
with a South Pacific Cruise - Call Me at 1-800-644-6659
Your 'See the South Pacific Specialist' at Luxury Hideaways
If you enjoyed this post, make sure you subscribe to my RSS feed!
The Great Southern Rail - What better way to explore the natural beauty of Australia than aboard one of Australia's great train journeys between Perth - Adelaide - Sydney.
INDIAN PACIFIC TRAIN
The Indian Pacific gives you two oceans on one of the world's longest and greatest train journeys.  Named after the two great oceans it joins and symbolised by the magnificent wedge-tailed eagle that so often soars above it, the mighty Indian Pacific traverses 4,352km (2,698 miles) between Perth and Sydney.
More than three million guests have already enjoyed this epic journey, which spans a continent, travelling the whole distance in three days and three nights. Setting off from Perth, your train climbs through the scenic Avon Valley and into Western Australia's expansive wheat belt, before arriving late evening at your first stop in the city of Kalgoorlie.
Next day, you'll discover the landscape takes on a richer hue as the journey moves through the mallee scrub into the ancient Nullarbor Plain, with the landscape unmarked by the passing millennia.
Stepping off during a brief pause at Cook in the middle of the Nullarbor Plain, you will experience Australia's vast open spaces from a unique perspective.
Arriving in Adelaide the following morning you can choose to break your journey for a few days touring this picturesque city, or continue directly on to Broken Hill, with its countless tales of riches won and lost.
From here you'll travel through some of Australia's most productive farming country and into the arid outback as the sun sets. Next morning is the finale of your journey through the spectacular Blue Mountains.
Naturally, you can also do this journey from Sydney to Perth - it's just as unforgettable.
Whether your final destination on the Indian Pacific is west to Perth or east to Sydney, you'll have many opportunities to leave the train and take in some of the region's highlights. With so many wonderful sights to enjoy, this isn't just one of the longest train journeys in the world, but also one of the most memorable.
Route: Sydney - Adelaide - Perth
Duration: 3 nights in either direction
Distance: 4352 kilometres
Frequency: Twice weekly in both directions
Call us if you are interested in experiencing Australia by train, boat or private tour
800 644-6659 or email Teresa@LuxuryHideaways.net
If you enjoyed this post, make sure you subscribe to my RSS feed!
When planning a family holiday there are a few main questions to consider to make the most of your time and budget. Hawaii, Mexico, Europe, All Inclusive Resort, Family Cruise? The options are endless!
1. What are the ages of your children? If they are very small, you may want to narrow down your options to include non stop flights.
2. How long can you be gone on your holiday? Are your children in school. If they are, perhaps they can miss a few days if they write a travel report for homework.
3. What does your family like to do? Time at the beach, a ski holiday? Of course this depends on time of year too.
4. How much is your total budget? All inclusive resorts are a great way to go or even a cruise as the majority of your costs will be paid ahead of time - very important when you have hungry teenagers!
We Would Love to Help you Plan Your Fabulous Family Holiday
Call 800 644-6659 or email Teresa@LuxuryHideaways.net
If you enjoyed this post, make sure you subscribe to my RSS feed!
Add on to your fantastic cruise around the islands of Tahiti by ending your amazing holiday and enjoy Incredible savings at the one of Tahiti's premier luxury resorts!   Stay 7 nights stay at Le Taha'a Private Island and Spa Resort.
Designed to be one of the most luxurious hotels in French Polynesia; it is the only one of its kind in the archipelago. Le Taha'a is a proud member of Relais & Châteaux association which confers on it the symbol of quality known as the 5C's: Courtesy, Charm, Character, Calm & Cuisine.
Superbly located on the coral reef of Motu Tautau and facing the island of Taha'a on the lagoon side, it offers an unsurpassed view of the island of Bora Bora. In addition to a wide range of activities & excursions available in Raiatea & Taha'a, the resort has its own scuba dive center. It also offers a wide variety of unique treatments in the onsite Manea Spa - ranked among the top 3 spas in the world according to the Robb Report Magazine.
Package Includes:
* Roundtrip airfare from Los Angeles on Air Tahiti Nui
* Meet and greet and assist by local operator
* Inter island flights
* Roundtrip hotel transfers
* 7 nights stay in a Sunset Overwater Suite
* All taxes and service fees
Prices begin at $4,129.00 per person depending on occupancy.
Valid for travel from 1 October - 14 December 2011 and from 7 January - 31 March 2012)
Call your Luxury Hideaways Travel Gal for more information at 800 644-6659
or email Teresa@Luxuryhideaways.net today!
Ask for SSPOT 2011
If you enjoyed this post, make sure you subscribe to my RSS feed!
Dear Teresa,
MaryAnn and I want let you know that we had a wonderful time on our honeymoon. This was due to all of your planning. We cannot thank you enough for all that you had done for us. Thank you for the delicious chocolate covered strawberries. We will be in contact with you to help plan our next trip to Australia/New Zealand or Hawaii.
Thank You
Armand Cilento
If you enjoyed this post, make sure you subscribe to my RSS feed!
If you're thinking of taking a self drive road trip, you'll be happy to know that all New Zealand roads, including those in rural locations, are signposted. Just remember to drive on the left side of the road!
If you enjoyed this post, make sure you subscribe to my RSS feed!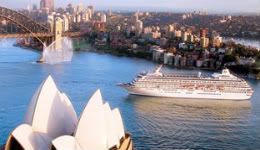 Depart from Auckland aboard Crystal Symphony December 20, 2012
Crystal Cruises has been awarded the "Best Large-Ship Cruise Line" for 15 years by Conde Nast Traveler.  Enjoy an Italian elegance, scrumptious cuisine and an extensive wine list at the Prego restaurant with signature creations by celebrity chef Piero Selvaggio.  Past guests rave about the unparalleled service, luxurious comfortable surroundings and sumptuous cuisine and extensive wine cellar.
Cruise Itinerary:
Day       Ports of Call       Arrival        Departure
1 Auckland, New Zealand —                  —
2 Auckland, New Zealand —          11:59 p.m.
3 Tauranga, New Zealand 9:00 a.m.    10:00 p.m.
4 At Sea
5 Napier, New Zealand 8:00 a.m.       6:00 p.m.
6 At Sea
7 Lyttleton (Christchurch) N.Z. 8:00 a.m.        6:00 p.m.
8 Port Chalmers (Dunedin) N.Z. 8:00 a.m.       6:00 p.m.
8 Cruise Dusky Sound
9 Cruise Milford Sound
10 At Sea
11 At Sea
12 Sydney, Australia 8:00 a.m.
13 Sydney, Australia
14 Sydney, Australia —             6:00 p.m.
15 At Sea
16 Melbourne, Australia 8:00 a.m.
17 Melbourne, Australia  depart ship
Your Package Includes:
Your package includes shipboard accommodations, ocean transportation, fabulous entertainment and daily activities, on-board meals and some beverages, port charges and more.
It does not include shore excursions, personal expenses, gratuities, or alcoholic beverages. Government fees and taxes are not included.
Call the Travel Gal for special pricing & details at 800 644-6659 or Teresa@Luxuryhideaways.net - Your Friend in the Islands!
If you enjoyed this post, make sure you subscribe to my RSS feed!
New Zealand communities, big and small, have been given a chance to share in the excitement of Rugby World Cup 2011. 23 centers are to host the teams - 16 in the North Island and 7 in the South Island. If you're going to be here for the duration, you can do a grand tour of New Zealand, staying in luxury hideaways & lodges while you following your team.
Contact us at 800 644-6659 or Teresa@Luxuryhideaways right way to plan your holiday
If you enjoyed this post, make sure you subscribe to my RSS feed!
New Zealand - Whats there to do? Are you looking for the ultimate New Zealand Adventure? Then lets review some options for you whether you arrive in New Zealand by land or sea, we are able to customize your holiday.
HOT AIR BALLOONING
You have to rise early to catch a hot air balloon flight, but the experience beats a sleep-in every time. As you float over a world that is only just waking up, your smile will be as wide as the horizon.
With the exception of Queenstown, hot air ballooning operators in New Zealand are usually found on the flatter parts of the country - North Auckland, Waikato, Hawke's Bay and Wairarapa.
North Island flights will take you above lush rural areas, where you can observe an ornate natural tapestry of pasture, crops, vineyards, forests, roads, rivers, lakes and towns. In the South Island, the imposing Southern Alps provide an impressive snow-capped backdrop for hot air balloon flights that float over the sprawling patchwork of the Canterbury Plains.
From inflating the envelope at the beginning of your adventure to the champagne breakfast that marks the end of your flight, hot air ballooning is a long-lasting thrill.
SKY DIVING
Is it time to make the big leap? Sky diving is one of those things that many people say they're going to do "some day". Maybe that day is going to happen during your New Zealand vacation.
On a tandem skydive, where you'll be strapped onto the front of a qualified jumpmaster, there's plenty of time to admire the scenery on the way down. You can expect up to 60 seconds of free fall, followed by several minutes of peaceful floating before touchdown.
In the far north you can admire the beautiful Bay of Islands as you float towards the drop zone. The central north island has volcanic wonders to enjoy - crater lakes, geothermal areas and mountains. Canterbury, Wanaka and Queenstown deliver vast amounts of alpine scenery on your down-to-earth journey.
One of New Zealand's leading skydive operators, and a winner at the 2008 New Zealand Tourism Awards, is Skydive Lake Wanaka. With Skydive Lake Wanaka, you can enjoy a personalised scenic flight up, 45 - 60 seconds of freefall at 200 kilometres per hour harnessed to your instructor, and five minutes of gentle parachute gliding towards the landscapes below.
The most southern jump on offer is in Te Anau - it's a very imaginative way to see Fiordland!
SCENIC FLIGHTS
If you aren't quite the daredevil, then lets look at a more comfortable way to view New Zealand. Sightseeing from a small plane or helicopter will give you the ultimate view of New Zealand's spectacular geography.
You'll be able to count the volcanic cones that are scattered across the face of Auckland; appreciate the immensity of Lake Taupo, a supervolcano that's just biding its time; and glimpse the beautiful glaciers that tumble down from the peaks of the Southern Alps.
Flightseeing opportunities are concentrated in areas where the scenery is most extraordinary - Northland and Auckland, the central North Island, Canterbury, Queenstown, Fiordland and the West Coast.
Some operators combine airborne sightseeing with ground explorations. White Island, an active marine volcano in the Bay of Plenty, is a destination that uses this formula. At Mount Cook and Franz Josef a ski-plane operator makes glacier landings, so that you can get out and feel the quiet solitude of the mountains. Another rare treat is a flight to watch the whales at Kaikoura.
Contact the Travelgal to assist you in building your
ultimate adventure holiday to New Zealand
Teresa@Luxuryhideaways or 800 644-6659
If you enjoyed this post, make sure you subscribe to my RSS feed!