Makawao, Maui - Paniolo (Hawaiian cowboy) town and a renowned art community
Located on the mid-slopes of Maui's Haleakala volcano, Makawao has one foot in its plantation past and another in its thriving arts community. This charming town was once named one of the top 25 arts destinations in the United States.
Makawao is the biggest little town in the region locally known as Upcountry Maui and is famous for its Hawaiian cowboys, or paniolo. Since the late 19th century, horseback-riding paniolo have wrangled cattle in Maui's wide-open upland fields. The Makawao Rodeo, held yearly on the Fourth of July, is Hawaii's largest paniolo competition and has been an Upcountry tradition for more than 50 years. The weekend events include a parade and traditional rodeo competitions such as barrel racing, calf roping and bareback bronco riding, all with a few Hawaiian twists.
For a snack, follow the locals to get a famous cream puff from T. Komoda Store. Established in 1916 by Takezo Komoda, a Japanese plantation worker, this little store and bakery does big business. Lines can be long in the morning when everything's fresh, so come early. The bakery is closed on Wednesdays and Sundays.
You can also spend the afternoon exploring and shopping in the eclectic shops, boutiques and art galleries in town. Makawao is also home to the Hui Noeau Visual Arts Center, where visitors can take classes and explore free gallery exhibits. The combination of its paniolo heritage and its lively artistic community make Makawao a unique stop on your visit to Maui.
Exerpts from GoHawaii.com
NOTE: I've got my cowgirl hat & jeans, camera in hand, pointing my little car upcountry Saturday morning for a dirt kickin' good time!
If you enjoyed this post, make sure you subscribe to my RSS feed!
Hula is a dance form accompanied by chant or song. It was developed in the Hawaiian Islands by the Polynesians who originally settled there. The chant or song is called a mele. The hula dramatizes or comments on the mele.
There are many styles of hula. They are commonly divided into two broad categories: Ancient hula, as performed before Western encounters with Hawaii, is called kahiko. It is accompanied by chant and traditional instruments. Hula as it evolved under Western influence, in the 19th and 20th centuries, is called auana. It is accompanied by song and Western-influenced musical instruments such as the guitar, the ukulele, and the double bass.
Terminology for two main additional categories is beginning to enter the hula lexicon: "Monarchy" includes many hula which were composed and choreographed during the 19th century. During that time the influx of Western culture created significant changes in the formal Hawaiian arts, including hula. "Ai Kahiko", meaning "in the ancient style" are those hula written in the 20th and 21st centuries that follow the stylistic protocols of the ancient hula kahiko.
Hula is taught in schools called halau. The teacher of hula is the kumu hula, where kumu means source of knowledge. Hula dancing is a complex art form, and there are many hand motions used to signify aspects of nature, such as the basic Hula and Coconut Tree motions, or the basic leg steps, such as the Kaholo, Ka'o, and Ami.
There are other dances that come from other Polynesian islands such as Tahiti, Samoa, Tonga and Aotearoa (New Zealand); however, the hula is unique to the Hawaiian Islands.
If you enjoyed this post, make sure you subscribe to my RSS feed!
Aloha Teresa,
We had the time of our lives, (so far :). Everything was perfect from the condo to the car. The snorkling , Ziplining, shopping, weather and great food were just a few of the things that made Maui paradise for us.
I would have never been able to pull this off without your island savi. We were espeacially pleased when our condo had two bedrooms instead of one. When I talk to friends about our vacation I always end with how our travel agent sheilded me from the ocean spray with her beach towel.
Thanks so much,  Cant wait till the next time!
The Milam Family
NOTE: We were on a snorkeling boat on the backside of the island of Lana'i & the weather turned rough on the way back to Maui.
We would love to help you plan your family vacation
to the Hawaiian Islands
Call 800 644-6659 or email Teresa@LuxuryHideaways.net
If you enjoyed this post, make sure you subscribe to my RSS feed!
Teresa, Travel Agent Extradinairre, Aloha,
Sorry for taking so long to reply. One month ago today we left beautiful Maui. It was a magical trip. We enjoyed our time there so much. The whole family did. Your itinerary worked out perfectly. Only one day was not as good as we hoped and that is when we took Vern's family snorkelling. That day was very, very rough and difficult to snorkel especially for the little ones. Kelly and I became seasick which was not so great but we still had fun. Everything else was aces.
Maui Hill fit our needs very well as the condos are so spacious. They even had Santa land by helicopter near the pool on Christmas Eve. That was very exciting. Hawaii is a paradise.
Sorry you were sick and we missed meeting you. Anyway you did a great job so thank you so much! May 2011 bring good things into your life. Happy New Year.
Bye for now,
Lynda & family
If you too would like assistance with your Christmas vacation,
Call 800 644-6659 or email Teresa@LuxuryHideaways.net
If you enjoyed this post, make sure you subscribe to my RSS feed!
If you enjoyed this post, make sure you subscribe to my RSS feed!
The city of Brisbane offers the traveler a range of luxury hideaways that include modern architecture to classic buildings dating from as far back as colonial times.
The lucky visitor will also find museums that were built by convicts and housed Generals, to the Brisbane City Hall that holds the city's museum, Brisbane is rich in a history that can be traced by simply walking around.
Qantas Airways offers daily services to Australia from Los Angeles, and their newly launched service from DFW, Brisbane has never been more accessible.  So, whats there to do in Brisbane?
Tours & Sightseeing: There's so many ways to discover Brisbane! Take a balloon ride, cruise the river or take in the sights on one of many bus tours.
Arts & Culture: Take the time to discover some of the pockets of expressions reflection scattered around Brisbane. Including independent theater companies, art galleries and indigenous galleries.
Fun for Free: This foot friendly city offers world-calls galleries, parklands, museums, tours, live music, and more… absolutely FREE!
Shopping & Fashion: Dynamic, positive, forward thinking and creative sums up Brisbane's impressive fashion scene.
Parks & National Parks: The stunning fringes of Brisbane are world-class, and often heritage listed, and best of all, they start less than one hour away from downtown.
Heritage & Architecture: Discover Brisbane's life during colonial times, the influences and the events that changed the city forever…
Bikeways & Walkways: Brisbane is truly a foot friendly city with over 750 miles of walkways, paths and bikeways.
Sport & Recreation: Outdoor enthusiast? You can test yourself in Brisbane without leaving the city. Want to be closer to the water? Then kayak your way around every bend of the Brisbane River.
For more information contact http://www.visitbrisbane.com.au or Teresa@Luxuryhideaways.net and lets go to Brisbane!
If you enjoyed this post, make sure you subscribe to my RSS feed!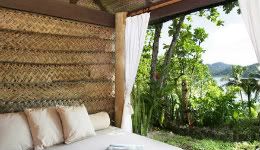 Hot Hot Hot Special - Just Released for a Limited Time Offer!
Matangi Private Island Resort is a family owned and operated resort, on a 240-acre private island, located in the lush tropical northern part of the Fiji Islands. This unique horseshoe-shaped island paradise boasts virgin tropical rainforest and white sand beaches. It's no surprise that it was voted in Islands Magazine as one of the "Top 10 Private Islands in the World" and also featured in "1,000 Places to See Before You Die", by Patricia Schultz.
Matangi Island offers 14 traditional Fijian designed bures, each with air-conditioning, ipod docking stations, outdoor stone shower, large sitting area, fully stocked mini bar and all the amenities of a luxury resort. The island caters to adults only. Rates include all meals, morning and afternoon tea, non-motorized water sports. Ideal for honeymooners, destination weddings, couples, romantic getaway, soft-adventure, snorkeling, scuba, hiking and seekers of natural beauty.
Costing begins at $3670pp in a Beachfront Bure - (beachfront bures at less than $500 per night)
The Stay 7/Pay 5 rate is valid for Travel June/July/August 2011
Booking Conditions
- Roundtrip airfare from Los Angeles on Air Pacific
- Minimum 7-night stay required
- Valid on all categories of accommodation
- Valid for Travel: 01 June 2011 - 31 August 2011
- New Bookings Only
- Cannot be combined with Summer Romance Bonus
- Honeymooners also receive a bottle of sparkling wine and one breakfast in bed
( Please advise at time of booking). [Read more]
If you enjoyed this post, make sure you subscribe to my RSS feed!
Visitors to the Hawaiian Islands will receive $150.00 per person or $300.00 per couple travel credit aboard the Safari Explorer if the cruise is purchased by 29/July 2011.
Experience 5 star luxury resort living aboard the 36 passenger Safari Explorer and see the Hawaiian islands in a different light.  Sailing 7 - 10 night active, adventure itineraries between Maui and the Big Island from November 2011 through April 2012, visiting Moloka'i, Lana'i and Molokini. The credit is intended to help guests defray air costs to the Hawaiian Islands where they will embark on their adventure cruise.
"We are confident guests will be thrilled with the experience of seeing and experiencing Hawaii up close on an upscale yacht," said Tim Jacox, executive vice president of sales and marketing. "This is a brand new vacation option in the Hawaiian Islands, and we hope the travel credit aids in the decision-making process to try an adventure un-cruise in one of the most beautiful places on Earth."
Jacox says the un-cruise defines the active, up close and personal style of adventure travel that makes American Safari Cruises different from other cruise vacations. The Safari Explorer is the only small-group expedition yacht offering overnight cruises in the Hawaiian Islands.
Flexible yacht itineraries focus on the leeward side of the eastern-most Hawaiian Islands. The unstructured itinerary allows time for seeking wildlife such as Manta rays, dolphins and humpback whales. Outfitted for active adventures, the yacht's well stocked water sports equipment includes kayaks, paddle boards, snorkeling gear, wet suits, sailboats and inflatable skiffs for up-close excursions. Guided snorkeling tours are a highlight throughout the trip. Two knowledgeable expedition leaders guide hiking and kayaking tours. Bicycles are also available for guest use on Moloka'i and Lana'i.
Exclusive cultural tours have been arranged for guests in Moloka'i including guided hikes, visiting and restoring a family's ancient taro terraces, "talking story" with native Hawaiians and a private, authentic Hawaiian pa'ina (feast).
The Safari Explorer has an on-deck hot tub, sauna, exercise equipment, a wine library and two large-screen TVs in the main salon. Exceptional cuisine is prepared with fresh, local ingredients and the complimentary bar offers premium spirits, fine wines and microbrews. The active spa environment includes a complimentary massage and yoga classes. All staterooms offer Tempur-pedic mattresses, flat screen TV/DVD players and iPod docks. Upper category staterooms feature Jacuzzi tubs and suites have private step-out balconies.
Fares start at $4,995 for the seven-night cruise and $6,495 for the 10-night cruise, both per person, double occupancy. Itineraries include exclusive excursions as well as all from-the-yacht activities and equipment; transfers; exquisite meals; fine wine, premium spirits and microbrews; and all port charges, taxes and fees. An all-American crew has a guest-crew ratio of 2 to 1 and includes Hawaii residents who have personal knowledge of the islands.
Posted Originally by American Safari Cruises/Innersea Discoveries
For more information contact Teresa@Luxuryhideaways.net or call 800 644-6659
Note from Travelgal:
I personally experienced life onboard one of American Safari Cruises for a few days, it is a floating all inclusive luxury resort. If you were to break down the cost of hotel, meals, transfers, alcohol and activities - this is a deal!
If you enjoyed this post, make sure you subscribe to my RSS feed!
Australia Cruise Experience Up Close & Personal

Snorkeling
Diving
Glass bottom boats
Luxurious spa treatments & therapies
Delicious Cuisine
Only 35 guests on board
On board guest lecturers & specialists
Coral Princess Cruises In Australia
Discover a paradise of remote and uninhabited islands on your Australia Small Ship Cruise - become a lazy beachcomber or an inquisitive adventurer on one of our 3, 4 or 7 night cruises between Cairns and Townsville. [Read more]
If you enjoyed this post, make sure you subscribe to my RSS feed!
Hi Teresa!
The wedding was beautiful, Tahiti and specifically the St. Regis Bora Bora Resort exceeded our expectations! The accommodations were first class and the service was terrific. Thank you so much for your help and we'll definitely keep you in mind for future trips.
Mahalo,  Philip & Bryn
If you enjoyed this post, make sure you subscribe to my RSS feed!