The Hawaiian Islands - family playground at its best! American Safari Cruise will be offering 2 all-inclusive family sailings in March 2012.
Far from the typical family vacation getaway, a yacht cruise provides kids a fun way to learn about nature and other cultures. With one crewmember for every two guests, kids and adults alike are accompanied on a variety of personal-choice excursions while the yacht is at anchor. In a rare introduction to wilderness lifestyles, kids and the entire family will meet and interact with local residents of remote island communities.
An Inclusive Experience
Maybe you remember other cruises where you had to pay extra for tours and your drinks at the ship's bar. Not with American Safari Cruises! With the exception of a gratuity for the crew - which they believe is a very personal elective - everything is included with the cruise. From your arrival at the airport to a fond farewell, you're a pampered guest aboard the yachts. Everything's included from the first to the last:
• Gourmet meals
• Premium wine, beer and spirits
• Kayaking and shore boat exploring
• Snorkel gear
• Exclusive shore excursions
• Onboard Expedition Leader/Naturalist or wine expert
• Airport transfers
• Port Charges, taxes, fees
• Visits with local residents - "talk story"
Dining is a true delight, a cornucopia of fresh local seafood, just-baked breads, hearty soups, exquisite entrees, sinfully delicious desserts. Everyone is served at one seating, family-style; dress is always casual. Of course, we're happy to plan for any special dietary needs, and if there's something you've got a craving for, let us know. Milestone events are celebrated in great style onboard.
Activities abound for all ages:
The opportunities are endless. Whether your family wants to kayak, walk on a remote beach, collect shells to study, hike in the temperate rain forest, or enjoy a full-scale picnic, you'll find that our explorations are a blast! You'll hop from shore-to-shore by shore boat, then there's fishing and kayaking as well as checking in on the musical antics under the sea via the underwater Hydrophone and underwater camera. All of these activities offer an exceptional experience for the whole family.  GUARANTEE IT…NO ONE WILL BE BORED!
Memories to Share:
At the end of a week of up-close adventure, the crew will present each family member with a photo disc of several hundred images to share and reminisce for years to come. Each child under 12 will receive other mementos of their various explorations.
Questions We Often Hear:
My kids are so active. Are they going to go stir crazy on a boat for a week?
On the contrary, kids kayak, hike, fish from the swim platform, with the help of the Expedition Leader/Naturalist and learn about nature from all of the crewmembers. They will be playing on rope swings, tubing, water skiing, snorkeling, beachcombing, cave searches, and other adventures await kids and adults alike.
Kids enjoy the hot tubs, games, kid-friendly DVDs and books available onboard. With so many varied activities at their fingertips, kids tend to forget that Nintendo even exists.
I'm worried about my kids disrupting the cruise for others. Will my kids be bored?
To ensure that everyone enjoys their yacht experience, we generally set aside special departures under our "Kids in Nature" program for families with kids under the age of 12. Educational and fun activities aided by take-home equipment provided by the Expedition Leaders keep the kids happy and busy. Bored - no; exhausted at the end of each day from kayaking, swimming and hiking - yes! Parents truly appreciate the all-out effort to ensure their kids come away with a well-rounded outdoor vacation. The other way that young kids are accommodated on our 12 - 36 guest yachts is when families charter the entire yacht.
What is the youngest age child that you can accommodate?
There is no age restriction. Families with kids between infancy and about five-years-old most often choose to book a private charter or take advantage of one of our "Kids in Nature" select departures. Life jackets are provided onboard for kids age five years and above (about 70 pounds and up). For younger children, it works best for parents to bring a custom-sized life jacket from home.
If you enjoyed this post, make sure you subscribe to my RSS feed!
Save the date! Dust off your snorkle & pack your bags!! American Safari Cruises will begin cruising the Hawaiian Islands! I am so looking forward to experiencing this cruise as I believe this is the real way to see the Islands of Aloha. I highly recommend this unique Hawaii cruise experience.
Two years ago I experienced their vision of "luxury in the pursuit of adventure" while cruising thru the San Juan Islands in Washington State - the experience is comparable to cruising aboard a 5 star boutique hotel. Its much more like yachting then cruising.  There is no over crowding or long lines that many experience on mega ships. The accommodations on board are wonderful and comfortable and not your typical cramped quarters.
One of the best features of the cruise will be that we are able to see things, do things and play close up and first hand. There is no schedule per se, and love the fact there are only 36 guests on board the American Safari Cruise.
NOTE: As owner of Luxury Hideaways a travel company that specializes in luxury travel, I strive to help my clients plan vacations that create memories of a lifetime. Know that when I recommend a cruise, resort or adventure that I am picky when it comes to travel and what I recommend. I have either experienced it myself or have had multiple clients, or other trusted agents that will attest to the "luxury experience"
If you enjoyed this post, make sure you subscribe to my RSS feed!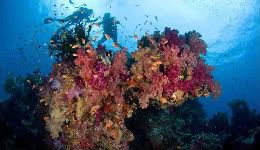 Bula Teresa!!!
I want to thank you for helping us with the most amazing honeymoon!!! It was such an amazing experience for both of us. Everything from the scuba diving to the village visit at Qamea Resort was incredible! We wished we had realized before leaving (and in all the emails you may have said I just dont recall) that we could take gifts to the kids in the village.
We ended up getting the nice people at Qamea Resort to buy some candy in town to take with us so it worked out.Vinaka vaka levu!!   Phil & Jamie
If you enjoyed this post, make sure you subscribe to my RSS feed!